Cheap Pops - Wrestling News & Views: February 25, 2015
FTC Statement: Reviewers are frequently provided by the publisher/production company with a copy of the material being reviewed.The opinions published are solely those of the respective reviewers and may not reflect the opinions of CriticalBlast.com or its management.
As an Amazon Associate, we earn from qualifying purchases. (This is a legal requirement, as apparently some sites advertise for Amazon for free. Yes, that's sarcasm.)
Submitted by

Critical Blast Staff

on Wed, 02/25/2015 - 03:00
Cheap Pops - February 25, 2015
by Chris Delloiacono, Mike Maillaro and Jeff Ritter
This week!
WWE Fastlane Results

Best Tag Teams

NXT, Lucha Underground, and Pro Wrestling Syndicate Results
Mike: I am the man called X.  These are my allies, Y and Z.  We are the Axes of Pain, and we are going to bring a world of hurt on you...IN THREE DIMENSIONS!
Jeff is on assignment this week, so it's just Chris and me.  Next week, I'll be the in "Parts Unknown" (actually, Atlantic City...so close enough).
---
WWE Fastlane Results
Seth Rollins, Kane, and Big Show def. Dolph Ziggler, Erick Rowan, and Ryback.  Big Show hits the KO Punch on Ziggler to give his team the win. Afterwards, Team Authority gives a beat down on Zigs, Rowan, and Ryback until Randy Orton runs down and makes the save.  
Goldust Def Stardust with a backslide...but there was some oddness about the finish. The ref seemed to forget how to count to 3...  Afterwards, Goldust and Dusty are talking in the back.  Stardust beats the crap out of him.
WWE Tag Team Title Match: Tyson Kidd and Cesaro def. The Usos. Kidd hit what was basically an overdrive to win.  New Tag Champs!
Triple H calls out Sting.  Sting comes out and doesn't say a word while Triple H cuts a long promo.  Triple H goes to cheap shot Sting, but Sting ducks. Triple H hits Sting in face with microphone. He goes to get his sledgehammer.  Sting responds by getting his bat.  Triple H is so terrified off the bat, he drops his sledge.  Sting points to the Wrestlemania sign.  Challenge on!
WWE Divas Title Match: Nikki Bella def. Paige  with roll up and handful of tights to retain.
WWE Intercontinental Title Match:  Bad News Barrett def. Dean Ambrose via DQ when Ambrose refused to break while attacking Barrett in the corner.  Ambrose steals title after the match.
A coffin is wheeled out.  Taker's music is played.  Crowd goes nuts...until they realize it's Bray Wyatt in the coffin.  He cuts a promo challenging Undertaker for Wrestlemania.
WWE United States Title Match: Rusev def. John Cena with the Accolade.  Rusev did hit a low blow while ref was distracted, but it was a relatively clean win!
#1 Contender's Match: Roman Reigns def. Daniel Bryan with a spear to counter Bryan's running knee.
How did we do on our picks?: None of us did great on the five matches we picked.  Chris got 2 right, Jeff and Mike got 3 each.
Chris:  Fastlane lacked sizzle from beginning to end.  The preshow was useless without a single match.  The opening sixman was fair at best.  The upside, it's nice to have Randy Orton back, but the program with Rollins could have been accomplished differently.  Rowan is the jobber of the bunch, so why did Zigs have to take the fall?
The middle of the card was blah!  Goldust and Stardust put on a decent match but the after match antics were way more entertaining.  Loved the mule kick by Cody. Am I right to say Cody almost made Dusty laugh?  Following on that, I enjoyed the tag title match, and it's cool to see Kidd/Cesaro get the straps.  On the other title fronts, Paige/Nikki was acceptable, but Ambrose/Barrett needed more time and a far better finish.
The top two matches both told effective stories and setup 'Mania.  I like how dominant Rusev looked and the low blow was enough to allow Cena to save some face. Bryan worked a strong match with Reigns that featured some nice spots.  I called the finish a few minutes before, but it was a solid conclusion.  Even if I think the wrong man won, Reigns got a nice rub.  I don't know that Lesnar is capable of getting a good match out of Roman, but we can hope.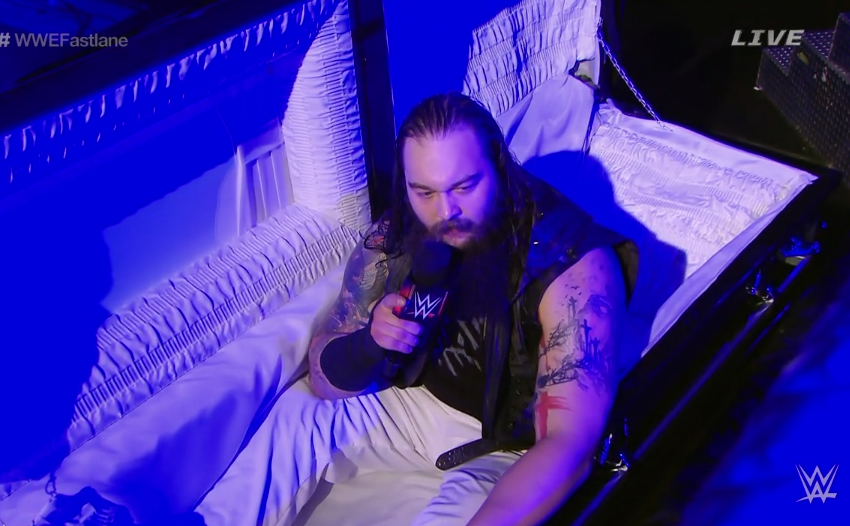 Finally, what was with the Sting and Bray Wyatt segments.  Were they boring or what?  My god, we've all heard Stinger speak.  The mute pointing thing just isn't necessary at this point.  And, the way HHH cowered, you'd think that bat was a loaded shotgun.  We've already seen an altercation between them, so this was just pre-Mania filler.  How about, Wyatt and 'Taker.  Who cares!  I swear, WWE is out of their minds if they job out Bray Wyatt to a washed up Undertaker.  At least Sting/HHH should be entertaining.  I have zero interest in seeing 'Taker this year.
Wrestlemania looks like a real fizzle this year.
Mike:  I have to tell you, the early matches on this one were so dull that I ended up shutting off the PPV for a while.   A big part of the problem was that it was a dead crowd, and the matches didn't give them much of a reason not to be.  I also thought many of the finishes were awful.
Goldust won with a roll-up...and the ref seemed to not know whether or not to count.
Dolph was jobbed out in a match that made NO ONE look good really.
Tyson's finisher looks so weak that I had no idea the match was supposed to end.   These guys have an arsenal of incredible moves...and they end it on an overdrive.  Yikes.
Nikki wins with a rollup.  Which is how most of the Divas matches end anyway.
Barrett got one of the weakest DQ victories I've ever seen.
I cracked up at Chris's line about Sting's bat being a loaded shotgun.  Triple H had a sledgehammer...but the bat was so terrifying he tossed it away.  That is real poor tactical strategy.
So many of these matches had such potential, but it seemed like a lot of disinterest from the crowd and wrestlers involved.
Thankfully, the last two matches went a long way towards redeeming the show.  Cena lost relatively cleanly.  Yeah, he got a low blow, but he still took a vicious kick that knocked him out.  That was a lot cleaner than I was expecting.
And Reigns had the best match of his career.  The crowd didn't even seem to mind him winning, so WWE definitely did some smart moves with this storyline in cleaning up the mess of Royal Rumble.
---
Best in Our World - Tag Team Edition
Chris: If you only watch main roster WWE you'd have heaps of problems coming up with your top five tag teams.  I mean to say, you'd need to include Los Matadores just to get to five teams.  It's shameful how few teams the main roster has these days.
Anyone remember when WWE boasted a talented tag roster like: the Hart Foundation, British Bulldogs, Killer Bees, Sheik & Volkoff, Dream Team, Demolition, Bundy/Studd, Can-Am Connection, & Orton/Muraco?  That was the tag roster around the time of Wrestlemania III.  Today, not so much.
Let's see what we can do for favorite current tag teams.  Here's my list: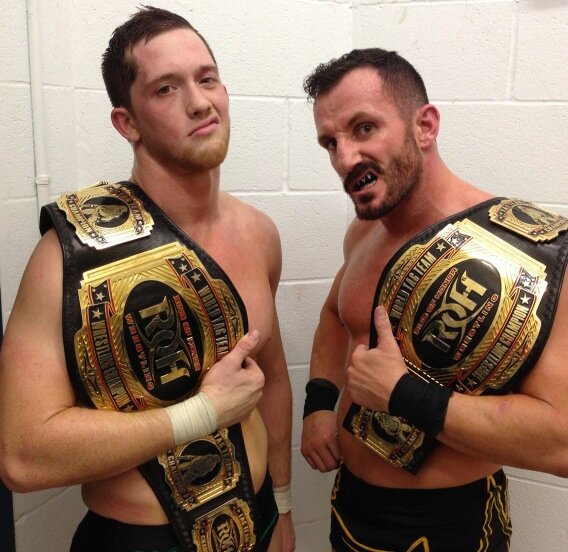 1. reDRagon - Between the Ax & Smash (where do you think that one came from?) and Chasing the Dragon, Fish and O'Reilly have the double team moves down to a science.  They are also legit badasses, so their matches come off as brutal wars.  Their matches with the Young Bucks in NJPW & ROH have been some of the best tag bouts I've seen in ages.
2. Young Bucks - The Jackson brothers are loaded with insane high spots.  They always seem to be having the most fun in any building they're in.  Their Indy Taker and Meltzer Driver are to-die-for tag moves.  You know the best part, every Bucks match is a Super Kick Party!
3. Usos - It's amazing how these guys were mainly enhancement talent for way too long.  It was about the time they started feuding with the Shield that people took them seriously.  When the Usos come to the ring it's almost always an uptempo match.  Plus they're pretty good when they get a shot on the mic.  The Usos are the heart of the WWE tag division and worthy champions.  
4. American Wolves - Admittedly they make my list based on their ROH work, because I just don't watch much TNA.  Eddie Edwards just broke his ankle this past week, so I wish him a speedy recovery.  These guys are a brilliant team that WWE brought in for one match, only to have them get beat by the miserable Ascension.  The WWE tag division would be so much better if they were on the roster and the rejects of the wasteland were somewhere else.
5. Handicapped Heroes - Gregory Iron and Zach Gowan are truly amazing to watch.  Gowan wrestles with one leg and Iron has cerebral palsy.  You would think their matches would be slow and loaded with rest holds.  Think again.  It's excitement personified when the Heroes bring it.  These men are the definition of inspirational athletes.  I'm so lucky they wrestle every month in the next town over from me!
Honorable Mention: Cesaro & Tyson Kidd, VaudeVillains, Blake & Murphy, Karl Anderson & Doc Gallows, Meiyu Tag, Enzo Amore & Colin Cassaday
If I didn't watch NXT, ROH, and NJPW I literally couldn't make a list.  It's absolutely shameful how Vince McMahon ignores tag team wrestling!
Mike: Yeah, well that's no help to me!  My list is going to be very NXT and WWE heavy.
I actually plan on explaining more about what I miss about Tag Team wrestling than focusing on specific modern teams.  
Chris: Tag team wrestling is still around and doing great, but not in WWE.  I guarantee next week's favorite tag teams of all time will be way easier to make, for all of us!
Mike: I had to think a lot about this list, but this is what I was able to cobble together:
Enzo Amore and Big Cass - I only own two wrestling T-shirts that I wear regularly.  One is the VaudeVillians, and other is my SAWFT T-shirt for Enzo and Big Cass.  I also have a Zack Ryder and Sheamus shirt...but those just make me sad…. ANYWAY, Enzo and Big Cass are just pure entertainment for me.   I can't help but think of the New Age Outlaws when they come out (my all time favorite tag team).

VaudeVillains - I remember when Aiden English was a total jobber in NXT.  But, over time he's really evolved into a terrific performer.  And Simon Gotch is the perfect tag team partner for him.   These guys can't seem to quite break through to the NXT Tag Titles, but they are always in the hunt.  And there is no one manlier in the WWE.

The Usos - The Usos are the only real great tag team the WWE has used consistently the last few years.  They have the perfect look, and I can see these guys having a career as a tag team.  The only real downside here is that WWE doesn't seem to want to give them much to do beyond "great wrestlers," but they excel at that.

Handicapped Heroes - Gregory Iron and Zach Gowan  blew me away when I saw them live.   It is easy to say they are "great despite…" but that is just unfair. They are great.  PERIOD. No qualifying statements required.  Terrific moves and chemistry.  I really hope they get to show off on a much bigger stage soon.  They will be huge!

Damien Mizdow and the Miz - Miz is one of the most underappreciated talents I've ever seen.  Heel or face, he never fails to entertain me.  Add in Mizdow's stunt double antics, and they have run with a gimmick that could have been terrible in the wrong hands.  Instead, they come close to stealing the show every night.
---
NXT Results - Feb 18
William Regal is in his office.  He explains that in NXT a title can change hands by pinfall, submission, or ref stoppage because of knock out.  Chastises Kevin Owens and reminds him that Regal is in charge.  He sets a non-title match between Owens and Adrian Neville.

Owens comes out to ring.  "It seems a lot of people have a problem with how I won the NXT title. I've never lied or pretended to be anything I'm not.  I will will anyone and everyone to give my family a better life.  Who I beat and how I beat them is irrelevant.  Sami Zayn is the past, time to look to the future which is Finn Balor.  Pick a date and I will be there."

Rhyno def. Elias Samson - Real quick match, Rhyno wins with the Gore.  Crowd went nuts when Rhyno showed up.

Finn Balor is backstage.  He starts to talk about Kevin Ownes.  Rhyno walks past.  They two men have a stare down.

Enzo Amore and Big Cass Def. VaudeVillains - Big Cass hit a big splash and then hurled Enzo like a projectile at Aiden English for the win.  After the match, Blake and Murphy appear on the screen to taunt Enzo and Big Cass and to flirt with Carmella.

Neville is backstage.  Disappointed that he fell short in the number 1 contender's tournament, but at the same time, he's no longer being chased by everyone who wants the NXT title.  He is the hunter now and Kevin Owens is his target.

Bayley and Becky both talk about the Fatal Fourway match from last week's Takeover Rival special.

CJ Parker comes out.  He is upset that he wasn't on Takeover Rival.  He hates NXT and the NXT fans.  He starts to wrap police tape around the ring.  Solomon Crowe comes out and demolishes him.  He finishes by saying, "And now we return to your regularly schedule broadcast.

Sasha Banks def. Blue Pants with the Bank Statement.  Blue Pants got some early offense, but Sasha quickly put her away.  After match, Sasha says "everyone is going to have to admit, I am the baddest diva in NXT."

Update on Sami Zayn's condition.  Doctor cleared him to join WWE tour overseas.  He will be back in NXT soon.

Kevin Owens def. Adrian Neville with popup power bomb.  This was an excellent match. Neville showed some awesome new moves in his offense, but Owens still defeated him.
Mike: One thing I have always liked about Adrian Neville is that he constantly debuts new moves.  A lot of wrestlers seem to save new moves and big spots for PPV's or specials.  But in this match alone, Neville did a 450 splash from the apron, a ridiculous deadlift german suplex, and a reverse hurricarana.  This was the first match we saw Owens take a beating, but he still looked great and won in the end.  WWE seems to have huge plans for Owens.  
Blue Pants theme music (Big Cass singing the Price is Right Theme) and video (just still images of cartoony blue pants) might be the greatest thing I've ever seen. She's announced as "from the discount rack" and the crowd popped huge for her.  There is nothing I love more than a wrestler who gets huge success for no comprehensible reason.
Some nice surprises tonight.  The return of Rhyno was great.  The crowd never saw it coming.  I am really hoping for a Rhyno Vs Spider-Man….errr...I mean Finn Balor….feud.  And Solomon Crowe had a strong debut.  He definitely has a unique look to him.  
Chris: As far as matches go, there wasn't much great until the excellent main event.  Man, Kevin Owens is getting the biggest push in NXT history.  Nobody, that I can recall, has been this dominant in developmental.  Rusev even got pinned by Adrian Neville, Kofi Kingston, and Dolph Ziggler.  I love the push for Owens, and hopefully, what it means for his future.  
Great comments on Neville.  He is most definitely always improving.  The storyline here was perfectly told in the ring.  Neville seemed on the cusp of the big win all match.  Neville was pushing hard then misses on high risk move. Power bomb by Owens then finish!  Out of nowhere finishes often don't often work, but this illustrated how dangerous high risk moves can be.  It's also how you build a killer heel.
While the rest of the matches were short, they all served a purpose. I don't want to rehash what you said.  They were all points that I agree with.  Here's a couple of new points.  I'm thrilled Enzo & Cass are finally getting pushed into a feud for the tag titles.  They have been criminally underused the past few months. Blake & Murphy hitting on Carmella was a funny old school segment.  This feud should be quite enjoyable.
The other person I want to mention is CJ Parker. This guy gets uber heat as a tree hugger.  He's the guy everyone just wants to see get hammered every time he comes out.  I love his theme music and his work getting others guys over.  Trying to takeover the ring only to get destroyed by the debuting Solomon Crowe.  Everybody talks about Crowe, yet Parker was a key piece to the segment.  Parker deserves a call to the main roster.  I think he could do some excellent work as the guy you want to see lose.
---
Lucha Underground Results - Feb 18
Mil Muertes Def. Chavo Guerrero via DQ - This match was to give Mil revenger against Chavo for taking away his victory over Blue Demon way back in the early days of Lucha Underground.  Catrina doesn't come out with Mil, but she comes down midway through the match.  Her presence seemed to distract Mil, so Chavo got a chair and hit Mil...to no effect.  Ref called for the bell.  Mil hits the Flatliner on Chavo facefirst into a chair.  Mil orders Katrina to give Chavo the Lick of Death.  She refuses.  He grabs her by the hair and drags her back into the ring.  Fenix runs out to make the save.  Catrina gives Fenix a huge kiss afterwards.

In the back, Black Lotus is looking for the mysterious Matanza.

Dario Cueto is talking to the Crew backstage.  He promises them a main event match, with more to come.  He tells them he wants them to take out Sexy Star, Pimpinela Escarlate, and Mascarita Sagrada.  

Son of Havoc comes out with Ivelisse.  SoH is supposed to fight Angelico, but Ivelisse takes the mike and she says that since SoH keeps losing, she's going to start fighting his battles for him.

Ivelisse def. Angelico - SoH hits an enzuiguri to give Ivelisse the win, though Ivelisse seems to take all the credit.  After match, Angelico asks Ivelisse on a date. She leaves with SoH.

Backstage interview with Texano.  Vampire refers him to as the former AAA champion, which sets Texano off.  He says El Patron stole his title, and he will destroy El Patron to get it back.

Texano def. Superfly - Texano wins after a nice combo into a vicious looking neckbreaker.  After the match, El Patron hits the ring and attacks Texano with his own bull rope.  Refs hit the ring, and El Patron goes buckwild chasing them all off.

Dario is backstage.  Cage comes in and demands Dario declare him champion.  Dario gives him a match with Puma next week.  If Cage wins, he will be number one contender.  Cage throws the broken title belt at Dario and says when he wins, he wants a real title belt.  

Chavo comes in the office.  He calls it quits.  Dario wishes him the best in his future endeavors and says the temple will always be open to him.   After Chavo leaves, Dario says, "The Gods will not be pleased."

Lotus is still creeping around backstage.  She finds Matanza's cage.  She says, "When I was a little girl, my only dream was to kill you with my bare hands."  Scene cuts away

Pimpinela Escarlata, Mascarita Sagrada, and Sexy Star def. the Crew - Sexy Star gets the roll-up after Big Ryck comes down to challenge the Crew.
Mike: It was ladies night tonight!  Katrina ditched Mil.  Ivelisse bitchslapped Son of Havoc.  Black Lotus finally found Matanza.  And Sexy Star managed to hold off the Crew on her own for most of the main event.  
Honestly, I usually watch Lucha Underground for the great wrestling, but it was a little light tonight.  Lots of movement on a bunch of different storylines, but the in-ring action itself just wasn't up to par.  Most of the top guys (Puma, Johnny Mundo, King Cuerno, Pentagon, Drago) weren't even on the show...and Fenix only showed up to do a rescue.  
I really like how they have integrated AAA into Lucha Underground.  It should be a huge boost to the show's prestige!
Chris:  This definitely wasn't the best episode of Lucha Underground.  Building the Texano vs. Alberto feud was interesting, for sure.  It was cool to see the AAA footage integrated into the Texano interview.  Its a rare treat when promotions open the doors to happenings outside of their own ring.  I like Alberto in the ring immensely, so I am pumped to see him battle Texano.
Son of Havoc and Ivelisse continue to be involved in must watch segments.  Her match with Angelico came off pretty believable, including the big upset.  Angelico is capable of nutty stuff in the ring, so I hope this one plays out for a good while.
There really wasn't a match of the night, though.  The main event was okay but it kind of loses something when Sexy Star scores the pin with outside help after Ivelisse did the same thing earlier in the show.  I want more wrestling out of my Lucha.  All told, a pretty forgettable episode.  
---
Pro Wrestling Syndicate: Refuse to Lose 2015
2/21/15 Rahway, NJ
RESULTS
Colt Cabana pinned Jushin "Thunder" Liger
PWS HEAVYWEIGHT CHAMPIONSHIP - Fallah Bahh (c) defeated Kevin Matthews
PWS SUICIDAL SIX WAY TITLE MATCH - Bobby Wayward (c) defeated Johnny Howl, PJ Black (fka Justin Gabriel), Scranton Strangler, Brian XL & "The  Lifeguard" Mike Del
PWS TAG TEAM TITLE MATCH - In a Four Corner's Match the Handicapped Heroes (c) beat The Reynolds Brothers, Reality Check, and Aesthetics Enterprise
"Boricua Beast" Dan Maff won by DQ over Bonesaw
Mario Bokara won by submission against "Bad Apple" Matt Macintosh
TABLES MATCH - Eddie Kingston defeated Chris Payne
Ethan Carter III pinned CPA
TV TITLE TOURNAMENT ROUND ONE MATCH - Starman pinned Amazing Red
TV TITLE TOURNAMENT ROUND ONE MATCH - Brian Myers pinned Takaaki Watanabe
TV TITLE TOURNAMENT ROUND ONE MATCH - The Drunken Swashbuckler beat "Big Deal" Craig Steele
Anthony Bowens defeated AC Gamble
New Jack's protege beat Philip Simon II
Chris: Mike couldn't make it to the show, so I braved severe winter weather with my pal Rob and his son for a fun night of action.  The card wasn't loaded with outside talent like the past few months, but that's okay with me.  The PWS stars were front and center most of the night, and every match was entertaining.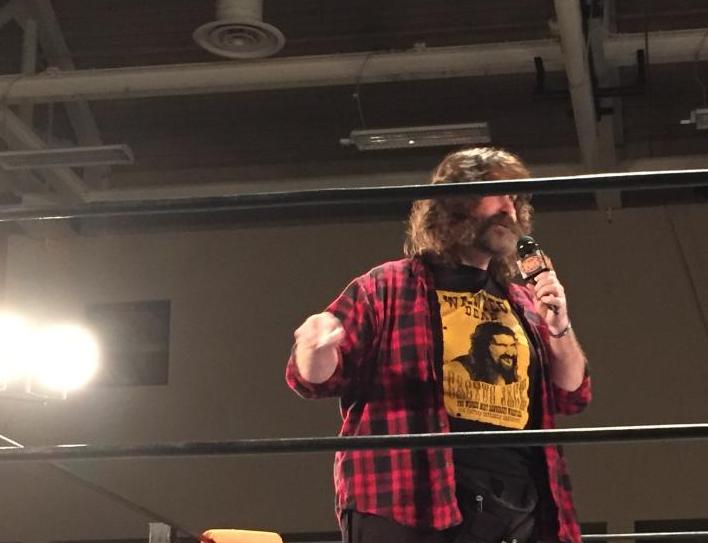 First thing, Mick Foley is now going to be the regular commissioner for PWS.  He got more than a couple cheap pops, incidentally where our column title comes from, by saying Rahway, NJ.  Gotta love ole Mick!  I'm happy to see he will be a regular for the foreseeable future.
The storylines continue to build from previous shows.  I don't think we've seen the end of the Eddie Kingston & Chris Payne war, as Kingston won with help from Craig Steele.  Foley already promised more between Bonesaw and Dan Maff who will meet in a hardcore match next time.  The other big development, was a mystery figure dressed in a motorcycle helmet, that threw salt in Kevin Matthews' eyes to help Fallah Bahh retain.  As you can see, there's a lot to love about the homegrown stars ongoing struggles.
The main event was a stunner, as Colt Cabana pinned Jushin "Thunder" Liger after a top rope power bomb from Liger was converted into a sunset flip by Cabana. The match was hard hitting with lots of dives and a Liger somersault off the apron onto Cabana.  Colt played up some comedy, including doing a few dirty hand gestures with Liger's horns.  There was also plenty of serious work including lots of chain wrestling.  Cabana told me before the show it was their first time meeting, and you could tell they had a blast performing for the crowd.
Speaking of meeting, I had a chance before the show to meet Liger, Kevin Matthews, and Amazing Red.  Rob's son Anthony got to hang out with his favorites the Handicapped Heroes.  They are as nice outside the ring as they are awesome inside it.  PJ Black (Justin Gabriel) remembered me from last month, and loved my Damien Sandow shirt!  You can see PWS does a stellar job making the time before the event like a mini convention.  It's a wonderful atmosphere!
Mike: Yeah, sadly I won't be going to another PWS until April, but I am really looking forward to it.  Dudleys will be there, and Jake "the Snake" Roberts is going to have a match!
Chris: Don't forget about "The Living Legend" Larry Zbyszko and Terry Funk!  Mix that in with the fantastic PWS originals and April can't come fast enough.  Who knows what else is in store for us.