Cheap Pops - Wrestling News and Views - April 8, 2015
FTC Statement: Reviewers are frequently provided by the publisher/production company with a copy of the material being reviewed.The opinions published are solely those of the respective reviewers and may not reflect the opinions of CriticalBlast.com or its management.
As an Amazon Associate, we earn from qualifying purchases. (This is a legal requirement, as apparently some sites advertise for Amazon for free. Yes, that's sarcasm.)
Submitted by

Critical Blast Staff

on Wed, 04/08/2015 - 07:55
by Chris Delloiacono, Mike Maillaro and Jeff Ritter
This week!
AJ Lee "retires"

Best Gimmicks

Lucha Underground Results

NXT Results
Mike: Welcome to Cheap Pop!  Critical Blast's only weekly wrestling column!  I'm Elroy Jetson.  These are my fellow Chrononauts, The 3000 Year Old Man and Charlie-27.  Together, we are Future Shock!
We lost Jeff this week...his computer decided to rebel against him.  I think it saw the Terminator: Genisys trailer and is now working to wipe out humanity.  I hate when that happens...
---
AJ Lee Retires
Mike: I was at Passover dinner on Friday, when I got a text from Chris that AJ had retired.  I checked to make sure April 1 was a few days ago, and then confirmed that it was true.  WWE announced on Twitter: "BREAKING: AJ Lee (April Mendez) has decided to retire from in-ring competition with WWE.  We wish AJ the very best."
At first I was surprised by this, but the more I thought about it, the more it seemed like a long time coming.  Ever since CM Punk had separated from the WWE, AJ had been around less and less.  I think she's incredibly talented, and I will definitely miss her.  She was terrific in the ring despite her size, and by far the best woman on the mike in the WWE.  
I do hope that as a result of this, WWE moves forward on bringing up some of their NXT talents.  Charlotte, Sasha Banks, and Bayley all seem ready to jump to the big time.  I also think Alexa Bliss is probably damn close too.   WWE seemed to be hinting in the last few weeks that they were going to refocus on their women's division.  Without AJ, it might be a little bit of a struggle, but I think Natalya, Paige, Alicia Fox, and some of the call ups from NXT could go a long way towards creating a GOOD product.
Chris: I can't believe this didn't happen way sooner.  Could you imagine the tension behind the scenes between AJ and management?  
AJ was the best part of the Divas division for a very long time.  To be honest, a lot of that came from how strongly she was booked as compared to the rest of the ladies.  She was never relegated to T&A segments like most of the women.  I'd say she's going to be missed, but AJ really hasn't been a part of the product for a good chunk of the last year.  I'm happy she's moving on with her life, and I'll remember her work as some of the best from a putrid time in the Divas division.
The ladies you mentioned: Natalya, Paige, and Alicia, are the class of the current roster, for sure.  Yet, even the Bellas have looked better, of late.  Thanks to Vinnie Mac allowing the women to work real wrestling based segments.  I'm not saying they're the female version of reDRagon, but they aren't exactly the Ding Dongs anymore, either.  It's becoming semi-serious stuff and it's about damn time.
I'm with you as regards Charlotte, Sasha, and Bayley!  Let's add in Becky Lynch to that mix as well. Those two groups of women could be the focus of the best women's division in WWE history!
Mike: I was thinking about Becky Lynch, but I didn't want NXT to be completely out of women, so I ended up leaving her off my list to jump to the main roster.  But I do think she's very talented in the ring, though I hate her current gimmick which often comes off as Seth Rollins-lite.
Ladies and Gentlemen….your current WWE champion back in his NXT days.
\
---
Best in our World: Best Gimmicks
Mike: This week, Best in Our World is going to talk gimmicks.  I am a junkie for 80's and 90's gimmick wrestlers.  Whether it's a Repo Man or a guy walking around with a mannequin head, you can typically count me in.  In fact, I am probably the only one who complains that the WWE doesn't have enough goofy gimmick these days.  Admittedly, there have been many, many terrible gimmicks over the years, and I'm sure we'll get around to discussing those in a future column.  But this week, I am all about celebrating the best ones.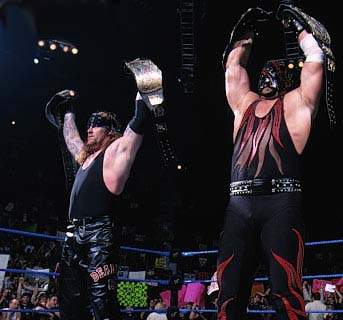 1+ 2) Undertaker and Kane -  As I was writing my entries for these two guys, I realized that so many of my thoughts we tied together, it just made sense to combine them into one entry (I originally had Kane listed as number 3).   These two characters truly have a bit of a convoluted back story, and have just had some awful storylines written for them, but at all times, they have managed to be convincing in their roles.  I will admit that neither Undertaker or Kane would ever been considered my favorite wrestlers, but as performers I think they are incredible.  When used well, both men just have this incredible aura around them.  
Unfortunately, WWE tends to use Kane comically at times, but he manages to roll with that and make it more entertaining than it probably should be.
2) Crybaby Jericho - Chris Jericho has been my favorites wrestlers pretty much since I first saw him in WCW.  He didn't always get a lot of TV time back then, but he always made the most of it.  He came across as a whining crybaby, but once he got in the ring, he also showed himself to be an incredible athlete too.   Some of my favorite Crybaby Jericho moments was when he was feuding with Dean Malenko.  From the classic "1004 moves" promo to the look of shock when Malenko came back to destroy him, Jericho showed he could work a terrific feud...and complain about it the entire time.  I also loved his "feud" with Goldberg...which is even more entertaining when you read Jericho's book and see how much it annoyed Goldberg.  
4) Million Dollar Man - I have said this before, but I have pretty much known wrestling was "scripted" since I first watched as a kid.  Personally, that just made it MORE impressive to me that these tremendous performers were playing characters while doing these incredible athletic feats.   As a result, I didn't always cheer the good guys or boo the bad guys...but there was one huge exception to that rule.  Ted DiBiase.  The Million Dollar Man.  I hated him.  He was a monster who tainted the sport throwing money around to bribe refs and buy titles.   He was the one guy that constantly made me forget that it was "all pretend."    
Ted DiBiase played that character so well, that even to this day, when he appears on WWE TV and gives that laugh, I feel pure disgust and hatred for him.   In any artform, when someone makes me forget that what I am watching is made up, you have to admire that performer.  And DiBiase might be the best I've ever seen at that.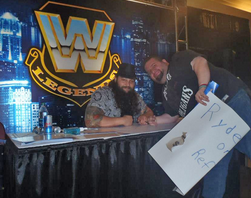 5) Bray Wyatt - I want it noted that I was on the Bray Wyatt bandwagon before most WWE fans had even heard of him.  From his first appearance on NXT, I was completely mesmerized by his performance.  His delivery is so perfect, you can't help but think that he might really be a dangerous cult leader.   Even to this day, when his music comes on my Ipod, I find myself swaying to it uncontrollably.  I really want to be a member of the Wyatt family when I grow up...
The only "issue" I have with Bray is that when we met him at Axxess a few years back, he was such a warm and friendly guy.  At the time, he was feuding with Bo Dallas, and I told him how much I was enjoying that feud, and he just grinned.  (For those who don't know, Bo and Bray are actually brothers and used to be a tag team back in FCW).  I was kind of hoping I would get to see some crazy cult leader in person.  Oh well.
Special Honorable Mention - Adam Rose - I am sad that he hasn't been bigger since coming up to the main roster, but I love Adam Rose's gimmick.  From the first time I saw his entrance in NXT, I was immediately engaged.  More wrestlers need to travel with a crazy posse and have entrances like this.   To me, Adam Rose tried to put the fun back into wrestling, and it's a shame that more fans didn't embrace this.
Honorable mentions: Demolition, Tyler Breeze, Vaudevillians, Sting, IRS, Val Venis, Godfather, Cactus Jack/Mankind/Dude Love, Legion of Doom, Killer Bees
When I look at my list, something immediately jumped out at me...these gimmicks would have been awful with the wrong guy in the role.  Imagine Kevin Nash as the Undertaker.  Or Dean Malenko as a crybaby.  Or Heath Slater as Bray Wyatt.  That's not a knock on Nash, Malenko, or Heath.  Those guys are all solid talents in their own right.   But none of them would have fit those roles.  I think many times that is the difference between a great gimmick and a failed gimmick...having the right performer.   Or sometimes the gimmick just blows.  I doubt anyone could have saved The Goon from being awful...
Chris: Your point about the person playing the part is on the money!  A lot of the guys you mentioned had earlier characters fail before they hit the correct gimmick. The one they were comfortable with and essentially were born to play.
I'm going to take a similar tactic from a couple of weeks ago and not reuse anything from your list.  Here's my choices for the very best gimmicks of all time:
1) The Rock - When you look back at how unimpressive Rocky Maivia was a character, it illustrates how amazing The Rock is in each facet of the business.  The charisma that oozes from every pore of Dwayne Johnson was barely evident when he wore those crazy colored strips of cloth as Maivia.  Whether the gimmick is shrouded in truth or not, The Rock is probably the most successful entertainer that made his name in a wrestling ring.  That's why, without a shadow of a doubt, The Rock, is greatest gimmick in history.  Can you smell that?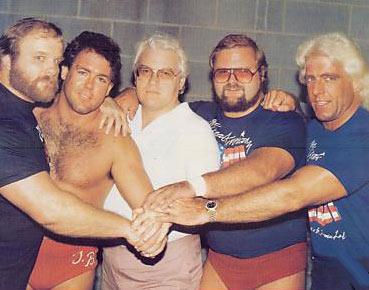 2) Four Horsemen - Is a stable a gimmick?  I think so.  Whether it's Ric Flair, Tully Blanchard, Arn & Ole Anderson or Lex Luger or Barry Windham in Ole's place, Diamonds are Forever.  And this gimmick was a 45-karat dream to behold as a fan.  Whenever one of these guys lost, it was news.  Everything that went wrong with the NWO was because they allowed mid and lower carders to sully the group.  These guys were all top of the card.  The Horsemen were an apocalypse that you either loved or hated, but I don't remember too many gimmicks that had a relevancy so long.
3) Road Warriors - Talk about seemingly unbeatable!  How many times do you remember the Warriors losing by pinfall.  The Legion of Doom's dominance was so believable, because they never never looked fake in the ring.  Their gimmick was looking like savages from a fiery future and handing you your ass.  They're quite possibly the most imitated wrestlers of all time.  Everyone wanted to be these guys, but so few had the charisma or DNA to even come close.  
4) Jake "The Snake" Roberts - So many of the WWF gimmicks in the '80s and '90s went too far.  Matadors, Models, Vikings, Birdmen, etc.  "The Snake" could have been a forgettable guy that slithered around and wore snakeskin...instead he cut menacing promos, put on matches with fabulous psychology....that slithered and wore snakeskin.  It's all about the performer.  Jake really seemed like the "guy your mother always warned you about."  Talk about living the gimmick!
5) Mr. Perfect - Curt Henning's run in the AWA was brilliant.  His departure really brought on the dying days of the once great company. Somehow, he raised his level several notches in the WWF.  Who would think that a guy saying he was "Perfect, in every way," would work so well.  It's all about the performance, though.  The vignettes set it up, but the gum swatting, dynamite promos, and amazing matches were all pieces in one of the premier gimmicks we've ever seen!  Anyone up for basketball?
Honorable mention: Sgt. Slaughter, "Stone Cold" Steve Austin, Stan "The Lariat" Hansen, Jushin "Thunder" Liger, Kamala, Honkytonk Man, reDRagon, Bruiser Brody, Dudleyz, "American Dragon" Bryan Danielson, Young Bucks
Mike: What about the new Horsemen?   Any group that includes Jeff Jarrett and Mongo McMichael kind of taints your legacy...though I have always liked Dean Maleno and Chris Benoit.  Wiki says Curt Hennig was a Horseman...I don't remember that at all.
Chris: I never heard of those Horsemen...NEVER!  They don't exist and let's never speak of them again.  And wasn't--COUGH--Paul Roma in there too?  Like I said, don't ever refer to this again.  Hey, don't even think of bringing up LOD 2000, either, or we can talk Corporate Kane, Demolition Crush, Virgil winning the Million Dollar Championship, and the Goodfather.  
Mike:  Point very well taken!
---
NXT Results 4-1-15
Sami Zayn is back!  Talks about how Kevin Owens has changed, and now Sami knows what he has to do to beat him.  He's going to use his rematch to regain the NXT title and kick Owen's ass!

Rhyno def. unnamed jobber with Gore.  After match. Rhyno says he's come to NXT to make a statement.  He wants the NXT Title.

Teaser video for Dana Brooke.  She will be debuting in two weeks.

Bayley def. Emma

Backstage interview with Becky Lynch.  She still claims she should have won the fatal fourway match at NXT Rival.  She wants a title shot.

Blake and Murphy def. Lucha Dragons

Backstage interview with Sami Zayn.  Gets interrupted by Rhyno.  Rhyno says that the line for the NXT starts behind him now.

Video promo for Solomon Crowe

Jason Jordan def. Tye Dillenger

Video package catching us up on feud between Tyler Breeze and Hideo Itami.

Tyler Breeze def. Hideo Itami in 2 out of 3 falls match.

Itami won first fall with running kick

Tyler won both the second and third falls with the Beauty Shot.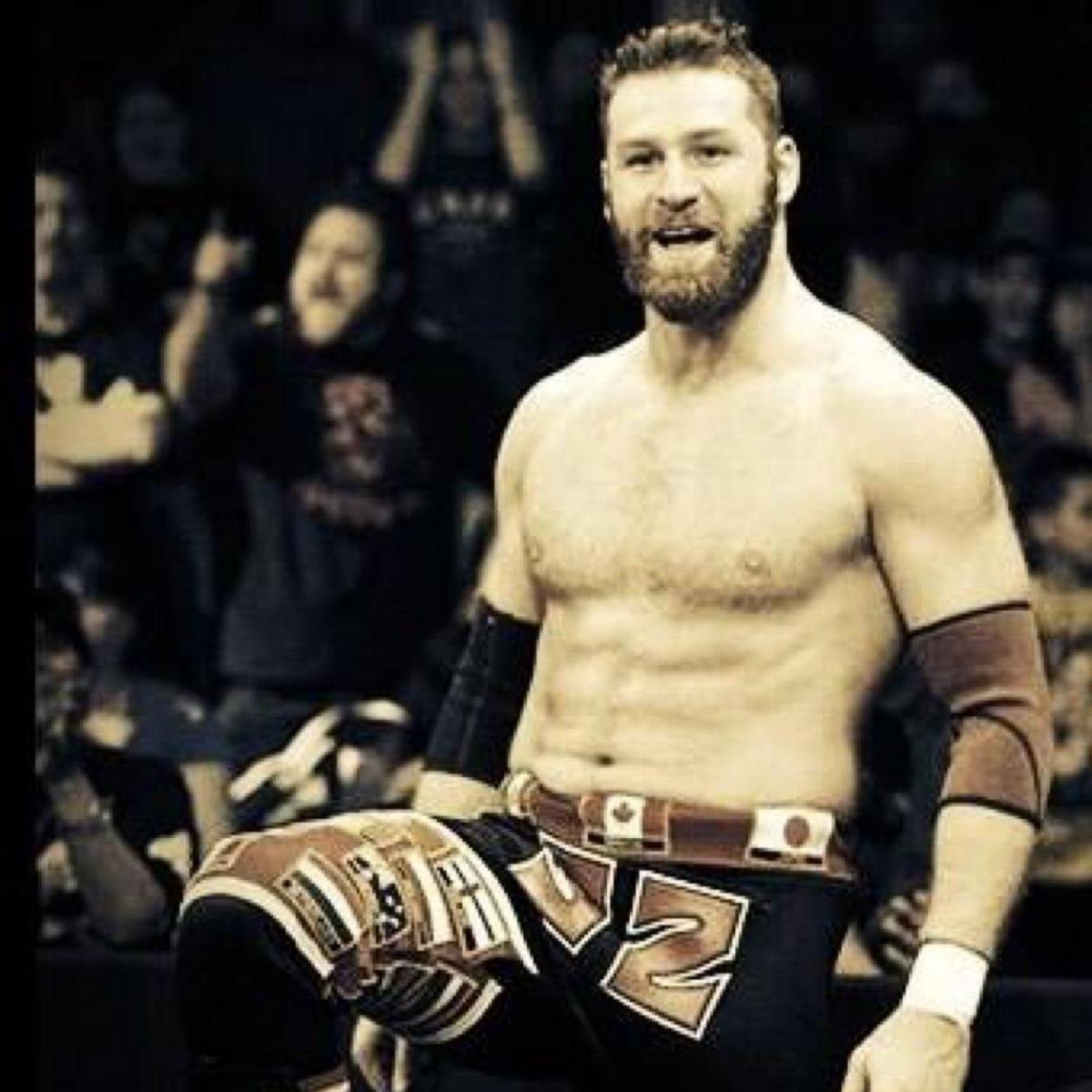 Mike: Real nice to see Sami Zayn back!  He's probably the biggest star in NXT and when he's not around, it always feels like the show is missing something.
Chris: Seeing Sami back was fantastic.  He's been one of the key people on NXT for two years now, so his absence was felt.  I hope we get a big Zayn vs. Owens rematch at the next special.
Mike: All in all, this was a pretty good episode of NXT.  Lots of movement on a lots of different stories.  There wasn't a lot of real memorable matches, but I thought it was still an entertaining hour.
I was really looking forward to the Jason Jordan vs Tye Dillenger match because I thought it was a good opportunity to give the spotlight to some new faces, but this match was just okay.  Jordan seemed real uncomfortable in that singlet, it actually looked like he borrowed it from a wrestler who was much bigger than him.  That's one thing you often forget about NXT, at its core it is a development territory, and there are guys who don't look ready for prime time.
Chris: You're right about the Tye Dillenger feud with Jason Jordan.  Both guys have a good look, but neither one has the IT factor quite yet.  I think Jordan has more upside right now.  The match wasn't terrible, but it wasn't anything special either.  Dillenger especially looked defeated before he entered the ring.  Not in a selling sense, but more like he was down on his future.  I may be looking too deeply.  
Mike: I think it's real odd that they are pushing Rhyno as big as they are.  I like Rhyno, but he seems strangely out of place here.  NXT is usually a staging ground for new talent or younger WWE talent that aren't quite making it on the main roster for whatever reason. This is the first time I can remember them bringing in a veteran who doesn't really have any ties to the WWE for a sustained run.  
Chris:  Triple H recently said that NXT isn't just a developmental territory anymore, and a guy like Rhyno getting pushed makes that clear.  Still, when all is said and done, I feel like he's here to do at least one or two high profile jobs.  Perhaps they see it better to use an outsider like Rhyno to do these enhancement gigs instead of Cesaro, Curtis Axel, Tyson Kidd, or Titus O'Neil.  I don't mind him here, but another utter squash is just a waste of everyone's time.
I enjoyed what Bayley and Emma did.  Both girls are toughening up and that should be fun in the weeks ahead. The match had some good action and the finish allowed Emma to show a nice range of emotion.
This week's main event was really an utter waste.  The first two falls were done do quickly that I have no clue why they bothered making it best of three.  The final fall had some good action, but these guys have put on better matches.  
Mike: Yeah, this was probably the worst match Tyler and Itami have had.  It actually ended up being a good match after they exchanged falls quickly, but I had the same thought as you...why did they even make this 2 out of 3 falls if they were just going to go right to the rubber fall within 2 minutes of the match starting.
NXT seems to like doing 2 out of 3 falls matches...but they don't often do them well.  Cesaro Vs Zayn was one of the best matches of 2013...but when you really look at that match, it didn't need to be 2 out of 3 falls.  And then you had Sami vs Leo Kruger...which might have been the only 2 out of 3 falls match in history to be decided in just two falls.
Chris:  The main event failings really dragged the show down.  In the end, I'd say this was one of the weaker shows in a while.
Mike:  It was better than last week….I think there were literally two matches last week...though the Kevin Owens/Finn Balor match was epic.  One thing I definitely prefer about Lucha Underground to NXT is that they show the matches without commercial breaks.  There was like three commercial breaks during last week's NXT's main event.
Chris: I agree with you on the commercial breaks.  I wish WWE didn't insert them so often.  Although, the Owens/Balor match was epic because it was given time.  With time comes breaks.  I'll take that main event from last week over anything on this show.
---
New Japan: Invasion Attack Results (4/5/15)
1) Alex Shelley, Captain New Japan, Kushida, Yohei Komatsu & Yuji Nagata defeated Jushin Thunder Liger, Manabu Nakanishi, Ryusuke Taguchi, Sho Tanaka & Tiger Mask   
2) Hiroyoshi Tenzan, Satoshi Kojima & Tomoaki Honma defeated Bullet Club (Cody Hall, Tama Tonga & Yujiro Takahashi)
3) Roppongi Vice (Baretta & Rocky Romero) defeated The Young Bucks (Matt Jackson & Nick Jackson) (c) for the IWGP Junior Heavyweight Tag Team Championship
4) Kenny Omega (c) defeated Máscara Dorada to retain the IWGP Junior Heavyweight Championship   
5) The Kingdom (Matt Taven & Michael Bennett) defeated Bullet Club (Doc Gallows & Karl Anderson) (c)    for the IWGP Tag Team Championship   
6) Hirooki Goto, Tetsuya Naito & Togi Makabe defeated Chaos (Shinsuke Nakamura, Tomohiro Ishii & Yoshi-Hashi)   
7) Kazushi Sakuraba & Toru Yano defeated Hiroshi Tanahashi & Katsuyori Shibata   
8) Kazuchika Okada defeated Bad Luck Fale
9) A.J. Styles (c) defeated Kota Ibushi to retain IWGP Heavyweight Championship
Chris: Even with several multi-man matches, this was a very strong show.  I went with a different tactic this time and watched all of the important matches first then went back to check out the filler.  NJPW World makes it easy to buzz around and watch any way you choose.  With a two-year-old in my house, I wanted to maximize my time and make sure I enjoyed the key bouts.
I'm going with the main event for match of the night.  Ibushi and Styles really put on a hell of a show.  An insane spot early saw Styles move out of the way of Ibushi's backflip off the top to the floor and crisply go-behind for a back suplex. That miss served as a nice precursor to the finish, which saw Styles catch Ibushi mid-moonsault and hit a Styles Clash for the pin.  Mind blowing stuff!
Dissension is finally cropping up within Bullet Club.  The finish was helped off a distraction from Kenny Omega on the ring apron.  Afterwards, Omega didn't seem happy about what he did.  It was subtle, but really well done on Omega's part.  He's been so over the top as the villainous Cleaner, it was nice to see some depth from him.  There was unhappiness earlier in the night between Karl Anderson and Doc Gallows after they dropped their straps.  I'm anxious to see where this all leads.
The rest of the show had many noteworthy moments, as well.  Most especially, The Young Bucks and the newly formed Roppongi Vice had a spectacular match. Trent Barretta looks like he is going to fit in nicely with Rocky Romero.  Next month we get the same teams with reDRagon thrown in, so that could somehow be even better!
Next month is Wrestling Dontaku, which should be great when you consider Kazuchika Okada did a run in after the main event, Alex Shelley and Kenny Omega had words, Hiroyuki Goto made a statement to Shinsuke Nakamura, and all the Bullet Club strife.
Damn, I love my NJPW World!
---
Lucha Underground Results 4-1-15
- Dario Cueto is in his office.  Big Ryck enters with his new running mates, Killshot and The Mack.  Ryck says that he heard Dario ordered The Crew to take him out.  Dario denies it and distracts Big Ryck by announcing that he was creating a Trios Title and the tournament starts tonight  Ryck and his new teammates can enter the tournament.  He then bribes them not to kill him.
- Johnny Mundo def. Angelico with Starship Pain
- We finally find out what happened to Black Lotus when she was kidnapped about a month ago.  She was taken by a man called El Dragon Azteca, a descendent from the original Aztecs.  He was there when Matanza killed Black Lotus's parents.  But she was not ready to face Matanza yet.  Azteca will train her in the art of lucha libre so she can get her revenge.
- El Patron is waiting backstage for Johnny Mundo. They shake hands, and have some sarcastic comments for each other teasing a feud.
- Sexy Star is in Dario's office.  He wants her in the Trips tournament. He gives her Superfly and Pentagon Jr as her partners.  They will face Big Ryck and his boys tonight.
- Dragon def. Aerostar.  This is the fourth match in their best of five series.  They are tied up at two matches each.  After the match, there was definitely some animosity between these two men.
- In Dario's office AGAIN.  This time its Angelico, Ivelisse, and Son of Havoc.  Dario talks about them being disappointments as single competitors.  So he is making them a trio and they will compete in tournament.
- Big Ryck, Killshot, and the Mack def. Sexy Star, Pentagon Jr, and Superfly in Trips Tournament match.  After match, Pentagon tries to break Superfly's arm, but Sexy Star makes the save.
Mike: Another awesome episode of Lucha Underground.  That show NEVER disappoints.  I had no idea Angelico would be fighting with Johnny Mundo (fka John Morrison).  This was a terrific match with both men doing some insane moves.  I've been really enjoying Angelico in the ring and he meshed well with Johnny.  I definitely see big things in Angelico's future.
Chris: This was a spot monkey dream match.  Two of the best high fliers in the world and they were all over the place.  I love to watch both of these guys, and together, so much fun.  On a side note, I heard Angelico's partner in AAA, Jack Evans, is heading to Lucha in the near future. I've seen some of Evan's matches in ROH and AAA, and If you think these two do crazy things...
Mike: The Black Lotus video clip was so odd.  It was shot like a 70's revenge movie...and basically had the same plot.  It should have been ridiculous, but in typically Lucha Underground fashion, it was damn entertaining.
Chris: I adore '70s revenge flicks!  This was cheesy but such a good time.  The montage complete with training silhouettes blew my mind. Lucha continues to blend cinema and pro wrestling in a way WWE or WCW never could.  It's just ridiculous enough to be awesome!
Mike: I love that Aerostar and Drago's rivalry is starting to get a little ugly.  There is only so much respect I can tolerate from wrestlers...I prefer seeing them try to kill each other.  I am also glad they can still keep it fresh after 4 matches against each other.  I am really looking forward to the final match in this series...I am thinking Drago takes it.
Chris: Drago played the desperation part so well this week.  The series has been building each match, and you can tell these two will have something special in store when they close it out.  
Mike: Trios tournament is off to a great start.  I was real surprised by newcomers Killshot and The Mack.  When you see The Mack, you expect a slow dumpy wrestler, but he was fast and agile, and had some unique moves.  Chris was obsessing over that weird shoulder tackle he hit Superfly with.  
Chris: It was Pentagon, Jr. he nailed with that amazing tackle.  It's not often you see different things in the ring, and that sideways action was a cool bit.  In fact, the entire match was well done.  Everything from Pentagon's refusal to work with his partners to the debuting Mack & Killshot.  Even the angle that closed the show was excellent.  It was just another good time in Boyle Heights.  Hands down the most entertaining hour of wrestling on TV this week.
Mike: It's THE Mack.  Show respect!