Cheap Pops - Wrestling News & Views: June 14, 2015
FTC Statement: Reviewers are frequently provided by the publisher/production company with a copy of the material being reviewed.The opinions published are solely those of the respective reviewers and may not reflect the opinions of CriticalBlast.com or its management.
As an Amazon Associate, we earn from qualifying purchases. (This is a legal requirement, as apparently some sites advertise for Amazon for free. Yes, that's sarcasm.)
Submitted by

Critical Blast Staff

on Sun, 06/14/2015 - 08:23
by Chris Delloiacono, Mike Maillaro and Jeff Ritter
This week!
---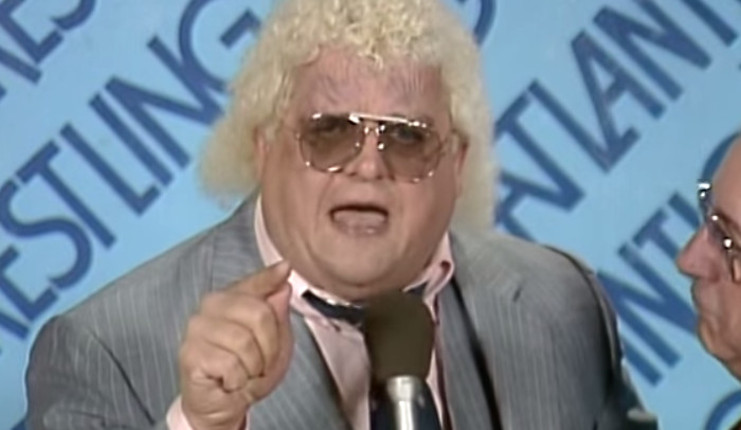 RIP Dusty Rhodes
On Thursday, WWE posted on their website to announce the passing of Dusty Rhodes.
WWE is deeply saddened that Virgil Runnels, aka "The American Dream" Dusty Rhodes — WWE Hall of Famer, three-time NWA Champion and one of the most captivating and charismatic figures in sports entertainment history — passed away today at the age of 69.
Runnels became a hero to fans around the world thanks to his work ethic, his impassioned interviews and his indomitable spirit. Moreover, Runnels was a dedicated father to WWE Superstars Goldust (Dustin Runnels) and Stardust (Cody Runnels), a caring husband and a creative visionary who helped shape the landscape of WWE long after his in-ring career had ended.
WWE extends its sincerest condolences to Runnels' family, friends and colleagues.
Mike: You know...usually it's really easy for me to find the words I want to say, but for the longest time I've just been sitting here staring at the screen.  I've been a fan of Dusty Rhodes for as long as I can remember.   He just had such a unique persona, and you could tell he loved the business so much.  I loved watching Legends of Wrestling and hearing the great stories he had to tell.  
He leaves a tremendous legacy that will probably never be matched.  Thank you, Dusty!  You will be missed!!
Chris: Dusty did so much for the business over his lengthy career and left an indelible impression.  His fingerprint is on the history of wrestling's past because of his ring work and promos, but it's also on the present and future through his time in developmental.
I'm thankful I got an opportunity to meet him a few months ago.  There will never be another one like him.
Mike: It was a real testament to Dusty all the terrific stories and memories various wrestlers posted on Twitter and in interviews all day.  You could especially see the love from the NXT wrestlers he worked with.  Dusty was a true mentor and hero to so many people in the industry, including his longtime friend and rival Ric Flair.
Jeff: I grew up as a fan of the heels. Watching WRESTLING AT THE CHASE in the territory days, my grandparents were tried and true rasslin' fans. They cheered for the heroes and boo-hissed the villains. I, being of a devious nature even in my youth, liked to get a rise out of the grandparents by rooting for whomever they were against. Thus I became a Ric Flair fan. Thus I rooted against Dusty.
Some years past and my interest in pro wrestling waned. Our local program had gone off the air, and the only thing I had to watch was WWF Superstars where if I was lucky the main event would be Brutus Beefcake against Iron Mike Sharpe. Just when I was about to give up altogether, I chanced upon this weird little show from Georgia. At that point I'd never seen the Road Warriors, Arn Anderson and Tully Blanchard, Sting. The show felt a little bit like our old regional show. And there was Dusty Rhodes, if you wheel, talkin' 'bout king and queens and pork and beans, Daddeh! And then The Road Warriors jammed one of their shoulder spikes in his eye. Holy...what the…? The censor tried his best but his black rectangle to shield the viewer from the fountain of gore erupting from Dusty's face couldn't keep up. Honest to God, I thought he may have, in fact, lost the eye. For the next couple of years, my wrestling viewing went like this: Turn on NWA/WCW, watch Nikita Koloff, Magnum T.A. etc. Switch to the WWF at commercial. Was Macho Man or Jake Roberts on or forthcoming? If yes, I stayed. If not, back to NWA. In this way I got to see Vince McMahon's main competition (after Vince got Hulkamania going I think the AWA's glory days were over), and learn to appreciate great workers like Ricky Steamboat and Dusty Rhodes.
Dusty was a great talent, in the ring and on the mic. He was a creative person backstage, and while some may disagree with his booking at times, few can argue that a show without Dusty's involvement was better than one with it. Even if all he did was stand in someone's corner he'd get the fans whipped to a frenzy. He was the consummate showman. The American Dream is dead. Long live the American Dream! Thank you, Dusty, for everything
---
Money in the Bank Predictions
Pre-Show: R-Truth vs King Barrett
Chris: Who wins? Who loses? Who cares!  These guys will continue to float in and out of insignificant moments with no direction. I'll go with Truth since he was so funny the other night when he didn't realize he wasn't in the MITB match.
Mike: I think the only people who lose here are the audience.  And that is not me knocking Barrett or Truth.  I actually like both guys, but both have been wasted by WWE.  At one time, these guys were high-midcarders, and Truth even got a few brushes with the main event.  Now they are in a non-title match in the Pre-Show.  I'll pick Truth, just because Barrett seems to lose every big match.
Jeff: Truthfully, I have never once rooted for Ron Killings. He doesn't entertain me. He's wrestled the same crap matches the same crap way for years. How he still has a job baffles me. That said, our King of the Ring is apparently being booked into Future Endeavors territory. What a waste of a perfectly decent talent in Wade Barrett. I'll pick the King, because I never pick R-Truth. It's true. It's damn true.
Mike's Prediction: R-Truth
Chris's Prediction: R-Truth
Jeff's Prediction: King Barrett
John Cena Vs Kevin Owens
Chris: Going against Cena again is probably a terrible idea, but I just get the feeling Vince has found a man to hitch the heel ranks to for the foreseeable future.  Cena doesn't really need a win, and Owens will be the hottest act in the company if he backs his words up one more time.
Mike: I WANT TO BELIEVE!!  During the Rusev feud I picked Rusev over and over again, because there was no way I would believe that WWE would keep having him lose.  Part of me wants to avoid that mistake again, but no!  I will continue to pick against Super Cena, hoping that someone in the booking department has a clue.  I do think it's odd this match isn't for the US title though...
Jeff: Owens will work Cena over good again, but I predict a surprise appearance by Samoa Joe and his subsequent attack on Owens gets Cena disqualified, thus giving the DQ victory to Owens. This, I hope, leads to a U.S. title match between Cena and Owens at Summerslam. There should only be about 8 more PPVs between now and then.
 
Mike's Prediction: Owens
Chris's Prediction: Owens
Jeff's Prediction: Owens by DQ
Money in the Bank Ladder Match: Neville Vs Dolph Ziggler Vs Randy Orton vs. Kofi Kingston vs. Sheamus vs. Kane vs. Roman Reigns
Mike:  WWE seems ready to pull the trigger on Reigns, and I think Money in the Bank might be the best way to get that ball rolling.  I'm still not sure he's ready, but WWE needs to shake things up, and having the Shield at the top is definitely a good thing.
Chris: I don't mind Reigns so much now.  He's gotten better on the mic and WWE has simply used him more wisely.  I really can't see any other result than Reigns winning, but it seems so obvious, maybe a swerve is on the way.  I'll stick with Reigns, though.
Mike: I agree with you.  I definitely thought WWE seemed to be moving too fast on him, but moving Rollins up to the top really helped alleviate some of that pressure.  I will be the first to criticize WWE how they botch talent, but I think they course-corrected really well on Reigns.  And now we've got Owens and probably Sami Zayn coming up as soon as he's back from his injury.  Wrestlemania 32 should be VERY interesting to say the least...or it will be Cena Vs Orton Chapter 100...
Jeff: I'm not afraid to admit that Cena and Owens is pretty much the only reason I'm watching this card at all. Neville's the most entertaining in the MitB match, Reigns seems the most likely to win, which means the winner will probably be Sheamus. Ultimately, nobody really wins.
 
Mike's Prediction: Reigns
Chris's Prediction: Reigns
Jeff's Prediction: Reigns
WWE Title Ladder Match: Seth Rollins (c) Vs Dean Ambrose
Chris: They certainly have been teasing a Seth face turn, so things could get really interesting this summer.  I don't know if this is what I hope happens, or what I actually think will happen, but hear me out.  Rollins retains, or even if Ambrose wins, Reigns comes out with the MITB briefcase he won earlier, and we get a full-on reunion of the Shield who hold all the cards.  It could lead to another split or a lengthy run on top for the group.  I'd like to put my money in that bank.  Believe that!
Mike: I actually think this match will get a rematch at SummerSlam, and that is when Reigns will cash in.   Actually, I hope Reigns cashes in BEFORE SummerSlam to make it a Shield triple threat match.   Calling his shot and winning the match would give him a lot more credibility than another "cash in when the champ is down" moment would.   But Rollins will probably win this match.  I can't see Ambrose as a transitional champ.
Chris: Your idea of a Shield main event at SummerSlam would be another excellent way to keep things interesting over the summer.  Anything that keeps Orton and Cena out of that title picture is perfect in my book.
Jeff: Do we all see the problem with holding a PPV every two weeks? It really isn't special. Everything just feels like RAW There's no reason for the title to change hands, thus there is no reason to care. When it comes to Dean Ambrose, I find not caring comes very easily.
Mike's Prediction: Rollins
Chris's Prediction: Rollins
Jeff's Prediction: Rollins, because there's no one left to pick unless the Samoan Superman cashes in immediately.
WWE Tag Team Title: The New Day (c) vs The Prime Time Players
Mike: This is a tricky one for me to pick.  New Day is getting a lot of heat from the crowd, and the WWE would probably do well to keep them as champs.  But, the Prime Time Players are long overdue a title run.  This should be a great match and could be a great feud.  I really hope to see a strong tag team division over the summer, with these two teams at the front of the pack.
Chris: I would like to see the PTP get their shot at the top of the division, but I don't think the time is right to take the belts from New Day.  One way or the other, I hope they keep the program going.  All these guys are in the midst of their best runs in years, or ever!  This program should have legs.
Jeff: Millions of disappointed fans! Millions of disappointed fans! They need to let New Day back in their heat for a little while. It's not quite time for Prime Time, yet.
Mike's Prediction: Prime Time Players
Chris's Prediction: New Day
Jeff's Prediction: New Day
Intercontinental Title: Ryback (c) vs Big Show
Mike: Why oh why is Big Show in a title match in 2015?  I know the IC title has lost a lot of it's prestige in recent years...this match does virtually NOTHING to help regain it.  
Chris: Ryback has been enjoyable the past few months, but this match will be a snooze fest.  Hopefully it's very fast.
Mike: This match will be a lot of things...fast paced will not be one of them (I know, I know, not what you meant, but too hard to resist that comment).  I don't really have any issues with Ryback, I just think he needs the right opponent to have a good match...and Big Show definitely is not it.  I keep thinking of the Mark Henry match from last year's Wrestlemania.
Jeff: Feed him less! Feed him less! Because less is more! Less is more! Big Show needs to be shooting "Paul Blart: Mall Cop 3" or something. This match isn't going to make Ryback a better worker, it's just to show he's inhumanly strong. He's a less charismatic Ultimate Warrior. At least he's not Big Show 2.
Mike's Prediction: Ryback
Chris's Prediction: Ryback
Jeff's Prediction: Ryback
WWE Divas Title: Nikki Bella (c) vs Paige
Mike: This PPV just seems full of filler matches.  Paige is probably the best woman on the roster right now, and I just don't care about the Bellas.  Yes, there has been a lot of improvement there. No, they still don't appeal to me.  If there is any justice in the world, Paige takes the title and starts a lengthy run with it...maybe  with one of the NXT women who are likely to jump to the main roster soon.  
Chris: I agree the belt should be on Paige and a run with Charlotte would blow fans minds.  I still don't think it's happening yet.  I get the feeling that Nikki is going to overtake AJ for the longest reign as Divas champ before she drops the belt.  That's a couple more months of Twin Magic.
Jeff: OK America, whenever Nikki Bella comes to the ring, I want to hear chants of: "GIRLBERG! GIRLBERG!" I know you know.
Mike's Prediction: Paige
Chris's Prediction: Nikki
Jeff's Prediction: Nikki
Mike: Some some general thoughts.  I have no idea why WWE decided to do 3 "PPV's" in the last 4 weeks.  Actually if you count NXT Unstoppable, it's been 4.  For the most part, I do enjoy WWE PPV's, even when the cards don't look all that impressive, they still put on a decent show.  BUT, at the same time, they really aren't allowing time to build any storylines.   
I remember a time when there was only one WWF PPV a year.  Granted,  I don't think a modern audience can wait an entire year for stories to be resolved these days, but do 6-8 WWE PPV's a year, and another 3-4 NXT PPV's seems like an ideal number for me.  I am sure I will watch Money in the Bank eventually, but it's just not a priority for me this weekend.  My wife is patient, but even she's not "let me ditch you with three kids, three out of five weeks to go to watch wrestling at my sister's house"' patient.  
Chris: I hear ya on that.  This looks like a fun card, but I'm in the same boat as you.  How many Sundays can I get excited to spend my entire evening watching wrestling. Fewer more meaningful shows would be ideal.
 
Jeff: I've booked better cards on my XBOX. Cards without Ron Killings or Big Show. Cards where logical match-making prevailed. This ain't one of those. Look, the WWE wants people to subscribe for something a good portion of their audience gets for "free" with their TV subscriptions. Instead of watering down your best commodity--live PPVs--maybe you should focus on other value-added programming. Bring back the Legends roundtable show! You have plenty of legends to work with. I would love to see a roundtable that includes Dean Malenko just to hear what he has to say. I would love to see the Pod People--Roddy Piper, Jericho, Austin, Jim Ross, maybe more discuss the current and future use of social media as a potential platform for pro wrestling. Hell, they can recycle all the old topics with new panels and it would still be more interesting than whatever the Hell Jerry Springer's show is, or the the "Corey Graves goes shopping" show. I don't want bullshit reality television on the most unreal entertainment outlet in the world. Keep it wrestling-centric.  
Mike: Totally agree with you.  Especially about more Legends of Wrestling!  I have watched the ones on the Network to death.  
---
WWE Reportedly Telling Wrestlers to stay away from TNA and ROH if they ever want to work in WWE
From Lords of Pain:
There were some top WWE officials very unhappy about Ring of Honor and Figure Toy Company releasing a Kevin Steen action figure because it's a non-WWE company being the first to enter the marketplace with an action figure of WWE's hottest new star. They were also upset because the look and character of ROH's Kevin Steen and WWE's Kevin Owens are essentially the same.

Officials are now trying to prevent this from happening again so there is pressure on Triple H and that department to get non-WWE talents with potential signed to NXT with merchandising deals before they make it a company like ROH or TNA that has their own merchandise and cable TV deals. They are also looking to create a pipeline to find the talents with potential before ROH and TNA finds them. The idea is to not sign talent from ROH or TNA now for the main roster and get the word out to younger talents that if they have WWE aspirations, they shouldn't sign with TNA or ROH. There will always be exceptions to the rule.
Mike: I understand WWE wants to protect their business interests, but they can't be surprised this is happening.  WWE has basically raided a ton of RoH talent over the last few years including Seth Rollins, Daniel Bryan, CM Punk, Cesaro, and more recently Sami Zayn and Kevin Owens.   As far as I am concerned, ROH releasing this figure is good for both companies.   
I wonder if WWE's reaction has anything to do with the rumors they are looking to do business with WWN, and the various federations under that umbrella like EVOLVE and Shine.  That could be a big part of the reason they are pushing people away from TNA and RoH.  
Or of course, this can all just be dirtsheet BS too.
Chris: This whole rumor stemmed from the fact that RoH has a Kevin Steen figure coming out very soon.  Apparently Steen/Owens had signed a multi-year licensing agreement, so the figure, and more merchandise, can come out through RoH.  
I just don't find this rumor believable.  It sounds like just what you said, dirtsheet BS.  I'm sure WWE is annoyed with the licensing agreement, but they're still pushing Owens to the sky, and they just brought in Samoa Joe for the sake of Sweet Christmas.  Joe isn't just a TNA guy, he's a RoH guy first, and he's back there on and off right now.  
Sure they may not like outside agreements, but if they really want a guy, they're going to get him and push them!  File this one under the crap file.
Jeff: Don't much matter to me either way. RoH is entertaining it's own way but not competition for the WWE. TNA...seems like I've heard of that somewhere...ah, yes! Strip clubs! This rumor deserves a "Boring!" chant. NEXT! Er..I mean...NXT!
---
NXT Results - 6/10/15
- NXT starts with...Zack Ryder??  Apparently Zack is teaming with the returning Mojo Rawley now.
- Zack Ryder/Mojo Rawley def. Mike Rollis/ Elias Sampson.  Mojo lifted his opponent so Ryder could hit a Ruff Ryder off the top rope.  Afterwards they celebrate in the crowd.
- Real creepy video with Finn talking about his dark side and whether or not someone should choose to embrace their demons.  Hyping July 4th live show on NXT network
- Hype video for Dana Brooke as the Total Diva.  She returns next week.
- Emma def. Blue Pants with Emma Lock.  It was Blue Pants birthday...weird that anyone in the crowd knew that, but they started a Happy Birthday chant.
- Enzo, Big Cass, and Carmella are backstage.  Mixed tag match next week against Blake, Murphy, and Alexa Bliss.  The promo had a hilarious Hunger Games theme to it.  
- Tyler Breeze def. Bull Dempsey with Beauty Shot. Tyler managed to wear Bull out by making him run around outside the ring until he ran out of breath.
- They show how the crowd reacted to Becky Lynch after her great match at Unstoppable.  Real odd segment, felt like filler.
- Becky Lynch def. Jessie McKay with a wicked torture rack slam into her armbar finisher.  They might want to consider changing Becky's theme song...it doesn't quite fit her awesome new steampunk look.
- Regal announces Samoa Joe will make his NXT in-ring debut tonight and Owens will be out at commentary.  Bull comes in eating a bag of chips.  Regal tells Dempsey that his display tonight was pathetic.  Bull makes several excuses. Regal calls him flabby and tells him to get his act together.  Regal takes Dempsey's chips and leaves. Bull pulls a candy bar from his tights and keeps eating.
- Jason Jordan is backstage.  He says that last week, his tag team partner did not work out.  He has a new partner lined up.  Clark Gable arrives and tries to get Jordan to team up with him.  Jordan declines again and walks off.  Gable writes his name on Jordan's locker.
- Baron Corbin def. Angelo Dawkins with End of Days in a short, one-sided match.
- Samoa Joe def. Scott Dawson with the Muscle Buster.  Joe calls Owens out after the match.  He accuses Owens of constantly running from him.  Owens comments, "I don't run any where." He says that he doesn't want to drop Samoa Joe after he just had his first match.  And he says that rookies can't just walk in and demand title shots. Regal comes out.  He agrees Joe hasn't earned a title shot...so he makes a non-title match next week between Owens and Samoa Joe.
Jeff: MR. MOJO RISIN'! MR. MOJO RISIN'! C'MON! Join in if you know the words!
Mike: I really like Zack Ryder...but I was a little worried when I saw he was teaming with Mojo.  Actually, to be honest, Mojo and Zack made a good tag team.  If nothing else, you can tell they were having a lot of fun  And I loved their finisher!   Mojo looks in great shape since his return.  It was also nice to hear the commentators talking positive about Zack Ryder.  On the main roster, they just basically shit all over him like he's never done anything of consequence.  
Jeff: MR. MOJO RISIN'! MR. MOJO RISIN'!
Chris: I love Zack, and at least he makes Mojo watchable.  I hope Ryder gets a chance to work in NXT regularly, but I'd much rather see him on his own.  Maybe this will lead to a run with Mojo & Zack against Blake & Murphy?
Jeff: MR. MOJO RISIN'! MR. MOJO RISIN'!
Mike: What great crime did I commit to deserve the return of Mojo Rawley and Bull Dempsey on the same night???  I APOLOGIZE TO WHATEVER SPIRIT I ANGERED!  Bull's new gimmick is even dumber than when he was supposed to be an unstoppable old school brawler.  Making Bull a slow, fat clown just seems shortsighted...not like they have much else they can do with him...
Chris: Bull hasn't won a match since he started feuding with Baron Corbin.  They turned him into a joke a long time ago, now they're not even pretending like he's badass. We have the new CJ Parker, my friend!
Jeff: Teasing a heart attack isn't even funny. Who wrote this show, Stephanie and Michael Hayes? Or did Vince Russo sneak in while we were watching MR. MOJO RISIN'!
Mike: All in all, this was a bad episode of NXT.  Mostly just squash matches.  Jessie McKay had an awful debut.  She looked real slow and awkward.  This was extra painful because Becky seemed to be showing off some new moves, but the match itself was kind of painful because McKay could not hold up her end.
Jeff: Agreed. Was I supposed to care about Jessie? She's utterly generic, and that's on a show with a character named Blue Pants! By the way, Happy belated birthday, Blue Pants! You're terrific! Hope they book you to win a few soon. Even Jessie's awkwardness is more enjoyable than Emma, who has at last abandoned that ridiciulous dance of hers.  
Chris: This episode was an utter waste of time.  It felt like the old squash match days of Superstars and Wrestling Challenge. There's no reason we couldn't get a single quality match where the outcome didn't hit you over the head during the introductions.  
Mike: WWE really needs to reconsider their taping schedule.  I know this show was taped the night after Unstoppable, so I am sure a lot of the main NXT talent was still wiped out.  Understandable.  BUT, for the viewer, four weeks later we're seeing Scott Dawson in a main event?  Really?  The whole night was pretty lackluster.  I can't think of any matches that really stood out for me.
Chris: The product has NXT TV product has slipped a bit since Unstoppable.  Vince has taken the champ to the main roster, and the quality of matches has dropped distinctly.  Do you think Vince was jealous of NXT and Triple H?
Mike: I honestly think some of it is just timing.  Owens moving over to the main roster, Sami and Hideo both being out with huge injuries, and wanting to give some of the big names some time to rest after Unstoppable.   These are still the episodes that were taped the night after Unstoppable after all.  Huge props to Becky Lynch who is an iron woman.  Great match at Unstoppable, and a few matches the next night too.    
Jeff: MR. MOJO RISIN'! FREE SASHA BANKS! MR. MOJO RISIN'! BRING BACK CJ PARKER! MR. MOJO RISIN'! THIS SHOW WAS S-A-W-F-T, SAWFT!!
---
Lucha Underground  Results - 6/10/15
- Drago is standing on the roof of the temple.  He spreads his wings and leaps down.
- Vampiro apologizes to fans for letting his emotions get away from him last week.  Stryker says that Vampiro might have saved Sexy Star's life and career.
- Dario announces that in two months, they will be doing a huge event called Ultima Lucha.  Today, they will have a match to decide who will fight for the Lucha Underground title at Ultima Lucha. He has invited all those who fought Puma for the title.  Hernandez, King Cuerno, Cage.  Fenix won't be involved since Mil Muertes sent him to an early grave.  And Drago is still banished from temple.  
Dario also announces the return of Blue Demon, Jr. who comes out in a suit  Dario points out Blue Demon was in Lucha Underground's opening match.  But if he wants to be part of Ultima Lucha, he needs to prove he has no ring rust.  Blue Demon needs to defeat Chavo...RIGHT NOW...in a no DQ match.  Chavo is escorted by The Crew. Demon is still in a suit, and not ready for a match, but Dario calls for the bell.
- Chavo def. Blue Demon Jr.  Lots of help from The Crew, including holding Blue Demon down so Chavo could hit a frogsplash.
- Drago walks into the temple's loading docks.
- Chavo is in the back talking to Black Lotus in her cell.  He explains that business is business.  Black Lotus promises that Dragon Azteca will make sure all of Mexico finds Chavo for his betrayal.  Chavo says that after what he just did to Blue Demon, Mexico would never have the balls to come after him again.  Chavo taunts Lotus and walks off.
-  Dario is looking in a mirror. Drago appears behind him.  Dario threatens to call security, but Dragon grabs him and reminds him that Dario said all the men who faced Puma would get an opportunity tonight.  Dario reminds Drago that he's banished.  Drago insists that he needs to have a chance to get revenge against Hernandez who is responsible for his banishment.  Dario agrees on one condition, if Drago loses, he continues to be banished and has to give up his mask.  Drago agrees.
- Trios tag match - Disciples of Death def. Bengala, Mascarita Sagrada, and Pimpinella Escarlatta.
- Johnny Mundo goes into Dario's office.  He's pissed that he is not in the number one contender's match tonight.  Dario says that is because he hopes Johnny will be champion at Ultima Lucha.  He gives Johnny a title match for next week...an Iron Man match against Puma that will last the entire show.
-Four way match for number one contender - Drago, King Cuerno, Cage, and Hernandez.  Drago wins with the dragon tail after spitting mist into King Cuerno's face.  During the match, Killshot comes out to watch, and King Cuerno taunts him some.  After match, Puma comes out and has a brief staredown with Drago.
- Dario Cueto is staring out at them from his office.  Catrina appears and tells Dario he made a mistake not including Mil Muertes in this match.  Dario says that he had no idea Mil had any interest in titles.  Catrina starts to choke Dario with his key and says Mil destroys everything in his way.  All men, mortal and immortal want power.  Dario says that in two weeks, Mil will face Drago, and the winner will face the champion at Ultima Lucha.  Catrina says that even the monster Dario keeps in his cell is no march for Mil Muertes.  And then she vanishes.
Mike: Am I the only one who thinks it's real odd that they keep talking about Mexico like it's a person, and not a massive country?  Mexico is coming for revenge against Chavo...are they sending their whole army?   I really think they should replace "Mexico" with "Blue Demon's family," that would make these segments a little less awkward.
I actually watched this show right after NXT.  The opening match might have been the worst match in Lucha Underground history.  Bengala looked great and had some cool moves in his debut, but that was about it.  I can really do without Pimpy and Sagrada.  They just don't add anything to the show for me.  And the Disciples of Death looked real uncomfortable in the ring at times.  I suspect that at least two of them are not used to wearing masks in the ring, and it showed.  
Chris: We are in complete agreement on Sagrada and Pimpinela.  Utter waste of time when they're in a match.  I like the look of the Disciples, but this match did very little to get them over.  Another glorified squash.
Mike: I was real glad when this match ended...though I was enjoying watching Catrina.  Wow is she hot.  I also like that she seems to be a master manipulator.  She's got a team in the hunt for the trios titles and maneuvered Mil into a shot for number one contendership.  Catrina might be the most powerful person in the company right now.
Chris: It's cool how they've changed the top heels around so much.  Texano, Cuerno, Mundo, and Cage have all had major spotlight heel moments.  This is the second time Muertes has had a run as the focal point.  I like it.  The show never gets stale since they are always keeping the top fresh.
I just wish that Pentagon, Jr. had a chance to really shine with a top spot.  Hopefully soon.
Mike:  I have some theories about Pentagon Jr.  I'm thinking that Mil Muertes is his mysterious Master.  Mostly because of the identities of the men under the Disciples of Death masks.  I am almost positive it's three of the guys that Pentagon put out of action when he broke their arms...BUT, I have no idea if in Kayfabe they are supposed to be playing the same characters…
Another possibility is that it's Vampiro.  I loved the tease last week that Vampiro's dark side is lurking just under the surface.  Not 100% sure that makes sense, but I'm still leaning  that way as a possibility.
Or they can just go the WWE route and reveal that it was Dario Cueto...it was Dario Cueto all along...
Chris: Was that in your best Vince voice?
All very solid theories.  I haven't given it much actual thought.  I like the Muertes theory best.  The idea that Pentagon was turning people over to Muertes is pretty cool. The way the stories are building, I'm sure we will know soon.
Mike: Tonight's main event really saved the day for me.  It was just an impressive match with all four men getting a chance to tell their story.  A lot of threads that have been developing for a while in Lucha Underground came into play here, including the long standing feud between Drago and King Cuerno.   There were also some of the crazy spots that Lucha Underground is known for.  This match really made up for the bad night of wrestling I was having between NXT and the opening match of Lucha Underground.
Next week's Lucha Underground should be unique.  They are going to do an Iron Man match for the entire episode for the Lucha Underground title.  Not sure I am all that interested in watching anyone wrestle for 45 or so minutes straight these days, but if anyone can pull off a great match with it, it's Prince Puma and Johnny Mundo.
Chris: I agree these two should be able to pull off an engaging Iron Man Match.  Hey, at least we don't have to watch Sagrada or Pimpinela next week!
---
PWS Supercard 2015 Results (6/6/15)
1. Habib From The Car Wash defeated Matt Macintosh
2. Mick Foley's 50th Birthday Party featuring Shane Douglas, Jake Roberts, Jimmy Snuka, Kevin Sullivan, Bret Hart, and Mick's kids Huey, Dewey, & Noelle. Bully Ray came out and made fun of the legends until his match with Colt Cabana was started.
3. Colt Cabana pinned Bully Ray.
4. PWS Tag Team Champions The Handicapped Heroes retained against Aesthetic Enterprise
5. Bonesaw defeated Sabu in a Lumberjack Match
Lumberjacks included Monsters Island, Balls Mahoney, Justin Credible, & New Jack. Monsters Island were attacked by The Blue World Order. Raven joined in and DDT'd Stevie Richards and announced he is the leader of Monsters Island.
6. Helmet & The Heavenly Bodies beat Reality Check (Devon Moore, Kevin Matthews, & Craven Varro).  This long brewing story saw Helmet unmasked as Bodies manager "Shining" Edward Jackson.  Reality Check's Moore turned on Craven & Kevin revealing he was in actuality Helmet.
7. Sandy Mann with Craig Steele pinned Johnny Howl. Afterwards, Jake Roberts hit the ring to DDT Craig Steele.
8. CPA defeated Eddie Kingston & The Lifeguard in a Triforce Match (Nikos Rikos originally was involved but sold his spot to The Lifeguard)
9. Brian Myers became the first PWS Television Champion by defeating Chris Payne after Payne's manager, Tessa Blanchard, turned heel.
10. Bobby Wayward retained The Suicidal Six Way Title against Brian XL, Anthony Bowens, Amazing Red, Starman, & The Drunken Swashbuckler.
11. Dan Maff became the new PWS Champion when he defeated Fallah Bahh & Mario Bokara in a No DQ Match
Chris: Supercard is the PWS equivalent to Wrestlemania, and this show didn't disappoint.  The crowd was nearly 2,000 strong and red hot all night.  It was cool to see Dan Maff finally win the PWS championship.  The match itself was insane.  There was a door, tables, thousands of tacks, and lots of nutty spots.  Mario Bokara even had a chair decorated like the Croatian flag, and Fallah Bahh stole shoes from a guy at ringside.  It was indeed a main event to be remembered.  
I have to mention the opener, as well.  Habib and Matt Macintosh have been feuding for months and this was a fantastic back and forth battle that took a hot crowd and electrified them.  These guys will be on opposite sides of the ring Summerslam weekend in a tag match with Amazing Red (Macintosh's partner) and Rey Mysterio (teaming with Habib).  If you're coming to town for Slam, then you should try to hit this show!  I'm going to be on a family vacation at Disney World that week, otherwise I would be too.
All said, the opening and closing matches were probably my favorites.  Still, in between we got the breakup of Reality Check, an excellent tag title match, the new TV champ Brian Myers, Sandy Mann winning two shows in a row, Cabana vs. Bully, and so much more.  I always have a blast with PWS shows, but this one was extra special.