Cheap Pops Special Edition - Ultima Lucha Predictions
FTC Statement: Reviewers are frequently provided by the publisher/production company with a copy of the material being reviewed.The opinions published are solely those of the respective reviewers and may not reflect the opinions of CriticalBlast.com or its management.
As an Amazon Associate, we earn from qualifying purchases. (This is a legal requirement, as apparently some sites advertise for Amazon for free. Yes, that's sarcasm.)
Submitted by

Mike 'Ace' Maillaro

on Wed, 07/29/2015 - 03:00
Over the next two weeks, Lucha Underground is doing their big "season finale" event called Ultima Lucha.  It starts this week and will finish off on August 5th with a big two-hour blow out.
I do want to comment on how impressed I've been with the build-up for this show.  Lucha Underground basically put together a coherent season-long story line.  Many of these matches have been building for a long time.  I did think it was a little odd that the Black Lotus storyline seems to have vanished, but I suspect that might have been because Chavo Guerrero's injury.  Hopefully if they have a season 2, we will finally get to meet Matanza. 
Oh and thanks to El Rey for these awesome match headers!
---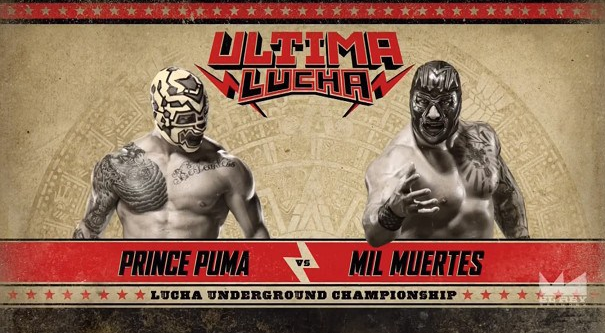 Prince Puma (c) Vs Mil Muertes - Lucha Underground Championship
The end of the July 22 episode was awesome.  Puma took out the Disciples of Death, hit the 630 on Mil Muertes, and did a beautiful springboard backflip landing on the Lucha logo at the center of the ring.  That was just about the best setup for a main event I've seen in a very long time.
Puma has been real impressive as champion taking on all comers.  But Mil Muertes, especially since he's "returned from the dead," has been unstoppable.  To me Ultima Lucha is going to be Mil's night.  He'll be the new Lucha Underground champion, and probably put a massive hurting on Puma in the process.
Prediction: Mil Muertes
---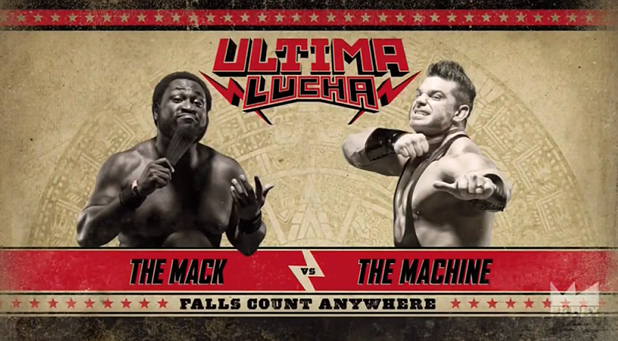 The Mack Vs Cage - Falls Count anywhere
For two big guys, The Mack and Cage are both ridiculously fast and angle.  The first time I saw The Mack, I was expecting someone fat and slow, but he's never failed to impress me.  And Cage is in my top three favorite wrestlers in Lucha Underground.  This match is actually part of the "pre-show" this week, but I expect if they give it some time, it can really steal the show. 
Cage is a huge name in the indys, and I expect him to continue to dominate in Lucha Underground.  This will be a hard fought match, but Cage will most likely win.
Prediction: Cage
---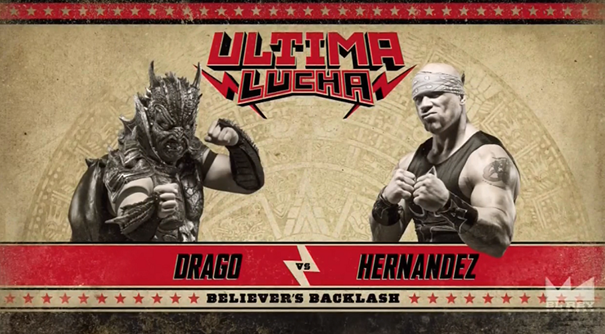 Drago Vs Hernandez - "Believer's Backlash" Match
On paper, this match is insane.  It's basically a lumberjack match, but instead of wrestlers, fans will fill the ringside area to ensure the wrestlers stay in the ring.  Fans armed with leather belts.  It's safe to assume this match will be gimmicked to protect the wrestlers and actual audience members, but it still should look really cool. 
Both of these guys put on great matches.  Hernandez, better than just about anyone I've seen in a long time, really knows how to continue playing his character throughout the whole match.  And Drago just has a wide variety of moves and styles he can pull off.  Drago has been a fan favorite since the early days of Lucha Underground, and Hernandez seems to be trying to move on from the company, so Drago takes this one.
Prediction: Drago
---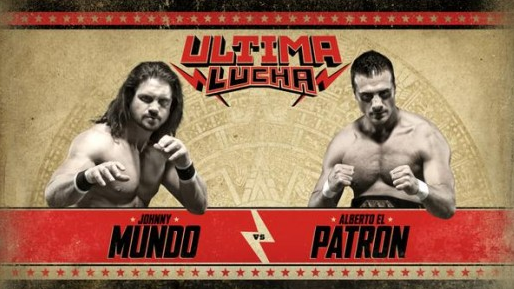 Johnny Mundo Vs Alberto El Patron
Both Johnny Mundo and Alberto El Patron have really thrived outside of the confines of the WWE.  This is probably the match I am most excited about for Ultima Lucha.  It's hard for me to pick against Johnny Mundo, my favorite wrestler, but Alberto needs to get payback after Johnny cost him the Lucha Underground title and threw him through Dario Cueto's window.  So I am going to pick El Patron.  If there is a season 2, I really see Alberto as taking over the top spot of Lucha Underground.
Prediction: Alberto El Patron
---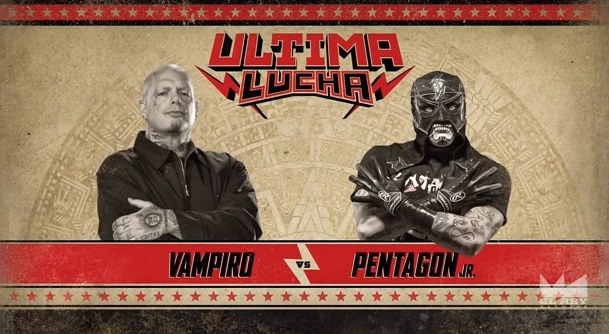 Vampiro Vs Pentagon Jr
I honestly have no idea if Vampiro can still go.  They have built this match up real well, but it doesn't make a lot of sense for Pentagon to lose to Vampiro.  I keep expecting some kind of twist where Vampiro ends up being the Master that Pentagon is serving.  But, right now, my money is that the Master will end up being Mil or Katrina.  Unless Vampiro is the Master, Pentagon will take this one.  But, I hope Vampiro can still give us one of those brutal crazy matches he was always known for.
Prediction: Pentagon Jr.
---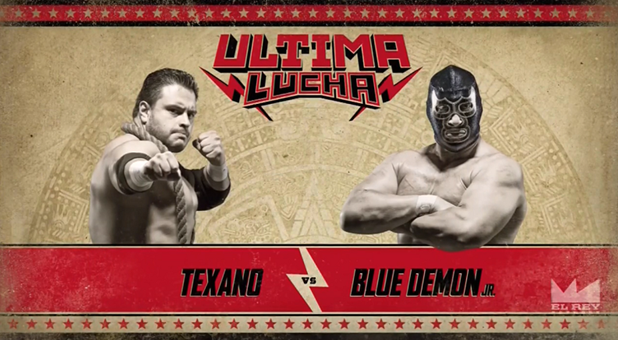 Texano Vs Blue Demon Jr - No DQ match
The build-up for this match has been real strange, with Texano suddenly becoming a face and Blue Demon becoming a heel.  I think a lot of that was because of injuries to Chavo Guerrero.  This match is supposed to tie into the family feud between these two Mexican clans, but we haven't gotten to see enough of that to really care about this match.  They seem to be feuding over "who is more Mexican." 
One thing Lucha Underground needs to be real careful about is making sure viewers without a lot of exposure to Mexican wrestling can still follow what's going on.  I honestly have no idea who wins this one.  Flipping a coin, and it comes up Texano.
Prediction: Texano
---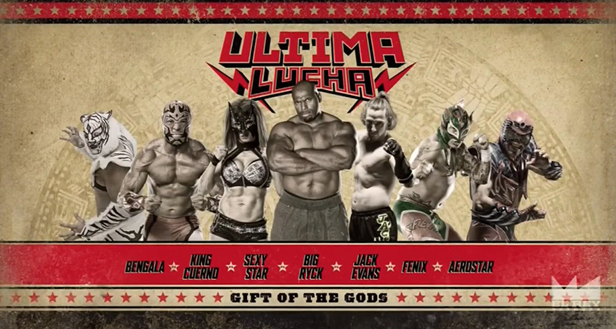 Bengala, King Cuerno, Sexy Star, Rig Ryck, Jack Evans, Fenis, and Aerostar - Seven Way match for Lucha Underground Gifts of the Gods Championship
If Puma were to win the main event, I'd be less sure about who would win this one.   The Gift of the Gods is basically Lucha Underground's version of Money in the Bank with the winner being entitled to a shot at the Lucha Underground title.  BUT, I am pretty sure Mil Muertes is going to dominate this PPV.  If that is the case, the only right answer is to make sure Fenix wins this one.  He has a lot of history with Mil Muertes.
Prediction: Fenix
---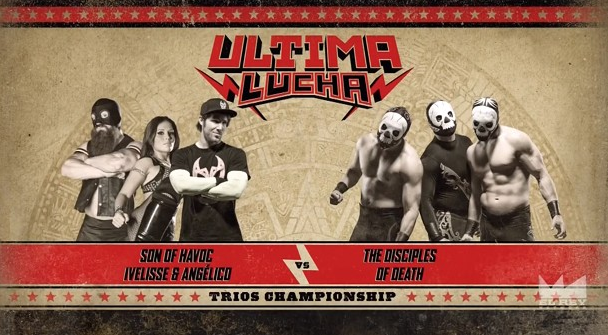 Angélico, Ivelisse and Son of Havoc (c) Vs The Disciples of Death - Lucha Underground Trios Championship
Like I said, I really expect Mil Muertes to emerge from this PPV as the real power behind Lucha Underground.  I love Son of Havoc, Ivelisse, and Angelico, but I'm thinking that it's about time for a title change.  Actually come to think about it, we've never seen a title change in Lucha Underground.  Puma was the first Lucha Underground champ and Team Dysfunction was the first Trios champs.  But I think both reigns end at Ultima Lucha.  Which is kind of a shame since the Disciples of Death haven't done much to impress me so far.  They remind me of goons from Power Rangers.
Prediction: Disciples of Death