Cheap Pops - Wrestling News & Views - August 2, 2015
FTC Statement: Reviewers are frequently provided by the publisher/production company with a copy of the material being reviewed.The opinions published are solely those of the respective reviewers and may not reflect the opinions of CriticalBlast.com or its management.
As an Amazon Associate, we earn from qualifying purchases. (This is a legal requirement, as apparently some sites advertise for Amazon for free. Yes, that's sarcasm.)
Submitted by

Critical Blast Staff

on Mon, 08/03/2015 - 09:02
by Chris Delloiacono, Mike Maillaro and Jeff Ritter
This week!
- RIP Rowdy Roddy Piper
- WWE Second Quarter Earnings
- Update on WWE Network subscribers
- Which Diva has called it quits?
- NXT Results
- Ultima Lucha Results
---
RIP Rowdy Roddy Piper
On Thursday, WWE Hall of Famer Rowdy Roddy Piper passed away at the age of 61.  He went into cardiac arrest while he was sleeping.  There has been a lot of wonderful tributes from other wrestlers:
Vince McMahon - "Roddy Piper was one of the most entertaining, controversial and bombastic performers ever in WWE, beloved by millions of fans around the world."
Sheamus - "RIP Roddy Piper. THE most Rowdy of characters, of all time. He was very good to me... Condolences to his family.  #RIPRoddy"
Jesse Ventura - "Sad to hear about Roddy Piper.He once worked 91 nights w/out a day off.WWE wouldn't be what it is today w/out him.Wonderful athlete & friend"
Zack Ryder - "RIP "Rowdy" Roddy Piper...I'll never forgot you smashing a coconut over my head at WrestleMania XXVII"
AJ Brooks - "The original rebel. One of my greatest inspirations. Thank you for your guidance. RIP Piper."
Triple H - "Saddened about the passing of "Rowdy" Roddy Piper. He was truly a legend and icon, and will never be forgotten... #ThankYouRoddy #RIP"
Chavo Guerrero - "My Heart is soooo Heavy right now. I can't tell u what Roddy meant to me & my family. He was part of the Guerrero family. He was a father figure to me. His talks helped me so much in wrestling & in life. He will be GREATLY missed Love You Roddy!! #RIPRoddy #oneofthebest"
Ric Flair - ""We've shared the ring, traveled the world, maintained a friendship throughout the ups and downs of the wrestling world, and battled to see who was the better heel. It's almost impossible to express my grief. My condolences to his children and to his wife Kitty. I'll miss you Roddy. The world will never be as Rowdy without you."
Chris: Just when you think you've got all the answers, Hot Rod passes away.  There's never going to be anyone like Roddy Piper in this industry.
Piper was as important to the '80s wrestling boom as Hulk Hogan.  Without a fabulous villain to play off of, Hogan wouldn't have risen to the heights he did.  Roddy's talking was second to none.  Without him, what would the original Wrestlemania have been?  It was barely better than a house show, that is, until the bagpipers led Roddy to the ring.  He made the event must see.
The whole lead up to Mania was the War to Settle the Score and various other confrontations with Piper, Cyndi Lauper, Mr. T and Hulk Hogan.  What amazing television.  Hot Rod's work still holds up today!
Piper was also capable of being a truly endearing hero in the squared circle.  His movie work and face days were no less engaging than his time as the most "evil" heel.  That shows just what a special charisma he had.
There was nobody that cut promos like Roddy.  Mike is probably too young, and Jeff is from the wrong area of the country, but there was a house show at MSG where Piper did a Pit with Paul Orndorff after their breakup.  A challenge was made for a tag match at the next month's event.  Piper wanted the fans to choose his partner.  He called a fan out of the crowd, and before he let the guy choose Hulk Hogan, Piper looked at the guy's buzz cut and asked "Is that hair or nerve ends."  That line has stuck with me for thirty years.  Brilliant and off the cuff.
The most awful part of Piper's career is that Hogan never gave him a big win.  Of course, Piper didn't really reciprocate either.  That's perhaps the most amazing thing about Hot Rod, he went close to 20 years without a pinball loss.  A small dude like that never getting his shoulders pinned.  Could you imagine what a behind the scenes player he was?
Oh, Roddy... My words can never give you a proper send off.  
RIP!
Mike: I got into wrestling just before Wrestlemania III, and at that point, Piper had basically started to become much more of a fan favorite.  He was even doing movies at that point, including THEY LIVE and HELL COMES TO FROG TOWN.  It wasn't until much later on that I got to see much more of the earlier "heel" Piper. Piper was an incredibly versatile talent.  
He also could fight a hell of a brutal match.  His dog collar match with Greg Valentine at the first STARRCADE is one of the most disturbing matches I have ever seen.  
And no one cut more entertaining promos than Roddy Piper.  He was always so full of piss and vinegar (even as a face) that I couldn't help but love the guy.  He will definitely be missed!
---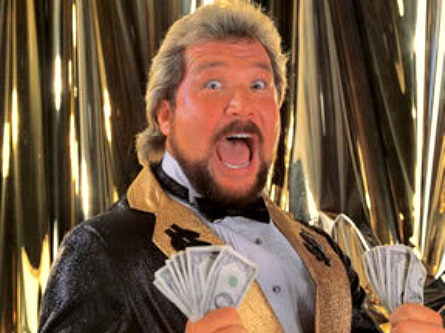 WWE Reports Strong Second-Quarter 2015 Earnings Growth
From Lords of Pain:
STAMFORD, Conn., July 30, 2015 – WWE (NYSE:WWE) today announced financial results for its second quarter ended June 30, 2015. For the quarter, the Company reported net income of $5.1 million, or $0.07 per share, compared to a net loss of $14.5 million, or $0.19 loss per share, in the second quarter last year.
"The performance of WWE Network demonstrates our ability to transform our legacy pay-per-view business into a global subscription business with high growth potential," said WWE Chairman & CEO Vince McMahon. "We have made meaningful progress executing our key strategic initiatives, including the achievement of significant international growth and increased engagement across our digital and social media platforms."
"Our strong earnings growth was driven primarily by the expansion of WWE Network subscribers, the escalation of our television rights fees as well as strong sales of our franchise video game. For the quarter, our OIBDA surpassed our expectations," added George Barrios, Chief Strategy & Financial Officer. "The ramp-up of WWE Network subscribers, while exhibiting a seasonal pattern, continued to show strong year-over-year growth. Our success in developing WWE Network, maximizing our television rights fees and driving revenue growth from our global markets reinforces our long-term potential."
Mike: Typically we don't cover this kind of thing, but it's been a really quiet news week (unless you want to talk about Cena getting his nose broken).  I can't even remotely pretend to be an expert on finance, but this is a huge turnaround from the doom and gloom that was being thrown around in the middle of last year.  
The sad part?  Middle of last year, WWE was putting out a much more compelling product, but those things rarely matter much when it comes to stock prices.  I haven't watched ANY of Raw or Smackdown live since Wrestlemania.  Pretty much I just watch highlight videos that friends tell me I need to check out days after they air.  Even my beloved NXT has been kind of blah lately.  
---
WWE NETWORK Update
Mike: From that same report, the WWE is reporting they have 1.156 paid WWE Network subscribers as of June 30, 2015.  This is down from the 1.327 million they announced the day after WrestleMania 31.  According to the WWE, the Network has attracted more than 2 million unique subscribers with approximately 61% of those still active.
I actually wonder if this "low" subscriber number is because WWE keeps offering free months or people sharing accounts.  From everything I have heard, WWE has done little to crack down on people who keep subscribing from different emails which would allow them to get extra free months.  I've never done this, but I have heard a lot of people say they have.   Also, they don't seem to do much to prevent multiple people from using the same account.  That has to have some impact on their business too.
All that said, over 1 million subscribers is still a solid number, though I definitely would have expected it to be higher.  Just for NXT and the PPV's, I definitely always feel like I'm getting my money's worth.  I've been a paid subscriber from day one, and have no plans on changing that anytime soon, even with my disinterest in WWE's current product. Unlike the stock price, I strongly suspect the quality of the product is what's keeping many people from being willing to pay for the network. 
Jeff: The product could certainly impact subscriptions, but I do think the bigger issue is the service model. Too many promo offers--fans get in, catch up on NXT and wait a few months to repeat. Binge-watching is how it gets done these days. I'd rather have an entire season at my fingertips than have to wait week after week. In that respect, I think truly episodic television is on the precipice of decline.
Also, what have the fans been taught to watch? Raw and Smackdown. And where are those shows? Not on the Network. There still sitting on that old dinosaur called cable television. People are cutting the cord faster than ever these days. I wonder if there would be a substantial jump in cable and satellite cancellations if the WWE brought all of their programming in house? You want the WWE? It's $9.99 a month. Heck, I think they could go up to $14.99 if fans had nowhere else to get their wrestling fix. Of course they do--RoH, Lucha Underground, New Japan Pro Wrestling all offer a bit of  different flavor. And that's good, because competition drives innovation. I'm sure the WWE doesn't consider these promotions to be any real competition, and heck, TNA isn't either--they've slipped so far I didn't even think to list them until just now. But we all remember how stale the WWE product got after the WCW merger. Vince doesn't need a head-to-head war, but he does need alternatives to at least consider now and then. Otherwise he'll just do skits he and he alone finds amusing. I think if Vince brought RAW and Smackdown over to the Network, he'd multiply subscriptions ten-fold. If he wanted to sell advertising on his network, well, we get WWE ads already, so who cares if we get a commercial now and then for Jack in the Box or the Chevy Volt? Advertisers will love knowing they have a captive demographic.
---
Seth Rollins returns to Daily Show
Mike: This was just so random and hilarious!  Great way to set up one of the absurd clip segments they have been doing the last few weeks to countdown until Jon Stewart's last episode next Thursday.   Hopefully he will do more work for WWE now that he's been fired from The Daily Show (he wasn't really fired).
Seth also brought Jon Stewart a replica of the WWE title with The Daily Show logo on the side plates, which I think is an awesome send-off.  Jon Stewart is a huge WWE fan and I love when WWE shows respect for their fans this way.  Too many celebrities act like Professional Wrestling is something stuck on the bottom of their shoe.  So when you have real fans like Stephen Amell, Jon Stewart, and Hugh Jackman, the WWE seems to go out of the way to show thanks.  
Jeff: I love Jon Stewart, but I could not care less about the extra kayfabe celebrity angles. I also wish somebody would smack Vince on the nose with a rolled up newspaper and say, "No. No! You do not approve title belt designs anymore! Bad Vince!" The Tag Team Championship belts look like they're a sponsored product placement for Trojan condoms and the WWE World Title is just so bad it's laughable. I've seen better looking championships made out of cardboard and aluminum foil. I'm sorry Jon Stewart didn't rate a better chunk of hardware, like the old Undisputed Championship, or Flair's World Title.  
---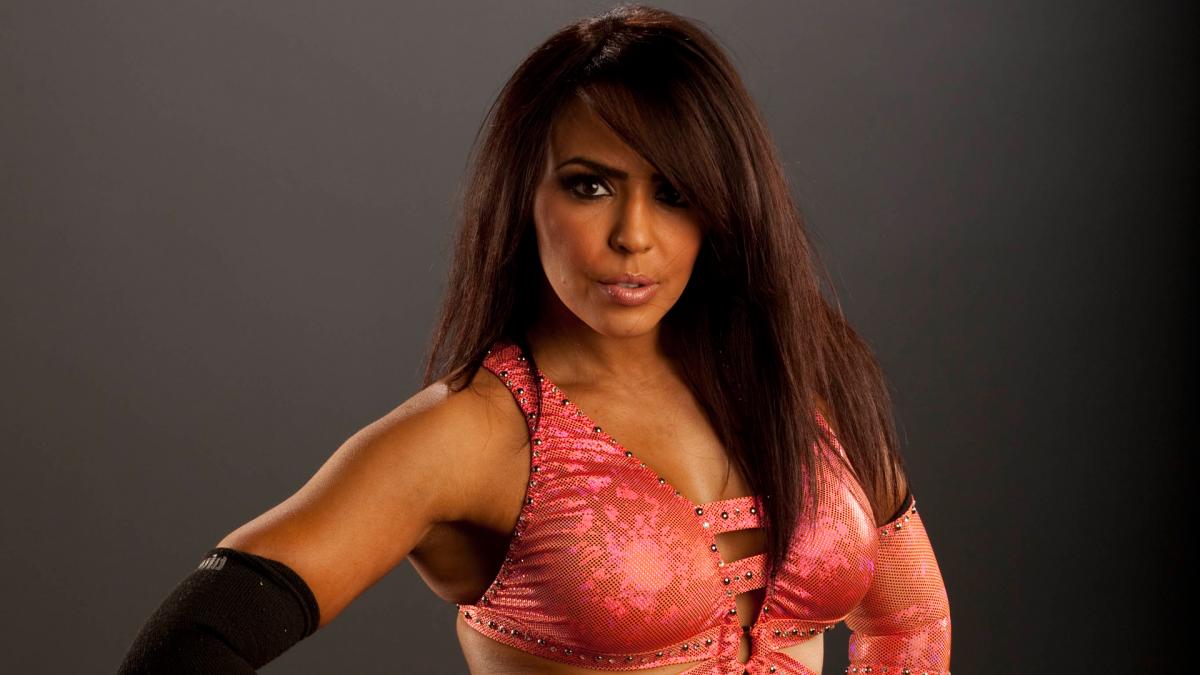 Layla retires from WWE
WWE's website has a new interview with Layla, who has announced her retirement.
"I feel like deciding to retire from the ring has been a hard decision to make because I'm passionate and I love performing. I've known everybody in that company now for nine years. They're family. I spend more time with crew and Superstars and Divas on the roster than I did with anybody else. It becomes part of your life. And not only that, it's hard walking away from the fans. Part of me feels a little bit guilty for walking away because [WWE fans] are 100 percent loyal and have supported me since 2006. I wouldn't even have this job if the fans didn't vote in the Diva Search. I was able to win that competition because of them and I was blessed. But sometimes you just need to step out and take a risk and move onto the next phase in life."
Mike: I actually had no idea Layla was still considered an active member of the WWE roster anyway. She is another wrestler the WWE has wasted in recent years. She is solid in the ring, beautiful, and has a ton of personality (LayCool was definitely my guilty pleasure) but more and more she took a backseat to the other Divas. I hope she turns up someplace else soon, because she's a talented wrestler. But if she decides to get out of the business entirely, I wish her nothing but good luck in the future!
Jeff: She was, in my opinion, the hottest Diva in the company until Sasha Banks came along. I'm a sucker for English accents though. Frankly I think she'd have a shot at an acting career if she chooses to pursue that route. She might not get Meryl Streep parts, but she ought to be able to out-act Kristen Stewart. Most American Girl dolls exhibit more personality. Good luck, Layla! Say, speaking of making the jump from WWE to Hollywood, am I the only one who thinks William Regal could get some legit work? I could see him as Q or the right hand of the major Bond villain in the 007 franchise. I could see him as a member of S.H.I.E.L.D. turned HYDRA, or the other way around, or perhaps portraying one of the old Invaders on MARVEL'S AGENT CARTER show. Maybe Union Jack, retired? Or a big player in the next KINGSMAN movie?
Sorry, I hijacked the topic. Make Layla an agent too, either in Marvel or KINGSMAN. There, we're full circle now!
Mike: I love Regal.  I definitely think he could do some awesome villain work in Hollywood!
---
NXT Results - July 29, 2015
- Dash Wilder and Scott Dawson def. Enzo Amore and Big Cass with Shatter Machine (flapjack into code breaker)
- Jason Jordan and Chad Gable are backstage.  Jordan says they might not always see ete to eye, but they are getting the job done.  Gable mocks Enzo/Big Cass and the Hype Bros.  This was a solid promo!
- Video hyping Charlotte Vs Dana Brooke.
- Baron Corbin def. Jesse Sorenson with End of Days.  10 seconds squash match.
- Regal is backstage.  Tyler Breeze storms in and demands to find out who his opponent is for NXT Takeover.  Regal says he found him an opponent, but Breeze should careful what he wishes for.
- Jason Jordan and Chad Gable def. Elias Samson and Levis Valenzuela Jr with their awesome finisher, Grand Amplitude (which is a terrible name).
- Dana Brooke and Emma are backstage.  Dana says Charlotte has been running scared.  Dana will be taking over the NXT women's division and serving Charlotte an eviction notice.
- Regal is backstage with Bull Dempsey.  Regal says Bull might have an eating problem.  Flashback to Bull's recent issues with food.  They turn it into a very old-school segment of a montage with Bull trying to get Bull-Fit.  Pure comedy segment.  I do feel a little bad for Bull...but I did love the old school feel of this whole segment.  This was the wrestling segment I grew up on...now if that is a good thing is definitely up for debate.
- Charlotte def. Dana Brooke with Natural Selection
- Samoa Joe hypes up match with Rhyno for next week.  He's coming after the NXT title and he will end Rhyno to get what he wants.
- After Owens attacked Regal last week, Owens came back to apologize.   He had a rough couple days and things got out of control.  Regal says he can't wait to see Owens get beat in Brooklyn by Finn Balor.  
- Eva Marie is excited to see her hard work pay off.  She wants the NXT women's title.  Sasha had better watch out.
- Kevin Owens def. Martin Stone with Pop-Up Powerbomb. After match, Owens powerbombs Stone on the ring apron and mocks Finn Balor.
- Promo video for Rhyno.  They are not leaving a lot of time for the main event tonight…
- Blake and Murphy def. Vaudevillians to retain NXT Tag Titles thanks to interference by Alexia Bliss.  The Vaudevillians hit the Whirling Dervish after the match and hold up the NXT Tag titles.  Even though she cost them the match, the Vaudevillians try to be chivalrous for Alexia and hold the ropes open for her.  And she insults and smacks them both!
Mike: Holy crap!  This show started with a match where both teams actually got entrances?  I didn't think that happened any more!  Enzo hiding behind Big Cass while yelling at his opponents was just hilarious. All in all, this was just a typical tag team match.  Nothing really new happened here.  But I did think Wilder/Dawson matched up well with Enzo and Big Cass.  This match won't be on anyone's match of the year list, but it was still solid.  And I was not expecting Wilder and Dawson to win.  The finish to this match was good, though the timing seemed a little off.
Jeff: I actually did expect Wilder and Dawson to win, because Enzo and Cass don't necessarily rely on wins and losses for success. They're going to succeed or fail on fan approval alone. I dig Wilder and Dawson. They have an old school vibe. To that end, I wish they had an old school name. I won't remember Wilder and Dawson come next week's show, any more than I remember Jordan and Gable or...dammit. See? I don't remember...hang on...Blake and Murphy either. Random pairings of generic names doth not a tag team make. Dawson and Wilder should be called "The New Brainbusters" and have Arn Anderson manage them. Bring in Tully Blanchard if Arn can't be available for every taping. Or make some new, original tag team name for them, but don't just called them Wilder and Dawson. I can't even remember which one is which yet.  
Oh, and the Shatter Machine? Great name, great move! I want that in a WWE videogame soon!
Mike: I am really starting to dig Gable and Jordan.  Gable might be a little undersized, but I love his charisma, and he's got some real wrestling chops.  These guys can really work an entertaining match with lots of unique moves.   Levis Valenzuela Jr might have the longest name in wrestling.  Samson and Valenzuela actually worked a real good match here too.  Definitely not a squash, which was a nice change of pace.
Jeff: Admittedly I didn't watch this one real close, but I believe I went on record already in recent weeks talking about Samson. I was a big fan of Hercules Hernandez, and Samson, while not quite the same build, could take on a similar persona, as the Biblical powerhouse who should really avoid getting challenged to a hair vs hair match.
As for Jordan and Gable, they're very talented individually and have plenty of potential as a duo, but Grand Amplitude? Wasn't that a car? Or a rhythm game on the PlayStation2?  I guess after Shatter Machine all the good names were taken? Or do those milquetoast monkeys doing play by play come up with names? Those three pathetic excuses for broadcasters couldn't name a puppy.
Mike: Charlotte and Dana Brooke has some good back and forth in their match, but Dana can't quite hang with Charlotte.  It was painful at times to watch Charlotte have to sell Dana's ridiculously weak looking offense.  I was real glad they didn't have Charlotte lose to Dana.  I would really rather have seen Cassie or Jessie in this spot than Dana Brooke.  They seem to have a lot more to offer me as a wrestling fan.  
Jeff: Dana is clearly not ready for primetime. Better push Blue Pants for a bit!  
Mike: During the segment with Owens and Regal, I was yelling at my TV "HURT HIM REGAL!"  I know, I know.  I criticize WWE all the time for letting vets not putting over the new guys, but I am a huge Regal mark.
Jeff: Blue Bloods for life, old chum!
Mike: Blake and Murphy are having a good heel run as Tag Team Champs.  At least they get to beat real opponents (I'm looking at you Ascension).  I find myself getting annoyed when they beat teams I like like Vaudevillians or Enzo and Big Cass, but I think that it perfect for a heel tag team.  I can't help but think of the Hart Foundation in some ways.  Guys you just wanna see lose so bad.  
Also, I love watching Simon Gotch in the ring.  The "Oh my Gotch" chants were pretty awesome. He always comes up with great combos I've never seen before.  He has a real unique style and you don't see a enough of that.  He meshes so well with Aiden English.  I am not sure this gimmick would play on the main roster, but they are plenty talented.  
Jeff: I'm not as sold on Aiden English. I love Gotch and I love his old-timey strong man persona. I think his size will hold him down in the WWE. He's "doomed" to the tag team life unless they finally get smart and bring back the WWE Light Heavyweight title...and where better to do that than on NXT?
I want to note something that really bothered me about this match, and that was the presentation. They interrupted their main event and title match to show a short WWE advertisement for the WWE.com ShopZone or some such crap. Do not pull that bullshit on the Network. It's infuriating as Hell on Raw and smackdown and there's no excuse for it whatsoever on a show that airs exclusively in a medium where you don't have to do that to appease someone who's cutting you a check. It's disrespectful to the talent in the ring and insulting to the viewers. Knock it off. Or if you absolutely must pull this garbage once per show, do it when Baron Corbin gets to the ring and spare us the uselessness of his two-move repertoire. Let me put it like this: MOJO RAWLEY IS BETTER THAN BARON CORBIN. Yeah, WWE, I got yer pipe bombs right here.
Mike: Yeah, that is one thing that Lucha Underground does far better than the WWE.  Commercial timing.  They will typically do the ring entrances.  Then commercial.  And then show the entire match.  The only time I can think of when they have had any commercials during matches have been during the two "show long" matches.  Johnny Mundo Vs Puma in a show long Iron Man Match and Aztec Warfare, which was a Royal Rumble like match that lasted the entire show.  
---
Lucha Underground - Ultima Lucha Part 1 Results
- Black Lotus is still training, this time in her cell in the temple.  Dario Cueto approaches.  He had hoped she would have had a change of heart by now. Cueto says that his father made a lot of money getting Matanza (Cueto's brother who is in the next cell over) to fight in underground fights.  Matanaz hurt a lot of people, but he was not the one who killed Black Lotus's parents.  Cueto claims that El Dragon Azteca was the one who killed her parents and blamed Matanza.  For his last laugh, El Dragon Azteca took Lotus as his apprentice.  Cueto says that the truth hurts, but it will set you free.  Cueto leaves, and Lotus goes back to training.
- Cage def. The Mack in a Falls Count Anywhere match with a curbstomp onto a cinder block.
- Trios Title Match - The Disciples of Death def. Son of Havoc, Angelico, and Ivelisse.  Catrina knocked Ivelisse out using the black rock and gave her the lick of death after the match.
- Drago def. Hernandez in Believer's Backlash Match.  Drago hit a splash through a table, then a second splash in the ring for the win.
- El Dragon Azteca approaches the temple.  He's stopped by a man in a white hoodie.  White Hoodie warns Dragon that the prophecy says he can't step foot in the temple.  We find out that in the past, Puma brought Lotus to El Dragon Azteca, but Dragon says that "he has a different path this time."  White Hoodie offers to rescue Black Lotus, but Dragon says he's not ready yet.  White Hoodie says the prophecy says Dragon will die.  He says, "I may die, but El Dragon Azteca will live forever."  White Hoodie steps aside, and El Dragon Azteca enters the temple.
Mike: I loved that the Falls Count Anywhere match basically never reached the ring.  Cage charged The Mack as he was making his entrance, and they fought all over the place.  This match reminded me of an old school WWE Hardcore Match.  It's been a long time since I saw a match like this.  Crowd was hyped through the entire match and rightfully so.  This was just such a great way to start the show. There was a nice homage to Stone Cold during the match with The Mack drinking a beer then hitting a Stunner.  Both of these guys are pretty agile, but they just let them have a real brutal fight here.  It worked so well, and gave Ultima Lucha a hot start.
I liked that the Disciples of Death finally have different outfits to distinguish them.  Ivelisse was still on crutches, so this was basically a 3 on 2 match.  Angelico and Son of Havoc hit a lot of high paced offense.  Angelico hit another crazy dive.  That guys is going to kill himself one day!  I did like that they teased a Ivelisse Vs Catrina match.  Hopefully they will get a real match soon.
Unfortunately, the Disciples of Death still haven't impressed me all that much.  There are too many talented luchadors in Lucha Underground.  These guys don't stand out at all.  
The Believer's Backlash match ended up functioning like a reverse Lumberjack Match with the fans going hard against the heel (Hernandez) and helping Drago every chance they got.   And they went to town on Hernandes, leaving deep welts all over his body.  I felt bad for him.  No wonder he wanted to go back to TNA!  They put on a real solid match, but I thought the fans at ringside took away from the feud some.  It felt more like Hernandez vs fifteen plants carrying leather straps awkwardly.  I did like Hernandez throwing Drago at the fans, and Drago spitting green mist at Hernandez mid-plancha.
I am glad they finally picked the Black Lotus/El Dragon Azteca story back up.  It seems like we go weeks without seeing progress, and I kind of thought we wouldn't see more of this until next season.  Happy they proved me wrong.  Real curious how this will tie-in to the grand finale next week.