Cheap Pops - Wrestling News & Views - August 9, 2015
FTC Statement: Reviewers are frequently provided by the publisher/production company with a copy of the material being reviewed.The opinions published are solely those of the respective reviewers and may not reflect the opinions of CriticalBlast.com or its management.
As an Amazon Associate, we earn from qualifying purchases. (This is a legal requirement, as apparently some sites advertise for Amazon for free. Yes, that's sarcasm.)
Submitted by

Critical Blast Staff

on Sun, 08/09/2015 - 20:41
by Chris Delloiacono, Mike Maillaro and Jeff Ritter
This week!
- WWE gets into the S+M Business
- Stardust...you have failed this city!
- NXT Results
- Ultima Lucha Results
---
WWE might want to learn how to use Google...
Mike: This might be one of my favorite stories we've been able to cover in this column.  Earlier this week, the WWE announced that the team of Paige, Charlotte, and Becky Lynch would be calling themselves the Submission Sorority.  Makes perfect sense.  All them women use submission moves as their finishers.  Paige with the PTO, Charlotte with the Figure Eight, and Becky Lynch with the Dis-arm-her.  
But this is where this story gets great.  Apparently, the porn website Bang Bros already uses the name Submission Sorority for a series that run called HazeHer.  Because the WWE used this name, BangBros traffic analyst Delilah McGinnis told TMZ that their web traffic shot up 56% overnight when WWE announced the name, and they saw a 35% rise in website subscriptions.  There was even a rumor earlier this week that Bang Bros was going to set the WWE a "Thank You" basket.  So, as a result, the WWE seemed forced to have to change the team's name.
It seems like moving forward they will be going with "PCB" or "PaigeCharlotteBecky."  You know, with a company as big and supposedly media savvy as the WWE, you think someone might have wanted to check on this before they went forward with this name.  Actually, it's pretty funny.  At the moment, when you type Submission Sorority into Google (which I did purely for research for this story.  Of course), the first few pages of results are just stories about the WWE making this hilarious mistake.
Chris: Submission Sorority was quite the cool name!  Too bad it was already being used.  I love when WWE looks foolish!  They are so quick to distance themselves from trouble these days, yet they make such a boneheaded marketing decision.  I'm surprised some kooky parent group or moral finger-wavers haven't filed suit with WWE because their child was permanently scarred after being exposed to the wrong kind of tapping.
---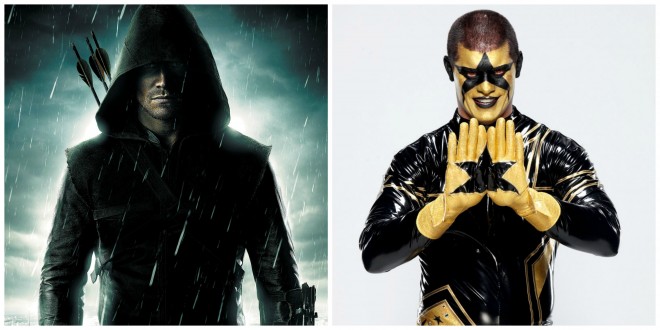 Stardust Vs Stephen Amell!
From WWE.com:
After Neville nearly defeated WWE World Heavyweight Champion Seth Rollins on Raw — ultimately coming up short — Stardust took the opportunity to insult Neville on Facebook and ask who could be his hero. The cosmic Superstar then made a motion of pulling an arrow from a quiver and firing it, directly taunting Stephen Amell.
The "Arrow" star wasted no time in responding to his rival and confirmed that he will be at Raw next week in Seattle to finally confront Stardust.
Mike: They have been teasing this for a long time.  I usually don't care too much about celebrities and the WWE, but Amell is a huge WWE fan. He has a lot of respect for the product, and he's in incredible shape.   I definitely would love to see him involved in some kind of tag-team match against Stardust at SummerSlam.   I also think Amell is a really cool guy with a strong Internet presence, so this should be good for both himself and the WWE!  Really excited for this.
Chris: Somehow this may be the most entertaining part of SummerSlam.  I'm not liking the card one bit, yet, for all the reasons you mentioned, this may just be the most memorable match!  
Amell has oodles of personality and is in fantastic shape.  He should be a believable wrestler.  Cody deserves some featured time on TV, too!  The worst part of all this, they've found someone new for Cody to job to.  When, oh when, will Cody get his big push....looks like never.
---
NXT Results August 5, 2015
- Show starts with a "In Memory Banner" for Rowdy Roddy Piper
-Bayley def Charlotte with Bayley-to-Belly Superplex.
- Michael Cole had a sitdown interview with Kevin Owens.  Owens is critical of Regal, calling him a coward and saying he's biased.  He says that Regal is not a stand up guy, and he expects Regal to abuse his power to make sure Owens loses his title shot.  He even calls it another Montreal Screwjob,  The only way to guarantee that won't happen is if the match is a ladder match.
- Bull Dempsey is watching his comedic antics over the last few weeks.  He promises to do it right this time.  He walks into the training center and gets to work.  A female wrestler seems to be paying a lot of attention to him.  To be continued...
- Baron Corbin def. Steve Cutler (who is booked as being from Rutherford, NJ!) with End of Days.  Squash Match.  Cut and paster from any other Baron Corbin match basically.
- Regal is in his office.  Bayley comes in.  She asks for a Women's Title Match.  She's incredibly nervous around Regal.  Regal says she deserves one, but she's not the only one.  She will face Becky Lynch next week in a #1 contender's match.  She tries to hug him, but he shakes her hand instead.  Regal tells her that she's his niece's favorite superstar.
- Tyler Breeze def. Aaron Solo with Beauty Shot.  This match was so quick I missed it trying to make sure I had Aarone Solo's name right.  By the time I looked back at the screen, the match was already over.  
- After the match, Regal comes out to reveal Breeze's opponent for NXT Takeover Brooklyn.  Jusin Thunder Liger.  Crowd goes nuts.
- Hype video for Jusin Liger showing him in Japan and WCW. I just loved hearing Jesse Ventura, Jim Ross, and Dusty Rhodes doing commentary in this video.
- Video with Uhaa Nation getting ready to make his NXT debut.  He's going to be called Apollo Crews and make his NXT debut at Takeover Brooklyn on August 22.  
- Sitdown interview with Byron Saxton and Finn Balor.  Finn says NXT is a team and they have all been working in same direction to redefine the industry. Being the NXT champ is a huge honor.  Finn says Owens is a man of many words, but he needs to back them up with actions.  Says Sami has been helping him prepare for his rematch with Owens.  
- The Hype Bros def. Dawson/Wilder with the elevated Rough Ryder.  After match, Dawson and Wilder attacked the Hype Bros.  They hit the Shatter Machine on Zack Ryder.
-Regal is backstage with the Vaudevillains.  They are upset that Alexa Bliss exploited chivalry in their NXT Tag Titles match last week.  Regal gives them a rematch about Blake and Murphy for Takeover.  He suggests they find someway to curtail Alexa Bliss.
- More with Bull.  He seems to be improving quickly.  The girl from earlier is helping him out.  In the end, he tries to heft a monster truck tire "World's Strongest Man" style.  Other NXT wrestlers cheer him on, and he's able to do it,
- Samoa Joe def Rhyno with Muscle Buster
Mike: It was kind of lame that we got Dana Brooke vs Charlotte last week instead of Bayley vs Charlotte.  But they more than made up for it this week.  Bayley is making a big push towards the top of the women's division.  This match started a little submission heavy, and I was worried the pace was going to be slow, but it picked up quickly. Bayley hit a beautiful top rope hurricarana.  I actually screamed at one point when Charlotte kicked out of the Bayley to Belly after Bayley did a great backflip to get herself into position.  
This was a really weird turn on Bull Dempsey.  He was coming off as a bit of a joke, but they set him up this week to make it look like he's going to be getting a big time face push.  This may actually turn out to be interesting.  Perhaps I judged too soon.  I like to be proven wrong.
Apollo Crews looked great in the training video.  I love would to see him find Cage...
Dawson and Wilder looked real good last week against Big Cass and Enzo.  And I'm really starting to get behind the Hype Bros.  I was already a huge Zack Ryder fan. For the guys, this was definitely the best match of the night.  I have to admit, I laughed when Corey Graves called the Hype Bros, Wayne and Garth.
Samoa Joe vs Rhyno would have been awesome...ten years ago.  The world has moved on, Thankee Sai.  Really, I'm not a fan of big guys without a lot of flash.  Give me Owens, Cage, or Willie Mack any day.  This one bored me big time.  Just not my style of match.  I don't like Brock Lesnar for the exact same reason.  Joe did a cool suicide dive, but that was just about the only highlight of this match for me.  Even the commentators seemed more interested in talking about next week's #1 contender's match or Tyler Breeze Vs Jushin Liger.  Usually I would complain about the commentators not focusing on the match in the ring...but I can't blame them on this one.  I was barely paying attention either.
---
Ultima Lucha Results
- Starts with a banner honoring Piper as the origina Rudo.
- Lengthy video catching up on everything that happened in Lucha Underground's first season.
- Matt Stryker and Michael Schiavello are on commentary tonight (Vampiro is usually Matt's partner, but he's got a match tonight).  Struker hypes Schiavello as having called fights all over the world.  
- Johnny Mundo def. Alberto El Patron.  Alberto accidentally superkicked the ref.  He managed to make Johnny tap, but the ref didn't see it.  Melina runs down and clobbers El Patron with his own AAA title.  After the match, El Patron throws Johnny through the glass door of Dario Cueto's office and spanks Melina.
- El Dragon Azteca arrives to rescue Black Lotus.  Dario enters saying that Dragon violated the treaty by entering the temple.  The punishment...is death!  Black Lotus betrays Dragon and kills him.  Dario releases her from her cell.  He tells her that she has started a war, and they have to go to the new temple.  Dario also releases his brother Matanza to go with them.  We still don't see Matanza.
- Pentagon Jr. Def. Vampiro by slamming him through a flaming table.  After the match, Vampiro demands that Pentagon break his arm.  Pentagon does so.  Pentagon calls for his master to reveal himself.  It turns out that it was Vampiro all the time!  He calls Pentagon his son and says that now he's ready to be taught.  They both flash the Cero Miedo sign after the match.
- Fenix wins the Gift of the Gods title in a Seven Man Match against Sexy Star, Big Ryck, Jack Evans, Aerostar, Bengala, and King Cuerno.  During the match, Marty the Moth came out to attack Sexy Star.  And Delavar Daivari came out to attack Big Ryck with a chair.   Fenix won by hitting the Fire Driver on Jack Evans.
- Blue Demon Jr def. Texano.  Blue Demon came out with The Crew (who were in suits).   They had a note for the referee from Dario Cueto making this a no-DQ match. Chavo came out during the match and clobbered Texano with a chair.  Chavo and Blue Demon have joined forces.
- Mil Muertes def. Prince Puma with Flatliner off the top rope to win the Lucha Underground championship.  After the match, Catrina gave Prince Puma the Lick of Death, and Mil and Catrina were joined by the Disciples of Death.
- Black Lotus is packing up Dario's office.  Dario warns that dark times are ahead.
- Fenix takes his title to his car and drives off.  Someone in a cowboy hat is following him.
- Marty the Moth has kidnapped Sexy Star.  He seems to have lost his mind.  He says that people laugh at him all the time...but soon we will meet his sister and people will stop laughing,
- Son of Havok says goodbye to Angelico and then rides off on the back of Ivelisse's motorcycle..
- Drago and Aerostar say their farewells.  Drago vanishes in a burst of flames.  Aerostar vanishes in a burst of light.
- Pentagon asks Vampiro "What next?"
- The man in the white hood we first met last week puts on El Dragon Azteca's mask and spray paints a question mark over a Lucha Underground billboard.
- The last shot is Dario standing in the darkness with sly smile on his face.
Mike: Some general thoughts on the show first.
- Schiavello had just about no chemistry with Stryker.  That was disappointing as I love Vampiro and Stryker as a team.  With the reveal about Vampiro as Pentagon's evil master, I hope that doesn't mean no Vampiro on commentary next season.
- It was the night of the Rudos!  The only face to win was Fenix.  Actually, it made a lot of sense.  Lucha Underground has always felt like a TV drama about wrestling.  As a season finale, all the bad guys winning to set up season 2 makes a ton of sense.
- The rulebook went out the window.  That made the show feel big and dangerous.  Also, they gave most of the matches a lot of time.  The end result felt like a huge season finale.  Now give us a season 2!
Johnny Mundo and Alberto El Patron was a great match to start the show.  They really looked like they wanted to hurt each other!  It started as a brutal street fight outside the ring, and then both men showed off their wrestling prowess.  This was just a terrific match featuring two of my favorite wrestlers.
Chris: Brutal back-and-forth mayhem, like it should be.  This is what a grudge match needs to look like.  Lots of high impact brutality.  The end worked quite well, and I loved seeing Melina back with Johnny!  One quibble.  I question why Mundo was tapping to the Cross Arm Breaker after the ref bump then he easily reversed it to set up the finish.
Mike: I laughed about that too.  My only thought (kayfabe) is that when Alberto heard Johnny tap, he loosened the hold.  But, yeah, that doesn't make a lot of sense since after all the crap Johnny pulled, he probably would have held on until Johnny's arm broke.  
Vampiro Vs Pentagon might have been the match of the night for me.  Vampiro came out dressed as an evil bishop and that set the tone of the match perfectly.  Vampiro has always had a presence that outshined his in-ring ability, and it was clear he still it.  This was basically a crazy hardcore match.  Vampiro took a hell of a beating. Thumbtacks, light bulbs, flaming tables, and lots of chair shots.  Both men were a bloody mess by the end.  I haven't seen a match this hardcore in a long time.  At one point, you can even see a cameraman flinch at how brutal it's gotten.
Chris: You nailed it, Mike.  Match of the night, for sure.  I liked the teased ending with all the chair shots and the ref throwing up the X signal.  Then the match got going for real, and it didn't disappoint!  Vampiro really impressed me with his capabilities.  He clearly can still go.  
Loved the way Pentagon's mask got all torn up.  That was super cool.  The reveal of Vampiro as the Maestro was also brilliant.  Can't believe I got that one right!  I'm never good at predicting that sort of stuff.
Mike: The Gift of the Gods match was another great seven man match.  Lucha Underground has had a few terrific matches like that.  Lots of great spots in this one, and each man got a chance to show what they can do.  Big Ryck hit a chokeslam on Sexy Star that looked like it killed her.  Fenix was the right person to win, especially since Mil Muertes is now the Lucha Underground champion.  The two men have a long history together.
Chris: Definitely lots of craziness going on here!  Was that Aerostar that did that jump from the rafters?  Just nuts!  
Mike: Blue Demon Vs Texano was the weakest match of the show.  Which is a shame as it was basically the end of the first storyline Lucha Underground did with Chavo feuding with Blue Demon.  The match was just too short and predictable.  I would have preferred to see Texano overcome the odds here.  Especially since heels basically won all the matches on the show except for the Gift of the Gods.  But at least making this match short left us with plenty of time for the main event.
Chris: This segment absolutely stunk.  What a waste of time.  This highlighted the one weakness in the 39-episode first season of Lucha Underground--nonsensical turns. Why is Texano a face now?  Why did Blue Demon turn heel?  Why did Chavo Guerrero aid Demon?  Most of the storytelling was fantastic during the season but some suspect decisions were made as well.  Nothing to be angry about, but this certainly illustrates that there's room to improve next season.
Mike: The main event was terrific.  Both men got in a ton of offense, and I was hyped up the entire match.  It was a real fitting way to end Lucha Underground's first season.  Both men showed a lot we haven't seen before, including Puma hitting some power moves on his much larger opponent.  They story here was the champion who refused to give up against an unstoppable powerhouse, and both men played their parts brilliantly.  
Chris: After the opener and the Pentagon/Vampiro match the main event could have been overshadowed.  Thankfully, Muertes and Puma put on a hell of a show.  It wasn't the best of the night, but it was a fitting final bout for a strong season.  By the way, how bout that modified GTS that Puma hit?  Not the move of the match, but apologies to KENTA and CM Punk, the best one I've ever seen.
Mike: And I loved the epilogue.  Like I said earlier, the way they show Lucha Underground, it feels like a real drama, and the epilogue was a great way to set up next season.
Chris: Totally agree.  Nothing has been officially announced yet, but I'm hoping we get some news now that the finale has aired.
I'm heading to Disney World with the family, so I'll be on the lam the next couple of weeks.  Let's hope we get that season 2 announcement in the interim.