Cheap Pops - Wrestling News & Views - November 3, 2015
FTC Statement: Reviewers are frequently provided by the publisher/production company with a copy of the material being reviewed.The opinions published are solely those of the respective reviewers and may not reflect the opinions of CriticalBlast.com or its management.
As an Amazon Associate, we earn from qualifying purchases. (This is a legal requirement, as apparently some sites advertise for Amazon for free. Yes, that's sarcasm.)
Submitted by

Critical Blast Staff

on Tue, 11/03/2015 - 07:28
Cheap Pops - November 1, 2015
by Chris Delloiacono, Mike Maillaro and Jeff Ritter
---
This week!
- Hell in the Cell Results-  The Return of Alberto Del Rio
- WWE Breaking Ground
- NXT Results
- Pro Wrestling Syndicate - November 20
---
Hell in the Cell Results
Preshow - Dolph Ziggler, Neville, & Cesaro defeated Wade Barrett, Sheamus, & Rusev.
1. United States Championship Match: Alberto Del Rio defeated John Cena (c) to become the new United States Champion. Del Rio pinned Cena clean after a back stabber and a kick to head.
2. Hell in a Cell Match: Roman Reigns defeated Bray Wyatt. Reigns won a brutal match after hitting a spear for the pinfall.
3. Tag Team Championship Match: The New Day (c) defeated The Dudley Boyz. Kofi pinned Bubba after Trouble in Paradise (there was a trombone shot from Big E first).
4. Divas Championship Match: Charlotte (c) defeated Nikki Bella by submission with the Figure-Eight.
5. WWE World Heavyweight Championship: Seth Rollins (c) defeated Kane. Rollins pinned Kane with the Pedigree.
6. Intercontinental Championship: Kevin Owens (c) defeated Ryback. Owens got the win with a pop-up powerbomb.
7. Hell in a Cell Match: Brock Lesnar defeated The Undertaker. The ring mat was torn up and Lesnar hit a low-blow then an F-5 onto the boards for the pinfall
After the match, the Wyatt Family comes out, beating on an exhausted Undertaker and carrying him away with them while the theme from Deliverance plays (okay, that last part was a lie….but Undertaker sure has a real pretty mouth…).
Chris: This was a fairly exciting show.  None of the matches were bad, but I also wasn't feeling any of the storylines.  The matches are the most important thing for me, so it made for a fun night with friends.  Unfortunately, the lack of anything truly special going on made me pass on Raw the next night. WWE continues to be utterly unoriginal in their content and it's driving my eyes away from the product.
Mike: The show was the perfect example of good and bad storytelling.  I agree with you that pretty much all the matches were at least decent, but there was so many places where they storytelling was either brilliant or non-existent.  It was just so frustrating.  Kane Vs Seth Rollins was the perfect example of bad in-ring storytelling.  Rollins has been afraid of Kane for weeks now, and they have been playing up this dual personality storyline so well.   But none of that really affected the match.  Rollins beat Kane clean, as if he was fighting any other opponent, not an unstoppable monster.
Chris: I was torn by the return of Alberto Del Rio, because he's one of my favorites, and I know he will have some classic matches along the way.  The bad side, he won't be on Lucha Underground anymore.  His return was super weird too. WWE seemingly pulled off the surprise as nobody I saw reported this beforehand.  The match was extremely short and Alberto got the win clean as can be.  Does this mean we are going to be subjected to a Cena return in a couple months where he destroys Del Rio twice and subjects him to midcard hell?
Mike: What was great about this match was that with Cena on "leave" he wasn't able to come out the next night and whine about injury or whatever.  "I wasn't ready for Del Rio….I am not making excuses...but…." Del Rio gets a decisive win.  And there was no finisher spam.  One superkick, and Cena was toast.  I really hope they just move Cena away from the US title picture entirely, which would allow Del Rio to keep looking strong.
Chris: The WWE title match was a complete waste of time.  In fact, all the title matches were pretty forgettable. None of the other matches got much more than ten minutes and the quality suffered.  I enjoyed the New Day getting the win, but the match was also too short and didn't have anything truly memorable.  I hope they give the guys a big blowoff at TLC.
Mike: This is example of bad storytelling #2.  I love New Day, BUT, I am not sure it's a good idea for them to have the titles, especially in this particular feud.  A wrestling title is a story device, nothing more, nothing less.  The Dudleyz looking to chase their 10th WWE tag title reign is a compelling storyline.  BUT, it gets lost in the wake of the New Day's craziness.  The match became more about Xavier Woods and his unicorn magic than the titles.  Instead of two "stories" that are completely incompatible, you could have had two separate feuds going on.  Which involves more wrestlers/tag teams.
Chris: I will say, both Cell matches were absolutely brutal.  The guys all put their bodies on the line and really put up some great spots.  I felt no investment, though.  Both of these feuds have been going on too long, and like I said before, I had no investment in the storylines.
Mike: Now, here is where I will disagree you and I get to talk about good in-ring storytelling.  Too often, WWE seems to just schedule matches for Hell in the Cell just because that is the PPV that month.  In recent years, we've gotten a lot of matches in the Hell in the Cell that weren't the ends of real major, personal feuds, which really waters down the gimmick.
Both Undertaker/Lesnar and Wyatt/Reigns were great matches to set in the Cell.  Both long running feuds with a lot of personal elements to them.  And both matches were fittingly brutal.  These were guys who wanted to end their enemies, and they were doing to stop at nothing to finish the feud once and for all.   
For the Wyatt/Reigns match, even though Wyatt did lose another feud, he looked strong the whole match.  It took a awful shot with the kendo stick right into his eye to finally put him down.  
What I really loved about the Undertaker/Lesnar match was that they basically used In-ring Storytelling 101.   When you reuse spots from an earlier match in the feud with a nice twist to them.  Lesnar beating Undertaker with a low blow was the perfect "revenge" for how Undertaker beat him at Summer Slam.  I also thought the use of blood was great in this match.  Sometimes it can be gratuitous, but it felt necessary to tell the story of this feud.
Chris: Earlier I was trying to say I hadn't enjoyed the stories that brought us to these matches.  The work inside the Cell was compelling in both instances.  Both feuds were long and blah to me, but at least we'll always have Paris...errh, these memorable blow offs.  Because the feuds themselves really weren't special, at least to me.
Let me bring up one more point.  Why the hell does Bray Wyatt get thrust into all these feuds only to lose?  I know he put on a great fight and came so close, yet they have him job and immediately set up a feud with Undertaker on the same card.  
Now, this makes sense if the whole point of the Wyatts carting off 'Taker on this show and Kane the next night was to allow them a massive win over the Brothers of Destruction.  It's all well and good for nostalgia to cart out these old guys, Undertaker already beat Wyatt, and doing it again is just dumb.  
Bray Wyatt needs to be a credible "New Face of Fear" and a serious threat.  Here's the spot to let him get an immense win.  Shock us WWE and do something smart for the future of the product.
Mike: Has Bray ever really won a feud?  What really bugs me is that it kind of ruins his credibility each time.  "I'm going to torment John Cena/Ambrose/Bryan/Reigns/whoever.  And then lose most of my matches.  But that's all right because I will be back again a few weeks later starting the cycle all over again.  Follow the buzzards."  By the way, that is not me knocking Bray Wyatt.  I think he's a terrific talent, and I've been a fan since his NXT debut.  BUT, it is terrible booking to keep having him lose all his feuds.
Chris: One other note, I'm ready to see Roman Reigns run with the title.  I love Seth Rollins, I really do, but his title reign continues to stink like few others.  The belt is just a story device like Mike said, but it's made for pretty lackluster things for more than six months.  I can't believe I said that, but I did.
Man, I'd even love a little ping pong with the strap.  Let Roman win at Survivor Series then have Sheamus cash in, and soon after stun the world and let someone else unexpected get it.  Not gonna happen, but it would be fun.
In the end, I'm clueless where the belt is going for Wrestlemania next year.  I wouldn't mind seeing Reigns vs. Cena if we finally get a turn from John Boy.  That could be fun.
Mike: Reigns Vs Cena...I don't think we've ever seen that before.  They actually should match up real well.  Yeah, I can get behind that.  I don't know if I would want Cena as the heel though...not sure that would quite be the right fit in this particular feud.  Maybe a Face Vs Face battle, like Rock Vs Cena or Hogan Vs Warrior.  Do it like a passing of the torch match.
---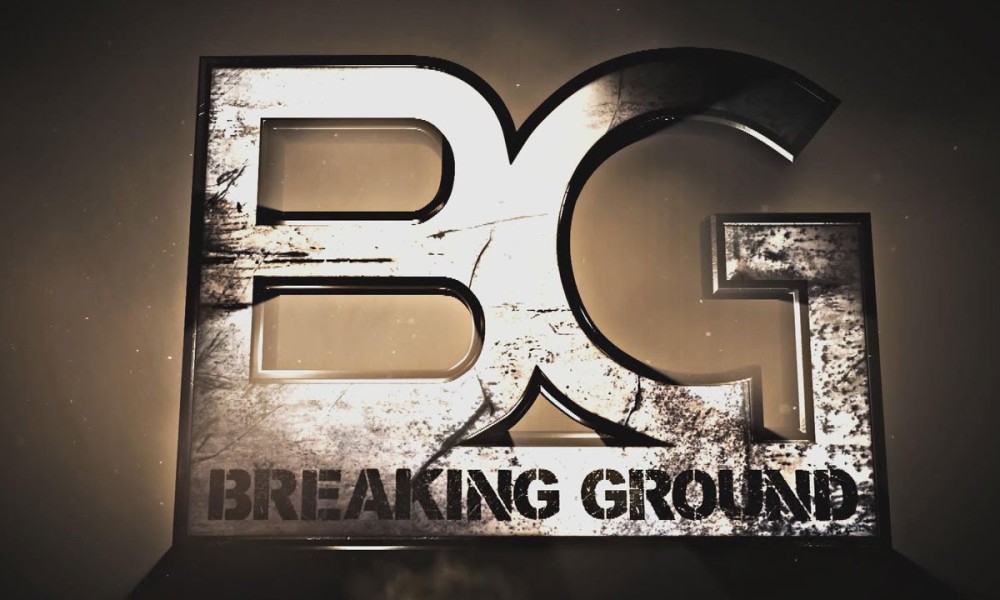 Mike: The debut episode of WWE Breaking Ground aired after King of the Ring.  Breaking Ground is basically set like a reality show, and tells the story of several NXT talents.  I love shows like this.  It's definitely my favorite part of the WWE Network.  I love seeing this kind of behind the scenes view of the wrestling industry.  Ever since ESPN did their NXT special, I've been hoping they would do something like this on the Network.
I liked that they spent some time focusing on NXT guys we don't see on TV.  A big chunk of the first episode was about Tino "Sabby" Sabbatelli, a former NFL guy who's been trying to catch on in the WWE.  But, he got a concussion in his 2nd NXT match, and there are doubts about whether he can continue as as NXT wrestler.  I did think some of this segment was a little overdramatic.  They made it sound like if his failed his impact test he had no chance in ever coming back. It felt like overblown reality TV bs.
One of the most painful moments in the episode was watching Devin Taylor trying to go from interviewer to in-ring performer.  Since we already know Devin Taylor was released a few weeks ago, it's clear that her story doesn't have a happy ending.  I also felt real bad for Sara Amato, who you can tell was trying to keep Devin positive, but it was clear that she didn't think she had what it takes.
The show is rounded out by focusing on bigger name NXT guys like Apollo Crews, Bayley, and Baron Corbin.  We got some great insight on them.  The show was only a half hour, but I definitely thought it was off to a good start.  I will definitely be checking out future episodes of Breaking Ground.
Score: 4/5
---
NXT Results - October 28, 2015
Show starts with Emma and Dana Brooke coming down to the ring.  Emma's got a match with another new diva, Shazza.  Emma wins with the Emma Lock.  Dana and Emma Celebrate after the match.  Squash match.

Recap of James Storm making his debut last week.  After the match, he spoke backstage.  Storm is real hyped up about being in NXT.  He talks about being a good ol Southern Boy.  And if anyone doesn't like him being here, 'Sorry about their damn luck."

Apollo Crews Vs Finn Balor is set for next week.

Video package for Finn.  Sort of a trimmed down version of the series of videos they showed leading into his winning the NXT title.

Chad Gable/Jason Jordan Def. Tommaso Ciampa/Johnny Gargano with Grand Amplitude.  GREAT MATCH!

Bayley cuts promo backstage responding to Alexa Bliss's challenge last week.  Bayley is proud to be champ and inspire people. Bayley has been true to herself, and she will continue to be champ.

Another promo from Eva Marie in Paris.  She's be back soon.

Nia Jax def. Kay Lee Ray with her spinebuster followed by a leg drop. Squash match.

Recap of Dash and Dawson attacking Big Cass and Enzo after their match last week.  

Enzo and Big Cass are coming down to the ring for a match, when they are ambushed by Dash and Dawson.  They target Big Cass's leg.  Big Cass sells a terrible injury.

Alexa, Blake, and Murphy are backstage.  Alexa challenges Bayley to a six-person tag match.  She says Bayley will have a hard time finding two losers to join her team.

Part 2 of the Apollo Crews video from last week.  Great package here.

Samoa Joe def. Tyler Breeze by reversing a roll-up into the Coquina Clutch

Show ends with a promo from Finn Balor hyping next week's match with Apollo Crews.  Kind of an odd way to end a show...
Mike: Shazza looks like she stole Alexa Bliss's old costume.  I thought it was funny that we have another jobber diva from Australia.  WWE seems to have gotten a bulk rate on them.  Emma looked great.  I think a lot of people forget that Paige, Emma, and Summer Rae are the Old G awesome NXT women's wrestlers.  We didn't get to see much from Shazza. The announcers did a great job hyping her up, especially since she has had a feud with Emma back in Australia, but she didn't get to do much in the ring in her debut.
I actually had no idea Ciampa and Gargano were still working with WWE.  I hope they end up signing. They are terrific additions to the NXT tag division.  This match was great.  All four men got to show some impressive and innovative offense.  This was one of the best matches I've ever seen in NXT.
The best part of the Nia Jax match was that at least this jobber was from Scotland, not Austrailia.  And that look was much better for Nia Jax...though it kind of reminded be of Kharma.  As I have said many times in this column, I'm not a fan of squash matches.  They do nothing for either person to me.  I would rather see a well fought, back and forth match than one wrestler dominating the other.
Main event was good, but going in, it was pretty certain Tyler would lose.  He just about never wins the big match.  I did think both guys showed a lot of great moves.  Samoa Joe with a flying forearm through the ring ropes was unexpected.  And Tyler hit a crazy chicken wing lungblower.  I love when wrestlers show new move and combinations.  I also thought the finisher was real clever, though I hate that Tyler always needs to lose.
One quick thing.  Even though they can be a bit overlong, I love the video packages they do for their top guys.  The series they did for Finn Balor leading into his title win were terrific.  And I loved the ones they did for Apollo Crews.  One thing WWE does brilliantly is video packages, and I'm glad they are doing them for NXT guys too.  It definitely helps sell these guys as major players in the industry.
---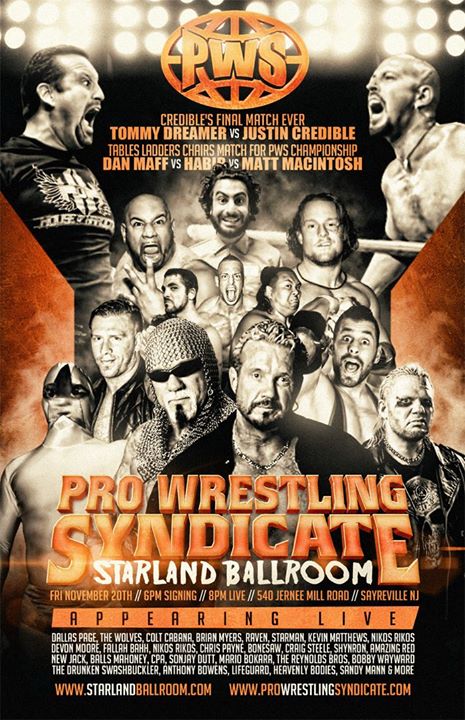 Pro Wrestling Syndicate - November 20
Mike: Chris and I are both big fans of a local indy promotion called, Pro Wrestling Syndicate.  On November 20, they are going to be doing a huge show right by my house.  What is cool about PWS is that they bring in a lot of big name indy guys, as well as legends.   BUT, on top of that, their own stable of wrestlers are a group of incredible talents as well.    
The November 20 show is no exception.  Diamond Dallas Page and Scott Steiner will both be there, along with Raven and New Jack (who are both regulars at PWS).   The show is also going to feature Justin Credible's retirement match against Tommy Dreamer!
Chris: One reason to go is autographs for sure!  I'm really excited for a chance to meet DDP!  He's one of my favorites from the '80s and '90s.  I go so far back with Diamond Dallas that I was a fan of his when he was Bad Company's manager in the AWA! B, A, double D.  Badd!
Mike: But like I said, as cool as it is to see all the "legends," I also love PWS's home grown talent.  Too Cocky Kevin Matthews will have a first blood match with Devon Moore.  Devon and Matthews used to be part of a group called Reality Check, but Devon turned on Matthews to join up with their long time enemies the Jackson Family.  
Also, at last month's show, Bobby Wayward and Anthony Bowens of the Untouchables broke up after they lost a match to the Reynolds Brothers.   And now both men will be part of a huge Six Man Title match.  That is definitely going to be combustible combination!
Chris: You're right.  You may come early for the autographs but you stay for the wrestling! All the guys you mentioned are PWS originals or regulars and they know how to work an awesome match!  This is a great card.  Especially that main event!  Tell 'em Hawk!
Mike: We're getting one hell of a match for the PWS Title.  Habib from the Car Wash has been in a long feud with Matt Macintosh.  At last month's show, they had a number one contendership match.  And Habib, the ultimate underdog, not only beat Macintosh, but later in the night beat Dan Maff to become the new champ.   At the November 20th show, we get a three way TLC match to see who the real champ is.
Maff has been really hyping this match up on Facebook: "On Friday November 20th, PWS in Sayerville NJ's famous STARLAND BALLROOM I get to destroy two birds not with one stone as the cliche goes but with my oozie.....As long as I am in that wrestling ring there are no laws that prohibit me from comitting the CRIMES and acts of VIOLENCE I WILL COMITT at Starland Ballroom November 20th......
Violence is the only answer!
Habib CarWash, nothing personal....
Matt Macintosh, dont even pray because god will not be with you November 20th!"
Also, Maff promised to buy drinks if he won, so I'm rooting for him!  "Come celebrate with me as i become the 2Time PWS Champion......DRINKS ON ME, THE CHAMP IS BUYING!!!"
So, if you're in the area, and you're a wrestling fan, definitely come check out PWS.  They put on a great show, and it's definitely well worth the money.  You can get ringside seats for like 30 to 40 bucks.