Cheap Pops - Wrestling News & Views - December 13, 2015
FTC Statement: Reviewers are frequently provided by the publisher/production company with a copy of the material being reviewed.The opinions published are solely those of the respective reviewers and may not reflect the opinions of CriticalBlast.com or its management.
As an Amazon Associate, we earn from qualifying purchases. (This is a legal requirement, as apparently some sites advertise for Amazon for free. Yes, that's sarcasm.)
Submitted by

Critical Blast Staff

on Sun, 12/13/2015 - 08:04
Cheap Pops - December 13, 2015
by Chris Delloiacono, Mike Maillaro and Jeff Ritter
---
This week!
- TLC Predictions
- NXT Takeover London Predictions
- Lots of Lucha Underground Updates including return date
- NXT Results
---
TLC Predictions
1    Sheamus (c) vs. Roman Reigns    Tables, Ladders, and Chairs match for the WWE World Heavyweight Championship
Chris: I don't think Reigns is going to get the title here, but with the product a hot mess, who really knows.  I can't fathom what the Road to Wrestlemania is going to look like at this point, especially where the it relates to the WWE Championship.  My assumption, Sheamus keeps the belt here because of assistance from the League of Nations.  Sheamus's reign is not long for this world, but I don't think it ends quite so fast.  
I really want WWE to get behind the League as a Horsemen-esque group, so a nice screw job works for me here.  Simply put, anything that keeps the Authority from being the central heel is a step up!
Mike: The League has basically been jobbing ever since they debuted. I think if WWE has any plans to make this faction a serious threat, they really need to have Sheamus keep the title, like you said with the League's help.  If WWE has Reigns just roll over the entire League this early, they are wasting opportunities.
Chris's Prediction: Sheamus w/ League interference.
Mike's Prediction: Sheamus w/ League interference.
2    Kevin Owens (c) vs. Dean Ambrose    Singles match for the WWE Intercontinental Championship
Mike: I am hoping that WWE manages to elevate the Intercontinental Title like Cena did with the US title for a while.   Owens and Ambrose are two of WWE's best, so this should be a good match.  I actually have no idea who takes this one.  I am thinking they may swap the title back and forth a few times.  So, I am going with Ambrose here, but I think it's just as likely that Owens will win.
Chris: Ambrose never wins the gold, so I'm going to pick Owens here.  I do agree that this might be a lengthy feud where we see some back-and-forth with the title.  No matter how it turns out, I'm sure these guys will put on a hard hitting match.  I've got to say, I'm looking forward to this one!
Mike's Prediction: Ambrose
Chris's Prediction: Owens
3    The New Day (Big E, Kofi Kingston and/or Xavier Woods) (c) vs. The Usos (Jimmy Uso and Jey Uso) vs. The Lucha Dragons (Kalisto and Sin Cara)    Triple Threat Tag Team Ladder match for the WWE Tag Team Championship
Chris: We've got a special group of athletes, all of which are in their primes, in this title match.  I can't wait to see what this the high flyers have cooked up for a ladder match.  I'm expecting some big spots for sure, which should lead to it being the match of the night.  Hopefully WWE gives these guys at least fifteen minutes to tell the spectacular story they are capable of putting on.
The Luchas never seem to get a big run and the USOs are just getting their feet under them after a long layoff.  On top of that, the New Day is white hot right now--did you see how fast those Unicorn horns are selling?--so I don't see any reason for a title change.
Mike: With as hot as New Day is, I can't see them losing to the Usos or Lucha Dragons.  Like you said, this is going to be a great match either way.  I do worry that WWE is going to burn out New Day with how much exposure they have been getting, but they definitely seem capable of handling it.   
Chris: New Day is definitely in danger of overexposure.  Let's hope they balance their screen time, because, with the right use, these guys could have an immense, important run in the tag division.
Chris's Prediction: New Day
Mike's Prediction: New Day continues to rock
4    Charlotte (c) vs. Paige    Singles match for the WWE Divas Championship
Mike: Uhm...did they somehow turn Charlotte into the heel here?  I have no idea what's with the booking of the women's division.  I think they should be pushing towards Sasha Vs Charlotte at some point, but at this point, they haven't really done a good job building that match.  Charlotte keeps the title.
Chris: I don't really get where they're going with this one either.  Charlotte is definitely being booked as a heel lately, and it makes no sense since nearly every Diva on the roster is in the same place.  Charlotte is the class division for sure, and she's not dropping it to the jobber that Paige has become.
Mike: I am glad that SOMETIMES NXT seems to remember that Emma was important to the rebirth of the women's division.  But somehow Paige and Summer Rae seem to get left out of that conversation over and over again.
Chris: You're right, it's really odd how they've forgotten about the other ladies.  WWE seems to only care about Sasha and Charlotte right now.  Everyone else is just there to lose.  John Cena will make sure Nikki gets pushed when she gets healthy, but for now it seems like the Boss and the Queen City's own are destined to clash very soon.
Mike's Prediction: Charlotte
Chris's Prediction: WooH!  Charlotte
5    The ECW Originals (The Dudley Boyz (Bubba Ray Dudley and D-Von Dudley), Tommy Dreamer, and Rhyno) vs. The Wyatt Family (Bray Wyatt, Braun Strowman, Luke Harper, and Erick Rowan)    8-man Tag Team Elimination Tables match
Chris: This one looks good on paper, and I think it's going to be entertaining.  I imagine it's going to be relatively short, and I don't think the ending is in any real doubt.  Stunningly, WWE finally found a group that the Wyatt Family will get a victory over in a big match.  It's a shame the Dudleyz haven't been allowed to do more since their return, but they're clearly enhancement talent at this point.  Adding Dreamer and Rhyno makes it cooler, but it doesn't change the result.  The Wyatts winning is also the smart move as they're the future of the WWE.  It's about time they got some key victories!
Mike: The Dudleyz are a victim of bad timing.  I really think WWE planned to put them over huge...but New Day was just catching fire at the same time, and WWE doesn't seem capable of having two thoughts in their head at once.  Instead of keeping both teams strong, they pushed New Day and let the Dudleyz flounder a bit.   Like I said last week, I am not sure that bringing back ECW guys is the right answer, but this should be an entertaining train wreck of a match.  I am going to give this one to the ECW guys.   I think the Wyatts will jump out to an early lead, and the Dudleyz will stand alone to take out all four Wyatts.  Maybe with some interference from other ECW guys.
Chris's Prediction: Wyatt Family
Mike's Prediction: Team ECW
6    Alberto Del Rio (c) vs. Jack Swagger    Chairs match for the WWE United States Championship
Mike: What the hell?  Del Rio goes from beating Cena clean to fighting Swagger?  I am not trying to knock Swagger, I think he has a ton of untapped potential...but that's really the problem here.  UNTAPPED.  WWE has basically made Swagger meaningless for the longest time, so it's hard to just try and elevate him to this level.  Having him lose this match doesn't make a lot of sense.  The only way I can see that working is if Zeb attacks Del Rio, but that wouldn't be all that convincing either.  
Chris: You said it!  Swagger has barely been on TV since he got run over by Rusev again--and--again.  Del Rio was brought back to be a headliner, so he's not losing to Jack!  This feud could be meaningful if they did anything sustained with Swagger, but he's in (lower) midcard hell, and that's that!
Mike's Prediction: Del Rio
Chris's Prediction: Del Rio
7. Ryback vs. Rusev (with Lana)
Mike: Uhm...I guess this is for the pre-show?  I think Rusev has a lot of talent, but WWE doesn't seem to know how to use him all that well.  Ryback has a great look, but he really doesn't do a lot to impress me otherwise.   I am not sure why this match needs to be on a PPV, but I would think Rusev takes it over the big guy.
Chris: Nothing meaningful has been done with Ryback in years, so this one goes to Rusev without a doubt.  Here's hoping it's a big night for the League of Nations, and WWE pushes them as a real threat.
Mike's Prediction: Rusev
Chris's Prediction: Rusev
---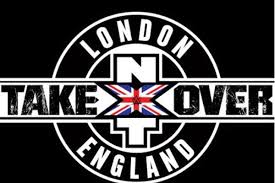 NXT Takeover London Predictions
1    Finn Bálor (c) vs. Samoa Joe    Singles match for the NXT Championship
Mike: One thing that always impresses me about NXT is that when they do an event, most of the guys step up their game big time.  Samoa Joe is the perfect example of this.  Samoa Joe has been a mixed bag during many of the NXT episodes, but every Takeover he steps it up to a whole new level.  
Finn Balor seems in a weird place in NXT lately.  They really don't seem all that sure what to do with him now that he's champ. He didn't even have a single's match at the last NXT Takeover.  He's got a great look and a ton of talent, but part of me thinks that he will always be an indy guy who might not be the right fit for WWE.
Chris: Joe and Finn are going to put on an epic, hard hitting brawl.  There's no doubt that these two guys will come up with an amazing match with tons of near falls.  
You made a great point about Finn, Mike.  I really thought that he was going to get to the main roster and light the world on fire, but the more I watch him, I doubt it will happen.  He's got the moves, good charisma, and killer entrances, but he's just so damn small.  I don't see Vince ever giving him a shot to do anything on the big stage. As far as a complete package, Finn's probably a bit better than Adrian Neville, but look what they've done with "The Man Gravity Vinne Mac Forgot "  Zilch.  Maybe WWE does slightly-more-than-nothing with Balor, but what's that get you?  Not even that empty red cup that ticked off so many Starbucks drinkers.
Mike: There is an interesting X-Factor to this match.  Sami Zayn seems to be returning to active duty.  Sami is pretty much the biggest star in NXT, and so much of the show the last few years has been about Sami clawing his way to the top.  So I think whoever wins this match is basically just going to be keeping the seat warm for until the next Takeover where Sami will reclaim the title he deserves.
Since that is the case, and they don't seem to like flipping the NXT title over all that much, I think it's pretty likely Finn will be holding on to the title.  Besides, Samoa Joe has basically dominated Finn each time they have confronted each other the last few weeks, and when that happens, the champ pretty much always retains.
Chris: Sami Zayn is scheduled to wrestle during the European tour, so I bet we see him at Takeover one way or the other.  He's definitely THE guy on the NXT roster, so your theory makes a lot of sense.  Originally I thought for sure that Balor would win, but now I'm seeing the scenario where Samoa Joe takes the strap, because he would make for an epic opponent for the underdog Sami.  Damn, this one has me torn.  I'm going to stick with Finn, because, like you said, I don't see them pinballing the title around.
Mike's Prediction: Finn Balor
Chris's Prediction: Finn Balor
2    Dash and Dawson (c) vs. Enzo Amore and Colin Cassady    Tag team match for the NXT Tag Team Championship
Chris: I really am not sure where this one is going.  Dash & Dawson look amazing in the ring and they've just grabbed the titles.  On the other hand, Enzo and Cass have never won the big one,, but they've been on the cusp so many times.  The fans love them, and it might be time for a huge victory.  I love that I'm flummoxed on this one. It's nice that NXT can really surprise you with what's coming next!  I'm going to go with Dash & Dawson just because that's what I'm feeling at the moment.
Mike: I think if they were going to give Enzo and Big Cass the titles, they would have done it way back at NXT Takeover Unstoppable in May.  It seemed like the perfect time.  Dash and Dawson did take Big Cass out of action for a few weeks, so Enzo and Big Cass will be looking for revenge.  But it doesn't make a lot of sense to me for them to just use Dash and Dawson as transitional champions, since they basically just did that with the Vaudevillains.  Dash and Dawson will be holding these titles a little longer.  Maybe Enzo and Big Cass will get another shot down the road, but I can't see them winning tonight.
Chris's Prediction: Dash and Dawson
Mike's Prediction: Dash and Dawson
3    Apollo Crews vs. Baron Corbin   
Mike: Apollo might be the NXT guy with the biggest potential.  He has such a great look and a ridiculous move set.  Corbin has been proving to be a solid hand, but I think everyone sees Apollo as the future of NXT and WWE.  He is not going to be losing a match (clean) for a while, I would say.
Chris: They've protected Baron Corbin from doing too many jobs, but there's no way Apollo loses this one.  Cobrin lost most of his buzz ages ago and looks to be in a holding pattern.  I still think he ends up on the main roster down the line, but nowhere near as quickly as Apollo.  I think the match will be a pretty quick, but it shouldn't be a stinker.  Corbin's gotten better, and Crews should be able to pull him through a good match.
Mike's Prediction: Apollo Crews
Chris's Prediction: Apollo Crews
4    Asuka vs. Emma (with Dana Brooke)    
Chris: This one isn't in doubt in the least.  Emma and Dana have been doing engaging work as heels, but they're both just bumps in the road for Asuka's rise to the top.  I don't know how far the Japanese star will go, but this one's a no-brainer.  I'm guessing that we see a Nia Jax feud with Asuka for the title sometime in 2016.  They're both clearly on the rise, and it's probably time to get Bayley to the main roster.
Mike: Man, the only question in this one is how badly is Asuka going to kick Emma and Dana Brooke's ass.  Asuka is the future of the NXT women's division.  That said,  I do have concerns that there aren't a lot of other NXT women who look all that great right now.  
Like you said, Bayley pretty much has to go to the main roster. Everyone else, all seem to be victims for Asuka and Nia Jax.  They do have a lot of women who seem to have some talent, but so far, they have just been jobbers.  And if possible, get Blue Pants under contract and let her do her thing.  I love, love, love the wide varieties of gimmicks she uses in the indys.  Leva Bate's Facebook feed is just about my favorite thing on the web.
Chris's Prediction: Asuka
Mike's Prediction: Asuka
5. Bayley (c) vs. Nia Jax for the NXT Women's Championship
Mike:  This match was added during this week's NXT episode.  Usually the women's title match is one of the highlights of the show.  Honestly, I haven't really seen Nia Jax in a non-squash match, so I have no idea if she can actually work a longer, Takeover quality match.  Nia Jax is supposed to look unstoppable, but I definitely don't see her as ready to be NXT Women's Champion.  This isn't the WWE Divas title; the NXT Women's Championship is almost as important as the NXT Title.  And Bayley is one of NXT's most popular wrestlers.   I suspect that Eva Marie will get involved in this match, maybe make it a DQ or countout finish to allow Nia Jax to continue looking strong, but keep the title on Bayley.
Though it is very possible they may be planning on moving Bayley up to the main roster soon, but I can't see them putting the title around Nia Jax yet.
Chris: I agree with your assessment in a lot of ways.  I don't know if Jax is ready either, but I think she's getting the strap.  The entire female NXT roster seems built around Jax facing off with Asuka.  I think that's your headline women's match for the next Takeover special.  Let's hope this gets Bayley to the main roster with something meaningful to do!
In any event, I think the Golden Age of NXT women's wrestling is about to end.  Let's see if the next group can come close to the originals!
Mike's Prediction: Bayley retains title
Chris's Prediction: Nia Jax new champ
---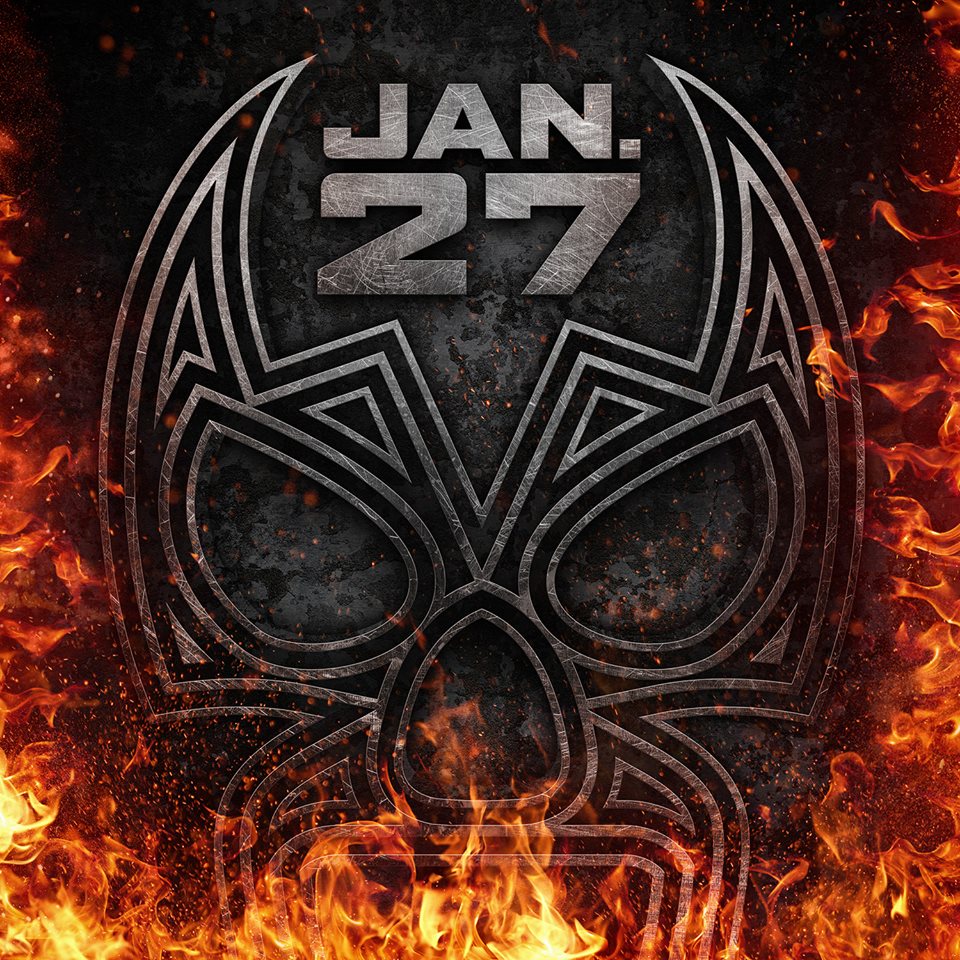 Lucha Underground returns January 27
From Lucha Underground's Facebook feed:
 Lucha Underground Season 2 premieres Wednesday, January 27 at 8pm ET on El Rey Network. See you real soon, Believers!
Mike: I am glad they finally got around to announcing when Lucha Underground would be back.  It seemed a bit touch and go for a while, with no one really certain if it would be coming back at all.  Lucha Underground (around with NXT and Pro Wrestling Syndicate) is a huge part of the reason I still care about wrestling even when the main WWE shows haven't really appealed to me.  
Lucha Underground has great matches, with even undercard feuds being given storylines and lengthy matches.  They also have a terrific stable of superstars, including great indy wrestlers like Cage and Ricochet, former WWE guys like John Morrison, and a lot of AAA wrestlers.  Even though the show is called Lucha Underground, we see a wide variety of fighting styles,  As an added bonus, the whole show is given a real cinematic feel to it.  Robert Rodriguez is the Executive Producer and you can definitely see a lot of his fingerprints in the way many of the backstage segments are shot.
Chris: Lucha is such an oddity.  The storylines are so weird and over the top.  Some of them go way into the realm of utter ridiculousness, yet it works brilliantly.  As odd as it gets, the action in the ring is the most important part of the show, and every worker is capable of putting on a spectacular match.  The ludicrous stories never detract from the real action in the ring, and that's why a little nonsense makes the product standout from every other wrestling show.  
Mike: They actually posted a great video with Johnny Mundo (FKA John Morrison) hyping season 2 of Lucha Underground around Thanksgiving.  Definitely worth watching: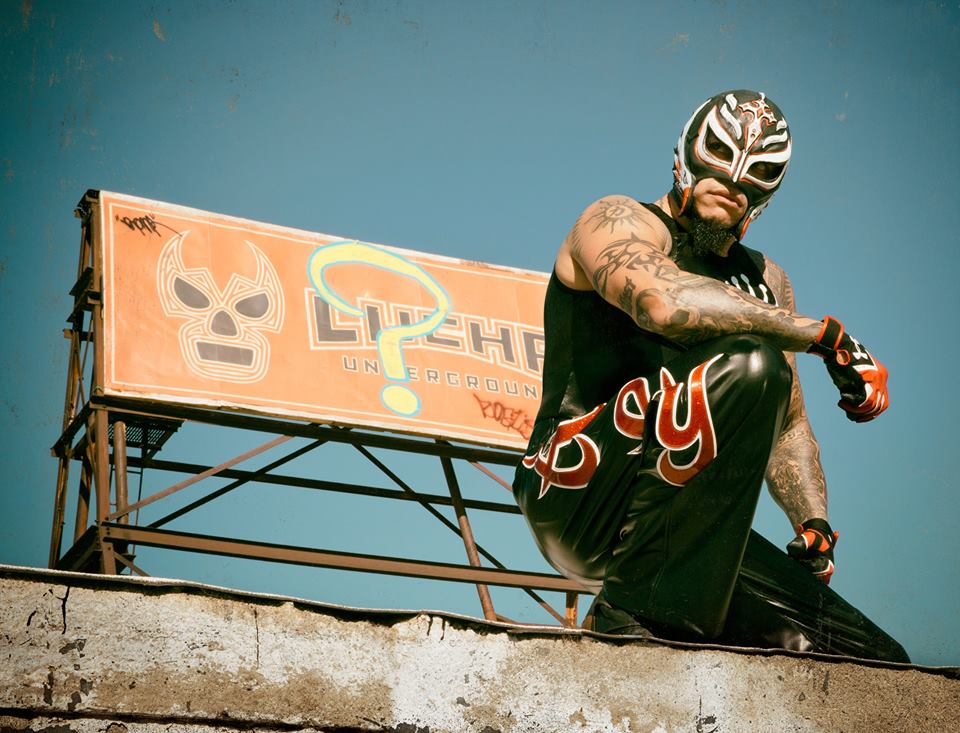 Mike: Late Saturday, they announced Rey Mysterio officially debuted with Lucha Underground. Booyaka booyaka!   Looks like he will be called El Rey….the king. Definitely fits.  I can't wait to see him cut loose on Lucha Underground.  He's exactly the veteran presence they need!   
Chris: If Rey can't bring some eyes to the product, nobody can. He's still the #1 Latino star in the business.  Let's hope they've got some great plans for him.
Mike: Literally right after I posted this, Lucha Underground also posted up a trailer for season 2!  It's about as epicly ridiclous as you expect from Lucha Underground!
 
---
Pro Wrestling Syndicate Updates
Mike: 2 quick things from Pro Wrestling Syndicate, my favorite local indy promotion!
1. Next Saturday is their last show of the year, Fightmare Before XMas.  It is shaping up to be a great card.  The main event will feature Sami Callihan (a former PWS champ, who wrestled as Solomon Crowe in NXT) in a fatal fourway against Mario Bokara, Matt Macintosh, and Kenny Omega.  Jeff Jarrett will be facing off against The Bayonne Badass Dan Maff.   But the match I am probably looking forward to the most is a ladder match to decide who really is the PWS TV Champion between Chris Payne and Brian Myers.
This show will also be my daughter's first ever live wrestling show.  She's most excited to see Jessica Havok who will be wrestling in a match for the Suicidal Six Way title against Drunken Swashbuckler, Amazing Red, CPA, Starman and Bonesaw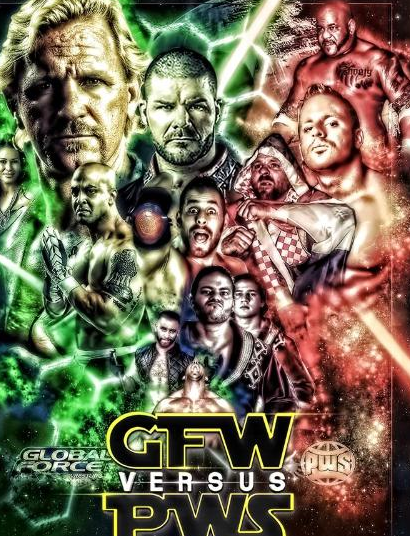 2) Speaking of Jeff Jarrett, his Global Force Wrestling has announced their first shows of the new year, and one of them is a big shared show with PWS in PWS's home arena in Rahway.  They haven't announced the card yet, but hopefully this will be a good way to get both promotions some exposure.  I am not particularly a Jeff Jarrett fan, but I do think it's vital that wrestling fans have more options.  We talked about this some last week, but the WWE needs competition or else the wrestling business might not be around in five, ten or twenty years.
Chris:There's a lot to look forward to with both of these events.  I'm so happy that I'll be there with my niece for her first wrestling show, which is hopefully the first of many. Just think, we can do it again in a few years with my son.  Right, Uncle Mikey?
Mike: Hopefully by the time Nate is old enough, PWS will be so big it will be hard to get tix.  I can dream.
Chris: Amen to that, bro!  
Jarrett is still trying to get a TV deal for GFW, which could lead to added exposure for the PWS gang.  Guys like Kevin Matthews and the Heavenly Bodies have worked for GFW already, and I'm hoping to see more PWS names crossover, if Jarrett does the impossible and gets a good TV spot.  The co-sanctioned show is going to have all the PWS regulars plus Jarrett, Sonjay Dutt, and Bobby Roode.  That could be an utterly brilliant night of wrestling!  
---
NXT Results 12/9/15
- Enzo and Big Cass def. Corey Hollis and John Skyler with Air Enzo.   After the match, they cut a pretty badass promo.  
- Emma and Dana are backstage.  Next week, Emma Vs Asuka at Takeover London.  Emma is pissed that Asuka had the red carpet rolled out for her. The Emmalution came long before the Horsewomen and Asuka.
- Hype video for Tye Dillinger, The perfect 10
- Asuka def. Deanna Purrazzo via KO.  During the match, Emma came out and Asuka was so annoyed, she hit a brutal spinning kick knocking Deanna out.  THat is a hell of a way to send a message.
- Hype Bros cut a promo against Blake and Murphy.  
- Alexa is pised the Hype Bros beat them during the mixed tag match.She blames Blake and Murphy for failing her.  They will take care of business tonight.
- Another song by the Drifter, Elias Sampson.
- Hype Bros def Blake/Murphy with the Hype Rider.
-Samoa Joe and Baron Corbin cut promo against their opponents tonight, Finn Balor and Apollo Crews.
- Bayley def. Peyton Royce with the Bayley to Belly. After the match, Nia Jax and Eva Marie come out.  Eva tries to talk, but the crowd just boos loudly.  Finally Nia takes the mike, but it's not much better.  They try to hype Bayley Vs Nia Jax at Takeover London, but the crowd won't let them.
-Finn and Apollo are backstage getting ready for their match tonight. Apollo wants to make sure Finna's head is in the right place.  He's been getting beat badly by Samoa Joe the last few weeks.  Apollo also reminds Finn that he has unfinished business.  After Apollo beats Corbin at Takeover London, he will be coming for the NXT Title again.
- Another hype video for Sami Zayn's return.
- Samoa Joe/Baron Corbin def. Apollo Crews/Finn Balor.  Corbin pushed Finn of the top rope.  Samoa Joe caught hit in midair and hit a death valley driver.  He then locked on the Coquina Clutch to once more leave Finn unconscious in the center of the ring.
Mike: It was nice to see a whole new side of Enzo and Big Cass.  They had ton of emotion going into this match.  Even though it was just a squash, it told a terrific story. They were so focused on revenge they didn't even do their normal opening.  And the promo after the match was great too.  I can't help but think they really might end up beating Dash and Dawson next week.  This segment did a lot to sell NXT Takeover London to me.
Chris: This one did everything a squash should do--Sold the feud, built to the big show, and was actually entertaining in its own right.  I still think we are both right about Dash & Dawson retaining, but it's in doubt.  That's why NXT is so much better than the main roster.
Mike: Mojo Rawley's dancing during the Hype Bros was something else entirely.  I have no idea why the combination of Mojo and Zack works, but I love these two guys together.  This was a bit of a generic tag match, but both teams worked real solid.  I will admit, I had no idea who was going to win this one.  I figured Blake and Murphy would be getting their win back. Nice to see NXT has some faith in the Hype Bros as part of NXT's stacked tag division.
Chris: I'm thinking Alexa Bliss is going to be splitting from Blake & Murphy, but I'm not really sure where it's going.  
Mike: It was great that they allowed Peyton Royce to show some personality and actually get some offense in.  She looked really good.  The NXT women's division needs more strong contenders, and Royce definitely seems like she has something to offer.  The crowd was rough, chanting "Better than Eva" with the counter chant of "That's not hard."
Chris: The NXT crowd can be great or an absolute annoyance.  That chant was top notch, for sure.  Royce looks like she's ready to do meaningful things in NXT.  She's got a solid look and her personality tells a story in the ring.  
Mike: The main event was decent, but I hate when we have a tag team match where each individual does their full entrance.  There was like 14 minutes left in the show when this segment started, but by the time the entrances were done, they only had 8 minutes left.  AND IN THE MIDDLE, WE GOT A COMMERCIAL BREAK!  So they took what could have been a potentially awesome main event, but it just got no time.  Basically the heels dominated the entire match, until Apollo got the hot tag.  
Chris: Utter crap!  Boring, useless garbage!  Did Vince book this piece of shite main event while daydreaming about Teddy Long?  If they want to turn NXT into Raw, this was a great start.  I will say, the ending was cool.  Joe put Balor out HARD.  That alone tells me, we are right about Finn retaining.
---
Bubba Ray and Matt Hardy tease one last match between Dudleyz and Hardyz
Mike: There was an awesome exchange this week between Bubba Ray Dudley and Matt Hardy on Twitter after someone tweeted a question to Bubba asking "Why is Matt Hardy so incredible?"
Bubba Ray Dudley ✔ @BubbaRayDudley
Because he has brainwashed sheep like you, to sending tweets like this.
Matt Hardy ✔ @MATTHARDYBRAND
But that's only ONE of the reasons.. I'm also incredible cuz I can still walk after all the 3Ds you've given me.  
Bubba Ray Dudley ✔ @BubbaRayDudley
Might be time for 1 more. Get your brother and meet us in Dallas early April
Matt Hardy ✔ @MATTHARDYBRAND
@BubbaRayDudley I've still got a few left in me. We're rebuilding Jeff, won't be too long.. See ya soon, #TLCoriginal!
Mike: I know this is probably just two old friends messing around, but man, I would really like to see one last match between the Dudleyz and Hardyz.  Chris and I were fortunate enough to see their first big match at Royal Rumble 2000.  I am a huge fan of both these teams, and it would be nice to see one last farewell match.  I have said in the past that I don't like bringing past talent, but as a one time spectacle I am cool with it.
Chris: I love seeing the veterans involved in a spectacle match, especially if it's down on the card.  I'm up for more Hardyz v. Dudleyz, and hell, one match isn't enough. Let's make it a run.