Cheap Pops - Wrestling News & Views - February 16, 2016
FTC Statement: Reviewers are frequently provided by the publisher/production company with a copy of the material being reviewed.The opinions published are solely those of the respective reviewers and may not reflect the opinions of CriticalBlast.com or its management.
As an Amazon Associate, we earn from qualifying purchases. (This is a legal requirement, as apparently some sites advertise for Amazon for free. Yes, that's sarcasm.)
Submitted by

Critical Blast Staff

on Tue, 02/16/2016 - 07:18
Cheap Pops - February 16, 2016
by Chris Delloiacono, Mike Maillaro and Jeff Ritter
This week!
Daniel Bryan Retires

The Strange suspension of Titus O' Neil

NXT Results

Lucha Underground Results
---
Daniel Bryan Retires
Last Monday, a pretty shocking Tweet appeared from Daniel Bryan: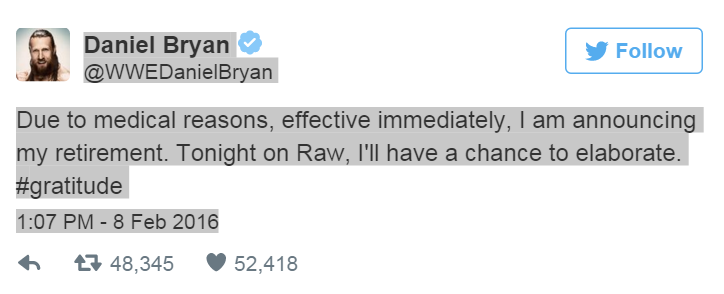 Mike: There was lot of speculation on whether or not this was a work.  I was pretty sure it was true, but hey with wrestling you never know.  WWE allowed Daniel Bryan to close to show where he confirmed that he was actually retiring.  
I will admit, I kind of went through the stages of grief on this one.  Like a crazy person yelling on a street corner, I was saying all day, " WWE won't let him wrestle and they won't let him out of his contract, so he really didn't have many options. I expect him to do commentary or whatever until his contract is over and then he will show up elsewhere."  
But, as I watched his speech last night I realized that I was probably wrong about that.  You can see that Daniel Bryan didn't want to step out of that ring, but his medical situation left him with no choice.  I couldn't help but think of Edge.  I feel horrible for DB. Wrestling was his dream, and just when he made it to the big time, it was snatched away from him.  Thankfully, he will be able to start a family now, but I still feel so bummed out.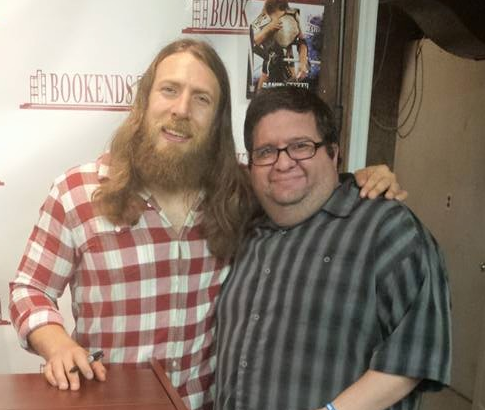 I got to meet Daniel Bryan a few months ago, and he was pretty much everything you would expect.  Warm, funny, and he seemed to have a great love for the fans.  He was an incredible wrestler, and he also is a terrific guy.  I hope wherever his road takes him, he finds the same joy and satisfaction he gave me as a fan.
Chris: Very heartfelt words and ones that I am very much in agreement with.  There hasn't been a performer in a very long time that connected with the fans like Daniel Bryan.  He could wrestle like few on the planet, talk a good fight, and his slight stature allowed him to portray a true underdog.  I loved every minute of the ride he took me on.  Seriously, I really feel like he brought me and all his fans along with him on his journey.
You mentioned how he lost it when he was on top, and that's the saddest part of the story.  WWE finally saw fit to push the guy, but they waited so long, Bryan's body finally said: No! No! No! I wonder how much those 2 and 3 match nights battling the impossible odds of the Authority played against him in the end.  Maybe if WWE went with the flood of support sooner, maybe they would have protected him a bit more.  Maybe then, just maybe, we could have seen a longer run on top.
We will never know.
Oddly, this past week a shot of Daniel Bryan with the newly shorn locks and beard surfaced.  When I saw it, I told Patti (my wife and Mike's sister) that's it for DB.  I just knew it was at an end when the signature look was lost.  As much as it pains me to lose Daniel's work in the ring, I'm thankful for all the wonderful matches I got to see him work.  Hell, I was in attendance at his only major WWE Championship defense, against Kane at Extreme Rules.
I met Daniel Bryan that night with you, and it was a highlight of my wrestling fandom.  You spoke of his love of the fans and what a "terrific" guy he was. There's no doubt in my mind that's the case.  Nothing with him was a put on.  He's clearly a kind gentle, caring human being.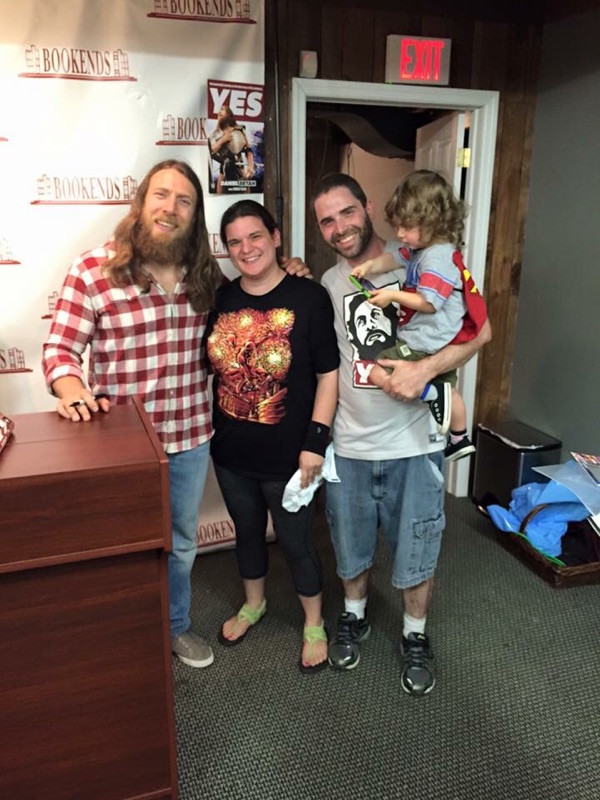 How can I tell with such certainty?
It was a long wait in line, and my two-year-old son Nate was getting very antsy.  We decided to let him watch Dumbo on one of our phones.  It's one of his favorite films, so it calmed him down immediately. When we got to the front of the line, Daniel said, "What're you watching, buddy?  Dumbo."  
Daniel hadn't even seen the screen, he just knew by the music.  When I asked him how he knew that.  He mentioned his nephews.  How wonderful is that?  Not only did he take the time to engage Nate, but he knew what he was watching because of the love for his own family.  It's just a very telling moment from our encounter with Daniel Bryan.  It's a time that I won't ever forget.  
Jeff: As a fan, sure, I'm sad to see Daniel Bryan retire. But as a fan of Bryan Danielson, married man, 34 years young, I'm also very happy to see that the man has enough sense to to know when his body says, "Enough!" You're going to start seeing this more and more, I think. Look at the NFL--Detroit Lions' WR Calvin "Megatron" Johnson has declared that he's retiring, as has the Seattle Seahawks  RB Marshawn Lynch. They are 30 and 29, respectively, and already feeling the brutal effects of playing a contact sport. If they think 16 weeks of regular season football, a couple of snaps during preseason, and hopefully a postseason game or two is tough on the body, they should try working the WWE's schedule! Calling it grueling is an insult to people who have grueling jobs. The WWE workload is insane! For anyone to survive it for more than a couple of years is extremely impressive, and to come out of it relatively unscathed after a decade or more is near-immortality. Ric Flair may be a lot of things to a lot of people, but remember, the Nature Boy broke his back in a plane crash back in 1975 and was wrestling again in 7 months. Let that sink in for a moment. He then went on to wrestle some 35-odd years after that! He might actually turn out to be one of the legitimate Four Horsemen of the Bible, with recuperative powers like that.
Ric Flair is an anomaly. Daniel Bryan is the everyman. His run in the WWE was all too brief and too often marred by injury, but his body of work is so much more than that. I hope the WWE can find a way to acquire as much of his independent work as they can (and a lot of other guys for that matter) so when you search the WWE Network for Daniel Bryan you'll be able to see his battles in New Japan, Ring of Honor, Pro Wrestling Guerrilla, All-Star Wrestling in the UK, EVOLVE, and more. My hope is that they'll utilize his knowledge and natural charisma as a trainer or--dare I dream--a broadcaster,especially for NXT!
Mike: I am going to throw this out there.  Does Daniel Bryan deserve to be in the WWE Hall of Fame?
Chris: Yes!  Yes!  Yes!
Mike: The WWE Hall of Fame is kind of unusual if you think about it.  You can't measure success in the WWE by how many touchdowns are scored or how many steals they got.  In the WWE, champions don't necessarily go to the "best."  The WWE doesn't have "All Star Games" they have the Slammys, which are, again, typically just intended to move storylines forward.  By the way, this isn't me knocking pro wrestling.  I have a lot more interest in Lucha Underground, NXT, and WrestlePro than I do for any "real" sports these days.  So, where does Daniel Bryan fall in this?
Yes, I feel strongly that Daniel Bryan belongs in the Hall of Fame.  He really inspired a movement among the fans with his energy and love of the business. Even if you just looked at his WWE work, he belongs in the Hall of Fame.  Add in his amazing indy work, and you have a first ballot Hall of Famer here.  Like Edge, I actually think they should put him in right away.  Might as well strike while the iron is hot here.
Chris: I would love to see Daniel Bryan headline this year's class for the Hall of Fame.  No wait is necessary, because he's a no-brainer when it comes to the Hall.  For me, it all comes down to drawing fans, putting on a great show, selling merchandise, and making people care about the product.  That's a HOF member should be.   That's what Daniel Bryan/Bryan Danielson did throughout his career.  
DB got to headline a WrestleMania, and he deserves to be the featured person when it comes to this year's class.  Between him and Sting, that's a pretty solid class.  I hope it happens, and WWE adds another few names--no more than five or six total--let's no water the HOF down with any more Rikishi-types.
Jeff: It's a no-brainer that D-Bry makes the WWE Hall of Fame if you consider his entire body of work. To me it's like saying Ichiro Suzuki belongs in Cooperstown because of what he did in Japan, and a few years in Seattle, or Barry Bonds based solely on his Pittsburgh Pirates numbers, when he was presumably clean and his head hadn't experienced a very late growth spurt. If it's the WWE Hall of Fame, it should be populated by guys who spent the majority of their careers as a top worker in the WWE, regardless of titles (Junkyard Dog is Dan Marino--discuss!). If the WWE is a Hall of Fame for Pro Wrestling beyond actually working for Vince, and a few of the guys who have been enshrined have had some very tangential WWE relationships--Antonio Inoki, Mil Mascaras, among others--then I'm fine with Daniel Bryan getting in. Let me put it another way--I wouldn't be vehemently opposed to his enshrinement, as I would be for known cheats in baseball.
Mike: By the way, since we call ourselves Cheap Pops, I want to sneak in a cheap plug here.  Over the next few weeks, we are going to be looking at some potential Hall of Famers (and even some people in the Hall already) and debating whether or not they belong in the WWE Hall of Fame.  
Jeff: I cannot wait for this new feature to start! The line for Tag Team enshrinements starts right here! Somebody get Bill Eadie and Barry Darsow fitted for tuxes...and dust off their gladiator helmets as well!
---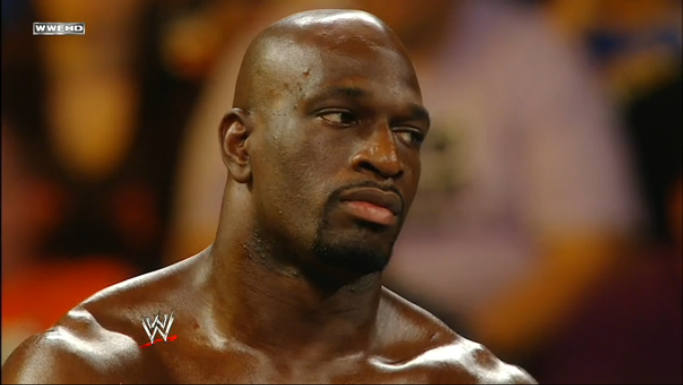 WWE Suspends Titus O'Neil 90 days
In what might be the best headline ever, WWE suspends Titus O'Neil for grabbing Vince Macmahon
Mike: WTF?
Chris: I have serious Vince McMahon issues.  I find it extremely hard to like the man.  Is he compelling on tv? Sure!  Has he been responsible for some fantastic ideas and product throughout the years?  Absolutely.  
I won't even get into the negatives of his stranglehold on the product.  He's a dictator who has abused the men and women over the years.  How many people died either under his employ or soon after leaving it?  Is he directly to blame?  Of course not, but the system behind keeping a job is so toxic that wrestlers have been driven to make catastrophic personal choices so they could make the next town.  Nothing began to change until Vince became a billionaire CEO of a publically traded company.  Oh, that and bad press from the Chris Benoit incident.
Finally, finally, finally, concussion protocols were put in place and some type of drug program as well.  Now, Titus O'Neil gets suspended for up to 90 days for playfully touching the man!  The first suspension for a controlled substance is ⅓ that length.  I can't possibly understand McMahon logic.  The man simply disgusts me.  
Mike: Honestly, there HAS to be more to this story.  I agree with pretty much everything you said about Vince, but this is just insane to me.  Especially since this wasn't even televised, it was just a quick thing on the Network that most people probably didn't even notice until it was pointed out AFTER Titus got suspended.  Titus has long been active in WWE's charitable work, and brings the company a lot of positive press.  90 frickin' days???  If nothing else, this ensures Titus won't be getting a Wrestlemania payday (I assume he'd have been in the Andre Battle Royal).  That is just obscene.
BTW, it was later announced they were reducing the suspension to 60 days...which is still absurd.
Jeff: I have serious reservations about Vince being able to pass his own protocols. This is late-stage Benoit type of thinking here--oh yeah, I said it. The man made his employees kiss his ass--literally--on television multiple times, and a hug from a guy he's buried on Superstars for years now sets off the "personal space violation" alarms? I think every time he shows in face in public the WWE Universe should hug the bastard, while whispering "Titus vs Brock...book it…it'll make millions of dollars...millions of dollars...free Zack Ryder too!"
---
NXT Results - 2/10/16
- For the first time, NXT is filming in the University of Central Florida.  This is hyped as their biggest show ever in Orlando.
- Baron Corbin def. Johnny Gargano with End of Days
- Recap of the Triple Threat #1 contender's match from a few weeks ago when Sami Zayn and Samoa Joe both made Corbin tap out.
- Sami Zayn promo.  He's disappointed that Regal didn't name him the number 1 contender, but this is just another obstacle.  He will get past it to become the first 2-time NXT champ.
- They show the Vaudevillians "dark" video promo again.  
- Hype Bros def Corey Hollis and John Skyler with the Hype Ryder after a hot tag.
- Carmella and Bayley talk about their match tonight.  Bayley says that the only thing harder than winning the NXT title is defending it.  She's not ready to let it go yet.  May the best woman win tonight.
- Alexa Bliss def. Cameron with Sparkle Splash
- Carmella gets ready for her title match tonight.
- Enzo and Big Cass are coming for Dash and Dawson.  In 2016, they plan on repeating as NXT Tag Team of the year.  Gable and Jordan came in and interrupt them.  They say this is the year of Gable and Jordan.  Next week, there will be an eight man tag match.  Enzo, Big Cass, and the American Alpha Vs Dash and Dawson & Blake and Murphy.
- The Drifter Elias Samson def. Jesse Sorensen with a neckbreaker.
- Recap of Apollo Crew Vs Finn Balor last week.  
- Apollo is proud that he went to the limit with the NXT champ.  Disappointed that he lost, but he promises next time you see Apollo Crews, it will be a whole new Apollo.
- Bayley is getting ready for her title defense.
- Bayley def Carmella to retain the NXT Women's Title.  There was a sequence of pinning combinations, and Bayley was able to make one stick.  
- After the match, Bayley and Carmella hug.  Eva Marie and Nia Jax attack Carmella on the way out.  Bayley goes to help, but they take her out too.  Asuka comes down to the ring.  Nia and Eva Marie back off.  Asuka brushes her hand on Bayley's title.  Creepy smile.  And then she leaves the ring.
- Samoa Joe cuts promo about his match with Sami Zayn. Samoa Joe considers Zayn to be ungrateful.  Samoa Joe saved Sami's life and career when Kevin Owens tried to take Sami out.  Joe calls himself "the inevitable."  
Mike: I am not exactly sure why Gargano and Ciampa are only being used as enhancement talent.  Both deserve a lot better than that.  That said, they have put on some terrific matches with some of NXT's best talent.  Corbin Vs Gargano was a real solid match.  Classic speed vs strength, and both men put on a great show.  I was surprised when Gargano kicked out of Deep 6, which seemed like it was becoming Corbin's new finisher.  Which is a mistake because End of Days is a lot more impactful.
Jeff: I agree, though Ciampa has been put over the last two times I've seen him work, and one of those was live in the icebox of Chicago. How neither of these wrestlers are getting the push that Tye Dillinger is getting I'll never know. I'll say this for Gargano, he certainly did enhance Corbin while not looking weak himself! Corbin has been steadily improving, in my opinion, after a year of squatch matches. I hope they learned "The Immortal Lesson of the Ascension: Those who are asked to nothing are doomed to be nothing."
Chris: This match was a fun opener.  At this point, Gargano definitely seems like more of a jobber than Ciampa.  Has Gargano won any singles matches yet? That said, he made Corbin look good in a pretty lengthy bout.  I'm excited for what's next for big Baron.  He appears close to taking the next step.
Mike: Not much to talk about in the Hype Bros match.  It was basically just a quick squash.  I did like that mentioned Zack Ryder as a former tag champ...since his partner is one of my favorite wrestlers Brian Myers (FKA Curt Hawkins).
Chris: Total waste of time, but I do like the Hype Bros. as a team.
Mike: They really need to change the name of Alexa Bliss's finisher.  Sparkle Splash is odd for a heel.  It was real odd that they had Cameron playing heel in this match.  Especially since she's no way near as good as Alexa Bliss is at playing heel.  To be honest, Alexa outshines Cameron in pretty much every way. That made for some real odd booking here.
Jeff: What Mike said. Alexa outshines her own tag team. She should come out to "Outshined" by Soundgarden...or maybe "Material Girl" by Madonna? I don't really mind the Sparkle Splash name but they should really call it something more impactful sounding and slightly-but-still-PG naughty, like "The Blissful End" or something. She does have one blissful end!
Chris: Cameron stinks less than she used too, but she can't compare to Alexa.  Bliss has turned into an amazing character and a solid hand in the ring.  She deserves a big run at the title in the near future.
Jeff: And then there's the Drifter….who's from Pittsburgh, so he's not really drifting, the dude has a home. That right there busts the gimmick. He carries a guitar that he never busts on anyone, strike two. He's finishing with a snap neckbreaker. In 2016? The last time that move was and should have been an effective finisher was about 30 years ago when it was called the "Shake Rattle and Roll" and executed by none other than the Greatest Intercontinental Champion of all time, the Honky Tonk Man. Elias Samson is kn Honky Tonk Man. He's not even Jeff Jarrett. He needs to be the biblical Samson or be in a tag team called "The Future Endeavored" with Tye Dillinger.
Mike: Whenever I see Elias Samson getting pushed, I can't help but think of all the great talent WWE has let "drift away" over the last few years.  How can you possibly see more of an upside in Elias Samson than CJ Parker, Trent Baretta, Curt Hawkins, Justin Gabriel, and on and on.  It is even worse watching Samson since the commentators seem bored by him too.  Usually, I hate when the commentators rip on the product, but I totally understood where they were coming from here.
The main event was great.  Carmella is still a bit of a work in progress but this was her best match yet.  This match sort of suffered in comparison to some of the classic NXT Women's Title matches we've seen, but Carmella definitely showed that she belongs in the title conversation.  There was some real good storytelling here with Carmella's uncertainty about how far she should take things.  She did a pair of suicide dives that were awesome.  At the end of the match, both competitors came out looking good, and that's all you can ask for.
Chris: This was a fun one.  I'm glad they didn't tease a heel turn by either lady at any point.  It was nice to see booking where the match was hard hitting, but mutual respect remained throughout.  I also liked how they got all the other women involved at the end.  I wish Carmella came to a little sooner and didn't look so weak at the end.  Still, this was a good match and set up the future.  That's all you really need.
Mike: I did think it was weird that they ended the show on a Samoa Joe promo and not that great title match.
Jeff: Yeah, I hate when they don't let the emotional high of a main event run its course to close a show. Carmella was better than I expected her to be, but nobody's going to confuse her with Becky Lynch or Sasha Banks anytime soon. for the love of God, Bruno and Mae Young can they fire Eva Marie already? I can't believe they're wasting Nia Jax on being her muscle. Speaking of muscle, wasn't Dana Brooke supposed to be, I dunno, awesome or something? She hasn't wrestled on TV in ages, and she's never looked very good. In fact, her fitness level seems to have dropped off too. The NXT Divas division needs to start promoting Peyton Royce, Aliyah, Liv Morgan and others to get them up to speed before Bayley runs out of scrubs to hug and she has to finally face Asuka!
Chris: Dana Brooke has been dealing with some kind of injury for a long time.  She's actually quite good as Emma's sort of manager.  I just wish Emma would be booked stronger.  I wish her and Alexa Bliss were working higher in the pecking order.
---
Lucha Underground results - 2/10/16
- Kobra Moon def. Bengala with a dragon sleeper
- Fenix demands a match with King Cuerno from Catrina.  She asks him if he's sure.  Fenix wants Cuerno, and then he's coming for Mil and Catrina.
- 1000 years ago. A young Mexican girl talks about a man returning from the stars.  The seven tribes are at war, they need to be united.  Aerostar enters.  He says that they need the gods, but the gods will not return for a thousand years.  Aerostar says "I will go there."  He vanishes in a flash of light.  The girl seems to have drawn the Gift of the Gods title in the dirt.
- Cuerno is working out backstage.  Catrina says "You took the title, but didn't destroy the man."  Cuerno promises that her wounded animal (Mil Muertes) is safe.  Catrina tells Cuerno that he needs to kill Fenix once and for all...in a Last Luchador Standing match.  "Make sure he never flies again."
- Jack Evans def. Drago with a bridging backslide.  Evans used the ropes for leverage, but the ref didn't catch it.  After the match, Jack Evan declares himself the Dragon Slayer.
- Video hyping Texano's return next week.  He talks about his pride in being Mexican.  He's fought for everything his whole life, and no one will take it away.  He wants payback on Chavo and Blue Demon.  The promo ends with a bar fight against masked wrestlers.
- Puma is staring into a mirror.  He is praying.  Catrina mocks him.  She asks who he prays to.  Konnan was praying when Mil killed him.  He said "Forgive me."  Catrina wonders if he was asking God or Puma for forgiveness.  Next week, Puma faces Pentagon.
- Fenix def. King Cuerno in a Last Luchador Standing match.  Fenix climbs up a ladder leaning on the wall. Cuerno gives chase.  Fenix kicks the ladder down, and ladder and Cuerno go through a table for the ref to give a ten count.
- We find out that Cortez of the Crew was really an undercover cop. His Captain wants to find a way to take down Cueto.  Catrina had reached out to The Crew to bring them back to the Templer.  The Captain is sending Cortez back in with another undercover cop.  It's Joey Ryan!  Their only job is to bring down Cueto.
Mike: I had heard a lot of real negative reviews of the opening match (I was away all weekend and didn't get to watch Lucha Underground until Monday). Admittingly, I did think it was a weak match, but it was nowhere near as bad as I had heard.  There was a lot of good back and forth here.  This wasn't the strongest debut for a wrestler, but Kobra seems like she could be a good competitor.  She might have to lose the snakeline movements though. She looked real awkward.
Chris: Definitely not horrible, but based on this match I also have no real interest in Kobra Moon.  Nice to see a new female competitor but that outfit stinks.
Mike: Aerostar.  Time traveller. This segment should have been stupid, but in typical Lucha Underground fashion, they made it cinematic and really cool.  Still a pretty odd concept for a wrestling show though.
On paper, Jack Evans Vs Drago should be a crazy high flying showcase.  Instead, we got a pretty grounded match.  I was a little disappointed, but this was still a real good match, and promises for a bigger rematch down the road.  I did like Jack Evans playing dirty, including raking the eyes and biting Drago.
Chris: This definitely could have been a lot more exciting.  The first half of the show was pretty disappointing, actually.
Mike: How come in the Lucha Underground universe, there are masked guys ready to jump you at any turn?  I am never going to Mexico or Los Angeles. Luchadors will get you!!
Another great main event match.  Fenix and Cuerno always put on vicious matches with a lot of new things to see.  Cuerno dominated a lot of the match, but Fenix kept in the fight and pulled out another huge win.  Fenix has really been the star of season 2.  That said, I really miss seeing Dario Cueto!  He was the best part of season 1, and I just don't feel that same connection to Mil and Catrina.  
Chris: That ladder bump at the end by Cuerno was sick. This match definitely saved the show.  
I liked the Dario Cueto tease at the end of the show.  Seems like an interesting plot thread.  I just hope Rey Mysterio and Cueto get involved soon.  There's been a little too much teasing so far.  Time to deliver.