Cheap Pops - Wrestling News & Views - March 7, 2016
FTC Statement: Reviewers are frequently provided by the publisher/production company with a copy of the material being reviewed.The opinions published are solely those of the respective reviewers and may not reflect the opinions of CriticalBlast.com or its management.
As an Amazon Associate, we earn from qualifying purchases. (This is a legal requirement, as apparently some sites advertise for Amazon for free. Yes, that's sarcasm.)
Submitted by

Critical Blast Staff

on Mon, 03/07/2016 - 11:53
This week!
WrestlePro Debuts!

Triple H defends title against Dean Ambrose

Fabulous Freebirds announced for WWE Hall of Fame

Does The Honky Tonk Man Belong in the WWE Hall of Fame?

NXT Results

Lucha Underground Results
---
WrestlePro Results - March 5 - Rahway, NJ
Matt Macintosh (WrestlePro Champion) made Pat Buck submit

Danny Maff pinned Anthony Bowens

Mario Bokara won by knockout over Johnny Clash after 17 belly-to-back suplexes

The Heavenly Bodies with Buster beat John Silver and the Reynolds Brothers

Amber O'Neal successfully defended the NWA Women's Title against Barbi Hayden

Demo stunned the Lifeguard with a roll up.  After the match, Mike Del says he's done with being the Lifeguard and fires his manager Dylon Stiffwood.

Club Taboo defeated Team Tremendous in defense of the Tag Team Title

Chris Payne won a fatal-four way over Fallah Bahh, Joey Ryan, and Brian Myers.  During the match, Shining Eddie Jackson turned on Fallah Bahh.  Chris Payne got the win and was revealed to be the newest member of the EJ5.

"2 Hot" Steve Scott (Game Changer Wrestling) won the interpromotional Cro-Pro 6-way over Talon (Five Borough Wrestling), "America's Bad Boy" Max Caster (CAP NY), Ken Broadway (House of Glory), and "Manscout" Jake Manning (Highspots and SSL Show)  and Rex Lawless (NYWC)!

Colt Cabana pinned Bobby Wayward

Kevin Matthews rolled up Bull James (FKA Bull Dempsey)

Anthony Bowens won a 35-man Rumble by eliminating Danny Maff and Fallah Bahh to earn a future title shot at Matt Macintosh
Mike Maillaro: Any show that starts with Terry Funk greeting the audience is okay in my book!
Chris Delloiacono: Agreed on the Funker!  I'm so honored that we had a chance to meet one of the greatest pro wrestlers of all time!  Having him start the show and offer such a touching promo was wonderful.  You don't get too many genuine, heartfelt moments at a wrestling show.  This was one of the most beautiful things I've ever seen in a wrestling ring.
The debut of WrestlePro, which is the bigger better version of Pro Wrestling Syndicate went well, but the promotion definitely has room to improve.  Opening with the World Title bout made sense as the gateway to the new company, but following that with Maff/Bowens was a mistake.  These were two of the most intense matches you'll ever see.  The rest of the card had some trouble following up these two bouts.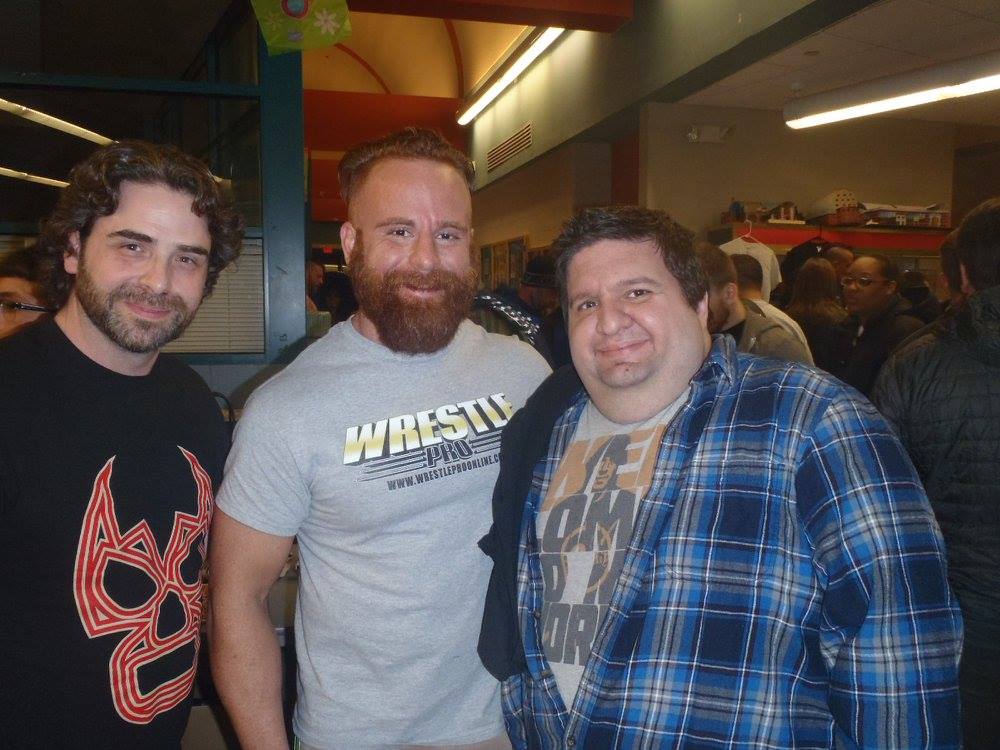 Mike: I am not sure mistake is the right word but I get where you are coming from.  Those two opening matches were both main event caliber.  Pat Buck and Matt Macintosh was the perfect match to start the show, and I loved that Macintosh won, but Pat took pretty much everything Macintosh could give him and kept struggling his way back to his feet.  Not only do we have a fighting champion, but we have one hell of a fighting owner too.  I really hope that Pat continues to work matches.  I hadn't really seen him wrestle until the Global Force Wrestling show and this one.  On top of that, I've gone on record many times calling Matt Macintosh one of my favorites.  And I love his new look.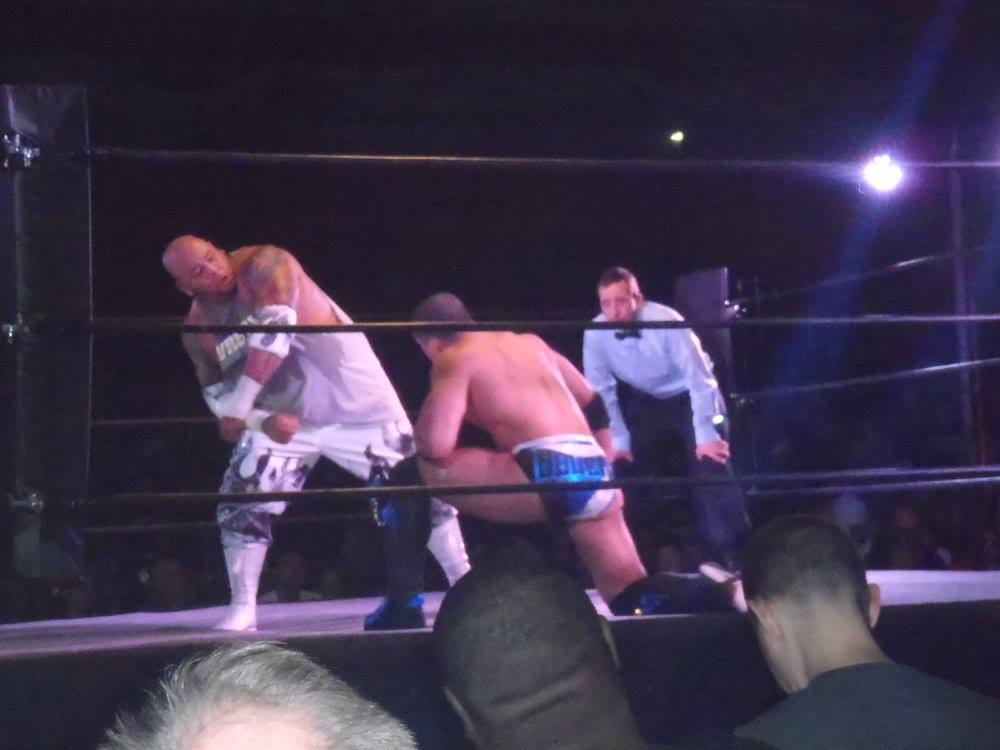 Then you follow it up with Danny Maff vs Anthony Bowens.  They kept referring to Bowens as WrestlePro's Best Kept Secret.  If there is any rhyme or reason in the wrestling business, Bowens will be huge some day in the very near future.  He recently did a tour of England, and I see nothing but big things for him. And then you have Danny Maff, a veteran who pretty much steals the show every time he's in the ring no matter who his opponent is. This match had the entire crowd sucked in from the opening bell.  No matter what matches came next, it was going to be hard to top these two.
Chris: Length was a major issue too.  I know they wanted to squeeze as many people as possible into the show, but ending at midnight makes for a long haul.  A couple matches could have been dropped, but with the Rumble everyone still could work the show.  For example, I enjoyed seeing Mario Bokara suplex Johnny Clash 17-times, but was an absolute squash necessary?  
The six-way was a cool idea too, but putting it on so late was a bit of a mistake.  I'm glad they threw in a Create a Pro trainee, yet most of the crowd didn't seem to know who anyone was.  They probably should have had this as the second match and saved Maff/Bowens and the crazy intensity for later.
Mike: I actually would have moved the WrestlePro Title match later in the night.  That could have been the main event.   Keeping Bowens/Maff early gave the show perfect symmetry.  Maff defeated Bowens early in the night, and later on, in the 3-5 Rumble, Bowens was able to defeat Maff to get a WrestlePro title shot.  I thought that was pretty perfect
One problem I sometimes had with Pro Wrestling Syndicate was that some of the matches felt short. Pretty much every match at WrestlePro's debut show was a good match and given enough time.  But I do have to agree with Chris, there were probably some matches that could have been cut.  Colt Cabana fighting Bobby Wayward was odd since both guys were in the rumble later.  They could have basically had the same spots without having a separate match.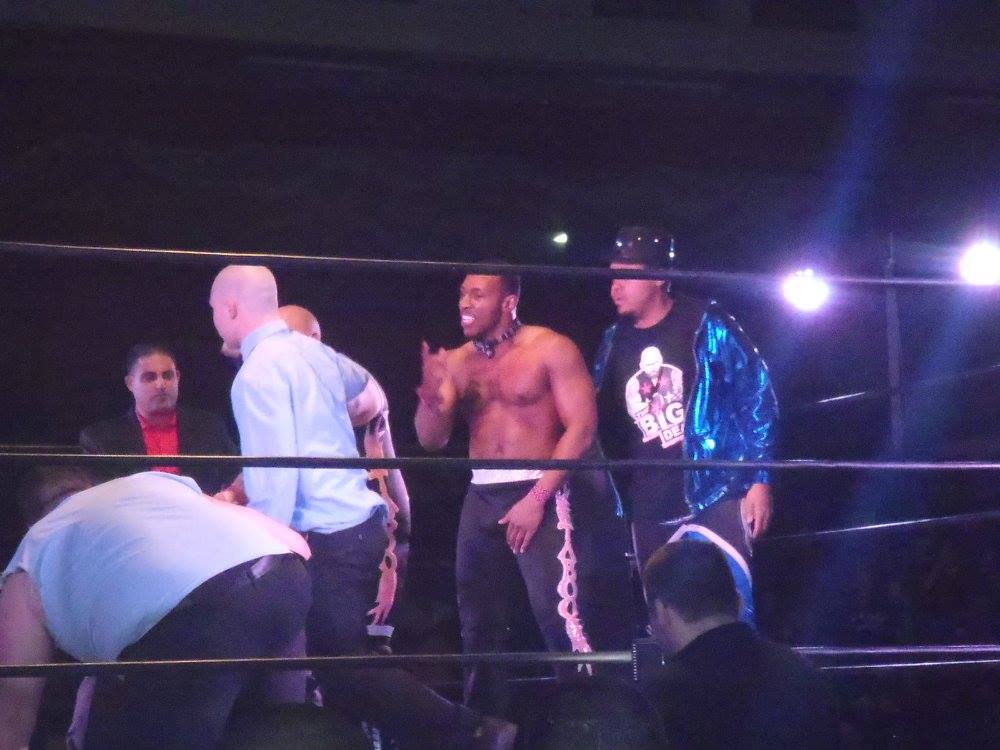 That said, I thought the women's match was really good, even though the crowd didn't seem into it. And the tag team match was great too.  Sandy Mann's gimmick seems to have evolved from him being a lounge singer to Michael Jackson.  And he really made that work.  I had never even heard of Team Tremendous, but they were far better than I expected.
Chris: Finally, I love Joey Ryan.  His character is hilarious, and he puts on a fun show.  I just feel like the antics around his YouPorn Plex might have been a bit much.  The entire thing was tremendous fun, both in the Rumble and the four-way, but there were a lot of kids present.  Kids that included my niece Kira and my good friend Chad's son, Carter.  These are elementary age children viewing something bordering on obscene.  I also teach in Rahway, and I want a product my "kids" can watch without such extreme adult content.  Like I started with, I love Joey Ryan.  He's just not for kids.  Am I being a prude?  
Mike: I will say that my daughter, Kira, wasn't at all traumatized.  She thought it was funny, and had decided that the reason everyone fell out of the ring was because they were tired of people trying to touch them.  For Kira, she was far more upset by Giant Leather, though since Aesthetics Enterprise (who we love) eliminated him, that made her happy.  
I think Joey Ryan is pretty awesome.  He's sleazy and brilliant, bringing something extremely unique to the ring.  And I think his antics tend to be pretty cartoonish, which makes it not as disturbing as it can be.  I also think that when you are taking kids to a wrestling show that starts after their bedtime, you gotta be ready to shield the kids from some content that might not be for them.  But I don't think that needed to be toned down.  
Chris: You make a fair point.  To be honest, when "The LIfeguard" Mike Del threw Demo into the corner like he was a rag doll, well, I laughed so hard that I cried.  That's certainly not PC entertainment.  It's such a fine line with material of this nature.  I was wondering if it went a little too far last night.  In the end, I had a ball with the adult material, but I am glad that most of the adult language was cut out.  Occasional harsh language exemplifies a point, but when it's over-and-over, it tends to make the product bush league.  PWS had way too many F-bombs.  
Do I sound like a prude again?  Man, I'm just gonna just transition away from this, and say, what a great crowd.  The place was packed to the rafters.
Mike: Yeah, there was a terrific crowd on hand for the show.  I started taking pictures of how big the crowd was, but the lights went off for the show before I could take more than just this one. The Rahway Rec Center was packed!  
One surprise for me was the crowd's real positive reaction to Bull James (FKA Bull Dempsey).  Even Bull seemed a little surprised when the crowd started chanting "Please come back" after his match with Kevin Matthews.  
I really like that Fallah Bahh is now a face.  That is a long time coming.  The crowd had really been getting behind him for a while.  My daughter loves Fallah Bahh, but was pretty upset when he demolished Habib From the Car Wash after his match.  Now, she can cheer for Bahh without any hesitation.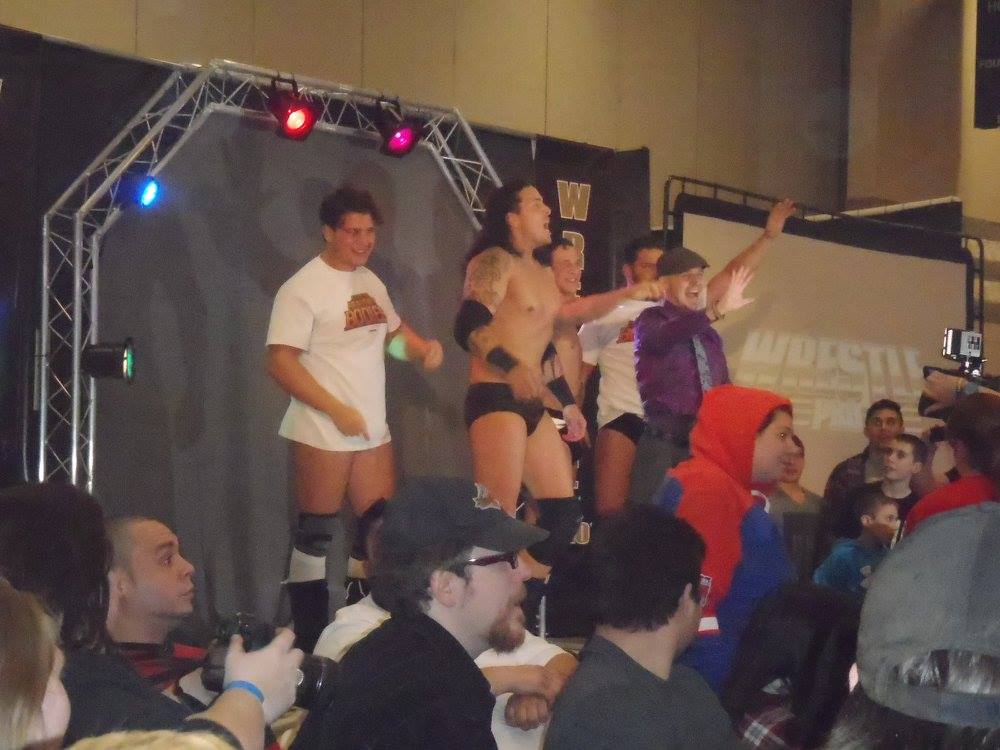 Before we do, I want to add that I was shocked by the heel turn of Chris Payne!  I've become a big EJ5 fan lately.  They seem to be making big moves!  
In April, WrestlePro has three big shows coming up!  If you are a wrestling fan in the area, you really need to check them out!  
April 16 - Union, NJ

April 23 - Brooklyn, NY

April 30 - Rahway, NJ
---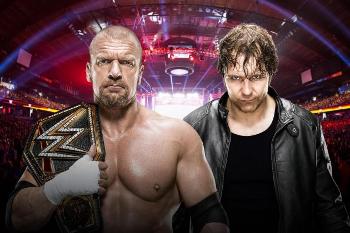 WWE Roadblock
The March 12th "March to WrestleMania: Live from Toronto" WWE Network special has been renamed to WWE Roadblock. WWE has confirmed Dean Ambrose vs. WWE World Heavyweight Champion Triple H for the event.
Chris: I'm glad Triple H is finally wrestling.  Geez.  He hasn't had a match since his title win at The Royal Rumble.  To be honest, I'm really excited to see this one.  There's absolutely no chance WWE changes the strap right before the biggest show of the year, is there?  
As much as Roman Reigns isn't over the with the crowd, they can't take the main event away from him and Trips.  Granted, an Ambrose/Lesnar bout for the big belt at 'Mania would make a lot of fans very happy.  This one included.  Still, WWE doesn't do anything surprising anymore.  The setup has been happening for ages, so I'd be stunned if anything happened to change the title holder.  
I am more intrigued to see what WWE has planned.  Pathetic really, that an in-between-the-PPVs show has a more exciting main event than WrestleMania!
Mike: If WWE wanted to really surprise people, I think it would be awesome to have Dean win the title here.  Something like that would actually make me tune in, because it adds a sense that "anything can happen."  And instead, things are mostly too predictable.  Even when WWE does something unexpected, it is something that makes no logical sense.  Dean being able to steal a win from Triple H and winning the WWE Title could make for great TV.  And if they want to take the coward's route, there is still time to get it back on Triple H before Mania, if they still insist on doing the Triple H/Reigns match for the WWE title.  
I would be shocked if they went this way, but I am going to put on the blinders and choose to believe ANYTHING CAN HAPPEN IN THE WWE.
Chris: It's been a long time since anything could happen in WWE.  Remember the mid '90s when house show title changes were the norm?  WWE needs shock value.  Desperately!
Mike: And now they have added a NXT Tag Team title match to the show!  Dash and Dawson Vs. Enzo Amore and Big Cass!  Okay, part of me does wish that it was American Alpha, but I am still a huge fan of Enzo and Big Cass, and it's great that they will be getting a bigger platform to show what they can do. I keep hearing that Enzo and Big Cass may be coming up to the main roster soon...I actually think that may be a bad idea for them.  NXT guys coming up to the main roster have not have a great track record.   
Chris: I'm excited to see this match, and I hope both teams get a chance to shine.  A title change seems unlikely considering they've already taped matches for the next few weeks of NXT.  Again, it would be awesome to see a shocker.  
I love Enzo & Cass too.  They have so much charisma, and you can't teach that.  Either way, they seem destined for the main roster after Wrestlemania.   I agree with your concerns, but I think Vince might actually get behind these two.  Think of it this way, Cass is enormous.  He's  the type of guy that Vince seemingly dreams about.  Then you've got little Enzo, who is a cartoony stereotype of exactly what most people aren't like in NJ.  A huge guy and a stereotype--they could get pushed to the moon!
Then again, I'm probably out of my mind.
Mike: I definitely think they have a huge upside in WWE.  That said, I think it's very likely that at some point, WWE would want to push Big Cass on his own, and I'm not sure there would be much of a spot for Enzo as a singles guy.  Enzo is such a great talker though.  I kind of would love to see them build a stable around him, think The Dangerous Alliance or the Heenan Family.  And the upside there is that Enzo actually is a good wrestler, just undersized, so you could have him physically getting in fights with his factions opponents unlike many managers.
 
---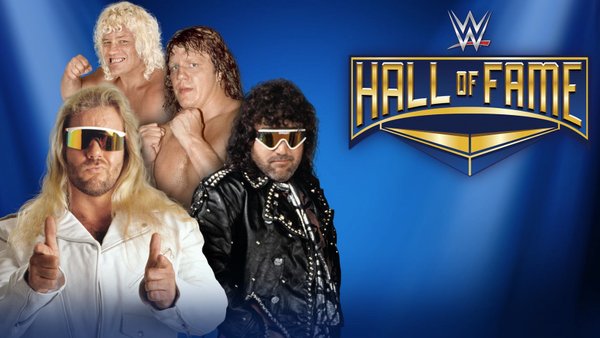 Fabulous Freebirds Announced for WWE Hall of Fame
Michael "P.S." Hayes, Terry "Bam Bam" Gordy, Buddy "Jack" Roberts and Jimmy "Jam" Garvin will be inducted into the WWE Hall of Fame on the eve of WrestleMania 32.
Mike: While I am open for any discussion that comes up in the column, I decided to just make the announcement for the Freebirds, and not put them in the "Do they belong?" section. To me, the Freebirds are a no brainer.  These guys were huge stars all over the wrestling world.  If a territory needed some heat, it was always "Call in the Freebirds."  And rightfully so.  
Oddly enough, even though Michael Hayes has been a part of WWE for the last 21 years, the Freebirds never held any titles in the WWE.  Not saying that is at all relevant here, I just thought it was interesting.  
Where do you start when talking about the Freebirds.  They created the "Freebird rule" which has become a staple of tag team wrestling…  They were one of the first wrestlers to come out to rock music.  They had an epic feud against the Von Erichs.   THEY ARE THE FABULOUS FRICKIN' FREEBIRDS!
If nothing else, I am a huge Freebirds fan because they appear wrestling in the beginning of one of my all-time favorite movies, The Highlander.
Chris: You said it, brother!  There may not be a better feud in wrestling history than the Von Erich Brothers and The Freebirds.  It went on for years, featured myriad wars, and never got old.  A lot of the early stuff is available on the WWE Network, but I'm hoping they put up more WCCW episodes online now that the 'Birds are going into the Hall.  
It's odd, but Michael Hayes, Terry Gordy, and Buddy Roberts barely ever wrestled in the WWF.  They came in for a really short period when Hulkamania was in its infancy and the company began its nationwide expansion.  This is a good thing for the HOF, though.  The Von Erichs--other than Kerry--didn't do much WWF work either.  I like seeing the Hall encompass people throughout wrestling history, whether they ever worked for the WWE/F.  Seriously, Vince either bought everyone out or ran 'em out, so it's only fitting he honor all the greats.
Here's a question, what do you think of Jimmy Garvin being included in the Hall of Fame class?  Garvin wasn't a member of the 'Birds until their later years as a midcard team in WCW, and he worked mostly with Michael Hayes, although Terry Gordy was a key member of those Freebirds for a time.  This wasn't quite the same Freebirds.  
Personally, he's not on the level of the other three, but Jimmy "Jam" belongs in my book.  The Freebirds were still a force in WCW and Garvin made a good replacement for the much older Buddy Roberts who was ready for retirement.  Jimmy was great on the stick and fun to watch work in the ring.  I actually think he's Hall worthy on his own merit, but that's a case for another day.
Mike: Jimmy Jam has one of my all-time favorite looks for a professional wrestler.  I've always thought he looked like a savage caveman that someone decided to throw sunglasses on.  He had a hell of a career on his own, but yeah, I do think he should be part of the Freebirds, just because he is a huge part of their history.  Long before he was formerly part of the Freebirds, he was allied with them.  He was often referred to as the Fourth Freebird even before he was a part of the team.
One thing that bummed me out when reading up on the Freebirds was that I had forgotten that so many of them had passed away.  Wiki lists fives "official" Freebirds.  Terry Gordy died in 2001. and Buddy Roberts and Badstreet (Brad Armstrong) both passed away in 2012.  It's a shame they weren't honored earlier, but I still look forward to seeing this induction.
Chris: A lot of early deaths in the Freebirds and so many players from the glory days of WCCW.  The hardest part about watching classic episodes of World Class is the unending tragedy that followed the key players.
Brad Armstrong comes from a wrestling family.  There was dad Bullet Bob, his brother the Road Dogg, and ref Scott.  Lots of great accomplishments from the family.  Brad was a solid undercard player during his career.  He always put on entertaining matches.  I still remember a great match he had with Barry Windham for the US Title at the second or third Clash of the Champions.  Great finish that ended with Brad going for a top rope crossbody and Windham reversing into a claw.  Awesomeness.  
Still, I'm glad Armstrong wasn't part of the induction of the Freebirds.  The masked Badstreet was the jobber of the team and only around to take a pin.  That said, Bob is already in, but I'd love to see the entire Armstrong family get in down the line.
Mike: I thought it was a pretty beautiful moment when the sons inducted the father a few years ago.  Sadly, this was pre-Network, so they never showed the whole thing, but I loved the picture of all of them standing together.  They truly are a wrestling dynasty.  
---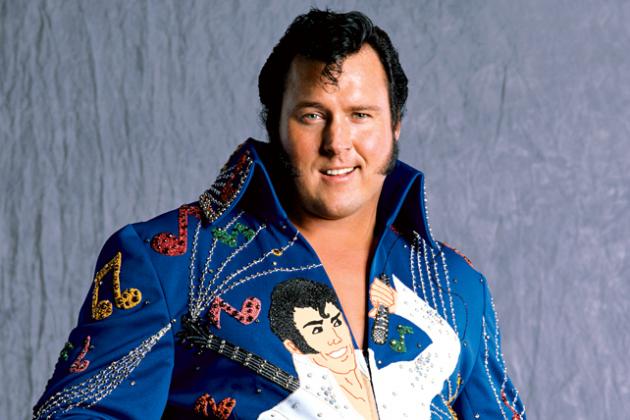 Does The Honky Tonk Man Belong in the WWE Hall of Fame?
Mike: I am pretty sure this isn't allowed in our humble wrestling column, but I almost feel I have to recuse myself from this conversation.  The first live wrestling show I ever attended, the main event was The Honky Tonk Man Vs Hulk Hogan for the WWF Title.  Honky Tonk Man actually won that match and the title...very briefly, before the ref overturned the match saying that Jimmy Hart being on the apron resulted in a DQ for the Honky Tonk Man.   That moment has been burned into my brain as a wrestling fan for 20 years, so whenever I think of Honky Tonk Man, I get a huge smile on my face.  So I am probably going to be very biased here…
Chris: Here's my initial take on "The Greatest Intercontinental Champion of All Time."  Wow, this guy could talk, generate heat, and quite simply, make the fans care.  His career as a featured player wasn't very long, but it was memorable.  Honky wasn't exactly Ric Flair in the ring, but he told a good story.  Essentially, you just wanted to see him and Jimmy Hart get their ass kicked.  He's exactly what a heel should be.  There was no Jake Roberts cheers that got him turned face.  Damn near everyone despised his character, so he did his job to a tee.
Now Mikey, wrestling fandom is all about bias.  Don't get too cool, cocky, or bad, just because you can't carry a tune, even if it had handles.  What're we writing this column for the Washington Post?  Hi, Woodward!  This is Bernstein speaking, and I say open up that water gate and let's hear it.  
Mike: For a guy to play an evil heel, it's easy for them to get people to boo them.  I think the "annoying" heel is a much trickier character to play.  It's a VERY fine balance between real heat and "go away" heat.   And Honky Tonk Man, especially during his Intercontinental Title reign, walked that line brilliantly.  He put a lot of asses in the seats coming to see the Honky Tonk Man finally get what's coming to him...and every time, he would keep the title making you more pissed off to come back next time.  
And it definitely helped that Jimmy Hart was such a huge part of that package.  You wanted to see Jimmy Hart get beat up, and you wanted to see his man finally lose.  It is just a perfect example of how the wrestling business should work. So for me, it's a no-brainer.  Honky Tonk Man is a huge part of 80's wrestling for me, and he belongs in the Hall of Fame.  Sure, he may have had a relatively short shelf life, but what he did in that time was pretty epic.  
Chris: I don't know if it strengthens the induction scenario, but at the end of his run in WWE, HTM was part of a somewhat entertaining team with Greg Valentine called Rhythm and Blues. Nothing fantastic done by the pair, but a decent way for HTM to stay relevant for a couple more years.
I think we are in agreement about HTM and the HOF.  He's proof that you don't need a decade-long run to be a legend.  Going back to last week's column.  Huge difference in the contribution levels of The Godfather and Honky Tonk Man during their time with the WWF/E.  That's why HTM is in, in my mind, and Godfather shouldn't get a sniff.
Mike: Speaking of Godfather, at this week's WrestlePro show, we were actually standing by the Godfather and he was still in terrific shape.  I actually felt a little guilty about our column last week.  I stand by everything we said, and we definitely were not trolling, but I still did feel kind of bad.
Chris: I was totally impressed by The Godfather.  He still looks like he can walk in the ring and do his thing.  I'm sure he'd be way more fun to watch than a lot of the guys that are getting television time today.  The thing is, he still doesn't belong in the Hall of Fame.  It comes down to this, at least in my mind, the HOF is about greatness.  It's not the Hall of Good.  It's not even the Hall of Very Good.  
I don't feel bad about our comments from last week, because we were fair in our assessment of the character.  We didn't crap on him in any way.  I actually like The Godfather quite a bit.  I just would like the Hall of Fame to represent the greatest of all time.  I don't see that.
---
NXT Results - March 2, 2016
- Vaudevillians def Hugo Knox and Tucker Knight with Whirling Dervish
- Emma and Dana Brooke are backstage.  They talk about how easily Asuka beat Deonna Purrazzo a few weeks ago. Emma has a match tonight and will make an example out of her opponent.
- Hype video for Finn Balor
- Last week, security camera in the parking lot caught Dash and Dawson attacking Enzo Amore until Big Cass chased them off.  Big Cass cuts a promo calling them gutless.  Next time the two teams meet, Dash and Dawson will have nowhere to run.  Big Cass and Enzo will be the next NXT Tag Team champions.
- Dash and Dawson (now called The Revival) respond to their challenge.  They will face Big Cass and Enzo at the upcoming WWE Roadblock special.
- Emma def. Santana Garrett with the Emma Lock
- Nia/Eva Marie talking to Regal.  Next time, they tag against Bayley and Asuka.  Regal has to go meet NXT's newest acquisition.
- Regal is in the ring.  He introduces Austin Aries.  As Aries makes his way down to the ring, Baron Corbin comes out and demolishes him.  I guess that's what Corbin meant when he promised Regal an "eye for an eye."  Corbin hits the End of Days on the floor and throws Aries' shirt at Regal.
- Drifter Elias Samson def. Steve Cutler with a neckbreaker
-  Hype Bros promo.  They are glad the Vaudevillains beat them a few weeks ago. The Hype Bors needed that loss to get serious.  They are going to be the greatest tag team the WWE has ever seen.  The Vaudevillains were watching from the shadows.
- Hype video for Neville.
- Finn Balor def. Neville with Coup De Grace followed by Bloody Sunday.  After the match, they shake hands.
- Sami Zayn and Samoa Joe are both backstage.  Samoa Joe calls Sami ungrateful.  Zayn says that Joe is a parasite, and now his cake walk is over.  Joe promises that next week, he ends Sami's career.
Mike: The dark Vaudevillians completely dominated the opening match.  We didn't get to see any real sustained offense at all from Knox and Knight.  All we know about them is Knox has a terrific body and Knight was one big dude.
Chris: Knox definitely has the look but you could see he's really green. His motions weren't fluid at all in the ring.  To be fair, Baron Corbin and Aiden English started off as job guys on NXT.  Knox and Knight each seem to have a bit of an it factor, so I can see both of these guys getting a push down the line.
As for wasting my time with this match, geez.  I don't need to see the Vaudevillains in a freaking squash.  Next!
Mike: Santana Garrett's theme song was awful.  Most NXT music I love and immediately put on my Ipod...this will not be one of them.  This match was pretty much the same as the opener.  Heel dominated the match, with a brief but ineffective flurry of offense from their no name opponent.  Dana is doing a great job as a manager.  I am glad they found a solid role for her.
Chris: Santana has a nice look, and she's fine in the ring.  Unfortunately, the only good thing about the match was Emma winning.  I love her but she's usually on the losing end.  I'll echo your sentiment and just say, squashes suck. Stop wasting my time.
Mike: I loved that segment to introduce Austin Aries. It make Baron Corbin look like a total monster.  That is strong storytelling and gives Aries something big to do right off the bat.  Smart booking all around.
Chris: Aries is spectacular in the ring, so I'm looking forward to his feud with Corbin.  The big man has been improving a lot, and Aries should help make him even better.
Mike: By the end of the third match, the only highlight of the night was the Austin Aries segment.  I can't stress this enough...I HATE SQUASH MATCHES.  I did like that the announcers talked about Cutler's background as a Marine, but that just made it even more depressing to me to see Samson beat him so easily.  Elias Samson needs to go away.  He is the world's least interesting man.
Chris: Elias should totally take on a new magician gimmick as The Great Bore-doni.  He's a genius at getting that f*** you, go home heat from the crowd. Funny, how you were just saying Honky Tonk Man got the heel heat where you want to see him get beaten, but Sampson has the heat where we just want him to beat it.
Mike: Thankfully, the main event saved the show.  I thought the commentary on this match was especially good.  We got a tease about the Bullet Club coming to NXT.  We got a great discussion about the history of NXT Championship, and Neville and Finn's long history.  My only gripe about the commentary was that when they were listing the history of the NXT Title, they left off Bo Dallas and Big E.  They specifically said "Seth Rollins, followed by Neville, Sami Zayn, Kevin Owens, and then Finn Balor."  
The match itself was good too.  Started a bit slow, but picked up momentum.  It was a long match, and the last five minutes or so were intense.  On top of all the high flying and counters, I loved how Neville deadlifted Finn into a Northern Lights Suplex.
Chris: This was a lot of fun, but imagine if they cut one of those crap squashes?  Let the damn match breathe, WWE!  This could have been twenty minutes and a classic.  Instead it's a little over ten and good.
I wish NXT could be just a little longer every week.  Why can't they do a overrun type of thing?  You know, then the main event wouldn't have to be rushed.
Mike: Yeah, it's kind of weird.  My two favorite weekly wrestling shows are NXT and Lucha Underground.  And they are only an hour each.  As opposed to WWE, which has a 3 hour Raw and a 2 hour Smackdown...and can't seem to figure out how to fill that time all that well.  I definitely think both Lucha and NXT could be a little longer each week.  Maybe 90 minutes.  I think 2 hours would be a little too long.
Though in NXT's case, if they got rid of even one squash match a night, that could go a long way towards loosening up the tight time frame they operate under.  Lucha Underground typically does 3 matches a night, and that seems like a good number for an hour show.  NXT also has a lot of video packages and lengthy recaps which eats up a lot of the time.  Lucha tends to do shorter promos and video packages, and much less of them each show.
---
Lucha Underground Results March 2, 2016
- Mil Muertes is pissed that Catrina won't let him fight.  She says that she's known him since he was a little boy.  If it wasn't for her, he would have never found his way out of the tombs the gods buried him in,  He grabs her by the neck and demands Pentagon Jr and Prince Puma.  She says, "No!"  and vanished.  Mil yells in a rage.
- Kobra Moon def. Sexy Star.  The Mack comes out during the match.  Sexy had a pendulum surfboard on Kobra, but Marty the Moth came out to distract her. Sexy ends up tapping up to a dragon sleeper.
- Another Famous B commercial.  We see Dragon Azteca watching the commercial on TV. Rey turns the TV off and they get back to training. Rey is determined to get him ready for his destiny...but so far, all Dragon is doing is getting his ass kicked…
- Terrific promo with Cuerno talking about why and how he hunts.  Tonight, he has a ladder match against Fenix. After tonight's match, he will not just be a hunter, he will be a god.  And soon, then next Lucha Underground champion.
- Prince Puma Vs Pentagon Jr.  During the match, Mil comes down the stairs slowly.  He rips off his sling.  He gets in the ring and destroys both men.  He hits the Flatliner on them both at the same time.
- Catrina is will Mil.  She says, "All you needed was some motivation."  Next week, Mil will defend his title against Puma and Pentagon.
- In 3 weeks, 20 men will compete is Aztec Warfare (basically the Royal Rumble, though all eliminations have to be by submission or pin).  Winner will be the new #1 contender.
- Gift of the Gods Ladder Match - Fenix def. King Cuerno.   Towards the end of the match, both men climb the ladder and end up hanging from the rigging holding the Gift of the Gods title. They fall and crash hard.  Cuerno hits the Thrill of the Hunt.  He sets up the ladder. But instead of climbing the ladder, he decides to go get a table.  He tries to hit Thrill of the Hunt off the top rope through a table, but Fenix reverses it into a top rope hurricarana throwing Cuerno through the table.  This allows Fenix to climb the ladder and claim the title.
​
Mike: Not sure why they had The Mack come out during the opening match if he wasn't going to interfere when Marty was harassing Sexy Star.  Seems like you could have developed this story much better that way.  Kobra seems decent, but the snake gimmick doesn't seem like a good fit for her.  She looks real awkward when she tries to do snakelike gestures.  Sexy Star was one of my favorites in Lucha season 1, and I'm glad to see her back in the ring.  This was pretty short, but still a real good match.  One of the best women's matches I've seen outside of NXT.  It may have been a little short, but it looks like Lucha Underground is starting to build up a solid corps of women.
Prince Puma and Pentagon are arguably the two biggest stars in Lucha Underground.  Their first match was great.  Tonight was the same.  Typically, I hate when we can't get a clean finish, but Mil destroying them both was a great way to move forward several storylines.  Tonight's show featured three great matches and most of Lucha Underground's big stars.  It might have been the best episode so far of the second season.
Chris: This was a well placed DQ finish, for sure.  All the big stars came out looking pretty good, and there's a lot to look forward to in the coming weeks.
Mike: The main event was crazy.  Both men went all over the place and hit some ridiculous spots.  What I love about Lucha Underground is that everything looks real raw and gritty.  Things don't look as polished as WWE, especially during their gimmick matches.  To me, that goes a long way towards Lucha Underground having it's own real unique feel.
I was amazed that Fenix didn't break his leg on that spot where Cuerno pushed him off the deck and Fenix crashed into the ladder awkwardly.  Maybe these guys have faced off too many times, but damn do they kill it every time they go out there.
Chris: Complete insanity once again.  How do you walk after taking part in a match like this?
Hey, how about Aztec Warfare in three weeks?  Last year AW was one of the best episodes of the season, so I'm pumped for this new one.  I bet we see some serious shaking up of the status quo.
Mike: I assume Aztec Warfare will be another "show long" match.  Lucha Underground has a great history of those with Johnny Mundo Vs Puma's Iron Man match and Aztec Warfare.  Aztec Warfare was definitely one of the best matches last year, with Prince Puma being crowned the first Lucha Underground champ.  This year, it's for the number one contender spot, and the title picture in Lucha Underground has really been hot lately.  I could easily see Puma, Cuerno, Pentagon, Johnny Mundo, Fenix, or Cage all having a huge impact in this match and facing off against Mil Muertes.   You could even have someone like Jack Evans or Drago sneaking into contention.
Or maybe we will see the debut of Rey, Dragon Azteca, or maybe even Matanza.  It's time for Dario Cueto to return to the Temple!  One thing I love about Lucha Underground, they manage to give me a lot of surprises!