Cheap Pops - Wrestling News & Views - TAX DAY SPECIAL!!!
FTC Statement: Reviewers are frequently provided by the publisher/production company with a copy of the material being reviewed.The opinions published are solely those of the respective reviewers and may not reflect the opinions of CriticalBlast.com or its management.
As an Amazon Associate, we earn from qualifying purchases. (This is a legal requirement, as apparently some sites advertise for Amazon for free. Yes, that's sarcasm.)
Submitted by

Critical Blast Staff

on Mon, 04/18/2016 - 11:56
To celebrate Tax Day, Cheap Pops scored an interview with the ABOMINABLE CPA!!
---
This week!
Interview with CPA

RIP Balls Mahoney

Does Demolition belong in the Hall of Fame?

NXT Results

Lucha Underground Results
---
Interview with CPA
Mike Maillaro: At my first Pro Wrestling Syndicate show, I was first exposed to the greatness that is The Abominable CPA.  CPA came down to the ring dressed in a tie, dress shirt, slacks, and to the theme from The Dating Game.  At first glance, he seemed to be just about the least imposing figure in wrestling.  So I was kind of surprised that the crowd was going absolutely nuts for him.  
But, then he got in the ring and put on one of the most entertaining shows I had ever seen during a wrestling match.  He literally had the crowd eating out of his hands the entire match.  I was quickly one of the cheering masses.  When he went up to the top rope...and then carefully climbed back down to a safer vantage point before jumping, we were all screaming like we just watched Snuka come off the top of the cage.  I don't think anyone can explain the genius that is CPA...not even CPA himself...
I got a message from CPA reminding me that today is the last day to file your taxes.  You have to admire a man who takes his business so serious!  So with no further adieu, here we go!
1) How's tax season treating you? 
Ever since Rush Limbaugh moved out of New York, every year has been a wicked game of chance to see if anyone can match up to his overall malignity. In wrestling, it's easy to find guys like that. I guess I'm just a glutton for punishment.
 
2) Growing up, were you a fan of wrestling? If so, who were your favorites?
If there were such a ranking, I might have been among the top five biggest wrestling fans residing in New York as a child. In chronological order, my favorites would have been Hulk Hogan, Rowdy Roddy Piper, Bret Hart, Steve Austin, Mick Foley, Chris Benoit.
 
3) How did you get into the wrestling business?
I was on the backyard wrestling scene for a time around 13-14 years old, then some things happened, and I took a very long break before joining Pat Buck and Co. In June of 2013. My finding out about Pat Buck's school is actually kind of a hilarious story (at least to me). A few years back, I told my friend about the infamous wrestler, Brimstone, who had possibly the longest (self-authored) Wikipedia page on the web at one time, despite having done virtually nothing noteworthy in wrestling. A few months later, said friend told me about a podcast that had dedicated almost an entire episode to Brimstone. That podcast turned out to be Pat and Kevin Matthews (and Jay Silva)'s podcast: Two and a Half Wrestlers (Brimstone was Pat's first "trainer"). Got really heavy into their podcast, and ended up joining the school, because I decided that even if I were to go nowhere, at least I'd be in the company of some entertaining people. So, one could say, Brimstone kind of broke me into the business.
 
4) Favorite moment in your career so far?
I'm not sure I can narrow it down to one, but the first one that comes to mind at this second would be wrestling ECIII, and then having Mick Foley give me a big thumbs up when I came to the back after the match. Technically, that's two moments, but you get my drift.
5) What goals do you have for your wrestling career?
I have a specific list of goals that are of varying degrees of importance/likelihood, but the closest in proximity to where I am right now, skill- and relevance-wise, is to have a weekly (hopefully paid lol) wrestling schedule. I'd also like to wrestle for a cool place like AIW within the year, but, as I said, likelihood of people wanting me needs to be accounted (pun intended) for.
 
6) CPA is ridiculously popular at WrestlePro. At the first WrestlePro show, David Adams referred to CPA as "the uncharismatic enigma." Where did this character come from?
I've been calling particular people "uncharismatic enigmas" ever since I heard Blade Braxton from WrestleCrap Radio use the term years ago, but Pat Buck is owed the credit of coining that particular moniker for me.
The Abominable CPA (originally the "Notorious" CPA for exactly one show) is a collaboration of ideas from my friend Peter (who had more of a Charlie Sheen-Wall Street swagger in mind), me and my natural inability to handle most social situations coming to life in a wrestling ring, and Pat Buck's keen ear for really bad promo delivery.
 
7) Did you ever expect CPA to be as popular as he is?
No. I'm still convinced that my family is sneaking megaphones into all the shows I'm on. My first few fans were a group of five or six guys who almost hijacked a main event lumberjack match that I wasn't actually wrestling in, and the motley crew has grown from there.
 
8) Who are your biggest influences in wrestling and out of wrestling?
In no particular order, Bobby Hill, Steve Austin, Mick Foley, Frank Turner, Mike Patton, Neil Hamburger, George Carlin, Bill Veeck, and Keith Hernandez.
 
9) Which WrestlePro (or non-WrestlePro) guys would you like to work with?
This is a large list, but I'll narrow it down as much as I can to the top candidates:
As a team with the Revolting Blob, the Mean Street Posse, and/or Head Cheese, and solo, Pat Buck, Jeff Jarrett, Dan Maff, Matt Macintosh, ECIII (this time with Scott Stapp as our ring announcer), Alex Wright, and Grado
 
10) What can we expect to see from CPA in the next few months?
Hopefully, good things. Likely, painful things. Maybe a darker shade pink shirt?
11) Outside of the wrestling business, what are your other interests?
Music, baseball, history, magnets, and numbers.
 
12) Why should someone come out to a WrestlePro show?
WrestlePro is a rare (for the independent scene) ever-revolving door of top-tier talent that features cream-of-the-crop independent wrestlers, a very talented and versatile home-grown roster, and names from the past who you can't see on a show just any weekend (Maven, Honky Tonk Man, bWo, etc). You're guaranteed to find something that's for you.
Chris Delloiacono: What a great interview.  You can tell how much love and respect CPA has for the business.  Character building is so important in wrestling, and CPA is such an odd gimmick.  It's the type of thing that might not sound so good on paper, but when you see him in action...wow!!!  I'll tell you, those insane pops CPA gets aren't Cheap Pops!  He's earned those cheers by putting on unforgettable performances month after month!
---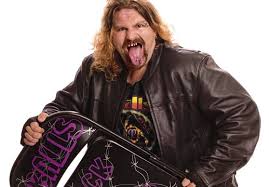 RIP Balls Mahoney
Mike: I was pretty sad this week when I heard that ECW Original Balls Mahoney (Jonathan Rechner) passed away at the age of 44.  I won't pretend I was ever a huge fan of his wrestling, but he had a ton of charisma, and I always thought he cut some terrific promos back in the day.  Balls was always at Pro Wrestling Syndicate shows, usually with his very young son who seemed to mean the world to him.  So, when I think of Balls Mahoney, I think of a terrific and loving father.  
Many of the WrestlePro guys who worked with Balls posted some terrific tributes on Facebook this week, and it really made me feel like I missed out on meeting a real colorful and unique figure in the world of wrestling.  My sympathies go out to his family and friends.  
Chris: What horrible news about a special performer.  It's so sad to see such a young man die.  He was only two years older than me with a son just a bit older than my little guy.  I got the chance to chat with him a few times, but never for very long.  Like you mentioned, the love he felt for his son was clear to see everywhere Balls went.  He will be missed.
Mike: Let's hear some love for the Chair-Swinging Freak (who always had one of my favorite themes):
---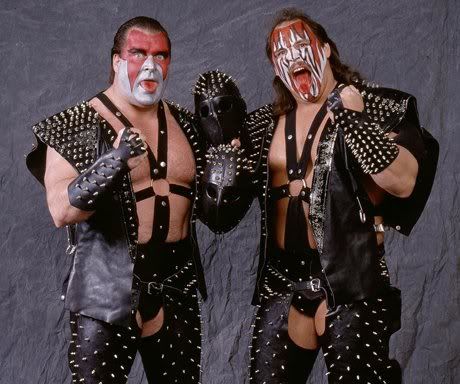 Does Demolition belong in the Hall of Fame?
Chris: Oddly enough, I was actually in attendance at the Brendan Byrne Arena (IZOD Center) when Demolition made their television debut.  It was at the Superstars of Wrestling tv taping back in 1987.  In retrospect, it was such a defining moment, yet I clearly remember wondering who the Road Warrior ripoffs were.  Barry Darsow wasn't even Smash yet, instead it was Moondog Rex (Randy Colley) in the makeup.
Crazily, those Road Warrior clones went on to create their own path and rise above the ripoff label.  Ax (Bill Eadie) and Smash (Darsow) could put on a really entertaining match and work both the face and heel side of the ring equally well.  They also cut a viciously, cool promo.  The Road Warriors might have had one of the best looks in wrestling history, but they were at their best squashing people in a couple minutes.  To be honest, most of Demolition's worst matches were far better than the Road Warrior's very best.  That exceptional ring work helped them to rise above comparisons with their makeup and leather wearing brethren.
One of the greatest missed opportunities in wrestling history may have been the lack of a real feud between Demolition and the Road Warriors (LOD).  I know Bill Eadie was having some health problems at the time, but it was a sin the way Vince had LOD rip through Demolition.  It was a sad ending to a truly great tag team.  Even still, no matter how little love Vince showed for one of his best teams ever, I think they're HOF!
Mike: I will admit that when I think of Demolition, I mostly think of their terrific look and that godly theme song.
I also remember they had some great wars with the Hart Foundation, or at least when I was a kid I thought those were some great wars.  I honestly can't remember much of what they did in the ring, I just remember always thinking they came across as absolute monsters.  They are true icons of the tag team division.
Like Chris said, at times they may have felt like a poor man's Road Warriors, but they managed to pull off the larger than life characters at a time when so much of the roster were over the top.  For them to be able to stand out in a time with guys like Hulk Hogan, Macho Man, and Ultimate Warrior says a lot to me.
All that said, I am not 100% sure I would say they belong in the Hall of Fame. I can't really remember any specific match or promo that I would ever want to see again.  They were terrific for what they were at the time, but I can't help but think a lot of that is pure nostalgia.  And I will admit that I am a huge hypocrite here.  A few weeks ago, I was completely on board with the Honky Tonk Man going into the Hall, and I doubt his matches would hold up all that well either.
And since the Hart Foundation aren't in the Hall yet, that makes me a little hesitant to say put Demolition in before them.  And by the Hart Foundation, I am talking Hitman, Anvi and Jimmy Hart.  I like Owen, Bulldog, and Pillman, but they just aren't my Hart Foundation.
Chris: We are definitely in agreement when it comes to the Hart Foundation.  Hitman, Anvil, and Mouth, all the way!  They are definitely worthy of an HOF induction of their own!  As for Demolition, like the Honky Tonk Man, they definitely had relatively short runs in the WWF.  That's the one thing working against them.  On the other hand, They were the focal point of the tag team division when it was loaded with talent.  Some people are more well known for a few big moments, but Demolition really just put together an exceptionally solid run of excellence.  Hey, they did have the longest single reign with the Tag Team Title in WWF/E history.  Titles don't really mean a lot these day, but I think back at that time, they illustrated a lot just how important you were in the company.
Mike: Yeah, the tag titles were a pretty big deal back in the day.  Look at the teams that NEVER had the WWF tag titles.  The Rockers and The Killer Bees quickly come to mind.  So any team that had the titles even once was impressive.  Demolition held those titles three times, and their combined reigns is longer than any other team at 698.  Kind of funny, the team that comes in second?  Professor Tanaka and Demolition's manager Mr. Fuji.
So, when you look at it this way, I think I have to come around to your way of thinking.  Yes, Demolition does belong in the Hall of Fame.
---
NXT Results - April 13, 2016
- Austin Aries def. Angelo Dawkins with a rolling elbow strike
- Samoa Joe is backstage. He's asked, "What's next for Samoa Joe?"  He says he will continue his war until he's accomplished his mission.  Next week, he brings that war to Apollo Crews.
- Another annoying "No Way, Jose!" teaser video.  He debuts next week.  
- Alexa Bliss def. Tessa Blanchard with backflip kneedrop
- Finn Balor talks about the future.  It's his job to fight. He doesn't care who or when.  He's asked about Shinsuke Nakamura.  He says he's been a fan of Nakamura for a long time.  Nakamura lives up to the hype.  Nakamura will be coming for the NXT title, and when he's ready for a match, Finn will be ready for him.
- Tommaso Ciampa/Johnny Gargano def Vaudevillians.  Chiampa locks on his rolling armbar to get a submission win.
- Ty Dillinger is preparing for a match tonight with Nakamura.  He promises to send Nakamura back to Japan so he can tell everyone what it's like to lose to a perfect ten.
- Baron Corbin def. Tucker Knight with End of Days.  Typical WWE squash.  Corbin dominates. Brief flurry of offense by Knight. Corbin hits his finisher to end it.
- Gable and Jordan are standing in the arena talking about winning the tag titles.  Enzo and Big Cass come to congratulate them on the win, saying it was one of the best tag matches ever.  They say they have never faced each other.  American Alpha agrees that they need to have a match next week.
- Bayley def. Liv Morgan with Bayley to Belly.  After the match, Bayley thanks the crowd and says a champion is measure by how many times they get back up.  Asuka is an amazing competitor.  People shouldn't feel sorry for Bayley; she will be champion again.
- Shinsuke Nakamura def. Ty Dillinger with the Kinshasa
Mike: Angelo Dawkins has a new gimmick, The Cure of Greatness.  I have no idea what he was going for with those hand gestures during his entrance.  I don't count anyone out in NXT.  We've seen many NXT guys change their career trajectories with a gimmick change.  See Jason Jordan or Aiden English for example.  Dawkins definitely seems to be improving in the ring.  He still needs some work on his personality, but he managed to work a real good opening match here.  We're still not getting to see much of what Austin Aries can do. I keep waiting for him to really bust loose, but so far, it's been an oddly slow burn.
Chris: I'm excited to see Aries get in the ring with someone that can really go.  So far, all that we've seen is him against big guys.  Aries vs Nakamura or Balor should blow the ropes off the ring!
Mike: These annoying "No Way, Jose" videos might be the worst way to debut a wrestler I've ever seen. Can anyone really say the WWE is not culturally clueless when they do things like this??  
It was nice to see Tessa Blanchard on NXT.  She's been making a name for herself in the indys, and it is great that she's finally getting a bigger platform.  The commentators did a great job hyping her up.  Alexa plays the heel real well, and this was a real competitive match.  Glad we had two pretty strong matches to start the show.  
Chris: So cool to see Tessa in a WWE ring.  Here's to hoping she gets signed and we get a lot more of her!  By the way, I liked Alexa's new finisher.  The splash off the top where she spun around never looked high impact.  The flipping knee drop looked pretty strong.
Mike: I was surprised by how out of sync the tag match felt at times.  I like both of these teams, but they just didn't mesh all that well.  I am glad to see Ciampa and Gargano win this one.  The Vaudevillians are moving up to the main roster, and this was a solid win to make Ciampa and Gargano look like big time contenders.
Chris: Not the best of matches but serviceable.  I like Ciampa and Gargano as a team, so hopefully WWE gives them a name.  
Mike: I also enjoyed Bayley Vs Liv Morgan.  Liv Morgan is damn flexible, and this ended up being a real fun match.  I did like Bayley's promo after the match.  I was kind of expecting her to announce she was going to the main roster, but it seems like she may be here a little longer.  Than again, Sami had promised he would be a two-time NXT champion, and a week later he was off to the main roster too.
Chris: It's time to move Bayley up.  Seeing her win these kinds of matches is kind of a waste of time.  Just like the uselessness of Baron Corbin winning a squash.  Enough already with these useless matches in a one hour show.
I must say, Liv Morgan showed off some great movies.  
Mike: The main event was real short.  I love Nakamura's theme.  He just has an incredible presence when he comes down to the ring.  I felt bad for Ty.  He did a great job selling this match, but the whole time you are just waiting for Nakamura to destroy him...and of course, he did not disappoint.  And I loved that the crowd started to chant "he's an eleven!" at Nakamura.
Chris: I'm excited to see who Nakamura's first big feud will be.  Let's hope we aren't subjected to weeks and weeks of squash matches with him.  
Mike: This episode of NXT wasn't taped at Full Sail, and the results were a little odd. The crowd seemed real disengaged with everything going on in the ring. I won't pretend this was the most exciting NXT episode ever, but there seemed to be plenty of entertaining matches that the crowd didn't care about.  I found myself drifting far more than I usually do.  When the show was good, it was real good.  But it also had some lows that were so bad, I ended up wandering off to do other things.
Chris: The Axxess crowd could have been a lot better, but figure this was taped during the day on the Saturday between Takeover and Wrestlemania.  Still, just for the "He's an eleven" chant, the crowd gets props from me!
---
Lucha Underground results - April 13, 2016
- Dario Cueto is in his office with Johnny Mundo, Taya, and Cage. He asks if they can behave themselves; he is tired of having to replace the window to his office.  He wants this year's Trios Tournament to top last year's, so he wants unique and unlikely teams.  That is why he selected these three.  Cage demands a match with Mundo instead.  Dario says that he likes his idea better; they will team up tonight.  He sees this team capable of being the next Ivelissa, Angelico, and Son of Havoc.  And he knows Mundo and Cage both want Lucha Underground gold.  They decide to give it a go.
- Killshot def. Argenis with a cradle driver from an electric chair position.
- Lotus is guarding Dario Cueto's office.  Dragon Azteca Jr confronts her, demanding to know how she can work with Dario Cueto.  Lotus says she not no choice.  Dragon asks her if she knows what happened to their mentor (Dragon Azteca).  She says "The monster killed him."  She says they will get their revenge, but not yet.  He's too powerful.  Dragon Azteca Jr. tells her to stay close to the Cuetos.  She says that is the plan.
- Dario is meeting with Lucha Underground's newest competitor, Daga.  Dario is trying to talk to Daga about the importance of the Aztec Medallions, but Daga doesn't seem all that interested.  Dario puts him in a match with Texano for one of the Medallions, which is the first step in earning the Gift of the Gods title.
- Texano def. Daga with sitout powerbomb to claim one of the seven Aztec medallions.
- Mil is meditating.  Catrina tells him that the Disciples of Death have been entered in the Trios Tournament.  And they want to beg Mil's forgiveness.  Mil grants it to them.  Catrina says they will not fail again.  And Mil will be champion once again.  But Matanza is unlike any opponent Mil has faced.  Matanza might even be more impressive than the earthquake that buried Mil as a child.  Mil roars in rage.
- Trios Tournament Match - Dragon Azteca Jr, Prince Puma, and Rey Mysterio def. Cage, Johnny Mundo, and Taya.  Mundo and Cage end up fighting allowing Rey to hit a 619 on Johnny.  Then Azteca hits a crazy tornado DDT on Johnny, allowing Puma to hit the 630 for the pin.
- Dario is standing outside Matanza's cage.  Matanza has a match with Mil Muertes next week.  Nothing can stand in Matanza's way, not even Mil.  Dario is affectionate towards Matanza.  He explains that he keeps him in a cage because he's valuable, and that is how you protect valuable things.  Matanza seems ready to rip Mil apart.  
Mike: I like that they are working to give Killshot a little more character.  He came out with dogtags and a military jacket.  He also worked a more aggressive style.  He still can fly with the best of them, but he showed some real impressive strength too.  I thought this was all a smart way to expand Killshot's profile. Though the commentators may have made just a few too many military references to the point where it started to feel forced.   Argenis's top rope arm drag was awesome.  This was just a real solid match-up.  Argenis has always been underrated, and Killshot needed more opportunity to show what he can do.  Killshot's new finisher is insane!
Chris: Both of these guys did very little winning in season one.  I'm glad that Killshot seems like he's going to get a push.  He's so impressive in the ring.  This was a hell of a match, for sure.
Mike: Another wrestler makes their debut only to lose their first match.  This time it's Daga.  I don't know much about Daga, though Vampiro says that he uses a Japanese shoot style (I didn't see much of that in the match).  We also find out that Daga and Texano used to team together in Mexico.  Honestly, the commentary did a far better job selling me on this match than anything they did in the ring.  A lot of this match just looked over-choreographed, especially in the early going.  It is always tough to make wrestling look natural, and there was just quite a few points in this match where it stopped looking like a real fight. It did pick up some during the end, which some great false finishes.  All in all, it was actually a pretty entertaining match, and it looked like it go either way throughout the match.  But there was a lot of little things that bugged me throughout.
Chris: I found it very hard to care about this match, just like you.  Texano is fine, but I've never really connected with him in a big way.  I think it's been the booking more than anything.  He started out as a heel feuding with Alberto Del Rio and then he was a face, just like that.  Texano doesn't really lose, but he doesn't do anything really important either.  Considering he's one of the biggest stars in Mexico, he just won the AAA Mega Championship again, I don't get the wishy washy booking.
Mike: I love that they left a lot of time for the main event.  I had high expectations going into this one, and they met them brilliantly!  The match started with Dragon Azteca facing off against Cage.  We hadn't gotten to see much of what Dragon could do, but he looked real solid in the ring, even with The Machine no selling everything he threw at him.  
Chris: This was a stellar main event that helped build everyone up.  It's a springboard for what is to come later in the season, so it's great that nobody came out looking weak.
Mike: There was a lot of great match-ups here.  So many of these guys have history with each other, and it made for a real exciting match.  I did notice that they do seem to be limiting Rey's time in the ring, which is a smart move.  You get more impact by having your biggest star used sparingly.  And this way, they don't have to worry as much about injury either.  
Chris: Lucha is the perfect spot for Rey right now.  Judging by his workload so far, what's he going to wrestle, four or five times all season?  When you factor in a match like this, Rey really just came in to hit some big spots and pop the crowd.
Mike: Really, this was just a well planned match.  Everyone looked great, even relative newcomers like Taya and Dragon Azteca Jr.  And huge props to Cage. There was a point where he had Puma in a fireman's carry and Dragon Azteca jumped on top of them.  Cage caught him in midair, and hefted them both up like it was no big deal.  This helped give the match a big time feel to it.
Next week, Mil Muertes vs Matanza.  This match could tear the roof off, as long as they don't seem determined to keep Matanza looking unbeatable.  Mil has been a force of nature in Lucha Underground, and if this match is booked well, it might just be one of the best matches in Lucha Underground's history.  It's rare that I see two monsters who are as impressive in the ring as these two.
Chris: What a great main event this week.  I'm not as sold on next week's event.  Here's hoping they find a way to make Matanza a little more interesting.  I can't watch anymore squash matches.  It's just not entertaining at all.  
---
That about wraps us up for this week.  Next week, we have an interview with WrestlePro's Best Kept Secret, Anthony Bowens!