Cheap Pops - Wrestling News & Views - May 31, 2016
FTC Statement: Reviewers are frequently provided by the publisher/production company with a copy of the material being reviewed.The opinions published are solely those of the respective reviewers and may not reflect the opinions of CriticalBlast.com or its management.
As an Amazon Associate, we earn from qualifying purchases. (This is a legal requirement, as apparently some sites advertise for Amazon for free. Yes, that's sarcasm.)
Submitted by

Critical Blast Staff

on Tue, 05/31/2016 - 07:55
This week!
Interview with Matt Macintosh

Cody Rhodes Released by WWE

Smackdown to go live, new brand split coming
---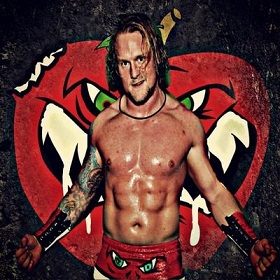 Interview With Matt Macintosh
Mike Maillaro: If you have been reading this column, you will definitely have heard us talk about WrestlePro's resident Bad Apple, Matt Macintosh.  Matt Macintosh has come a long way in a real short time, and he is at the top of his game. He was the first WrestlePro Champion, wrestled in the first ever WrestlePro match against Pat Buck, and he's been doing shows all over the place.  
Last year, he was in two of my top five favorite matches of the year, and his title match with Anthony Bowens this year is miles ahead of anything else I've seen.
Matt's had a lot going on the last few weeks, working on his doctorate and probably beating up orphans, but he still took the time to answer these questions, and we appreciate it.  
1) Growing up, were you a fan of wrestling?  If so, who were your favorites?
Absolutely! I was a huge fan of Michaels, Austin, The Rock, and Triple H growing up. Especially '99-01 Triple H, that was my dude.
2) How did you get into the wrestling business?
My first time in a wrestling ring was back in 2011 at IWF in Patterson, NJ. From there I started training at East Coast Professional Wrestling under Rocky Jones, Jerry Fazzio, and Gino Caruso where I was fortunate enough to have my debut match in February 2012.
3) Favorite moment in your career so far?
There have been too many opportunities that I have been given to pick just one. Being able to share the ring with guys I've watched as a child and whom i've watched as I've come up in wrestling such as Rey Mysterio, Sami Callihan, and Kenny Omega was nothing short of a blessing. Additionally, being crowned the first ever WrestlePro Champion is another moment I am very grateful for.
4) What goals do you have for your wrestling career?
I just wanna be considered one of the best ever. Sure, a contract would be real nice. So would being able live off of independent wrestling like some of the top tier guys, but at the end of the day if none of that happens and all I can say is I have the respect of my peers, I'll take it.
5) First time I saw you was about a year ago, and you were sending Habib back to Pakistan.  A few months later, you were scheduled for a title match, and I was kind of surprised.  But, that match where you won the title at Starland Ballroom, I was like "Holy shit, Macintosh really is the man."   You seem to be so natural in the ring, and your character is damn perfect.  How easy or hard was it for you to pick up on everything that goes into being a wrestler?
The first time I was able to step into a ring was very weird. I have never felt more comfortable doing something so new in my life. I was always an athlete and was at a low point in my life because I no longer had an outlet to use what athleticism I had. This led to using that energy negatively by partying way too much, like WAY too much; and I have pro wrestling to thank for allowing me to find my discipline again. The physical aspect was the only thing that came easy. Things such as character, promos, even selling was where I needed to put the most work in and one day I hope to be as good in those aspects as some may think I am with the physical facet of our sport.
6) Matt Macintosh is just really easy to hate.  Arrogant, but has the skill to back it up.  How much of you is in the character?
I'd say the character is me, or rather who I need to be within wrestling. For the first two and a half years in wrestling I was so concerned about how I was perceived in locker rooms so I'd try my best to be humble and happy to just have a spot even if I knew that I could be more of an asset to a promotion. Once I started with the whole "Bad Apple" character, I was in a place where I became very bitter and told myself that I was going to have fun and stop caring what people would think. As a result, I'd come out to the ring shouting at the top of my lungs about how good I was and just doing whatever I wanted figuring the worst that could happen was I'd stop getting booked and then just move on with my life. That's when things started to click, I'd use wrestling as a outlet for all the crap that we all deal with throughout our daily lives. If I had a bad week, I'd be a miserable prick in the ring and take out my frustration in my performances. It also doesn't hurt that I'm just naturally so sarcastic and at times a straight asshole in real life (ask my girlfriend) and that's what you see come to fruition in the ring. With that being said, at the same time the character isn't really me. For the most part I'm a pretty laid back and (i feel) respectful individual with a good heart. We all have our Jekyll and Hyde i suppose.
7) Who are your biggest influences in wrestling and out of wrestling?
My biggest influence in life is my Mother. She was a single parent raising two children by herself working stupid long hours on the docks up in Newark for U.S. Customs and Border Protection, doing more work than most of the men she worked with and then would have to come home and be both parents for my sister and myself. I've been blessed to have such a powerful woman in my life who supports what I do and loves me for the asshole I am.
Additionally I'd also have to throw my sister Elizabeth in this list as well, if it wasn't for her I wouldn't be wrestling. My sister was always a lover of theater and around the time I started wrestling just graduated from Montclair State University with a theater degree. Even knowing how difficult the industry was, she didn't care. She followed her heart and did what she wanted to do and now has found what I believe is her place in the entertainment industry and has been quite successful in her short career. Her passion and "FTW" attitude regarding what could be done and what couldn't really helped motivate me and show me that you can literally do whatever you want to in this world, just make sure you do it 100%.
As far as people within wrestling, first I'd have to give credit to the first guy who might've saw something in me and took the time to make sure I understood what wrestling as about. That man is Crazy Ivan. Ivan is a real old school type of worker who taught me how to actually work, instead of just throwing a bunch of moves together. If it wasn't for him taking me under his wing, I wouldn't have had half of the small amount of success I've been blessed with thus far and I'm truly grateful for his tutelage.
The whole WrestlePro "Coaching Staff" was very influential in my career as well. Pat Buck, Mario Bokara, and Danny Maff all have been tremendous role models for how to go about things and how this business should be. Maff is the motivator who sees something in me for some reason and helps give me confidence I lack to just go out and try to kill it every time I'm out there. Mario is such a great mentor and coach and is the guy who helps me stay grounded, when I think I just had a good match he brings me back to earth and will point out things that could've been better and that's what you need. You don't learn from people telling you what you did right, I always ask for criticism and he's always there to deliver it with the intention of making all of the WrestlePro roster the best that they could be. Finally Pat Buck is a guy who I see as an older brother figure who leads by example. Aside from the positions he has put me in, Pat is the poster boy for how people in this business should be. He's a guy who treats everyone with respect and I've learned so much about this business from following his career and watching how he operates WrestlePro. Additionally I've learned so much from watching him work and working with him. For all the flashy flippy-do crap I do in the ring, Pat has the ability to pop me with simple things especially in the technical aspect of wrestling, he's so fluid and collected in the ring and that's something I aspire to be. All of these guys I consider my older brothers, and feel as though that they're the best mentors anyone could ask for.
8) Which WrestlePro (or non-WrestlePro) guys would you like to work with?
I'd like the opportunity to work with all the members of the WrestlePro roster. However if I had to make a short-list, it would have to include Fallah Bahh, Bobby Wayward, The Heavenly Bodies, Brian Myers, and The Beaver Boys. Additionally there are a lot of young dudes that are going to be tearing down the house very soon coming out of Create-A-Pro that I can't wait to get an opportunity to work with. Examples of those guys would be Micha Jenkins, the Merrymen, Chris Avery Queling, and Gambles the Clown. All of these guys can GO and it's just a matter of time before I'm fighting with them for a top spot in the company.
As far as non WrestlePro guys there are as well too many to name. Drew Gulak, Roderick Strong, Kurt Angle, Adam Cole, TJ Perkins, Trevor Lee, Chris Sabin, Alex Shelley, and Christopher Daniels are all guys I'd give an appendage for the opportunity to work with.
9) What can we expect to see from Matt Macintosh in the next few months?  You're kind of a marked man, and Anthony Bowens is a hell of a number one contender (I had sent this question before Bowens won the title from Macintosh a few weeks ago).  
In the upcoming months expect to see me leave everything I have out in that ring. No matter who the opponent is, just know that I'm not satisfied unless I leave that ring bruised, beaten, battered, and exhausted for the entertainment of those people who bought tickets. Oh, and probably a few more titles to my name as well.
10) Outside of the wrestling business, what are your other interests?
I'm a big gamer, I enjoy being creative whether it be through art or another medium, and I'm currently pursuing my Doctorate in Physical Therapy from Rutgers University.
11) Why should someone come out to a WrestlePro show?
Because it's the best product out there right now and its all from guys that have been here from the ground level. WrestlePro has something for everyone. We have ridiculous characters, amazing athletes, star power, savages, and passionate fans that truly make the whole experience unforgettable. When you buy a ticket to a WrestlePro show you're buying a seat at the table of the WrestlePro family, and you can feel the connection that these fans have with each other as well as the performers in the ring. Why should someone come out to a WrestlePro show? Because you work hard for the money that you're using to purchase tickets and you get your money's worth and then some with the WrestlePro experience.
---
Cody Rhodes Released by WWE
As we mention last week, Cody Rhodes asked for his release from WWE and was granted it on May 22, 2016.  Cody tweeted the following explanation: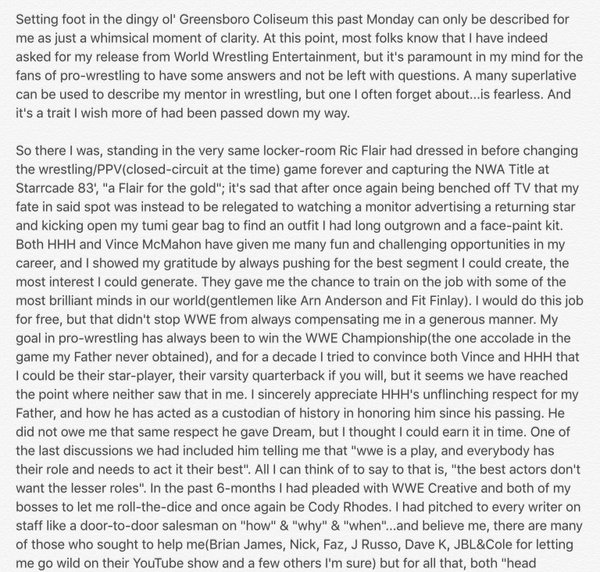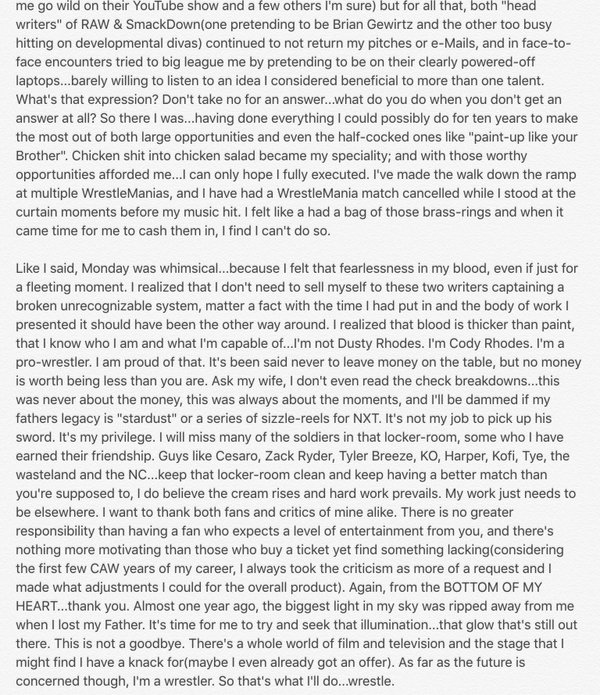 Chris Delloiacono: Cody Rhodes leaving WWE is such a bittersweet moment.  I was so sure that he would eventually ascend to the upper card and get a chance to be a legitimate main event star like his father.   Cody had the family name, the body, an ability to talk, as well as the chops to put on a great match.  Granted he's a bit smaller than Vince McMahon's typical male fantasy, yet every other piece of the package was there!  To think, Cody always made the best of chicken shit gimmicks like Stardust, the porn 'stache, and his Dr. Doom/Phantom of the Opera nonsense.  Imagine what he would have done with a decent push?
Mike: I am glad that Cody gave a pretty honest answer to the question of why he left.  Typically, when guys leave the WWE, they are so determined to keep that door open they don't give much info. Remember when we talked to PJ Black after he left WWE?  You could see his frustration...and rightfully so.  Like Cody, he's a damn talented wrestler that just never seemed like he could get much of a sustained push from WWE.
The line about "chicken shit to chicken salad" really defined Cody Rhodes' career in the WWE.  They gave him some terrible gimmicks, and never much spotlight, but he always ran with it.  Even when they did put him in storylines, we never got clear ends to a lot of those stories.  Cody Vs Sandow.  Cody vs Goldust.  I did love the storyline they gave him with The Authority, but soon after, he was back in midcard hell.  It felt a little like Wade Barrett.  You only got to see Cody's full potential on "non-televised" WWE stuff.  Watch his run of episodes on the JBL and Cole Show, and you can see that Cody Rhodes had the potential to be huge if he was ever given the right platform.
Jeff Ritter: I read a lot of "Say it ain't so!" posts on social media after the news of Cody asking out of his contract hit. That's a selfish response. It's certainly within a fan's right to want their favorite star to shine forever, but it just doesn't work that way. Whether it's cubicle hell in corporate America or the squared circle in the WWE, there comes a time when you just need a change. Sometimes it will come from within--you're rewarded with a promotion or you are able to make a move into a whole new department. You feel challenged once again and you are refreshed. Other times, you're met with the exact response Cody was--feigned attention and false promises. It's soul crushing. I applaud him for getting out of a situation where he was severely undervalued.
But why, exactly, was he undervalued? He is 6'2" and 215 pounds. In other words, he was Randy Savage in his earlier days. Was he ripped like Rick Rude? No. Was he hefty yet surprisingly agile like his legendary pop? No. He was his own man, forced to follow in brother Goldust inspired it but Cody took what he was given and made some damn fine lemonade with it. It's both telling and deplorable that the writers--whose job is predicated on making the most out of the wrestlers in terms of connecting them with the public through interesting matchups and matches, saw no future in Rhodes building his own version of the Million Dollar Corporation or JBL's ruthless corporate character. I mean, it's only worked pretty much every time. McMahon and Levesque are never going to see the benefit of a Cody Rhodes type holding the WWE Championship. He's like Bret Hart or Randy Savage--he could work pretty much anyone credibly. Unfortunately, main event pushes are only given to guys with "the look" like Rollins, Reigns and Cena, Sure, they begrudgingly gave Daniel Bryan a push because the WWE Universe forced their hand, but they got it off of him just as quickly as they could too. The "normal" body types are doomed. That's why I don't see Ambrose getting much of a run, ever. That's why Ziggler doesn't get the push, and why The Miz didn't hold his title for all that long. Normal body types end up being transitional champions. And no, Ric Flair doesn't count...he's Ric Flair, obviously. Woooooo.
I bet he goes to Japan or ROH. I think TNA will die sooner than later, perhaps by the end of the year. He could fill the void in NJPW left by the Bullet Club coming stateside. I suppose he could go to Lucha Underground but I haven't caught a single episode of that yet so I really can't say if he's a fit. Maybe he just steps away for a little while altogether, tries his hand in television roles. He did well in an episode of WAREHOUSE 13 he guested in a few years ago. Heck, if CW was smart they'd hire him to be in ARROW or one of their other DC properties. Any ideas as to whom he could play? I'd make him Ted Kord--the Blue Beetle!   
Chris: I wish Cody had the chance to shine in WWE, but hopefully down the line we get to see him take ROH, NJPW, or Lucha Underground by storm.  Hell, I might trying watching TNA again, if they signed Cody.  
---
Smackdown to go live, WWE to have a new brand split
From WWE: 
A SmackDown shakeup is about to completely reshape all of WWE. Beginning July 19, the second longest-running weekly episodic program in television history, SmackDown, will move from Thursday to Tuesday nights and air LIVE each and every week — for the first time ever — at 8/7 C on USA Network, the exclusive cable home to WWE's marquee properties.
This bold move will have major ramifications for all of WWE and exemplify the New Era, as both Raw and SmackDown will each feature their own unique rosters and rivalries following an imminent Superstar draft.
"WWE's flagship programs will both leverage the incredible depth of our talent roster, distinct storylines and the unpredictable nature of live TV," WWE Chairman Mr. McMahon said. "This move will undoubtedly build more excitement and deepen engagement with our fans around th­e world."
With so many explosive competitors emerging from WWE NXT, and top Superstars like John Cena and Seth Rollins returning from injury, WWE's star-powered roster has never been stronger. Its historic division and the monumental revelation of SmackDown's shift to a live format each week reflect the excitement and unpredictability of WWE's New Era.
What awaits SmackDown on its new night, starting this July? Which live shows will claim your favorite Superstars? What will this all mean for the future of sports-entertainment? Stay tuned as WWE prepares to get shaken up like never before.
Mike: Personally, I think it's a good idea for WWE to have a brand split.   There is so much talent on the roster right now, and it's real easy for guys to get lost in the shuffle.  If done well, this should really allow for midcard talent to be able to get a stronger focus.
Chris: I'm so excited for the new brand split.  I hope WWE distributes the talent well across  both shows.  My only fear would be Roman Reigns as champ on one show and John Cena or Randy Orton having the top belt on the other show.  There's no reason talent can't be elevated at this point.  It better happen!
Mike: So if they do a brand split, what do they do with the titles?  Personally, I like the idea that each show has their own titles, BUT, they could lead to the impression of watered down titles, if Smackdown continues to be treated as the lesser show.  Look at when WWE had the WWE Title and the World Heavyweight Title.  
Josh Pollard: Yeah, I liked the format they had before where the Undisputed champion was the only guy who was free to defend his title again anyone and everyone from either show. Made the thing seem important.
Jeff: I firmly believe that if you split the brand, you split the damn brand! No crossover. You have a singles champion on each show. You can have a tag champion on each show. And you have one secondary title on each show, meaning one brand should have the women's division and the other something to differentiate itself--the Cruiserweight division. I also wouldn't obstruct a cruiserweight (or a woman) from winning the main title on the given program either. If you want a "Universal Champion," I guess you could, but to me that weakens the brand split because it reinforces the glass ceiling. And you know it would be John Goddamn Cena. That's his legal middle name now, because I said it on the internet.  
Chris: I like the Undisputed Champion idea, but if that's the case, there're only a handful of guys that would ever get in the title hunt.  I hope they do two "World" titles, for sure.  I wouldn't mind seeing the Tag and Women's belts on both shows, though.  Seems obvious the US and Intercontinental belts will be split between the shows.  Damn, I'm stoked by the possibilities!
Did either of you see Triple H's tweet about the next Takeover being "the end"?  I'm thinking NXT may become Smackdown, or maybe the champion will bring the title to the show.  Takeover is June 6th and the draft is the 11th, so I think it's a real possibility.  Thoughts?
Mike: I had not seen that.  
Jeff: Say what, Jack?!?
Mike: Hmmm….I am real curious what that means.  Honestly, if they get rid of NXT on the WWE Network, I'd really have to think hard about continuing my subscription (been a subscriber since day one).  I don't even watch all the WWE PPV's these days (still haven't seen Extreme Rules), but NXT is always must see TV for me.  BUT, if this gives the NXT guys a much bigger platform, that could definitely be exciting in itself.
Hopefully, WWE will still have some kind of "televised" developmental system in place.
Of course, it is just possible that this is The End of the Finn Balor vs Samoa Joe wars and not NXT in general.  That is what I am hoping for.
Josh: Pretty much. NXT in its current format is the best thing they have going by several leagues. It's fun and all to watch old footage on the Network, but I couldn't justify paying for it if NXT was gone.
Jeff: So much WTF?!? (Which, by the way, should be the name of a wrestling promotion somewhere…) Don't even joke like that. I can't deal with the rumored demise of the flagship of the WWE Network and Captain America being a traitor Hydra agent in the same week. That's how it started in Michael Douglas' film FALLING DOWN. No, this will not stand. The Dude does not abide.
Chris: I definitely agree with you guys about NXT being the best reason to watch the WWE Network.  But hey, getting two hours of NXT every week as Smackdown could be a good thing.  I tend to think that NXT isn't going to disappear, because I find it hard to believe that Samoa Joe or FInn Balor are going to be the "face" of the brand as they launch the new live version of Smackdown.  It's just an interesting tweet by Triple H.  I wonder if he did this purposely to see what the reaction would be.
Mike: So here is my question for you guys. If you were in charge of "drafting" Raw or Smackdown, who would be your ultimate roster (feel free to pull from the current roster and NXT).  Pick up to five wrestlers and teams for each "category."
Chris: Interesting question.  Here are my choices after some deliberation.
Upper Card - John Cena, Seth Rollins, AJ Styles, Shinsuke Nakamura, Kevin Owens
Midcard - Cesaro, Sami Zayn, Miz, Samoa Joe, Alberto Del Rio
Tag Teams - New Day, Enzo & Cass, Dudleyz, American Alpha, Gallows & Anderson
Women - Charlotte, Sasha, Natalya, Paige, Alicia Fox
Chris: My roster would have a lot of fresh faces but a handful of the more established guys and gals.  I think the upper card guys would put on some sensational matches, especially since there would be a lot of matchups we haven't seen before.  Nakamura and Owens are ready to grab the brass ring from Vince and carry the company for a few years.  As far as Cena, he has been played out but still has a lot to offer.  He wouldn't be my champ, but I'd keep him in the mix.
The midcard would absolutely kill it too.  Hell, as we speak, ⅗ are doing it on Raw right now.  I feel like the mix of upper and mid would put on great shows with lots of action every night.  This would be must see in-ring, and with proper writing the storylines would be a blast too.  Most of them can talk and build a feud, so there's most of your show.  The tag teams and women are a little lean to fill two rosters, but this would be my group.  Again, everyone can go in the ring.
If I had a choice, I'd put these peeps on Smackdown, so there's only two hours to fill.  You'd just need some enhancement talent to have a great show each week.  If I had to pick some lower card guys, I'd say Tye Dillinger, Social Outcasts, R-Truth, and Primo & Epico.  That's a solid amount of charisma to keep the upper card looking strong.
Josh: This'll be fun.
Upper Card - Brock Lesnar, Seth Rollins, Bray Wyatt, Dean Ambrose, Shinsuke Nakamura
Midcard - Cesaro, Miz, Kevin Owens, Sami Zayn, AJ Styles
Tag Teams - New Day, Enzo & Cass, American Alpha, Revival, Wyatt Family
Women - Asuka, Sasha Banks, Bayley, Emma, BLUE PANTS.
Josh: ...and slightly harder than I thought it would be. As far as I'm concerned, Brock Lesnar has been perfectly booked as Wrestling's Final Boss and I'd totally keep that going. Bray Wyatt is the best promo guy in the company. Nakamura is just crazy good, Rollins is good enough that he deserved far better than what his title reign turned into. And man, speaking of that, Ambrose could have been the new Stone Cold right around the point where he was kicking the bajesus out of Rollins at every opportunity.
The midcard was super difficult, since most any of those guys could bounce right up to Upper...which is a good thing. Remember back in the day when you had any number of guys flocking around the Intercontinental title, and any of them could conceivably jump up and plausibly fight with your top guys? I'd do that. I also had a few other guys here that I had to narrow off...I think Samoa Joe is just an amazing pissed off monster. I had Luke Harper on here (a guy I feel is totally wasted), so I cheated and put him in Tag Teams, hoho.
Tag Teams are funny since most of the good ones *really* stand out from the pack. There is no division without New Day, then...well, NXT is super good at making tag teams apparently. I put the Wyatts since I really feel like Harper and Rowan had a good thing going before the Usos killed them dead. Plus I just like Harper.
Women's division is the same, the good ones are amazing. Asuka, Bayley and Sasha could put on amazing matches forever. Emma is really underrated (her Takeover match with Asuka might have been my favorite match of the year). For the last slot I waffled between Becky Lynch and Paige, realized it would just be flipping a coin, so instead I go with the mighty BLUE PANTS. She's due for a win!
Like Chris mentioned, there are lots of other guys here that could fill out the lower card. The crowd always likes Tye Dillinger and his goofy gimmick. And the Drifter could use a push...no, I'm kidding, I just wanted to see if I could hear Mike yelling from here.  ;)
Chris: Can you hear me yelling! !  The Drifter!  Ugh!
I do have to say, Elias Sampson is a lot more entertaining while he's losing to everyone.  So, the past little while has been a huge upgrade from the months prior when he was winning unending squash matches.  Yeah, I like seeing the Drifter get a mudhole stomped up in him.
Mike:
Upper Card - John Cena. Big E, Sami Zayn, Kevin Owens, Seth Frickin Rollins
Midcard - Nakamura, AJ Styles, Bray Wyatt, Miz, Cesaro
Tag Teams - Kofi/Xavier, American Alpha, Ciampa/Gargano, Enzo and Big Cass, Vaudevillains,
Women - Asuka, Bayley, Charlotte, Sasha, Emma
Yikes, this was harder than I thought it would be.  I actually felt real bad I couldn't find a spot for Dean Ambrose, Rusev, Del Rio, Zack Ryder, or Sheamus in my roster. I actually am wearing my Sheamus shirt right now...though I will be the first to admit the WWE has done an awful job with him in recent years.  
For my top card, I had to include Big E.  I have long felt that Big E could be one of the biggest names in WWE if they just let him do his thing.  They've done that in New Day, and he's really run with it.  I also think that Zayn and Owens have enough experience all over the world to be able to drive the card.  They always have great matches, and Owens has shown he is very capable of hanging with Cena.  
Most of my midcard guys I could easily see slipping into the upper card every now and then.  Especially Shinsuke and AJ.  Both have made a fast impact on the WWE.  BUT, I also think they need a little more time in the WWE before I would feel comfortable putting them at a lengthy stay in the main event picture.  
For my tag teams, I mostly went with teams that always show me something new every time they are in the ring.  American Alpha, Ciampa/Gargano, and Vaudevillains are especially great at this.  I have watched wrestling for close to 30 years, and it's real rare when I see a move or combination I haven't seen before. But these guys do it all the time.  Kofi and Xavier Woods could basically be Big E's "New Age Outlaws."  New Day is a faction I want to see in the spotlight for a while.  
I was actually surprised to see Emma sneak onto my women's list, but for me, Emma has a ton of personality.  I don't know if she's quite as talented as Becky Lynch, Alicia Fox, Paige, or Natalya, but I would much rather see her in the ring than any of them.  The rest of the list are no brainers for me. They have been tearing it up on NXT for a long time, and any of them can headline a show in the right circumstances.
Jeff: I'm embarrassed--embarrassed I say!--that Chris and Mike both included John G. Cena on their rosters. Is Jersey importing water from Flint now? Smash that glass ceiling like Josh did, and play Big Cass' rendition of THE PRICE IS RIGHT theme for BLUE PANTS! Love it! My SmackDown (because wrestling shows should never be three damn hours long):
Upper Card - Bray Wyatt, Cesaro, AJ Styles, Kevin Owens, Finn Balor (although I could sign the biggest free agent in the sport for this...Cody Rhodes!)
Midcard - Sami Zayn, Shinsuke Nakamura, Apollo Crews, Tyler Breeze, Adrian Neville
Tag Teams - New Day, Enzo & Cass, American Alpha, Johnny Gargano and Tommaso Ciampa (The New F.B.I.), The SHIELD (Rollins and Ambrose)
Women - Asuka, Sasha Banks, Charlotte, Bailey, Emma
And I'll go one step further: General Manager - William Regal
Here's my rationale: I want the best of the best vying for the top belt, and in my eyes, that's Bray, Cesaro, Finn, KO, and an aging AJ. Nakamura is crazy talented, but I haven't seen enough of  him in 20 minutes or longer main events to know if he can carry that load. I chose to leave Samoa Joe off. I watched a lot of him in TNA and even some of his indy stuff. He can go with anybody. He wrestled some good matches with Kenta Kobashi in ROH. But I just haven't seen that from him in recent years. He seems content to wrestle the same match over and over. If I wanted that I'd bring back Hulk Hogan. I also noticed that we ALL left the reigning champion, no pun intended, Roman Reigns off all of our lists (apologies if I overlooked him somewhere) Let's face it--he ain't got it and even if he found it, the fans already hate him because Vince insists on pushing him down our throats. Finn made the cut because when he lets his demon out there's no better entrance in the sport. I can't wait until he main events a Wrestlemania and has a football stadium of 70,000 people going "AAAAAH!!!" with their arms raised and the lights bright. He bumped Seth Rollins, whom I feel wrestles very well and is entertaining but not necessarily the best promo man at his level. Also, he needs his own finisher. Bray would get my title push initially, and I would presume the family would be part of the package.
My midcard is the close seconds who could move up seamlessly into the upper card. Sami and Nakamura speak for themselves. Neville is flippin' fantastic and I can't wait until he gets back. Apollo Crews should be the next Booker T. Unfortunately, Vince and Co. will probably make him the next S.D. Jones. Tyler Breeze has fallen victim to the very thing that drove Cody Rhodes out of the company--WWE Uncreative. Bringing up talent like Prince Pretty from NXT and acting like nobody watches it so nobody knows who he is an insult to the WWE Universe's intelligence, and making him pay his dues again at the next level is pretty damn stupid too. He should already have a stranglehold on one of the secondary titles. Putting him in this group would help elevate his game. I'd pair him up with Emma too, for extra heat. Or...oh man, this is fantastic! Have Breeze be the on-screen boyfriend of Charlotte! He gets the Flair rub! He could start coming to the ring in Flair-style robes, keeping the signature fur boots underneath. Being creative isn't hard at all if you have a modicum of common sense and half a brain. Obviously Stamford, Connecticut is ground zero for the zombie apocalypse.
Tag Teams were tough because they're my favorite division. I really wanted to include The Revival because I love their unapologetic old-school vibe. It's like watching a young Anderson and Blanchard. I copped out and put the SHIELD in instead as an excuse to put Rollins on my roster. I give two Hershey squirts about Ambrose. New Day would be all three fellas, another cop out. I doubt I'd ever get tired of listening to the nutty crap that Enzo spouts off, so he and Cass have a job for life as far as I'm concerned. Make those guys an announce team when they retire, Cass as the straight man, Enzo on crazy commentary. American Alpha is probably better than The World's Greatest Tag Team already and that's no mean feat. Finally I added the two Italian dudes with unmemorable names, because they can wrestle their asses off. Imagine a three way dance with Ciampa, Gargano and Cesaro! Imagine a tag match with Cesaro and Nakamura teaming against them! THIS IS WRESTLING! Clap-clap-clapclapclap!!
As for the ladies, I love the Horsewomen and would book them as such, but I kind of feel that Becky is the odd one out, and as such she'd benefit greatly by being their Sting, getting the face push against the heels, who would then add Emma. Emma has come a long way since her goofy dancing babyface days with Santino. She's both credible in the ring and entertaining as a heel. Do I even need to explain Asuka? Crazy awesome or just crazy? Yes, and she makes the cut either way. Honorable mentions to Alexa Bliss (love her as the adorable Freddy Krueger) and Carmella.
My disabled list call-ups would include Elias Samson (repackaged as the biblical Samson, because if you're from somewhere specific you're not a drifter), The Revival, Kalisto, Blue Pants, Zach Ryder and MOJO MOFO RAWLEY! (I'll see your Drifter and raise…)  
Mike: As a huge fan of William Regal, I definitely approve of him as the GM!
As for Cena, John Cena still pushes a lot of merchandise and he's the face of the company.  Even if I don't always think they book him all that well, if I was going to build my ultimate roster, I would still have him there.  At the very least, put him as the top guy on Smackdown, and USA will definitely get the attention they are hoping this move brings.  I don't want him as the CONSTANT CHAMPION, but he definitely belongs in the hunt more often than not.
One last comment before I close up shop for this week: as much as I hate on The Drifter, I don't mind him when he's getting his ass kicked.  Hell, they have even let him play the guitar a bit.  I don't mind him in a Lanny Poffo/Damian Sandow role.  Pompous jerk who gets their ass kicked while the crowd cheers for it.  
Jeff: I'm tellin' you guys, as soon as he starts going all Honky Tonk Man/Jeff Jarrett and starts waffling dudes with the guitar, the fans will love him!