Cheap Pops - Wrestling News & Views - June 6, 2016
FTC Statement: Reviewers are frequently provided by the publisher/production company with a copy of the material being reviewed.The opinions published are solely those of the respective reviewers and may not reflect the opinions of CriticalBlast.com or its management.
As an Amazon Associate, we earn from qualifying purchases. (This is a legal requirement, as apparently some sites advertise for Amazon for free. Yes, that's sarcasm.)
Submitted by

Critical Blast Staff

on Mon, 06/06/2016 - 09:24
NXT: THE END Predictions

Does Goldberg belong in the WWE Hall of Fame?

Zach Gowen - American Ninja Warrior
---
NXT: The End Predictions
1    Samoa Joe (c) vs. Finn Bálor - Steel Cage match for the NXT Championship
Mike Maillaro: How many times do these guys need to match up?  To be honest, I've enjoyed each one of their matches, but this has been the main event of the last three Takeovers. Not to mention, used heavily during house shows (which is how Samoa Joe won the title in the first place).  It says a lot by how much they have drained NXT of all their talent that they have literally no one else they can put at the top of the card at the moment.  
We had talked some last week about what "NXT: THE END" means, and I really think Chris is right that NXT will basically end up folded into the main roster.  They haven't given me any indication that they have any long term plans for NXT, especially when it comes to the singles division.  NXT has a lot of strong tag teams, and even with many of the top women jumping to the main roster, there is still a lot of talent in NXT.  But when it comes to guys capable of carrying the main title, it's basically Joe, Finn, maybe Nakamura.   
Who wins this one?  I honestly am not sure it matters.  Both seem headed for the main roster...but Finn still needs a lot more time to develop his mic skills (he was genuinely awful last week in the one-on-one with Samoa Joe.  So I think Finn will be a two-time NXT champ...and maybe the last one.
Chris Delloiacono: Balor hasn't really done it for me as champion.  I definitely agree, his mic skills are lacking.  To be honest, Balor is good in the ring, but he just never seems to put on a truly spectacular match.  I have a hard time thinking this cage match is going to be the iconic moment that's been missing during his time on top in NXT.  Samoa Joe plays awesome menace well and puts on very entertaining matches.  He's also better on the microphone than Balor.  If I had to choose, Samoa Joe is more ready to make an impact (pun intended) on Smackdown or Raw.
I'm genuinely unsure of where this is going.  Not just who wins, but if NXT will remain in this form after the brand split.  I'm nervously excited to see what's next.  I wouldn't be surprised if WWE screws everything up in July, but I'm actually looking forward to what happens.  As for this match, I'll go Finn and pray that NXT is sticking around.  That leaves Joe to go to the main roster and Balor to feud with Nakamura next.
Josh Pollard: Balor just makes me miss Prince Devitt the more I watch him. He just...loses something in translation when he isn't this sawed off runt heel backed up by his very big friends. Don't know where this match is going either, but if I had to guess Balor wins to send the crowd home happy.
Jeff Ritter: I have mad respect for Balor whom I personally witnessed gladhand EVERYONE in line for several city blocks in windy-ass Chicago on a brutally cold day, thanking each of and every one of us for waiting while they tried to figure out how to put on a show in a venue that someone clearly didn't scout worth a damn. That said, his mic work isn't what it needs to be to run with the big dogs yet. When Samoa Joe flubs, much like Kevin Owens, he just rolls with it and turns it into something probably better than his original thought. When Balor flubs it, he looks like a deer in the headlights. I kinda wish they had sent Gallows and Anderson down to NXT first, but he doesn't need them to regain the title.
Mike's Prediction: Finn Balor
Chris's Prediction: Finn Balor
Josh's Prediction: Finn Balor
Jeff's Prediction: Finn Balor
2    American Alpha (Jason Jordan and Chad Gable) (c) vs. The Revival (Scott Dawson and Dash Wilder) - Tag team match for the NXT Tag Team Championship
Chris: Their match on the last Takeover was outstanding and I expect these teams to once again deliver a memorable bout.  We just don't get enough tag team specialists these days.  These are two special units that have learned the craft of team matches.  This is probably the match I want to see most, but I anticipate any surprises.  Unless there's a main roster call up coming, I can't see any way that Alpha drops the straps back to The Revival.  
Mike: Yeah, this should be another great match for these two teams. American Alpha has incredible ring talent, and Revival have such a great smash mouth style to them. The only straps that Alpha is dropping on this show is Jason Jordan pulling the straps down on his singlet before he finishes The Revival off.  Not knocking The Revival, but American Alpha is riding a huge wave right now.  I can't see them losing the titles any time soon.
Jeff: This is a coin flip. You could make a case to put the straps back on The Revival, and then have them face off again for American Alpha's rematch clause, have them win off of The Revival again, and so on, back and forth like a "Best of (However Many) Series." but they won't do that. I don't personally like to hotshot titles back and forth either.
Mike's Prediction: American Alpha
Chris's Prediction: American Alpha
Jeff's Prediction: American Alpha
3    Asuka (c) vs. Nia Jax    Singles match for the NXT Women's Championship
Chris: I like Asuka, but I'm not really feeling her as champ.  She's hard hitting and fun to watch, but I prefer Bayley, Charlotte, Paige, Emma, or Sasha any day of the week. Nia Jax?  Uh, no.  I would rather watch the Fabulous Moolah on the WWE Network.  This is the first time that I could care less about a women's match on Takeover. Seriously, the ladies have stolen the show many nights in NXT, but I'd be stunned if that happens with this one.  My expectations are low, so hopefully I'll be pleasantly surprised.  
Mike: Nia Jax seems to really up her game during big matches.  She had two very good matches with Bayley, so I actually think this one will be good. Like you said, not as good as some of the classic NXT women's matches we've seen in the past, but still far better than most women's matches, especially on regular WWE.
I do think Nia Jax will be champion some day soon, but Asuka hasn't had a lot of title defenses, and she just doesn't feel like a transition champion to me.  So I give Asuka the win here, but I do admit that it is very possible Nia Jax takes this one.
Josh: Me, I love Asuka. There's just something endearing about a complete psychopath who probably can't speak a lick of English, but manages to convey I Will Kill You with nothing but facial expressions and shrieks. Nia Jax is...I don't care if I never see Nia Jax on my TV, but I'm sure Asuka will make this fun anyway.
Jeff: I'm surprised Nia Jax, another kin of The Rock, hasn't been called up to be Roman Reign's "Chyna." I don't personally mind her, but she only looks decent in matches with terrific opponents like Bayley. Otherwise she wrestles more or less a Hulk Hogan match. I don't know if Asuka is great as a face champion, but she is pretty damn great, period. Also, I find her bizarrely hot. I'm sure the internet doesn't care, but there it is.
Chris's Prediction: Asuka
Mike's Prediction: Asuka
Josh's Prediction: Asuka
Jeff's Prediction: Asuka
4    Shinsuke Nakamura vs. Austin Aries    
Mike: Aries hasn't had too much of a chance to show what he's capable of.  Nakamura has come in like a buzzsaw, and he seems to have had no issues at all adapting to the WWE-style.  These two guys both have a lot to prove in the WWE, and I think it's very likely this one can steal the show.  I think the King of Strong Style probably takes this one, but both men should come out looking terrific.
Chris: We should finally see Austin Aries at his best against Shinsuke.  I can't see Aries winning, but he should come out looking good.  I hope they give them a good solid 20 minutes.  I'm expecting this to be match of the night.  
Josh: Aries has done very little for me so far, but as said, it might just be that he hasn't really gotten a chance to do a lot. Getting his ass kicked for 10 minutes by Baron Corbin and then winning on a rollup isn't exactly a showcase. But Nakamura is Nakamura, so this will very likely be insane. And yeah, he's still on his death push, as he should be.
Jeff: Ah...finally I get to disagree! Has Nakamura adapted to the WWE style? He claims to be the King of Strong Style, but the WWE hasn't really done much to explain that, have they? For those that don't know, Strong Style was developed by Puroresu pioneer Antonio Inoki, and it features strikes and submissions largely based on actual martial art disciplines. Discipline isn't something I necessarily see from Nakamura. I see flamboyance, I see an uninteresting knee to the head--Hurricane Helms used to do the Shining Wizard, didn't he? Surely Nakamura could do a more interesting maneuver than a knee to the head? I sincerely hope that Aries goes over here. I don't really care if one or the other turns heel in the process, or if neither do. Let Aries win here, and build the feud for a few months (unless of course NXT is all over in the very near future) and push both men to even greater heights.
Mike's Prediction: Nakamura
Chris's Prediction: Nakamura
Josh's Prediction: Nakamura
Jeff: Prediction: Austin Aries
5    Andrade "Cien" Almas vs. Tye Dillinger
Mike: I was so happy to see Tye Dillinger pick up a win this week. I find The Perfect 10 very entertaining.  But, he pretty much stands no chance against a debuting superstar.  Unlike Lucha Underground, when WWE debuts someone, they pretty much always win. I don't know much about Andrade "Cien" Almas (FKA La Sombra), but I really hope that they manage to keep Tye Dillinger in the mix.  He has been with the company a long time, and always entertains me.
Chris: I love Tye Dillinger but let me tell you, I've seen La Sombra work in NJPW.  He is pretty damn awesome.  If Tye has to lose, Andrade is the man to do it.  Here's hoping both men get used well in the months to come!
Mike: Fun trivia fact.  Tye Dillinger was once the OVW tag champions with Cody Rhodes!  I just found that out a few weeks ago.  I often forget how long Tye has been under the WWE developmental system.  Personally, I think he's really come to his own in the last year or so, and I hope he gets bumped up to the main card.  He will probably never been a main eventer, but I can see him making a solid place for himself in the midcard.
Josh: Man, I always feel like Tye Dillinger should be higher up on the card than he is. "10" is just such an easy thing for the crowd to jump on. But he won't win here.
Jeff: Tye Dillinger's stupid gimmick gives me rectal itch. I hate his look, but the guy can work a little. I really, really despise how asinine the WWE is when it comes to rebranding luchadores. Cien is "100" in Spanish. Andrade "100" Almas makes no goddamn sense at all. What's his back story? This is why you don't launch new characters on PPV events. The ONLY way I will ever root for this guy is if they bring back Armando Alejandro Estrada to manage him.La Sombra (as he was known under the mask, which the WWE wasn't smart enough to have him keep as a marketing deivse) and No Way Jose should be embarrassed by this crap. I can't stand Tye Dillinger, but I hope he doesn't job to this guy in his debut match. And while the Perfect 10 is in the ring doing the job, I'll be sitting at home wondering, "Why did they have Eric Young come out to taunt Samoa Joe and then not use him again for weeks? And where the Hell is Chris Harris for that matter? And when is Hideo Itami ever going to be cleared again? "And WTF is up with NXT and the WWE's cryptic comments anyway?"
Mike's Prediction: Andrade "Cien" Almas
Chris's Prediction:  Andrade "Cien" Almas
Josh's Prediction: Andrade "Cien" Almas
Jeff's Prediction: "The Perfect 10" Tye Dillinger
---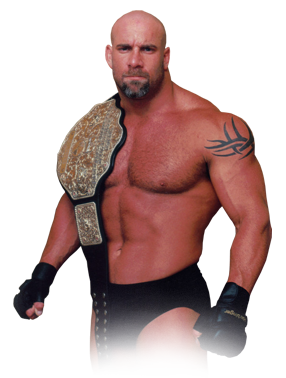 Does Goldberg belong in the Hall of Fame?
Mike: So last week, WWE was hyping some kind of mysterious "hatch" that would be revealed as part of this week's Raw.  Cue up the Lost jokes...during the episode, it was revealed that the hatch was the reveal that Goldberg would be the pre-order bonus for WWE2K17.  Now in the last few years, Sting was a pre-order bonus and he went into the hall of fame.  Same for Terminator/Arnold Schwarzenegger.  So, by that highly mathematical sampling, I am going to think this will lead to Goldberg being announced for the 2017 Hall of Fame.  Whether I am right or wrong, I do want to ask the question….  Does Bill Goldberg belong in the Hall of Fame?
Chris: Goldberg took the business by storm in the '90s.  His streak had a buzz about it like few other builds the business has seen, and his defeat of Hollywood Hogan on Nitro was a monumental success for WCW.  Goldberg was as hot a commodity as the business has ever seen.  It all went to hell when Kevin Nash got a ridiculous pinfall over him and they put the belt back on Hogan after the finger of doom or whatever it's called.  That finger also pressed the handle on the toilet and flushed a whole company down the tubes.
As important as Goldberg was for those couple of years, he didn't do much else.  Sure, there was a one-year run in WWE, but that's mostly remembered for ending with a stinker versus Brock Lesnar.  When it comes to in ring work, Goldberg wasn't much to watch either.  If he wasn't beating people quickly, the matches were pretty lame.  He wasn't particularly good on the stick either.  There's actually a lot going against him.
In the end, the body of work for Bill Goldberg is pretty small, yet he's an iconic performer.  He may not have been well rounded, but he was a true main eventer that put butts in seats and sold tickets.  What more could a promoter ask for?  I don't think there's any doubt, Goldberg is Hall of Fame material!
Mike: I've always thought Goldberg was a very unique attraction for wrestling.  He went out and did his thing.  Didn't require a wide variety of moves...didn't even need to cut a strong promo.  He was just such a presence that you wanted to see Goldberg destroy someone.  Was Goldberg the "perfect" wrestler, no.  BUT, WCW did an excellent job showing off his strengths for a real long time.  The biggest problem was that once he lost, they didn't seem all that sure what to do with him.  You can't help but think that the only thing that derailed Goldberg was the jealousy by the guys who have creative control in WCW.
But, even if Goldberg was only on top for a relatively short time, when he was on top, people paid attention.  I remember seeing almost as many Goldberg shirts as Austin 3:16 shirts when both men were at their peak.  And when he did his entrance (which was far longer than most of his matches), you stopped and paid attention.  You knew you were about to see one hell of a spectacle.
My biggest issue with Goldberg is that when you see interviews with him today, you can't help but think that maybe he bought in a little too much to his own hype. But, yeah, I tend to agree that he belongs in the Hall of Fame.  
Josh: If Goldberg were to turn up tomorrow on Raw, he would still get the biggest crowd roar this side of Daniel Bryan. I feel like whatever ring talents he may or may not have had don't even matter just because he had a physical presence unlike most anyone I have ever seen. The booking obviously helped, but as seen recently with Roman Reigns, that isn't *all* there is to it. So yeah, he belongs there without a shadow of a doubt. Probably should have been there already.
Jeff: As usual, I have the dissenting viewpoint. I do not think Bill Goldberg deserves to be in the Hall of Fame. Is Goldberg a force of magnetism and personality like  Hulk Hogan, Ric Flair, The Rock, Steve Austin, C.M. Punk, etc.? No. He didn't sell merchandise anywhere close to what the big talkers did. His push was strictly story based--he was hot-shotted as a rookie partly because of his age. He wasn't a big NFL star, or collegiate/Olympic/MMA wrestler with any sort of pedigree coming in. He had a look similar to Austin (bald, goatee, black trunks) so hopefully viewers tuning into Nitro wouldn't click over to RAW. Was he intimidating? Well, I'm 5'10" and unathletic. Bastion Booger would be intimidating to me. Goldberg had a slick entrance (loved the spark shower, always wondered how much it sucked to feel and breathe that a couple of times a week), a great driving march for entrance music that called to mind John Williams' "Imperial March," and he through lesser opponents around like Lesnar would eventually do. If they weren't humans the zookeepers in Cincinnati would probably shoot them on sight. On the other hand, his moveset was fairly limited, he looked a bit exposed against superior talents like Lord Steven (now Sir William) Regal and Bret Hart, whom he famously concussed into early retirement. He was not the easiest to work with, from what i've heard over the years. And when his streak was over and soon after WCW was over, he had a forgettable run in the WWE where Vince wasn't about to put him over.
Let's look at it another way: I can think of three baseball players who, to me, sort of exemplify the  same sort of scenario: Mo Vaughn and Don Mattingly. Let's start with Donnie Baseball: he burst onto the scene in 1984 to lead the American League with 207 hits, 44 doubles and a batting average of .343 -- gaudy  numbers for anyone let alone a 23 year old newbie in the Bronx. He followed that with an  MVP season, pacing the AL in doubles and RBI. In 1986 he inexplicably lost a second straight MVP award to some jackass steroid user named Roger Clemens, who should only be eligible for the Cy Young, in my opinion, while leading the league in 7 categories! Why do pitchers get to win a "best pitcher" award and the MVP, when hitters don't have a "best hitter" award like the "Babe Ruth" or something? But I digress...Don Mattingly never led the league in another single category the rest of his career. By 1989, he was done, His batting average declined anywhere from 50 to 100 points compared to his better seasons, and he only played two full seasons before hanging his spikes up for good in 1995. Over his 14 year career he had a little over 2000 hits and over 1000 RBI and ultimately ended up with a lifetime .307 batting average. Is that a Hall of Fame career? Not in baseball. It puts him squarely in the Hall of Very Good, with the likes of Al Oliver, the well-travelled outfielder best remembered for his 10 year run in Pittsburgh with Roberto Clemente and Willie Stargell. Al Oliver played 18 seasons and is ahead of Mattingly in both hits and RBI and he's not in the National Baseball Hall of Fame either.
As Don Mattingly's ailing back was winding down his career, Mo Vaughn was catching fire in nearby Boston. He was never the highly regarded all-around player that Mattingly was, but he was a fearsome masher in his day, clouting home runs with reckless abandon. From 1995 through the 2000 season he hit at least 30 homers, and in all but one of those years drove in more than 100 RBI. His best season was 1998 when he hit a slash line of .337/40/115 and finished 5th in the AL MVP behind the likes of Nomar Garciaparra who's best play ever was asking Mia Hamm out, proving yet again that the so-called professional sportswriters who hold votes for post season awards and Hall of Fame voting are generally blithering idiots. But I digress again…Mo Vaughn was a lot like Goldberg--he shined brightly, but briefly, and doesn't get into the Hall of Fame without a ticket.
The parallels I'm trying to make is that legit athletes in legit sports with short careers don't very often get into their respective Halls of Fame. Professional Wrestling, which only mentions statistics when it behooves them to do so, such as Royal Rumble factoids and Wrestlemania streaks, is an unreliable source for such numbers. Goldberg doesn't have any unforgettable moments in a WCW War Games match, or a Hell in the Cell win in the WWE, or much of anything but one long push that a lot of the boys in the locker room probably resented and a scar on his arm from punching a car window. Sure, there are exceptions to every rule. Sandy Koufax only played 12 seasons. He was 36-40 with an ERA around 4.00 for the first half. He pitched an insanely brilliant second half of his career, going 129-47 with an ERA just barely above 2.00 before he decided he'd done enough damage to an ever aching arm. Had Tommy John surgery been around then, he might have been arguably the greatest pitcher to ever take the mound. Despite the brevity of the sterling portion of his career, he was elected into the Hall of Fame despite not reaching the magic numbers for wins or strikeouts that seem to ensure induction into Cooperstown. Bill Goldberg is no Sandy Koufax, not even scripted.
---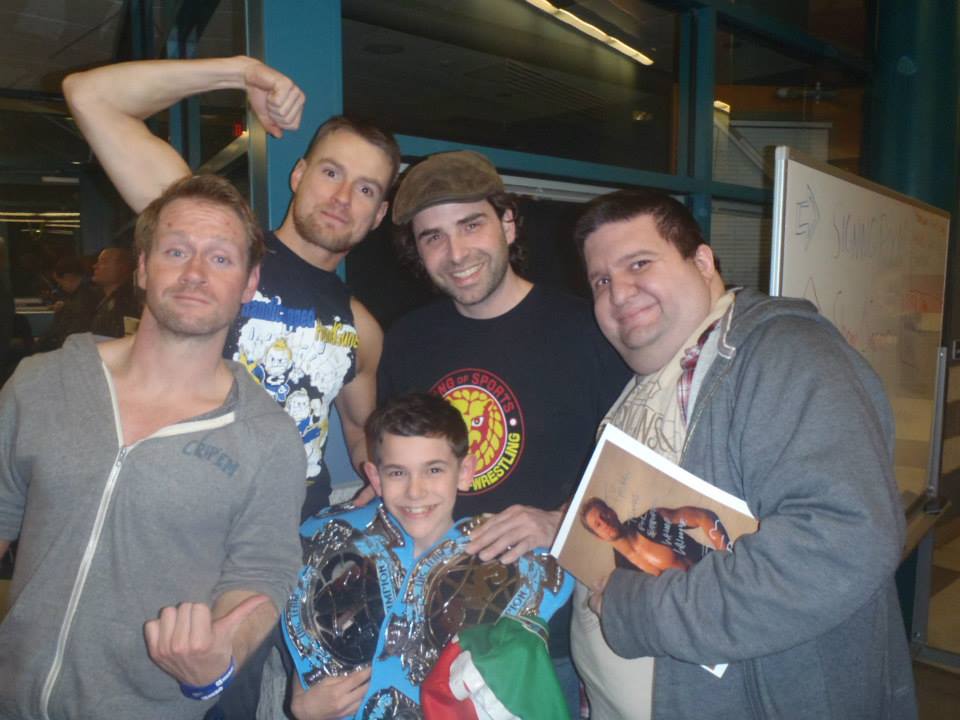 Zach Gowen to appear on American Ninja Warrior
Mike: Zach Gowen's name has come up a few times in this column.  Some of you may remember him from his pretty short run in the WWE a while back.  Since being released from the WWE, he has built up a real solid reputation in the independent wrestling circuit, both by himself and with his frequent tag team partner, Gregory Irons.
While an extremely talented wrestler, what stands out immediately about Zach Gowen is his left leg was amputated when he was a child because of cancer.  But that has never stopped him from striving for his dreams.  
Because of this, Zach and Greg are two of my personal heroes!  Here is a terrific short documentary I saw about the Handicapped Heroes a few months ago:
This week, Zach will be looking to conquer another one of his dreams by competing on American Ninja Warrior!  We here at Cheap Pops wish him luck, and I will definitely be tuning in to see how he does!  Check it out on NBC, Monday, June 13 at 8 PM!