Cheap Pops - Wrestling News & Views - August 9, 2016
FTC Statement: Reviewers are frequently provided by the publisher/production company with a copy of the material being reviewed.The opinions published are solely those of the respective reviewers and may not reflect the opinions of CriticalBlast.com or its management.
As an Amazon Associate, we earn from qualifying purchases. (This is a legal requirement, as apparently some sites advertise for Amazon for free. Yes, that's sarcasm.)
Submitted by

Critical Blast Staff

on Tue, 08/09/2016 - 07:52
Mike Maillaro: Man, you take a few weeks off to enjoy the summer, and the whole wrestling industry goes crazy.  It feels like everyone is putting on some of the best wrestling I have seen in a few long time.  After the last two weeks of watching Raw and Smackdown, I can't remember the last time I was this excited with WWE...and there is so much else cool to talk about.
---
WrestlePro
Chris Delliocono: As far as wrestling goes, I'm probably most excited about the September 10th WrestlePro show in Rahway, NJ.  Cody Rhodes is wrestling owner Pat Buck, which should be a fantastic technical match. Buck was actually on Cody's short list of things things to do when his WWE contract expired. Now we get it and I bet they blow the doors off the Rec Center.
Cody isn't the only outside talent either.  The Nature Boy is also coming to town.  Seeing Ric Flair interact with the WrestlePro crew should be extremely memorable!
It's pretty cool that they are going to introduce three-man tag team titles.  The major promotions in the US never really did much with this type of title but it's a mainstay in Mexico.  Also, Lucha Underground made it one of their most important titles.  All it will take is booking it as meaningful and it will be!
Mike: Cody Rhodes' first ever opponent was Pat Buck, so it's great to see the two of them getting another chance to mix it up.
WrestlePro always puts on a great show, but the September 10th show is going to be their biggest show yet.  They have only started announcing the card, but there are several great matches already announced:
- Anthony Bowens defends the WrestlePro title against his former tag team partner Bobby Wayward
- Pat Buck Vs Cody Rhodes
-Trios Pro Qualifying match - Aesthetic Males Vs Team Espanakos
- CPA Vs Grado
- Chris Avery Queling Vs Dave D-Struction
- Heavenly Bodies (Justin, Dustin, and Buster Vs Taboo Crew and FALLAH BAHH
- Sonjay Dutt vs Delroy Alexander vs Craven Varro
- Matt Macintosh vs Johnny Clash
- #1 Contender's Six Way Habib Hasham Khan vs Dan Maff vs Mario Bokara vs Chris Payne vs Colt Cabana vs Alex Reynolds
To order tix, click here or the poster below!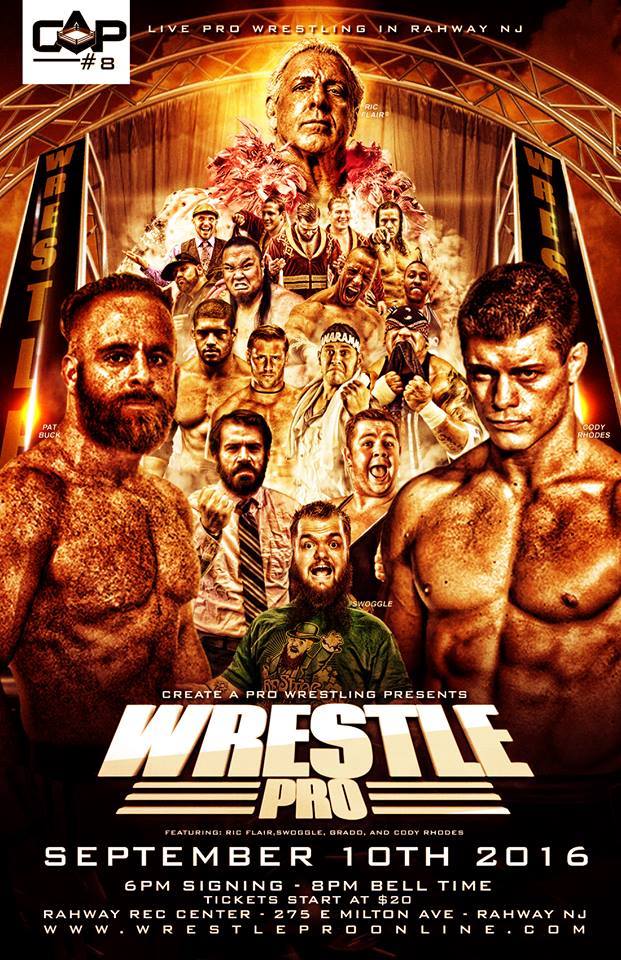 I also want to hype up Pat Buck's Podcast that debuted while we were off, The Pat Buck Show.  New episodes go up every Thursday on Itunes,  Stitcher Radio, and SoundCloud.  Each week, Pat gives a ton of insight into what it takes to run a successful indy wrestling promotion. Most Podcasts bore me, but The Pat Buck Show has become appointment radio for me.  If you even remotely care about wrestling, you need to check it out!
Josh Pollard: These shows absolutely never fail to be good stuff. I'm really looking forward to the six way, since Bokara is unabashedly my favorite wrestledude and I get the feeling he and Maff in the ring will be a car crash (in the best possible way).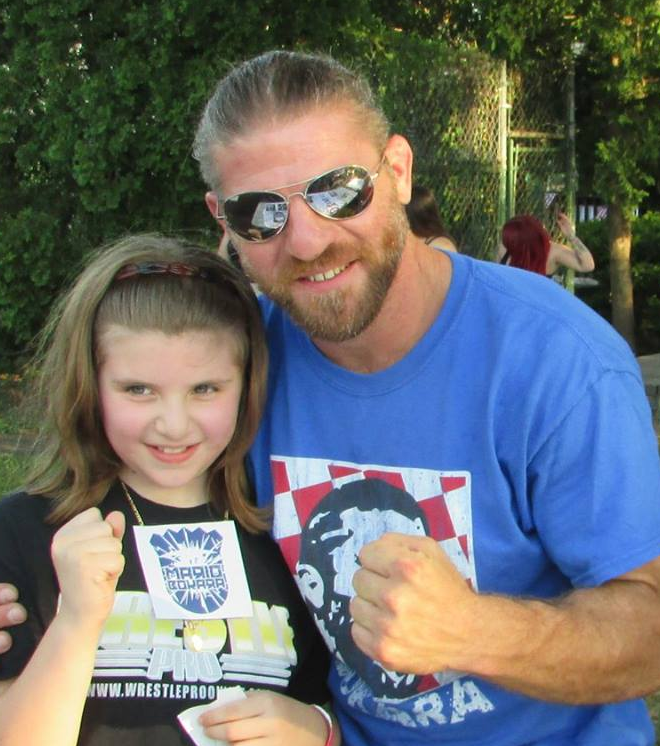 Mike: Yeah, one of the best news to come out of the September 10th show is that Mario Bokara and WrestlePro champ Anthony Bowens will both be back from injuries.  At the July 23rd show, my daughter got to meet Mario Bokara, who is by far her favorite wrestler (male wrestler).  She also got to meet Gemma Cross, who made her debut that night in a terrific women's match.  
One last comment on WrestlePro.  Last week Ryback did a great video "wishing the WWE well on future endeavors" announcing that he was no longer under contract with the company.  Ryback is very close to WrestlePro owner Pat Buck, so there is a lot of speculation online (including teases from WrestlePro's Facebook feed and wrestler Kevin Matthews) that Ryback may be appearing in upcoming WrestlePro shows.  Personally, I would love to see that!  
BTW, just before I posted this week's column, it was announced that Ryback will be doing two WrestlePro shows in October!  Check out WrestlePro's Facebook feed for more information.
---
Raw
Mike: To be honest, before draft week, I can't remember the last time I watched a full episode of Raw and Smackdown.  I was real hopeful about this "New Era" but I also thought that it could be more of the same.  But the last three weeks, I have actually watched Raw and Smackdown all the way through with minimum fast-forwarding.  There have been a lot of great surprises.  
Even though I think the name "Universal Title" is a horrible name, I am very excited to see Seth Rollins fighting Finn Balor for it at Summer Slam.  It's clear the WWE is putting a lot of muscle behind Finn, and I could not be happier.  Finn had a great match with Roman Reigns to earn himself that title shot.  
I also think that Roman Reigns suspension ended up being a blessing in disguise.  Putting him in a feud with Rusev over the US Title shows that the WWE means to keep Reigns off the top of the card at the moment and develop him a bit further.  And this could definitely elevate the US Title, which has really dropped in status since Cena's Open Challenge last year.
Chris: Going into the split I thought for sure that Smackdown would be the stronger show but Raw has been superior, thus far.  The fact that Roman Reigns is off the top of the perch is Best for Business.  It will make for better matches and allow him to grow as a performer.  Seth and Finn has the potential to be a mind blowing match at SummerSlam.
All the little moments with Heath Slater on both shows have been great but this past week on Raw was awesome.  I can't believe Jinder Mahal is back!  Here's hoping they give him a decent push and don't give him the most racially insensitive gimmick possible.
Mike: Jinder is a hugely underrated talent.  His match with Seth Rollins for the NXT title was a great match and made me a fan. Hope the WWE does more with him than "generic foreigner" or "dancing gimmick" this time.
Raw's commentary team has also been on point.  Michael Cole, Byron Saxton, and Corey Graves work really well together. They have managed to give weight to what's going on in the ring and not wandering off on random tangents or just randomly hyping things have have nothing to do with what we are currently watching.  When they announced Corey Graves would be a commentator on NXT a while back, it really felt like they were just trying to find something to do with him just to play out the rest of his contract...but I was quickly proven wrong.  He did a great job on NXT, and he deserved this promotion to the main show!
Josh: Yeah, Graves is kind of incredible in that getting injured was probably the best thing that could happen to him, as his announcing job is going to far outlast whatever ring career he likely would have had. He's just much better at it than the wrestling thing. Kind of like Jesse Ventura that way.
Chris: Definitely agree with you guys about Graves.  He never really connected with me as a ring performer, but his mic work is stellar.  He could be Ventura or Heenan good.  That's special company!
---
Smackdown
Mike: After the draft, I was feeling like Smackdown was the "lesser" brand, but the last two weeks, they have done an excellent job building storylines and matches in Smackdown.  I can honestly say that I like both shows about equal, which I can't ever remember being the case (I wasn't watching wrestling during the "Smackdown Six" days).  Just like Raw, they have done a solid job elevating younger guys or guys that haven't been relevant in a while.  
I was genuinely surprised when Dolph Ziggler won the six-man challenge to become the number one contender for the WWE Title.  And the story between Ambrose and Dolph has built up real well from there, dealing with both men's pasts.  I love Dolph, and this feels like a huge opportunity for him to finally reach the top.
Chris: I love Dolph too, but it's such a hard sell putting him on top.  Giving him the big win on Bray Wyatt helps, yet I always get the feeling that Dolph will be jobbing to lower card guys before we know it.  There's just never any sustained push for him.  Let's hope this is different.
I really have enjoyed the AJ and Cena feud.  That was a smoking promo this past week.  I just hope this doesn't end with an AA.  Styles is ready for the title and he should go against Ambrose next.  
Mike: My biggest problem with Smackdown right now is the commentary team.  Why exactly do they have David Otunga doing commentary?  He is just as mediocre on commentary as anything else I have seen him do in wrestling.  I don't even think he said a hundred words total on the first episode after the draft. The sad part is they have some real solid alternatives already in place.  Renee Young was great on commentary in NXT, so instead of having her doing panels, just put her right at the booth.   Or just have Daniel Bryan do it.  I was surprised by how good he has been on commentary during the Cruiserweight Classic.
Chris: Renee is one of my favorite announcers, so she's being grossly underused.  I know Otunga does legal work for WWE, but does he stay employed because he's married to Jennifer Hudson?  Otunga sure doesn't have a job because he's good on commentary.
---
NXT
Mike: Kind of hard to judge NXT right now.  A lot of the top NXT talent has moved to the main roster with the roster split.  But there are definitely some top notch talent still in NXT like Samoa Joe, Austin Aries, Shinsuke Nakamura, and now Bobby Roode.  And No Way Jose has really grown on me.  Hideo Itami is also in position to make a big name for himself returning from injury at just the right time.
But on the surface at least the NXT tag division and women's division (which were always huge parts of NXT) are at their weakest they have been in a long time.  This week's NXT has talked a lot about the next generation, and I actually think that NXT has proven they can develop talent up and down the card.  But there is a lot of question marks about what NXT will look like over the next few weeks.  Hopefully we will see NXT continue to shine.
Josh: The women's division got hit so hard by the roster callups that it's pretty much Asuka, Bayley (who...is also called up now so who knows how long she's sticking around) and a whole lot of cannon fodder. They really have no choice now except to build up some of the other women in a hurry, as much as I like the idea of Asuka and Bayley fighting each other forever.
Also Bobby Roode is going to have to do way more than call the audience poorly dressed stupidheads if he's going to stay heel. The crowd loved him. I blame the theme song.
---
Lucha Underground
Mike: Not sure what it is, but I just wasn't as excited about LU season 2 as I was season 1.  Season 1 was appointment television for me (which was a pain since I have no easy way to watch El Rey).  But Season 2 I kept falling behind.  At one point I was actually 7 episodes behind.  As of writing this, I still haven't watched the last part of Ultima Lucha 2.  It's not that Lucha Underground has been bad, it just doesn't quite feel as new and different as season 1 did.  
I think part of it for me is the dominance of Matanza.  I hate monster heels squashing everyone.  And it feels like so many storylines this year (Mil Muertes, Fenix, and Pentagon in particular) went no where because they hit that Matanza wall.  While Sexy Star finally got some redemption against Mariposa and Marty the Moth, it just felt like too many storylines led nowhere this year.  It's great that we are getting season 3 so quickly, but it still doesn't excuse that season 2 felt like it was basically just lead up for season 3.  
Chris: I watched about 13 episodes of season two and just never went back.  It had its moments but Matanza is a horribly boring champion.  I can't find myself caring in the least.  Part of the problem is the lack of carriage on my cable system.  Last year it was on Unimas, so I could watch albeit in Spanish.  This year, I had to watch on Dailymotion and that added to the frustration of a bad main event scene.
Ah well, we will always have season one.
---
TNA
Mike: It is rare that I feel inspired to talk about TNA...beyond saying "How did TNA manage to let another one of their core talent defect to NXT?"  BUT, the last few weeks, TNA has managed to get themselves several viral moments thanks to the crazy "Broken Matt Hardy" storyline they are running.  Long story short, Matt has decided that his brother Jeff (who he keeps calling Brother Nero after Jeff's middle name) is to blame for everything bad that has ever happened to him.   
This feud has been told with some brilliant B-Movie style video promos, featuring Matt's disturbing home life (Reba Sky gamely plays along with all this insanity),  Matt's ridiculous ever-changing accent, drone attacks, and Matt's total badass gardener.  It is all so campy, but lots of fun, inspiring several memes. Every week, I anxiously check online to see what twists the story takes next.
The only problem is that while it is bringing lots of attention to TNA...that attention is pretty limited.  It's never made me want to watch TNA programming or check out anything else going on the show.  They need to find a way to bring more of a spotlight to other things on the show, because right now, it just makes me really want to see Matt and Jeff come back to the WWE.  
Chris: I hear that TNA has been putting on some good shows of late.  The Matt and Jeff stuff looks like a trainwreck but I guess that's part of the point.  Both guys have done outstanding work in their careers, but Matt really seems to have stepped up his game in the later years of his career.  His ROH run inspired immense hatred from the fans and drew uber heat.  Wrestling is all about reinvention and both Hardys have been pretty great at that.
Mike: You have to watch it, it is definitely a trainwreck...but an intentional one.  It's some of the most fun promo work I have ever seen.  
Josh: His recent podcast with Jericho was amazing stuff. A straight hour of never dropping character. You could tell Jericho was trying not to lose it at points.