Cheap Pops - Wrestling News & Views - August 21, 2016
FTC Statement: Reviewers are frequently provided by the publisher/production company with a copy of the material being reviewed.The opinions published are solely those of the respective reviewers and may not reflect the opinions of CriticalBlast.com or its management.
As an Amazon Associate, we earn from qualifying purchases. (This is a legal requirement, as apparently some sites advertise for Amazon for free. Yes, that's sarcasm.)
Submitted by

Critical Blast Staff

on Sat, 08/20/2016 - 13:15
Mike Maillaro: Chris was going on vacation this week, but he did add in some SummerSlam Predictions before he headed off.
---
Return of Curt Hawkins!
Mike Maillaro: I had been hearing this rumor for a while, but on Smackdown this week, they had a great promo teasing the WWE return for Curt Hawkins.
They seem to be doing a Chuck Norris thing for him.
I have been fortunate to see Brian Myers (he wrestles in the indys under his real name) wrestle several times in the indys.  He is fearless in the ring and extremely talented.  To me, he was one of the most underrated talents the WWE has ever had.  
He's also a real nice guy.  After seeing him in a ladder match, my daughter rushed over to see him and ask if he was okay.  You could see Myers just wanted to find some place to sit, but he still took the time to talk to her and that meant a lot to her.
By the way, if you are in the New Jersey area, he's going to have one last WrestlePro match at the September 10th show.  He will be fighting his old friends and in-ring nemesis, Kevin Matthews.  These two have had some wars in the past, so if you are in the area, you need to check it out!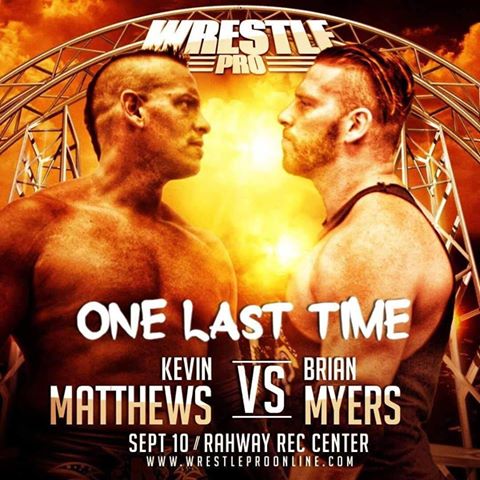 In one of the biggest feuds in recent years in which it was labeled "The worst of friends/The best of enemies" Its going to happen...

ONE LAST TIME!!!!

In Brian Myers first Post WWE match after his release at the Rahway Rec Center he went 1 on 1 with Kevin Matthews after that things escalated with Kevin Matthews and Lance Hoyt vs Brian Myers and Tyler Reks...

Brian Myers took thinks to an entire new level when introducing a Singapore cane to Kevin Matthews head.

The 2 went one on one in a brutal Singapore Cane match only upping the ante after that in a Insane Barbed Wire Rope Match...

Now before Brian Myers send off to WWE we return to the scene of the Feud…
---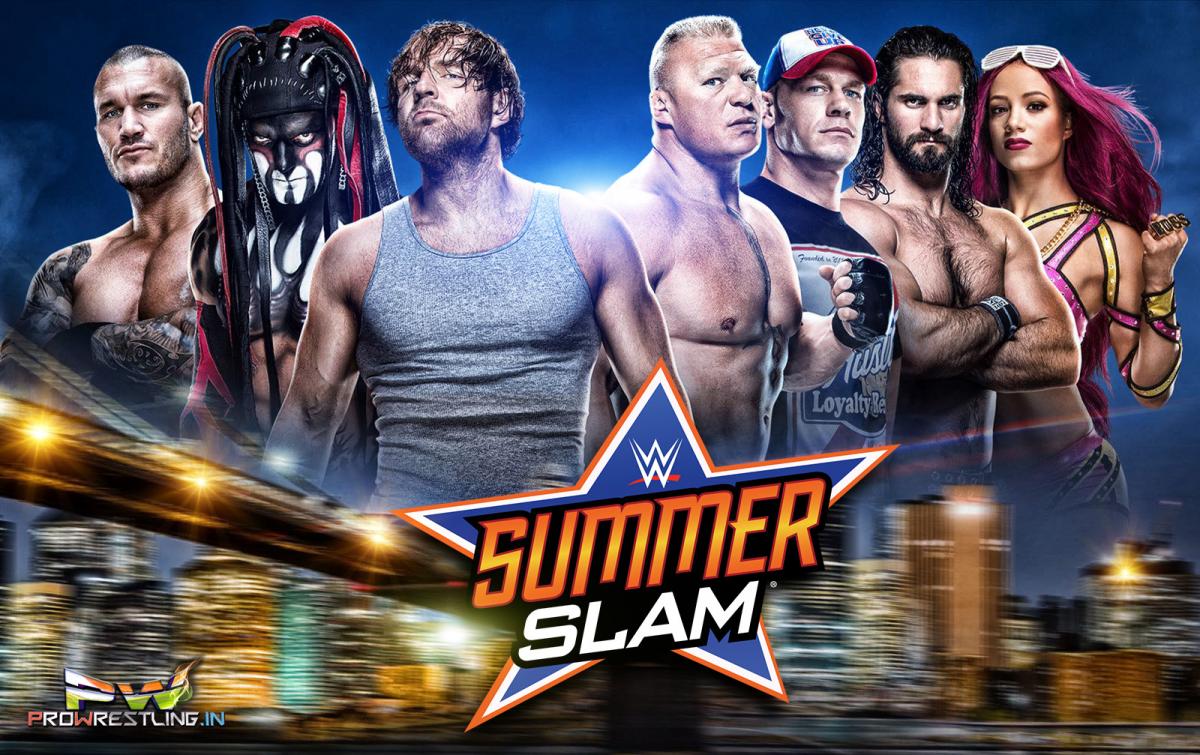 SummerSlam Predictions
Brock Lesnar (with Paul Heyman) vs. Randy Orton    
Chris Delloiacono: This is a match I had very little interest in seeing, but WWE has done an okay job with the build. Surprisingly, I've missed Randy and I'm glad he's back.  Absence does make the heart grow fonder.  It's hard to get too excited about anything Lesnar does, though.  Interesting how Dean Ambrose called him "lazy", but it's damn true!  If it's just going to be a bunch of stupid suplexes, well, who cares.
Here's hoping Orton gets the win.  Brock deserves to lose clean after getting popped in UFC for not fighting clean.  
Mike: Credit where credit is due, but WWE has done a pretty solid job building up SummerSlam the last few weeks.  I am not particularly a Brock Lesnar fan, and it sometimes feels like Orton is bored and just cruising along.  But, I do think they have build this match up well.  The WWE has talked a lot about the history of the two men, and the cross promotional work between the two brands has worked without feeling gratuitous.  
I am predicting that Brock will have a dominant showing, but Orton will steal the win with a RKO out of nowhere!
Chris's Prediction: Orton
Mike's Prediction: Orton
Finn Bálor vs. Seth Rollins     - WWE Universal Championship
Chris: Well, we finally saw The Demon on Raw!  Pretty cool moment.  There's no doubt in my mind that this will be match of the night.  It seems hard to imagine that Finn will lose his first high profile match, but it's also a stretch to see him as first Universal Champion.  My guess is Seth gets the win but Finn looks really good in the process.  I bet there's a disputed finish that keeps both gents looking strong.
Mike: Hate the name "Universal Champion."  But, this should be an excellent match.  Both guys have a lot of technical ability and can also fly.  Finn has never lost a match in NXT as the Demon, so I don't expect it to happen now.  I am going with Finn on this one, but I expect this feud may go on for a while.
Chris's Prediction: Seth Rollins
Mike's Prediction: Finn Balor
Dean Ambrose (c) vs. Dolph Ziggler    - WWE World Championship
Mike: This is another match that has had a terrific build up.  I have been a Dolph Ziggler fan forever, and I am glad to see him back at the top of the card.  Personally, I would love if WWE gave him the win here and got behind him for a big push, but history has not quite convinced me that the WWE will ever get behind Ziggler that way.  I do think this will be a great match, but I think  the title is going to stay around Ambrose's waist.
Mike's Prediction: Dean Ambrose
John Cena vs. AJ Styles    
Chris: This feud has been pretty entertaining, but I hope It's at the end.  I want to see Cena do the honors for Styles one more time and cement AJ as a true main event threat.  It's always stupid to pick against John Boy, but I think Ambrose and AJ are gonna feud over the strap next.  I'm gonna pick against Cena even though my brain says it's a boneheaded prediction.  If I wish it, perhaps it will come to pass!  
Yeah right.
Mike: I don't think Cena has ever not "gotten his win back" after losing to an opponent.  Like you said, this feud has gone on for  awhile, so this is probably the last match. As a result, I am saying Cena will take it.  I wish I was wrong about that, but history has shown time and time again that Cena does not lose feuds.
Chris's Prediction

: AJ Styles

Mike's Prediction:

Never bet against Cena in a final match.
Rusev (c) (with Lana) vs. Roman Reigns - WWE United States Championship
Chris: These are two guys that have become so stale.  Rusev has been horribly mismanaged ever since his feud with Cena.  I just can't get excited for him at all.  To be honest, this is a matchup of guys WWE blew it with.  I'm glad Reigns has been dropped to this spot on the card, because it suits him far better.  As far as both have fallen, I can't see Rusev winning.  Can Reigns have fallen so far as to lose to Rusev?  What do you think?
Mike: I actually have enjoyed this feud quite a bit.  Reigns definitely dropped down the card, but I think it's going to work out well for him in the long term. The crowd has been far more behind him.  Typically I would say that Reigns wins this one...but the two of them had a huge match on Monday with Reigns winning with a clean finish.  It was odd to have that match anyway, but you can't have that match end that way twice.  So I say Rusev wins the match, and this feud continues to the next PPV where Reigns gets the title down the road.
Chris's Prediction: Roman Reigns
MIke's Prediction: Rusev
Sasha Banks (c) vs. Charlotte     -  WWE Women's Championship
Mike: Definitely looking forward to this one.  Both women put on terrific matches, and they have always matched up well.  Glad that we are finally seeing this match on the big stage.  I don't see Sasha losing the title yet, but this match is going to steal the show!
Mike's Prediction: Sasha Banks
The New Day (Kofi Kingston and Xavier Woods) (c) vs. Luke Gallows and Karl Anderson - WWE Tag Team Championship
Mike: The lead in for this one has been strange…  Gallows and Anderson are great as heavies, but this story has given them a lot of speaking roles, and it just seems like a strange way to go with them.  Especially when they are up against New Day.  The "Ringpostitius" stuff has just felt like a bag homage to the Attitude Era.  I do think that it's likely the New Day won't be holding the titles much longer (it's already close to a year, and title reigns never last that long anymore), but I can't see them losing the titles to Gallows and Anderson in this situation.  
Maybe Big E interferes, giving Gallows and Anderson a DQ victory.  I also think they need to name a new leader to The Club...Gallows and Anderson don't feel like they can carry anything by themselves, in my opinion.
Mike's Prediction: Gallows and Anderson win by DQ.  
Enzo Amore and Big Cass vs. Chris Jericho and Kevin Owens
Chris: WWE loves to throw Jericho in some seemingly random tag teams.  I guess there's not much for either him or Kevin Owens to do right now, so the teaming is fine. And seriously, JeriKO is a pretty awesome name!  I imagine this will be a fun match where Enzo & Cass get the win.  You never know with WWE, though.  Maybe they have long term plans for JeriKO.  Still, I'm gonna go with my Tri-State brethren.
Mike: Enzo and Cass are not losing this one in their home town.  I can't see Owens getting the loss here, so they probably pin Jericho and it leads to a split between Jericho and Owens.  Again, the build for this match has been awesome!!
Chris's Prediction

: Enzo & Cass

Mike's Prediction: Enzo and Big Cass
The Miz (c) (with Maryse) vs. Apollo Crews - WWE Intercontinental Championship
Mike: Miz is a perpetual transition champion.  I am not saying that to be insulting, I love the Miz and I think he's brilliant in this role.  He always makes his opponents look great.  I do think it may be a bit early to put gold on Apollo Crews, but I do think he's going to take this one.  
Mike's Prediction:

Apollo Crews
Cesaro vs. Sheamus    Best-of-seven series match #1
Mike: I have no issue with Cesaro or Sheamus...but we've seen them fight over and over again the last few weeks.  They should have had a big blow off match at SummerSlam.  Instead we get the first in a best of seven series….SERIOUSLY??  That is just pointless to me.  Just locks these guys into fighting each other over and over again over the next several weeks (especially since they only appear on Raw).  
It doesn't particularly matter who wins this one, but Cesaro did have two wins over Sheamus in a row, so I am predicting Sheamus wins.  Actually, I see Sheamus going up 3-1, and then Cesaro running off three wins in a row like the Cavs just did.  That is a toal WWE thing to do.
Mike's Prediction: Sheamus.
Mike: There are a bunch of other multiple man (or women) matches to help fill out the card, but none of them really had any storyline going in, so I am just making quick predictions on those:
Sami Zayn and Neville def.  The Dudley Boyz
American Alpha (Jason Jordan and Chad Gable), The Hype Bros (Zack Ryder and Mojo Rawley) and The Usos (Jimmy and Jey Uso) def. Breezango (Fandango and Tyler Breeze), The Ascension (Konnor and Viktor) and The Vaudevillains (Aiden English and Simon Gotch)
Carmella, Becky Lynch and Naomi def. Natalya, Alexa Bliss and TBD