Cheap Pops - Wrestling News & Views - September 5, 2016
FTC Statement: Reviewers are frequently provided by the publisher/production company with a copy of the material being reviewed.The opinions published are solely those of the respective reviewers and may not reflect the opinions of CriticalBlast.com or its management.
As an Amazon Associate, we earn from qualifying purchases. (This is a legal requirement, as apparently some sites advertise for Amazon for free. Yes, that's sarcasm.)
Submitted by

Critical Blast Staff

on Mon, 09/05/2016 - 08:49
WrestlePro Sept 10, 2016 Preview
​Saturday, September 10 - Rahway, NJ WrestlePro will have it's biggest card yet! 
Pat Buck Vs Cody Rhodes

WrestlePro Title: Anthony Bowens Vs Bobby Wayward

Brian Myers Vs Kevin Matthews

CPA vs Grado

First Round Qualifying Trios-Pro Match: Aesthetic Males takes on Team Espanakos

Chris Avery Queling Vs Dave D-Struction

Sonjay Dutt vs Delroy Alexander vs Craven Varro

Matt Macintosh vs Johnny Clash

Habib Hasham Khan vs Dan Maff vs Mario Bokara vs Chris Payne vs Colt Cabana vs Alex Reynolds (winner gets match for WrestlePro Title)

Heavenly Bodies (Justin, Dustin, and Buster) Vs Taboo Crew and Fallah Bahh

Special Guests: Ric Flair, Swoggle (FKA Hornswoggle)
Chris Delloiacono: This is quite possibly going to be the biggest wrestling show ever in Rahway!  What a card!  Not to mention that the "THE STYLIN', PROFILIN', LIMOUSINE RIDING, JET FLYING, KISS-STEALING, WHEELIN' N' DEALIN' SON OF A GUN!", that's Ric Flair if you're from Pluto, is coming to town.
Seriously, Pat Buck has put together one hell of a show and Chad Minnes is doing stellar work with social media and outreach!  I've already met "The Nature Boy" but I'm pumped to get a pic and autograph with Cody Rhodes.   Geektime Entertainment https://www.facebook.com/geektimeentertainment/ is taking preorders for Cody and Ric. I'd say it's a good idea if you want to meet either or both!   Damn, I can't wait.
Mike Maillaro: Top to bottom, this is just one hell of a card.  It's got something for everyone.  
For old school fans, you get to meet Ric Flair.
If you are a WWE fan, you get to see Cody Rhodes in the main event.  And you get to see Brian Myers in one of his last matches just before he returns to the WWE.  
For indy wrestling fans (or fans of comedy in wrestling), you get to see Grado and CPA in action.  That match is just going to be ridiculous.  Can't wait for that.
If you're a WrestlePro fan, you have a huge title match between two former teammates.  Mark my words, you will be seeing Anthony Bowens and Bobby Wayward on a bigger stage in the very near future.  And I am really looking forward to seeing Dave D-struction back in action against the crazed Chris Avery Queling.  
Pat Buck taking on Cody Rhodes should be a hell of a main event.  Pat Buck wrestling Cody Rhodes in Cody's very first professional match, so this match has been a long time coming.  Cody Rhodes has long been someone I felt the WWE could do so much more with.  This match with Pat is going to blow the roof off the Rahway Rec Center.
First time I ever saw Kevin Matthews, he had an insane barbed wire match with Brian Myers.  So this is the perfect match before Myers heads back to WWE.  I expect the crowd will be giving Myers a hell of a send off.  He's been a key part of WrestlePro since day one.
Chris: The Myers/Matthews feud stole the show so many times.  The fact that this will be the last time they meet for quite some time, damn, I can't wait to see what they do.  They seriously could upstage Cody and Pat.  That's how good I'm expecting this one to be!
Mike: The Aesthetics Males Vs Coach D's new team is another match that could steal the show.  And I'm not just saying that because Coach D bribed me to say it!
My daughter Kira is pretty hyped for the show and wanted to jump in with some comments too.
Kira Maillaro: There are some really cool matches going on and I can't wait to see them!  This is going to be an awesome show.  WrestlePro is the best, and I always really enjoy being there.  Because everyone I like to see wrestling will be there!
Super Mario is back!!  And that six way match should be cool.  Any match with Danny Maff is crazy anyway!   
I'm glad that I get to see Brian Myers last match before he goes back to WWE.  He's fighting Kevin Matthews.  I don't want to see either of them lose!   We will be watching Myers when he comes to Smackdown!
---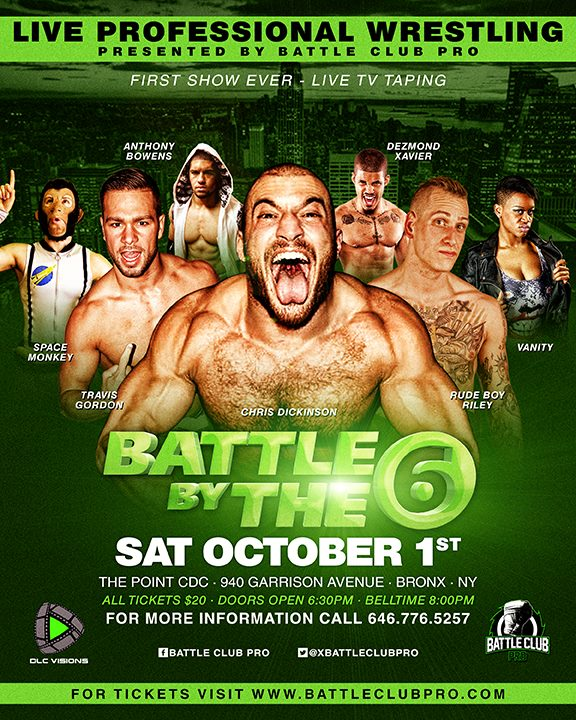 Battle Club Pro
Mike: In October, in the Bronx, there will be a new arrival on the "sports entertainment scene" with Battle Club Pro.  When I saw a lot of familiar faces from WrestlePro on the card, I reached out to them and asked if I could help get the word out about this show.  Check it out!
On Saturday October 1st, New York City will play host to a new arena; one that will test the guts of some of the most impressive athletes in the world. Independent wrestling is an environment teeming with competitors who carry big dreams, and employ various methods of achieving them; some noble, and others questionable at best. Regardless of their tactics, these men and women are all joining a club that aims to draw a bold line between the weak and the warriors. Welcome to the breakout brand of the Bronx, New York. Welcome to Battle Club Pro! Join us on 10|1 for our huge debut event AND TV taping, 'BATTLE BY THE 6'!
Matches announced
Smiley Lucha versus Travis "Flip" Gordon

Space Monkey vs Caveman

EYFBO vs Massage NV

"The Darius Carter Brass Ring Invitational"

Darius Carter vs Dezmond Xavior

Mike "Brute" Vanslyke vs "The Elite Athlete" Mike Orlando

Chris Dickinson vs Anthony Bowens
More card announcements coming soon.
Already announced
Anthony Bowens

"The Dirty Daddy" Chris Dickinson

Caveman

EYFBO

"The Fresh Prince Of Shaolin" Rude Boy Riley

Massage NV

"The Diamond Tiger" Kobe Durst

Space Monkey

Mike "Brute" Vanslyke

"The American Nightmare" Logan Black

"The Bad Apple"Matt Macintosh

E.A James

Nutrious X

Craven Varro

"The Elite Athlete" Mike Orlando

Travis "Flip" Gordon

Smiley

Damian Gibbs

Vanity

And more to be announced!
ALL TICKETS $20.00
For more information, check them out on Facebook.
---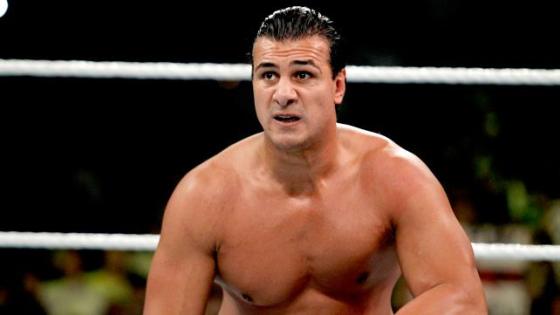 Alberto Del Rio to leave WWE?
Lords of Pain is announcing that Del Rio will not be returning to WWE once his wellness suspension is over.
Mike: I am not sure what anyone was thinking with Del Rio coming back to WWE (well other than I am sure they threw a boatload of money at him).  WWE has never seemed to quite know what to do with Del Rio. They constantly push him to the top (his first match back was a clean victory over Cena), then he just kind of flounders along.  I actually kept forgetting that he was even on the roster most of the time.  I did think it was hilarious that in true Cena fashion before Del Rio left, WWE made certain that his last match was Cena getting his win back.
The sad part of all this is that I thought Lucha Underground had been doing some cool things with Del Rio, but it seems like he might have burned that bridge.  I don't know him, but it often seems like Del Rio is pretty self-destructive.
Chris: I don't get what's up with ADR.  He always seems to be burning bridges and unhappy with his positioning.  Every promotion pushes him to the moon, yet he often is met with indifference by fans.  I personally loved his work, but I get why WWE lost interest.  The fans just didn't buy him as a main eventer.  I hope he gets another good run somewhere.  I'll be excited for it, but I don't know that most fans will care.
Josh Pollard: What a waste. I remember sitting there with you two when Del Rio turned up to beat Cena out of the blue and it was a complete "What the hell" moment. Then...yeah, absolutely nothing meaningful ever came of it. And Cena got the win back eventually in a match that meant nothing. He's a very good wrestler in a vacuum, but it seems like the crowd never bought into it much since they were never given a reason. He never should have lost Ricardo Rodriguez and the fancypants cars.
Mike: To me, the reason I think he can't connect with the fans is that he just feels like he doesn't care all that much. Even coming back to the WWE felt like a cash grab, not like something he needed to do. That passion for the business just isn't there.  I think that is why I feel such a stronger connection to guys like Zack Ryder and The Miz. You can tell they absolutely love what they are doing, even when they aren't getting main event shots every night.
---
Kevin Owens
Mike: So way back in the early days of this column, Chris, Jeff, and I debated the merits of Kevin Owens.  Chris and I happened to be big fans of Owens, Jeff not so much. While I like Finn Balor too, I was very happy that Kevin Owens ended up walking away with the Universal Title (with an assist from Triple H) this week.
One of the best parts for me, was the sheer joy from Kevin Owen's 8-year old son at seeing his dad win the belt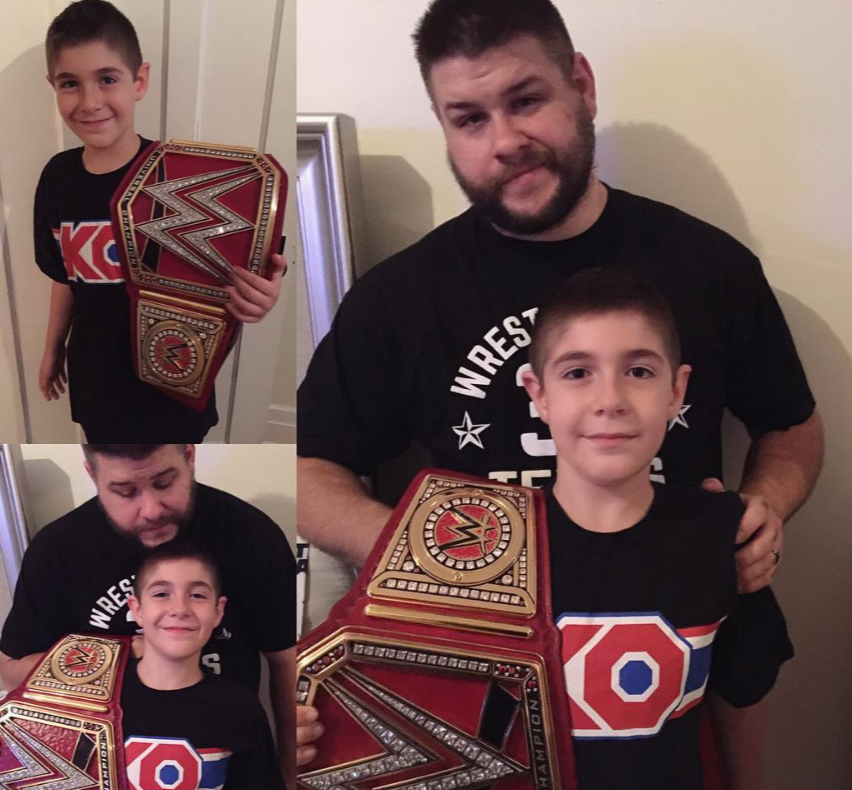 Kevin Owens has been working hard the last several years, and I am glad that he has reached that pinnacle of success.  Being honored this way by the biggest company in your profession.  I loved that the crowd started chanting "You deserve it" because Owens certainly does!  
The sad part of this is that I've heard people say things like "who cares, it's meaningless."  Which sort of completely misses the point of all this to me.  What is it about wrestling that brings out the worst in people who just don't get it?  Yelling things like "IT'S FAKE!"  I don't see them yelling that at other forms of entertainment, most of which have far less personal stakes than professional wrestling does.  No one felt the need to snatch the Oscar away from Leonardo DiCaprio and tell him "you weren't really attacked by a bear." And Owens' work is far more risky than pretending you are attacked by bear…
Chris: Wrestling is odd because it's not a true contest to determine the "better" athlete.  It's really an athletic performance of skill and derring do.  The best man/woman doesn't always win, yet hard work and skill, like any sport, are the cornerstones that make a great wrestler.  Kevin Owens may not have won a "real" sporting contest, but he most certainly earned the top prize on RAW.  That's what athletes do, earn the awards they receive.
Mike: Kevin Owens works hard.  Is a terrific family man.  And plays a heel character brilliantly.  To me, guys like Owens are exactly what this business should be all about. Congrats to the Steen family, and keep being that excited, Owen!! That joy is a true gift!
Jeff Ritter: Kevin Owens may never look like my vision of what a top hand or World Champion should look like, but his work rate, repertoire and mic skills have made me a believer. I'm excited to see what he can do at this level, and the journey of Kevin Steen deserves this moment, as do his biggest fans, namely, his family. Internet trolls will always be there. Hopefully they sit at ringside and they get caught by an errant chair or sledgehammer.  
Josh: Owens is always interesting to me in that he's one of those guys that has to try *really* hard to even be booed, else the crowd just wants to cheer him by default. He's that good at what he does. That said I frankly never would have seen this title reign coming (ten years of Cenamania may have dulled me to actually interesting WWE champions), but now that it's here, yeah. This guy deserves it entirely.