Cheap Pops - Wrestling News & Views: September 25, 2016
FTC Statement: Reviewers are frequently provided by the publisher/production company with a copy of the material being reviewed.The opinions published are solely those of the respective reviewers and may not reflect the opinions of CriticalBlast.com or its management.
As an Amazon Associate, we earn from qualifying purchases. (This is a legal requirement, as apparently some sites advertise for Amazon for free. Yes, that's sarcasm.)
Submitted by

Critical Blast Staff

on Sun, 09/25/2016 - 12:41
Clash of Champions Predictions
Mike Maillaro: Only two weeks after the Backlash, WWE is back with another PPV, this time the Raw brand is doing Clash of Champions.  I will say I love that they are using that name!  Tons of history there (yes, I know it was Clash of The Champions).  Never occurred to me that they should have used that instead of the terrible name, The  Night of Champions, which they had been using the last few years.
Chris Delloiacono: The early Clash events are some of my favorites of all time.  Sting vs. Flair in the 45-minute draw, Flair vs. Steamboat 2 out of 3 falls, and for some reason, Barry Windham vs. Brad Armstrong are immediate favorites that I just smile when I think about.  Here's hoping this new version will give me some great memories 30 years down the line.
Alicia Fox vs. Nia Jax    
Mike: Alicia Fox is proof that seniority means very little in WWE.  She's been with the company doing excellent matches for a long time, but she's dumped on the pre-show to get squashed by Nia Jax.  Alicia Fox was doing non-Diva women's wrestling long before the Diva Revolution, and it's a shame she has never been given any credit for that.  I have no real issue with Nia Jax specifically, I just hate unbeatable monsters.  It's not what I watch wrestling for.
Chris: You said it!  WWE has horribly underused Fox over the past few years, and to have her be a curtain jerker in a squash match...shame on WWE.
Josh Pollard: Fox is both a pretty good wrestler and she's funny doing the psycho person thing. Nia is...Nia. Never been overly impressed. She'll win here because as said, WWE never does anything with Alicia.
Mike's Prediction: Nia Jax
Chris's Prediction: Nia Jax
Josh: Nia Jax
Kevin Owens (c) vs. Seth Rollins - WWE Universal Championship
Mike: I wonder if nine years ago when these two fought in Ring of Honor they ever thought they would be fighting for a world title on a WWE PPV.  Granted it's not THE WWE title, but since it's the Raw title, you can definitely argue this is the flagship title.  
I'm a fan of both of these guys.  I think it's too soon to pull the title off Kevin Owens, but it is also possible they may go back and forth with the title a few times.   I think I'm going to go with Owens keeping the title a little longer, if just so he can have a huge title match with Sami Zayn in the coming months…
Chris: Owens has to keep the title.  Even though he got the belt after Finn Balor's injury it would be stupid to swap the strap again.  The Universal belt is brand new and needs to gather some luster with a strong reign (and by God, not a Roman Reigns).  I'm sure Rollins will get screwed, which will further cement his face turn.  Which I'm hoping leads to a Shield redux in the coming months--maybe at the dual brand Survivor Series.
Josh: Yeah, it is way too early for Owens to lose the belt at this point. Way more mileage out of him trolling everyone and hanging on to it for ages.
Mike's Prediction: Kevin Owens
Chris's Prediction: Kevin Owens
Josh's Prediction: Kevin Owens
The New Day (Big E, Kofi Kingston, and/or Xavier Woods) (c) vs. Luke Gallows and Karl Anderson -  WWE Raw Tag Team Championship
Chris: I don't know how they did it, but WWE has made me not care in the least about Gallows and Anderson.  The whole doctor crap and all the losing makes them a big joke.  That said, it's probably time to take the belts off of New Day.  I'm sensing a change here.
Mike: Yeah, splitting them off from AJ was probably a huge mistake.  These guys just can't stand on their own the way they are set up in WWE right now.  Maybe the intention was to put them with Finn Balor, which could have been interesting in itself, but then Finn's injury wouldn't allow for that.  
To me, that is one of the biggest problems the WWE has right now.  They seemed determined to gobble up every viable talent they can find...and don't always seem to have any idea what to do with that talent.  It's going to result in a lot of great talent just being lost in the shuffle.  I do think it may be time to take the belts off New Day, but I would be very surprised if they put them on Gallows and Anderson at the moment…
Josh: I feel like the wheels fell off of Gallows and Anderson when, shock of shocks, they became Cena fodder and he was beating them with no effort at all during the AJ stuff. Since then it's just become apparent that WWE has no idea what made them good in the first place. That said, I still see them winning here just because New Day has been champs forever.
Chris's Prediction: Gallows & Anderson
Mike's Prediction: New Day
Josh's Prediction: Gallows and Anderson
Charlotte (c) vs. Sasha Banks vs. Bayley - WWE Raw Women's Championship
Mike: If they give this match some time, it can be a great match.  To be honest, I haven't quite seen any WWE Women's matches on the level of the great matches we got in NXT, even featuring the same talent.  I don't know what it is, but something just isn't quite the same on the main roster.  We are getting plenty of very good women's matches, but in NXT those same wrestlers were doing great matches that stole the show.  
The old Divas title tended to get bounced around a lot, but I am thinking they want to get some longer title reigns here.  I am thinking Charlotte will hold onto the belt.
Josh: Bayley being tossed into this gives me the odd feeling she's taking this in a surprise. Or maybe she and Sasha cost each other the win and that whole thing is resparked. I dunno, I really just want Emma to come back and steal back Dana.
Chris: I can't wait for Emma to come back either!  Hopefully it's soon and not in the Alicia Fox type role.  I want her to be in the title picture.  
As for this match, Sasha gets hurt a lot, so I doubt they'd give her the belt again right now.  Bayley is getting a great reaction, so she's made a successful transition to the main roster.  It comes down to Charlotte who seems to be the star that's going to headline for years to come.  I just don't see them taking the belt off her right now.
Mike's Prediction: Charlotte
Josh's Prediction: Bayley
Chris's Prediction: Charlotte
Sami Zayn vs. Chris Jericho    
Chris: Jericho is still very entertaining, but this match has to be setting up a title shot for Sami Zayn against Kevin Owens.  Zayn makes perfect sense as the challenger for a couple months during the fall.  I love Sami, but I don't see him as a longterm top of the card guy.  This is the season for someone like Sami to headline.  I'm hoping he will give us some fun main events against Owens in the coming months, but it's got to start with a win over The Ayatollah of Rock 'n' Rollah!
Mike: For the most part, I have liked what they have been doing with Jericho since his return.  His friendship with Kevin Owens has been hilarious.  Totally agree with you. This match is a stepping stone for Owens Vs Zayn for the WWE Universal Championship.
Josh: Kind of hard to pick, since Jericho rarely ever wins anything of note, but then sometimes he'll win things out of the blue like beating Styles at Wrestlemania. Also I'm starting to doubt they're really going to latch onto Sami as a big thing, as much as they really should. Eh, still wins this though.
Chris: I agree with you, Josh.  Sami will get a short main event run, but I don't really ever see him winning the strap.
Chris's Prediction: Sami Zayn
Mike's Prediction: Sami Zayn
Josh's Prediction: Sami Zayn
6    Rusev (c) (with Lana) vs. Roman Reigns    - WWE United States Championship
Mike: Maybe I am just being ridiculous, but I am still annoyed that this match didn't happen at SummerSlam, especially when the feud seemed to get sidetracked by the Universal Title.  At this point, I just don't care who wins the match.  Last time I predicted Rusev would win at SummerSlam with Reigns winning the title down the road. Well, we are some down the road, so I guess I have to go with Reigns.
Josh: I reaaaaaaaally hope Rusev wins this as he's pretty much the most underrated guy imaginable. Even when WWE is the pits, if Rusev's on screen it's probably going to be tolerable for the moment. He won't though, because Reigns.
Chris: This is such a snooze.  I just can't get into this feud at all.  Rusev has been meaningless since losing to Cena and that abysmal program with Ziggler.  As for Reigns, I don't hate but I'm totally uninterested when he's on my tv.  I would be happy if they ended up not wrestling again.
Mike's Prediction: Reigns
Josh's Prediction: Reigns
Chris's Prediction: Reigns
7    Cesaro vs. Sheamus - Seventh match in a best of seven seriesSeries tied 3-3
Mike: Way back when this long national nightmare began, I had predicted that Sheamus would go up 3-1 and Cesaro would rally back to tie it up.  It ended up being 3-0, but close enough for government work. I want to make it clear.  I like Cesaro.  And Sheamus was one of my favorite wrestlers when I started watching again a few years ago.  In fact, Sheamus was the first wrestling shirt I had bought in over ten years.  
I also think they match up very well together.  But we have seen them in at least 9 singles matches over the last month and a half or so.  It's a bit much.  Especially since there doesn't seem to be any real stakes on this one.  I have predicted Cesaro would rally back to win from day one, so sticking with that.
Chris: I get that they're trying to do something important with these guys, but this just doesn't matter in the least.  More than likely, neither guy will build any foreseeable momentum off the series.  I'm a fan of both but Cesaro is the guy I want to see get involved on top.  Mainly because we haven't seen him there before.  Sheamus has been a headliner numerous times and yeah, no more of that.  He should be a stepping stone at this point.  So, Cesaro by all rights should be stepping on or over the Blarney Stone!
Josh: I still like Sheamus just fine, really. He's just yet another guy spinning his wheels forever and never doing anything of note. They somehow manage to do even less with Cesaro though, so I predict this comeback story ends with Sheamus and his mighty troll kick of death.
Mike's Prediction: Cesaro
Chris's Prediction: Cesaro
Josh's Prediction: Sheamus
T.J. Perkins (c) vs. Brian Kendrick - WWE Cruiserweight Championship
Mike:  Things in the WWE can change so quickly.  Brian Kendrick wasn't even on WWE TV last week, but he made such a splash during the Cruiserweight Classic, he's got a title shot at Clash of Champions.  Both of these guys impressed me during the CWC, and this should be a great match.  There are quite a few matches on this card that can be great, but I think it's very likely TJP and The Brian Kendrick are going to tear the house down.
I kind of wonder if they aren't using this match to "change" history and put the title around Brian Kendrick's waist...I think I will go with Kendrick for the win, but I can see it going either way.
Josh: Ha, this is one of those matches where there's no way I can see the new champ losing so incredibly quickly, but in the span of a few matches Kendrick has proven to be amazing. He just told such a story in the CWC, going from beloved comeback hero to veteran willing to do incredibly vicious stuff to *guarantee* his comeback was not going to be foiled. So I pick Kendrick just because of personal bias.
Chris: Normally I wouldn't predict a title change so quickly, but I think the Cruiserweight Title may get hot shotted around quite a bit.  Kendrick definitely is working on an otherworldly level right now.  I'm going to agree with you both...new champ!
Mike's Prediction: Brian Kendrick

Josh's Prediction: Brian Kendrick

Chris's Prediction: Brian Kendrick
Chris: Well, we picked the same winners in almost every match.  I wonder if the product will be so predictable, or if we are due some big surprises.
---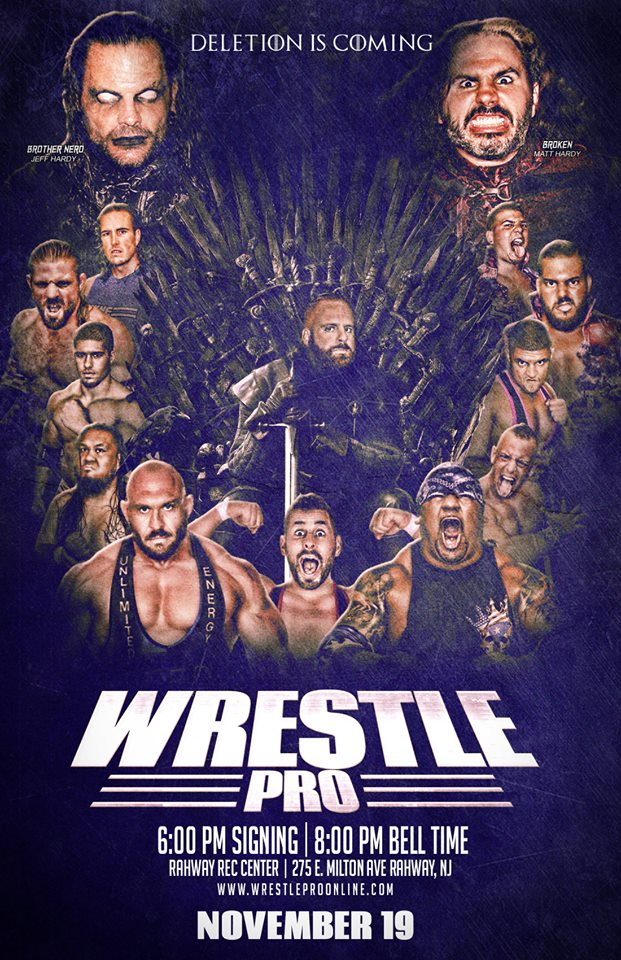 WrestlePro - November 16 Tickets now on sale!
Chris: You know, life has gotten in the way of me attending the last few WrestlePro shows, but there's no way I'm missing this one!  I'm excited to see Ryback and the Hardyz, but I'm more excited to see Pat Buck, Kevin Matthews, Mario Bokara, Anthony Bowens, Bobby Wayward, and the rest of the promotions regulars.  They put on epic shows every time out, and this should be awesome.  Plus, it's a week before my birthday, so that's a pretty cool way to start celebrating!
Mike: I am not even a Game of Thrones fan, but I just loved this poster and the promo video they did for this upcoming show.  
I can't say this enough: WrestlePro is my favorite wrestling company.  I am excited for the chance to meet Ryback, Broken Matt, and Brother Nero, but even if none of those guys were there, I pretty much never miss a WrestlePro show, especially at their home base in the Rahway Recreation Center. 
For ticket info, and others shows, check them out on Facebook (where they just broke 20K followers) and at http://www.wrestleproonline.com.