WrestlePro Show Results and Review - November 19, 2016
FTC Statement: Reviewers are frequently provided by the publisher/production company with a copy of the material being reviewed.The opinions published are solely those of the respective reviewers and may not reflect the opinions of CriticalBlast.com or its management.
As an Amazon Associate, we earn from qualifying purchases. (This is a legal requirement, as apparently some sites advertise for Amazon for free. Yes, that's sarcasm.)
Submitted by

Critical Blast Staff

on Wed, 11/23/2016 - 08:32
It's been a hell of a first year for WrestlePro!  Every month they continue to grow, and the November 10 show was insane.  The Rahway Recreation Center was packed.  It might have been the biggest crowd I've seen at a WrestlePro show.  
---
Results (you should also read Dave D-Struction's recap): ​
Pre-Show - Amazing Graysons defeated Wrestlepreneurs

CPA def Habib

Team Espana and Niko Rikos def. Realty Check and JTG.  After the match, Coach Dylan Stiffwood took a Ego Driver from that sore loser Kevin Matthews.
Colt Cabana Def Delroy

Chris Avery Quelling def. Giant Leather

WrestlePro Title- Bobby Wayward def. Danny Maff (with some referee shenanigans).  After the match, Danny Maff demanded answers.  When security tried to remove him, he destroyed security, not to mention WrestlePro staff at ringside.  Pat Buck came out to confront him, and Danny Maff stormed off, smashing some chairs and tables on the way out.

Marie Antoinette def. C-Bunny.   

Taboo Crew def. Beach Bums

Apple Corps def. Aesthetic Males.  During the match, the Hot Dog Man from Hot Dog Land tried to get himself booked for a future show.  

Mario Bokara won a fatal four way with Crowbar, Anthony Bowens, and Bull James.  During the match, Quelling came down to attack Bowens and dragged him off to the back.  After the match, Bokara challenged Cody Rhodes to a match at the February 10 WrestlePro show in Starland Ballroom.

Broken Hardys, Pat Buck, and Ryback def. Heavenly Bodies, Buster Jackson, and Chris Payne in a Ultimate Deletion Elimination Match.
Mike Maillaro: Top to bottom, this was a solid show.  A few weeks ago on his Podcast, Pat Buck had mentioned that he had been turning more of the booking over to Kevin Matthews.  The combination seems to work really well.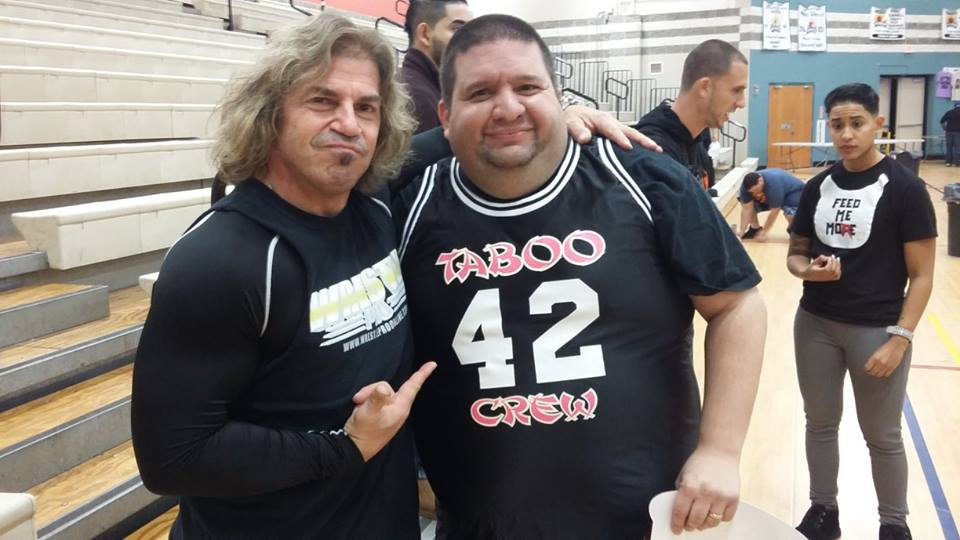 We were pretty good picks on our prediction thread a few days ago.  I only had one wrong, picking C-Bunny over Antoinette.  Both of my colleagues had no faith in Coach D leading his boys to victory.  For shame.
Before the show, we got to meet The Hardys and Ryback.  Hardys were pretty much exactly what you would expect.  They were cool and funny, and mostly kept it in character.  They had a non-stop line pretty much the 2 and a half hours before the show started, and they managed to keep high energy the whole time.  
I told Ryback how much I enjoyed his podcast, and we talked a little about how various wrestling sites seem to obsess over every off-hand comment he makes on the podcast.  He is nothing at all like you would have expected from his time in WWE.  If you ever get the chance to meet or see Ryback in action, definitely take advantage of.
I also got to meet the Beach Bums, a fairly new team in WrestlePro.  They were a lot of fun to hang out with while I waited on line for the Hardys.  
All right, I've talked enough.  What say you guys?
Josh Pollard:
I'm just gonna start out by saying that I loved the Beach Bums setting up shop right by the giant line to the Hardys and ambush selling people. Mike got a bracelet. ;)
Just a great show all the way through. Kind of surprised by some of the results (C-Bunny losing took the wind out of the crowd. And Espana over Matthews and Varro surprised the hell out of me), but the matches were good.
Chris Delloiacono:
You guys hit some great points already. I just want to piggyback on the mention of the Beach Bums who are a fun team. The WrestlePro CAP dojo continues to pump out promising talent. It's amazing!
The newer talent I'm most excited for are the Apple Corps. How awesome are Valero and Max Feinstein? Max is especially adept at heeling it up and getting great reactions from the crowd. I can't wait to see what's next for them!
Overall the show was a blast, like always! They set up some cool things for the future but most importantly gave the fans a fun night of action. That's really what it comes down to for me. I know every time I come out to a WrestlePro show, I'm gonna have a lot of fun and it's going to be a highly interactive experience. You can't easily beat the value!
Mike:
As for the matches themselves, my pick for match of the night was Danny Maff Vs Bobby Wayward.  It was a great match with some back and forth.  Maff mostly dominated, getting screwed over by a "evil ref" in the end.  Afterwards, Maff went crazy destroying everyone in sight, including a ring girl who happened to get in his way and got a Burning Hammer for her trouble.   I have said many times that on a good day, Maff scares me.  Saturday was not a good day for him, and people paid for it.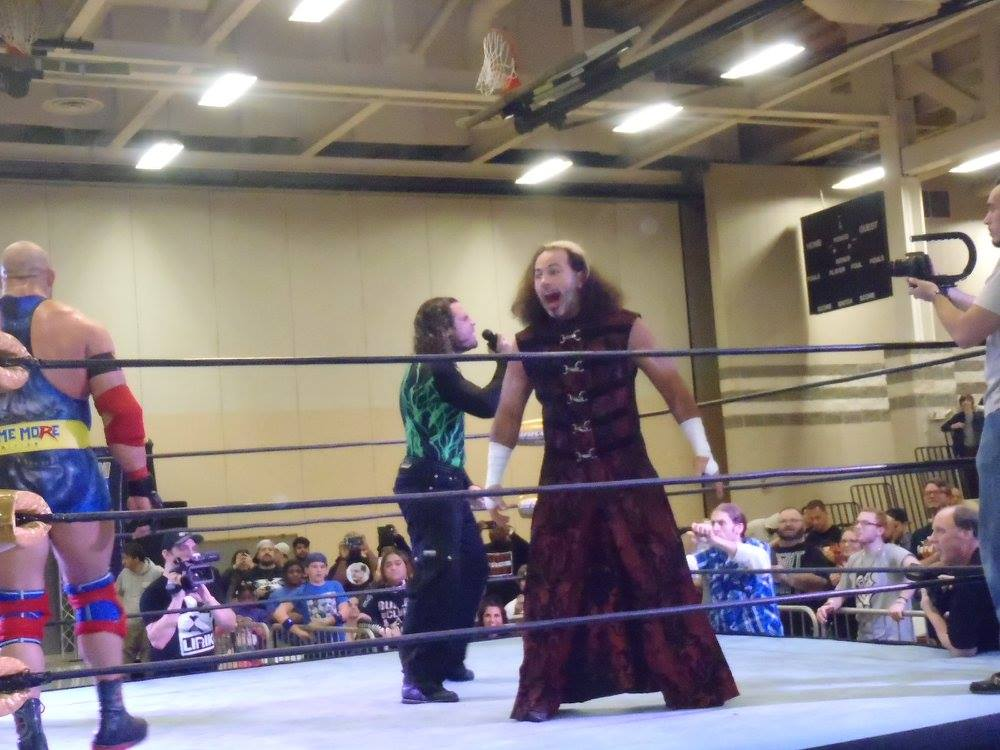 The main event was a lot of fun.  The Hardys are still very entertaining, and we got to see Ryback do far more than they ever let him do in the WWE.  Who knew Ryback could do some high flying!  Huge respect for The Big Guy.  I will say as a "Pat Buck Guy," I was kind of bummed out that he was the only one of the good guys to get eliminated, but that is exactly the type of guy Pat is.  He understands the business and what is best for telling the story of a match.  It's never about his ego.
I also loved the four way match, with Mario Bokara defeating my daughter's nemesis Crowbar.  After the match, Mario made a challenge for Cody Rhodes for an upcoming show.  That should be a hell of a match!
Honestly, there wasn't a bad match on the card.   I was pretty pumped from the pre-show match (which seemed added in a hurry because the Hardys had a line until well after the show was about to sign), which showed off some relatively new talent to the final bell.   
Another thing I liked about this show was the use of video backstage segments to help move the storylines along.  This made it feel like a real big time show, which WrestlePro should be.  Though the sound quality in the Rahway Rec Center sometimes made the segments hard to hear (though that might have been purely me, my hearing has always been screwy thanks to a lifetime of ear infections).  
Josh:
Nah, the audio was wonky for me too. Rec Center apparently turns everything into echoes.
The line for the Hardys was completely nuts. I do not remember it being that crazy for Ric Flair, and that's goddamn Flair.
I am just bummed out that he wasn't wearing it when we got a picture with him earlier in the night!
Josh:
Quelling vs Leather was probably my favorite thing to see, just because those are two guys who clearly give no fucks about beating the crap out of each other. Sort of surprised at the ending, although Leather has turned into Kane where he loses more often than he wins. Still, it was kind of weird seeing Quelling just clobber the giant monster in the head, 1-2-3.
Incidentally I love Quelling's finisher way too much. A lariat to the back of the head is simple and oogly.
Mike:
One last comment from me (and this has sort of been a tradition since my first "PWS" results). I wanna call out the audience members who annoyed me at this show:
First of all, we had the guy sitting behind me during the women's match saying that the only way women should be involved in wrestling is by wearing bikinis and hold up round cards.   Real classy.
And special shout out to the oh so clever people chanting "CM Punk" during the Colt Cabana and Ryback matches.  Seriously? People read some dirt sheets and they think they are experts about the business.  Get over yourselves and show some respect for the performers in the ring.
Josh:
Although it was kind of amusing that the CM Punk guy got booed down really damn quickly. Colt's reaction was pretty great too. "He's here!?"
---
January 7
- WrestlePro returns to the the Columbian Club in Union for it's first show of the year.  Swoggle will be there, and if you buy four tickets, you get a free event poster.  This is an awesome deal, as I LOVE the WrestlePro posters!  More info to come!
February 10 -
WrestlePro makes it debut at the Starland Ballroom!  Brian Cage, Ryback, Cody Rhodes, Sexy Star, and Taya!
March 30 -
WrestlePro heads to WrestleCon in Orlando for Wrestlemania Weekend!  Already announced, Ryback, Cody Rhodes, Colt Cabana, Bull James, Swoggle, Grado, bWo, Sonjay Dutt, Sexy Star, and Taya