WrestlePro - Blood, Sweat, And Barbed Wire Preview
FTC Statement: Reviewers are frequently provided by the publisher/production company with a copy of the material being reviewed.The opinions published are solely those of the respective reviewers and may not reflect the opinions of CriticalBlast.com or its management.
As an Amazon Associate, we earn from qualifying purchases. (This is a legal requirement, as apparently some sites advertise for Amazon for free. Yes, that's sarcasm.)
Submitted by

Mike 'Ace' Maillaro

on Tue, 10/10/2017 - 13:11
Before I start, WrestlePro Owner Pat Buck has launched his own podcast, The Pat Buck WrestlePro Show.  His old show, "The Pat Buck Show," was actually the first podcast I ever listened to (and these days I listen to way too many podcasts these days, so I guess you can blame Pat for ruining my life). 
The first episode is features a terrific interview with Impact's Fallah Bahh, plus some great insight into the training aspect of wrestling.  
Full Disclosure: I help out with research for The Pat Buck WrestlePro Show, but I would be a listener even if I wasn't working on the show.  
---
WrestlePro is back in the Rahway Rec Center for one of their biggest shows this year, Friday, October 13 - Blood, Sweat, and Barbed Wire!  Lots of fun guests for this one including Al Snow, The Spirit Squad, the Million Dollar Man, Joey Janela, and Sonjay Dutt.  Not to mention the always great WrestlePro regulars!  Tickets are on sale at WrestlePro Online.
Here's your full preview of the ten matches that have been announced!
---
Barbed Wire Match Pat Buck Vs Dan Maff - Loser is banned from wrestling at WrestlePro in future.
I can't do this match nearly as much justice as the video WrestlePro put out last week...
This feud has been amazing.  I especially liked how in the two singles matches, we've seen a certain role reversal.  Pat is usually the ring tactician, and Danny is usually pure chaos unleashed.  But, Pat won a brutal "Maff's Madness match" by throwing Maff onto some cinderblocks.   Last match, Maff managed to outwit Pat Buck by handcuffing him to a cage to allow Maff to escape and get the win.  
So now to settle the score, we get one last match.  Barbed Wire...loser no longer is allowed to wrestle in WrestlePro.  The only way to stop this war is for one man to be gone entirely.  It's going to be one hell of a crazy match.   I really have no idea who wins this one.  I don't want to see Pat or Maff off the active roster.  I will be wearing my Pat Buck shirt to the show...so to be fair and balanced, I will pick Maff to win.  Personally, I just hope neither guy gets seriously hurt/...
My Prediction: Danny Maff
---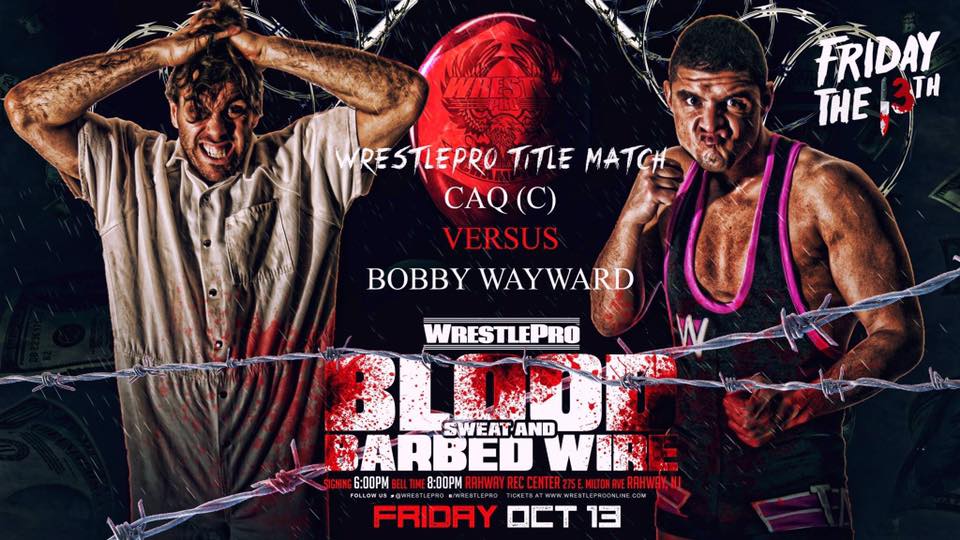 WrestlePro Title March: CAQ (c) By Bobby Wayward
One thing I really love about WrestlePro is that they build up their storylines really well.  Just behind Pat Buck and Danny Maff, the next best story has been Bobby Wayward's rise to power, using guys like Chris Avery Queling and JOB Security.  At the last Rahway show, CAQ was tired of playing second fiddle and took on the boss, defeating him to a huge pop from the crowd.  
Bobby Wayward always comes in with a plan...but I think that title will be around CAQ's waist for a while.  
My Prediction: Chris Avery Queling
---
Fallah Bahh/Mario Bokara vs Apple Corps (c)  - WrestlePro Tag Titles
Mario and Fallah are my daughter's two favorite wrestlers.  I do love those guys, but at the end of the day, I will always be #AppleCorps4Life.  My daughter is already mad at me about this match. WrestlePro...bringing families together while tearing them apart.
Still, this match will feature 4 of WrestlePro's best, and it is going to be one of the best matches of the night, no doubt.  
My Pick: Apple Corps for Life!
---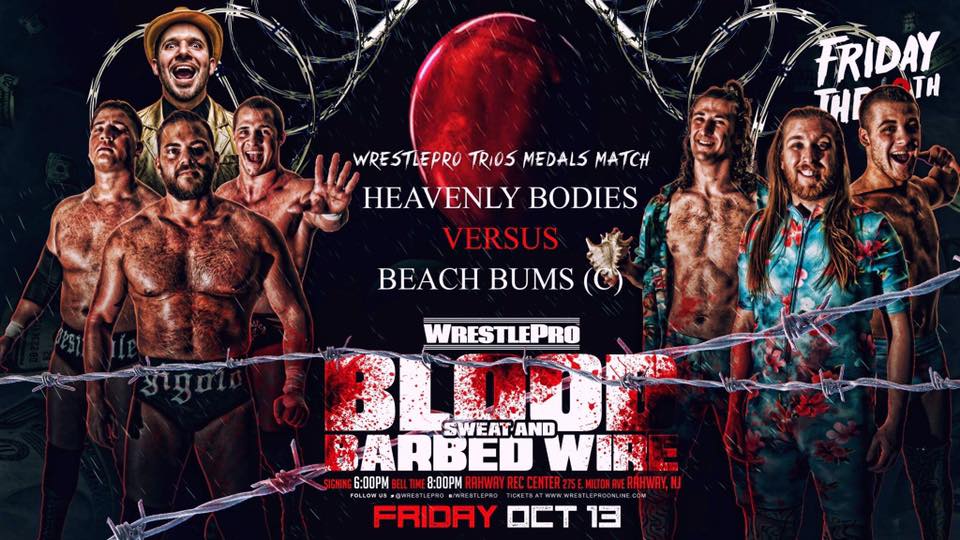 Trios Medals Match - Heavenly Bodies Vs Beach Bums (c)
It's like Night of Champions with all of the WrestlePro Titles being defended at this show.  I like the Beach Bums, but with Shining Edward Jackson in their corner, you can never count out the Heavenly Bodies.  I think they will be claiming new gold on Friday
My Pick: Heavenly Bodies
---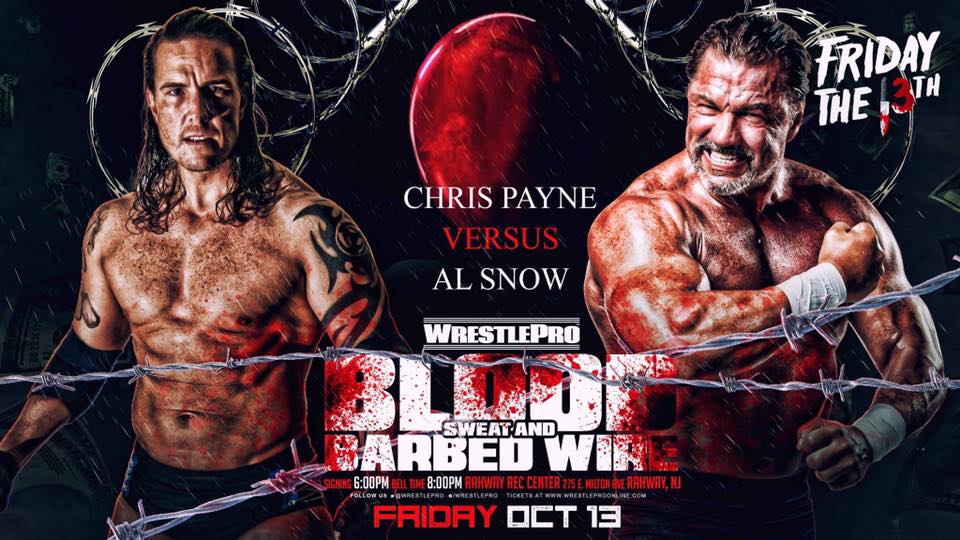 Chris Payne Vs Al Snow
Al Snow is a wrestler I have always felt was horribly underrated. Most people think of him as a hardcore wrestler, but he had a ton of technical prowess too.  One of my all-time favorite pure-wrestling matches was an obscure match between Al Snow and Val Venis on Sunday Night Heat years ago.  My wife is attending her first wrestling show in like 15 years just because she wants to see Al Snow live again.  
Chris Payne is a great opponent for Al Snow.  I am going to give Al the edge here, but I would not be surprised to see Payne take the win.  Either way, this should be a real fun match to watch. 
My Pick: Al Snow
---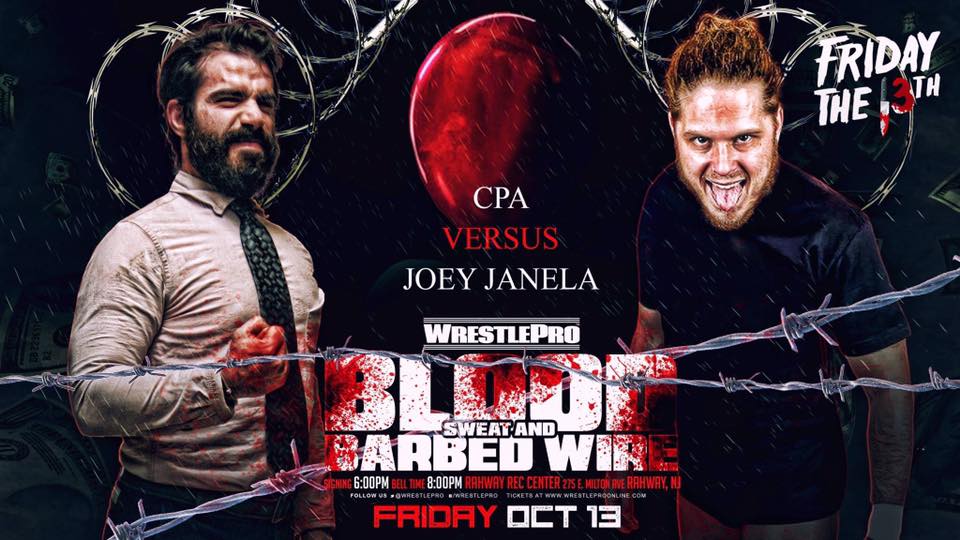 CPA Vs Joey Janela
Joey Janela in a real short period of time has become one of my favorite indy wrestlers. In just the last few months at WrestlePro, he's had show stealing matches with Tommy Dreamer and Coach D.  He seems to bring out the best in all of his opponents.  CPA always puts on an entertaining match.  
Put these two together, and you have the potential for a really bizarre match that should surprise people.  This is going to be hard fought, but I think CPA will end up somehow stealing the win here.  
My Pick: CPA
---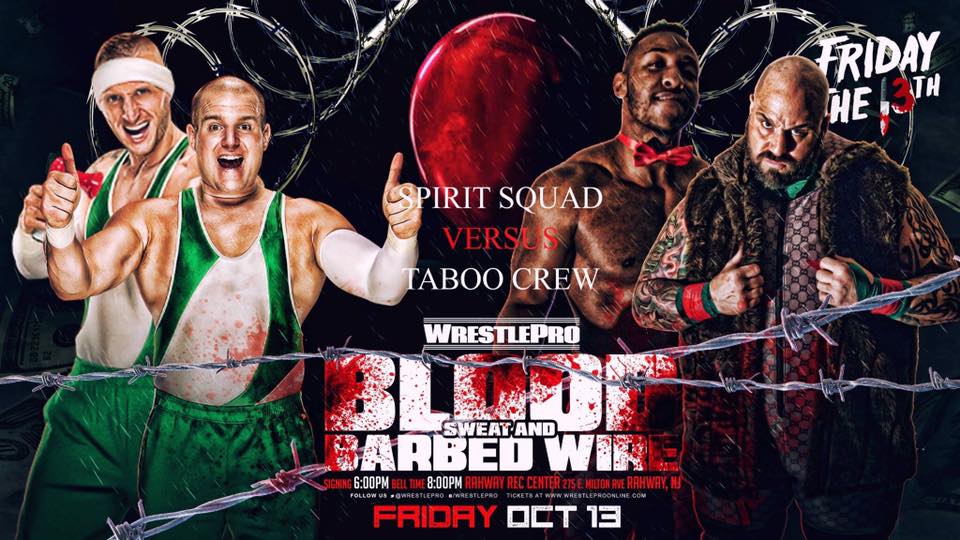 Taboo Crew Vs Spirit Squad
Taboo Crew's manager Gino Gotz said it best, the only cheerleaders the Taboo Crew like are cute women wearing short skirts.  The Spirit Squad have a pretty cool schtick, but they don't stand a chance about The Big Deal and MJ.  
By the way, Gino Gotz has a new podcast over on The Shining Wizards Network.  The first episode aired two weeks ago and featured a great interview with Kasey Catal.  Word around town is that the next episode (October 11) will feature GOD HIMSELF, Danny Maff!  
My Pick: Taboo Crew
---
Kevin Matthews Vs Habib Vs Johnny Clash Vs Talon Vs Sonjay Dutt Vs Nikos Rikos
One trademark of WrestlePro has always been their awesome six-man matches.  I kind of miss the "Suicidal 6-Way Title" they had back when Pat and company were back in Pro Wrestling Syndicate.  These matches are a great way to feature a lot of talent, including guys you don't normally get to see at WrestlePro.  There is a lot of great performers in this match.  I would love to see Johnny Clash end his losing streak here...but that probably won't happen...I think I'm going to go with KM here. Ego Driver on poor Clash.
My Pick: Kevin Matthews
---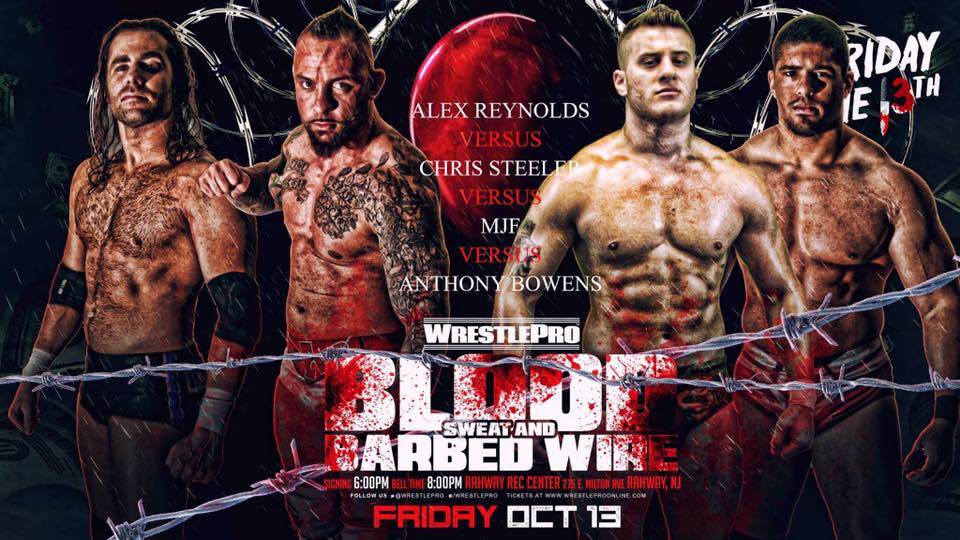 Alex Reynolds Vs Chris Steeler VS MJF Vs Anthony Bowens
This is a pretty random match.  Nice to see MJF back in WrestlePro.  
I think Bowens is taking this one.  Bowens deserves to be back in the WrestlePro title picture, and this match is just a stepping stone to get him back doing bigger things.  
My Pick: Anthony Bowens
---
Team Espana Vs Big O and Mike Verna
I was a big fan of "Z! True Long Island Story," so I know about the Big O, but I have never seen him wrestle.  WrestlePro brings in a lot of great talent, so Big O/Verna should definitely have something to bring to the table.  That said, as Coach D's Minion, I won't pick against Team Espana.   JosA and JosB with the win.
My Pick:  Team Espana
---
Also WrestlePro is going to have a show in Brooklyn on Saturday, October 14th.   Some great matches announced for that one too!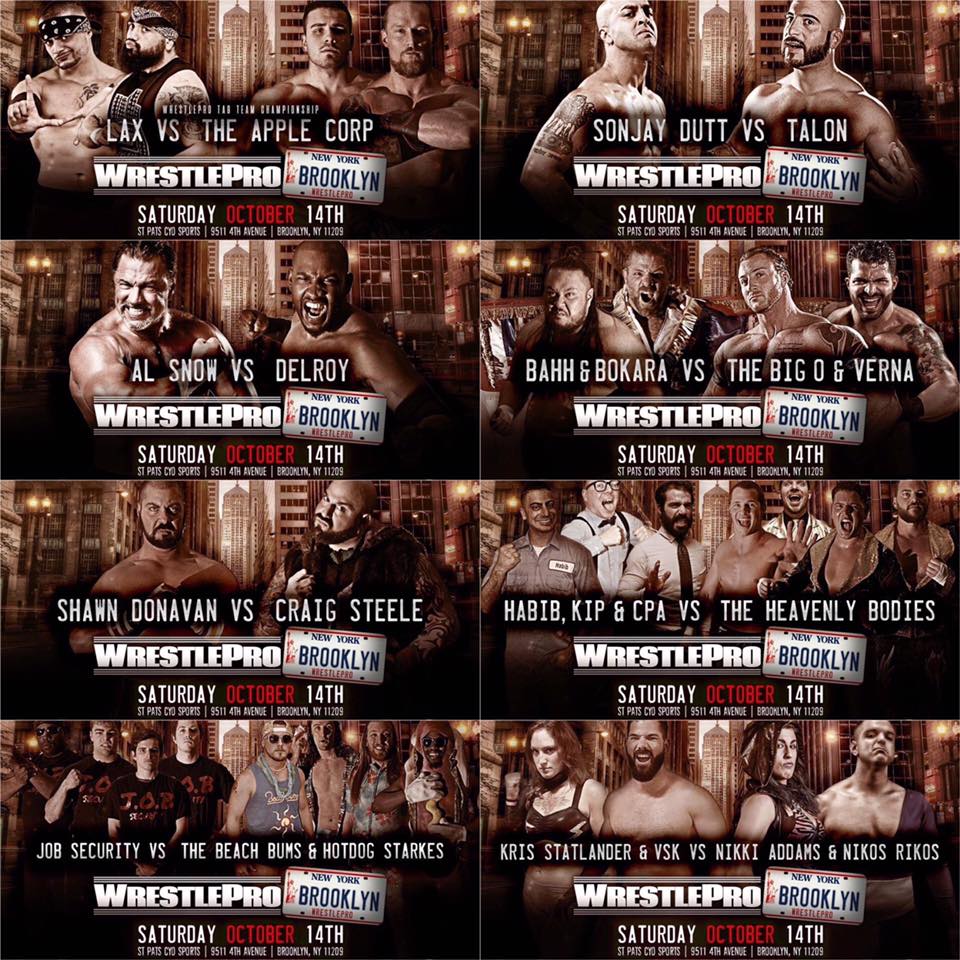 Recent Tweets
Top Ten Most Popular Ever