WrestlePro - Brace for Impact Preview and Predictions
FTC Statement: Reviewers are frequently provided by the publisher/production company with a copy of the material being reviewed.The opinions published are solely those of the respective reviewers and may not reflect the opinions of CriticalBlast.com or its management.
As an Amazon Associate, we earn from qualifying purchases. (This is a legal requirement, as apparently some sites advertise for Amazon for free. Yes, that's sarcasm.)
Submitted by

Mike 'Ace' Maillaro

on Thu, 02/01/2018 - 18:37
WrestlePro's first show of 2018 is going to be a huge one. Brace For Impact will be at WrestlePro's home base at the Rahway Recreation Center in Rahway, NJ on February 3, 2018.
WrestlePro is continuing to expand their partnership with Impact Wrestling.  In fact, this event will be shown on Impact's Twitch channel, so even if you aren't in the NJ area, you will still be able to check it out (the Twitch channel goes live February 8).  If you haven't seen a WrestlePro show before, you are in for a hell of a treat.
Most of the shows on the card feature the top talent of WrestlePro taking on IMpact talent.  This should be a great showcase for all of these wrestlers.  All indications are that this will be WrestlePro's biggest show yet.  And through some miracle, they seem to have avoided bad weather.  Let's get on with the predictions...
---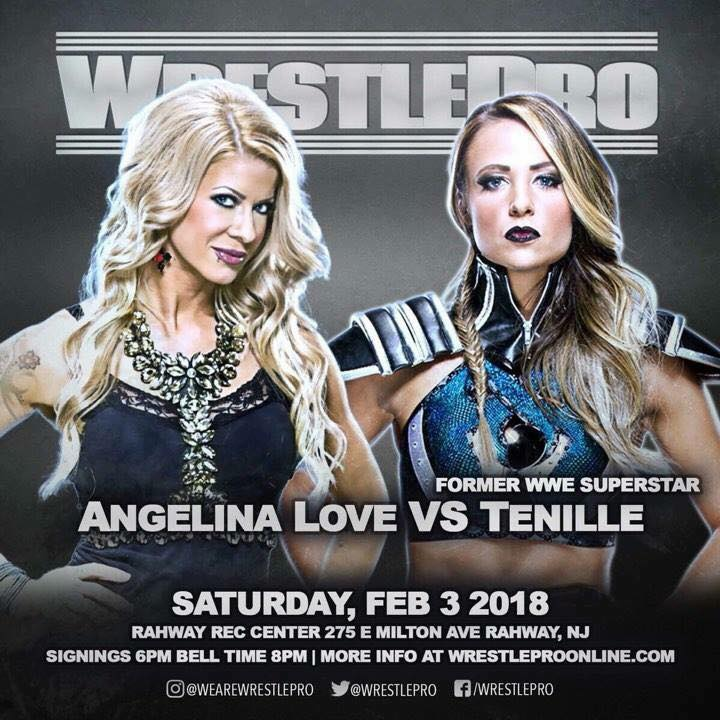 Tenille Vs Angelina Love
WrestlePro founder Pat Buck has a talent for getting wrestlers who leave WWE to show up at WrestlePro before they go anyplace else. This time we get Tenille (FKA Emma) in our first ever all women WrestlePro Main Event.  Women's wrestling is definitely growing in prestige, and it is great to see WrestlePro embracing that. Tenille seems like she will be showing up every place in the next few months, but WrestlePro got her first!
There is no way I can see Tenile losing her first match in the indys.  Angelina Love will give her a great match up, but this one belongs to Tenillle.  I am really curious to see what we get from Tenile.  In WWE, she showed that she could play both a badass or a bit of a goofball.  So which Tenille are we getting on Saturday? I can't wait to find out.  
Prediction: Tenille
---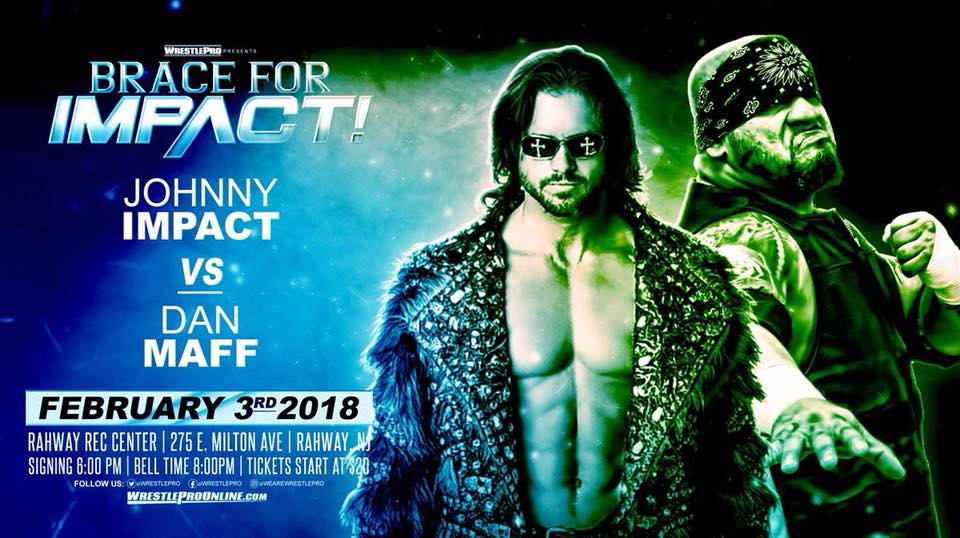 Johnny Impact Vs Danny Maff
This match was originally supposed to be a hard-hitting brawl between Danny Maff and Bobby Lashley, but they changed it up.  This is legit two of my top five all time favorite wrestlers. Weird coincidence, but the whole reason I even first went to show with Danny Maff was because I wanted to meet John Morrison who was fighting Sabu at a Pro Wrestling Syndicate show about 3 years ago.  That is what introduced me to Maff, Kevin Matthews, Mario Bokara, Chris Payne, and all the other great talent who would go on to form the core of WrestlePro.  
This match is a clash of styles with Maff just being a strong hardcore beast facing off against Johnny Impact's speed and agility.  This is a tough match to pick.  It is definitely the match I am most looking forward to, which is saying a lot because this is one packed card.  At the end of the day, I have a hard time picking against Maff...mostly because I am afraid he might find out where I live…
Prediction: Danny Maff
---
Fallah Bahh Vs Alberto El Patron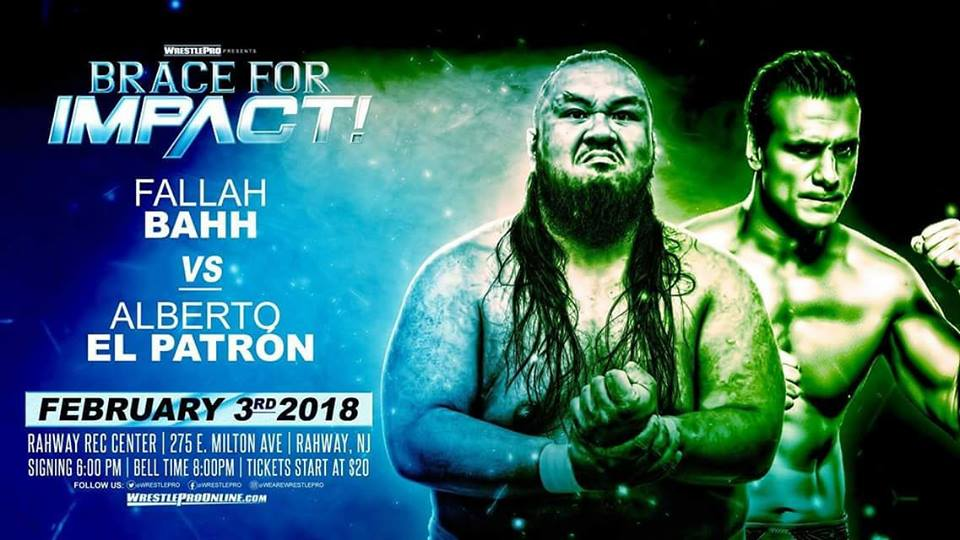 Another match that I can't wait to see live.  Fallah Bahh has been a fast rising star in Impact, and Alberto El Patron is well on his way to being a legend.  I was fortunate enough to meet Alberto at a WrestlePro show in December and was impressed by how engaging his was with the fans, especially the kids.  He seemed to be suggesting that his career was winding down soon, and I do think that would be a huge loss to wrestling. El Patron has seen and done it all, and I wish him nothing but the best when he decides to hang it up. But he's still got a lot of fight left in him.
This will be a real hard fought heavy hitting match, but El Patron will likely be making the big man tap.  But I can promise that Fallah won't make it easy for him.
Prediction: Alberto El Patron
---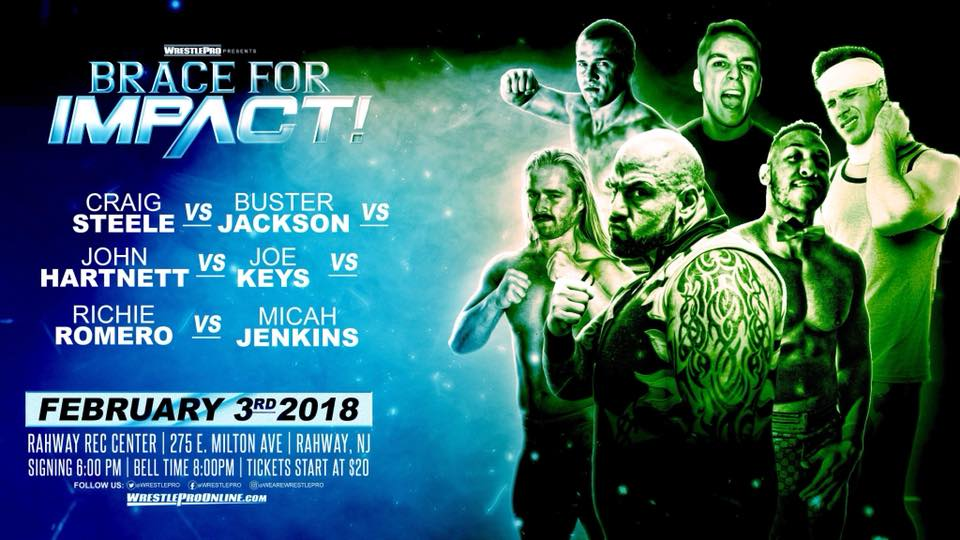 Craig Steele Vs Buster Jackson Vs John Hartnett Vs Joe Keys Vs Richie Romero Vs Micah Jenkins
Last time we saw Craig Steele, he had decided to end his partnership with Micah Jenkins in a pretty decisive fashion. Personally, I think you'd be crazy to pick against Craig Steele in this match.  He's a man with a chip on his shoulder and nothing is going to get in his way.  Craig Steele is going to be someone to keep an eye on this year.
Prediction: Craig Steele
---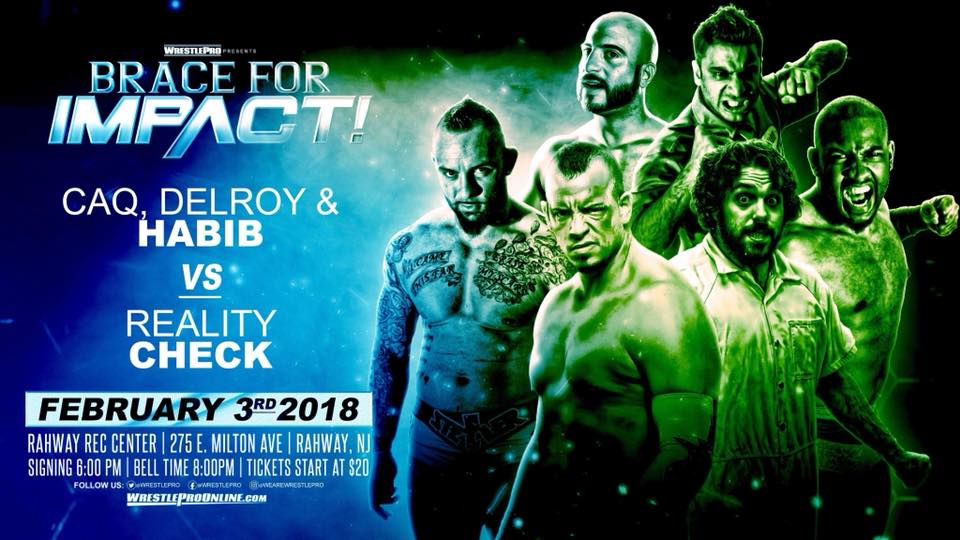 Chris Avery Queling, Delroy and Habib Vs Reality Check
On one side you have the current WrestlePro champ, a former PWS champ, and Delroy who is one of the best in WrestlePro. But on the other side you have that devious bastard Kevin Matthews.  Talon and Chris Steeler are really coming into their own under KM's leadership, so I think they will be taking this match.  
I will say this...Delroy would look pretty good in a Reality Check t-shirt...
Prediction: Reality Check
---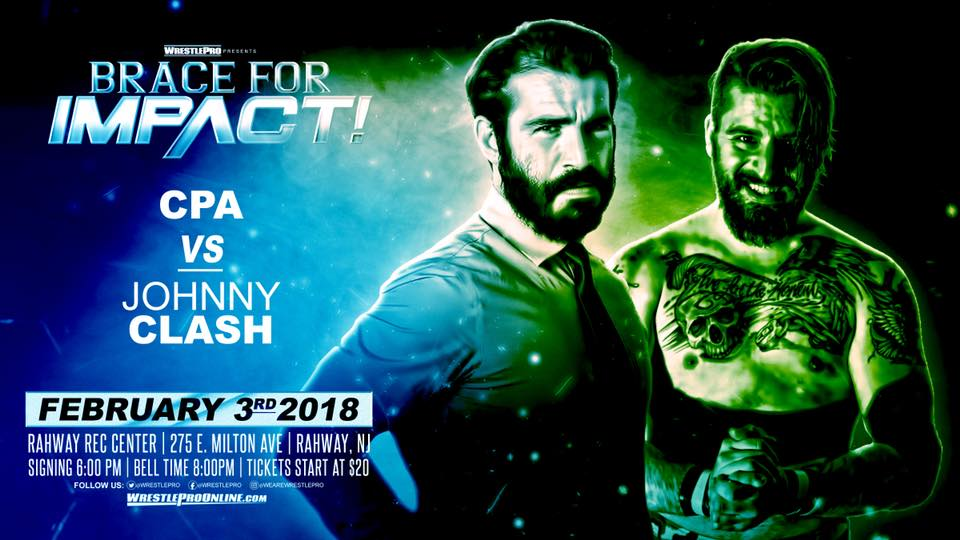 CPA Vs Johnny Clash
This is truly a match I never knew I wanted.  Whoever booked this is a genius!!  Johnny Clash and CPA have become two big fan favorites at WrestlePro.  Johnny Clash's whole thing is that he always promises that he will retire if he loses...and he always loses but that retirement just never seems to stick.  CPA, despite his CPAishness seems to win more often than not, so he will probably get the win here.  But both of these guys will put on a very entertaining match.  
Prediction: CPA
---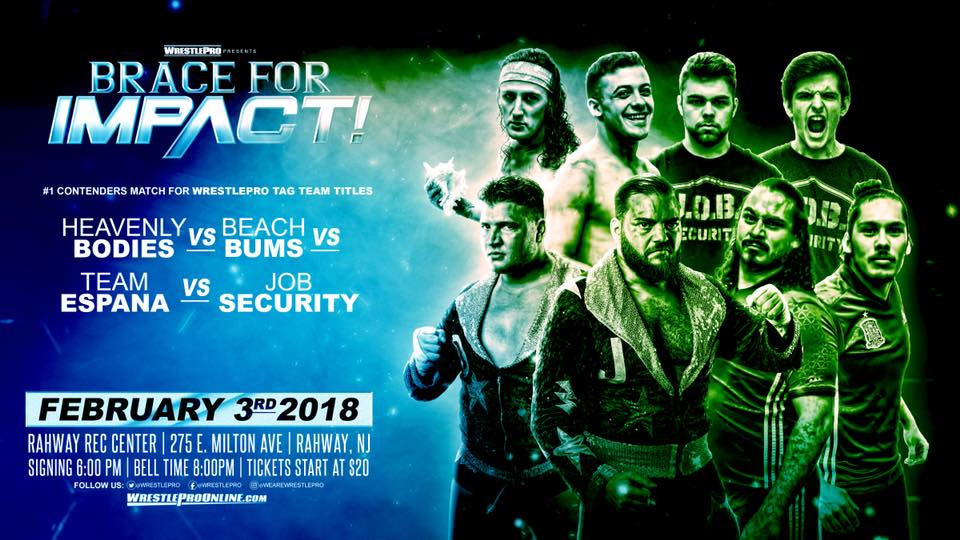 #1 Contenders for WrestlePro Tag Team Titles - Heavenly Bodies Vs Beach Bums Vs Team Espana Vs JOB Security
At the last show, LAX beat the Apple Corps to win the WrestlePro tag titles..adding to their already impressive collection of titles.  This time, four of WrestlePro's top teams compete to see who gets a shot at LAX.  This is a tough one to pick.  All of these teams have a lot to prove here.  I think the Heavenly Bodies will take this one and get a rematch against LAX who they faced off against in December.



Prediction: Heavenly Bodies
---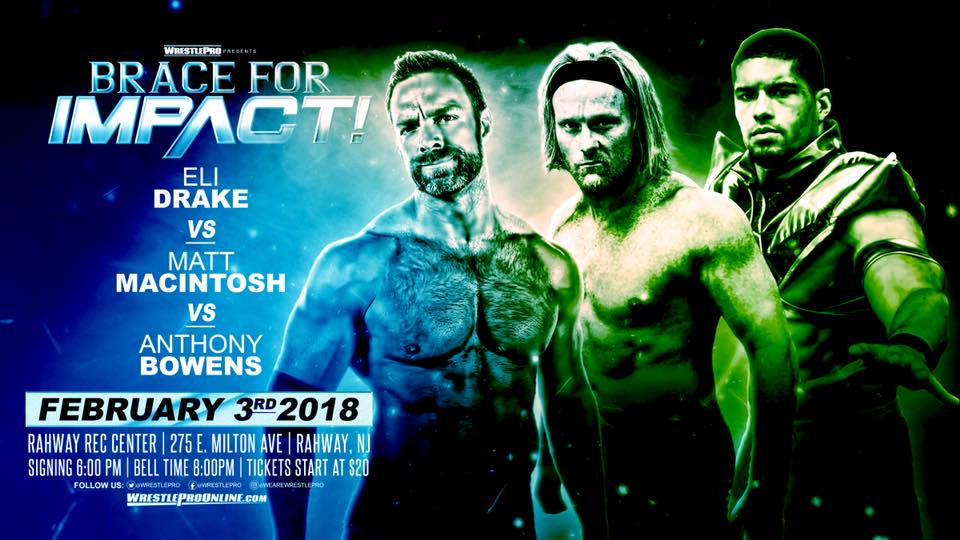 Eli Drake Vs Matt Macintosh Vs Anthony Bowens
Former Impact Champion Eli Drake in triple threat action against Matt Macintosh and Anthony Bowens, two of the rising stars of the wrestling industry.  Of all the matches on this card, this is the one I am most excited to see featured on Twitch.  Macintosh and Bowens really deserve to have more eyes on them.  Drake is pretty good at winning at all costs, so he will probably win the match, but I think all three of these guys will get a huge career boost from this match.
Prediction: E-Li-Drake
---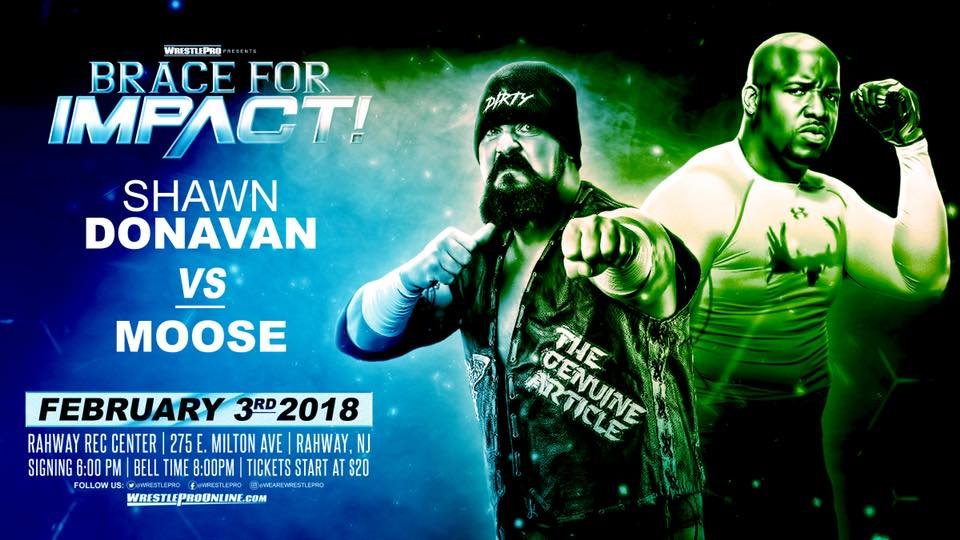 Shawn Donavan Vs Moose
Before I tell you why he's going to lose this match, I need to talk about Shawn Donavan's awesome Podcast: A Genuine Taste of Wrestling.  Each episode, Shawn Donavan does in-depth interviews with the men and women of indy wrestling.  I've learned a lot about all aspects of the wrestling business from Donavan.  Last week, he talked wrestling posters with Marc Corino, and I was so engaged in the Podcast I actually missed my bus.
Also before I tell you that Shawn Donavan loses this match, I love the booking in this match.  A while back, Moose was scheduled to face off against Kevin Matthews, and Shawn Donovan and his tag team partner at the time interrupted him, turning it into a tag match.  Donavan is still pissed about that loss, and will be bringing everything he has to take out Moose.
But...well...at the end of the day, I am pretty sure Moose is the winner.  That said, this should be a great match up.  Donavan has been in the business a long time, and he knows how to put on a hell of a show.
Prediction: Moose
---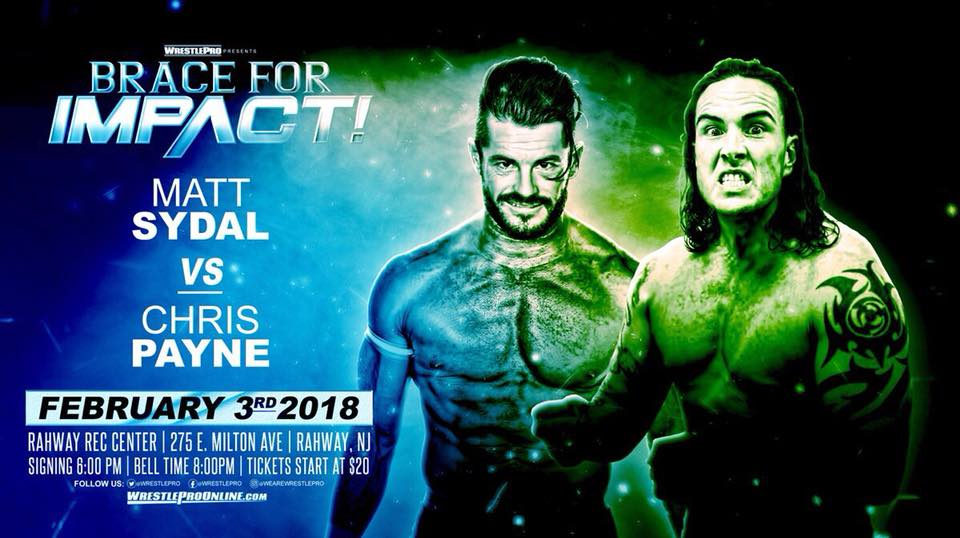 Matt Sydal Vs Chris Payne
We've been waiting for this match for a long time!  Chris Payne had been out of action the last few months (Congrats to the new daddy), and he returns to take on the high flying Matt Sydal.  I do think that Matt Sydal may have the advantage here, but if Chris Payne manages to slow him down and keep him at his pace, he has the opportunity to pull off what many people may consider an update.  Chris Payne always manages to surprise me, so I am sticking with him to get the win here.
Prediction: Chris Payne
---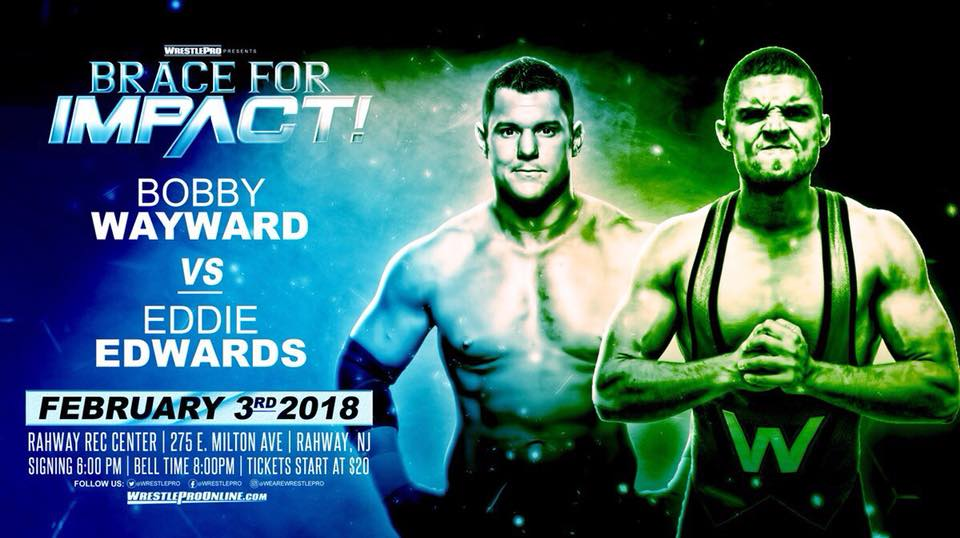 Bobby Wayward Vs Eddie Edwards
Another tough one to pick.  Eddie Edwards has had a hell of a career...but Bobby Wayward is not someone to take lightly either.  He will do pretty much anything to win a match...and he's still pretty hot over losing the WrestlePro title a few months back.  Part of me just wants to pick Bobby Wayward because he's representing the home team...but at the end of the day, Wayward is the guy you really want to hate, so I am going with Eddie Edwards to win this one.  
Prediction: Eddie Edwards
---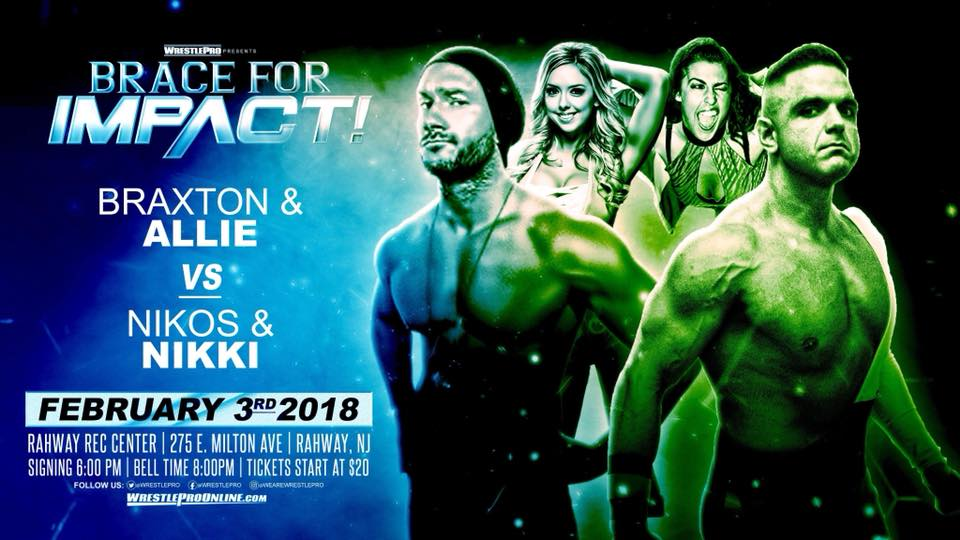 Braxton and Allie Vs Nikos and Nikki Rikos
A little mixed tag action.  I think Nikos Rikos can be a big name in the near future, but I think Braxton and Allie will be winning this one.  Although last time Allie was in town for a mixed tag match it didn't go so well for her...just saying.
Prediction: Braxton and Allie
---
Tickets are on sale at WrestleProOnline.com.  First, Second, and Third Row seats are already sold out, but there are still general admission available!