The Masked Ace's Wrestlemania 34 Predictions
FTC Statement: Reviewers are frequently provided by the publisher/production company with a copy of the material being reviewed.The opinions published are solely those of the respective reviewers and may not reflect the opinions of CriticalBlast.com or its management.
As an Amazon Associate, we earn from qualifying purchases. (This is a legal requirement, as apparently some sites advertise for Amazon for free. Yes, that's sarcasm.)
Submitted by

Critical Blast Staff

on Fri, 04/06/2018 - 14:03
The Masked Ace has returned, and I have your Wrestlemania predictions here!
---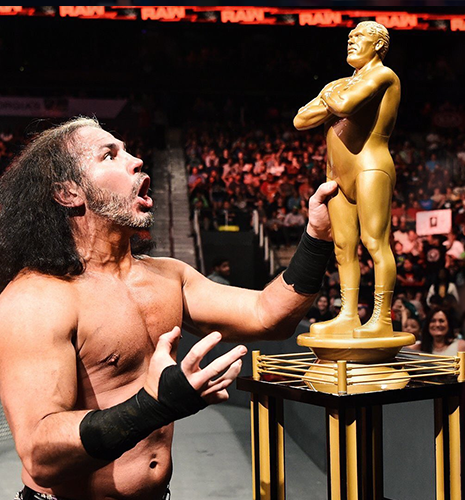 André the Giant Memorial Battle Royal for the André the Giant Memorial Trophy
The Battle Royal is just a big catch all to make sure that everyone gets on the card.  I find it hard to get all that excited about who win's this one, though Matt Hardy and Goldust have been having a lot of fun on social media hyping up how much they want to win the statue of Andre, but that isn't enough to make me care about this one.
Since he doesn't have a singles match lined up, I am going to pick Elias for this.  BUT, I actually hope WWE comes up with something far better to do with Elias than have him win this pointless Battle Royal…
Prediction: Elias
---
Women's Battle Royal for the WrestleMania Women's Battle Royal Trophy
This one is even more of a head scratcher then the men's battle royal.  Some big names are being tossed in her like Sasha Banks, Becky Lynch, and Bayley…even Carmella who still holds the Money in the Bank briefcase.   They should probably have just done Bayley Vs Sasha as a single's match, they have been building that for a while now.   I would think they would want to use this to elevate someone…but I really have no idea who.
Prediction: No idea.
---
Cedric Alexander vs. Mustafa Ali  - Tournament final for the vacant WWE Cruiserweight Championship
On a certain podcast last week, some other guy named Ace declared that this would be his bathroom break match.  The host of that podcast rightfully called Ace not a real wrestling fan!  The Masked Ace will take no bathroom breaks!  The Masked Ace will have a bottle right next to the couch for all his bathroom needs, and hope that The Masked Wife doesn't notice!
WWE has been having a tough time getting traction for 205 Live.  Both of these guys are pretty good, but I think Cedric Alexander is in a better position to keep 205 Live strong, so I am picking him.
Prediction: Cedric Alexander
---
Brock Lesnar (c) vs. Roman Reigns - WWE Universal Championship
AND NOW THE MAIN EVENT!  There has been a lot of talk this week that this is Brock's last WWE match, and he will be heading back to UFC.   Are we going to get a repeat of Brock's lackluster appearance at Wrestlemania 20 where he was heading out the door and clearly did not care about his match with Goldberg?  I kind of doubt it.  Roman Reigns always seems to put a lot of work into his matches.  I do think he overdoes it with the Superman Punch, but I still mostly enjoy his matches.  With Brock heading out the door, I think Reigns will be the WWE Universal Champion coming out of Wrestlemania.
Prediction: Roman Reigns
---
AJ Styles (c) vs. Shinsuke Nakamura  -  WWE Championship
I would think for most wrestling fans, this is the match they are most excited about, and rightfully so  This is the first time we're getting this match in WWE, and these two had a hell of a match in Japan a few years ago.  It is just great to see them making it to the top of the WWE in such a short period of time. 
I would be real surprised if they swapped both top titles, and I'm just not sure Shinsuke Nakamura can carry the top title yet.  They may surprise me here, but I am sticking with AJ.
Prediction: AJ
---
The Miz (c) vs. Seth Rollins vs. Finn Bálor - Triple threat match for the WWE Intercontinental Championship
Randy Orton (c) vs. Bobby Roode vs. Jinder Mahal vs. Rusev - WWE United States Championship
The two "second tier" title matches are the matches I am most looking forward to.  Just a lot of talent in both of these matches, and a lot of guys who know how to get the spotlight on them.
I think Miz is going to keep the title tonight, but end up losing it the next night on Raw (probably to Balor).
And on the US title side, I think it is definitely time to get that title back around Rusev!  Rusev Day is one of the hottest things going and WWE should totally capitalize on that!
Prediction: The Miz
Prediction: It's Rusev Day
---
Alexa Bliss (c) vs. Nia Jax- WWE Raw Women's Championship
There is pretty much no reason to expect that Alexa Bliss can beat Nia Jax…so I am picking Alexa.  It won't be clean, but she is going to beat Nia somehow and keep that title just a little bit longer.
Prediction: Alexa Bliss
---
Charlotte Flair (c) vs. Asuka - WWE SmackDown Women's Championship
The WWE has been building up Asuka as unbeatable since she started in NXT.  Charlotte will give her a hell of a match, but I think it's very likely Asuka's winning streak will continue through Wrestlemania
Prediction: Asuka
---
Cesaro and Sheamus (c) vs. Braun Strowman and TBD - WWE Raw Tag Team Championship
I would really love to see Strowman go solo here and win the tag titles on his own.  WWE has been having a lot of fun with Braun lately, and it just seems like a hell of a way to continue his domination.  If he does get a tag team partner, I am thinking it may be Bobby Lashley or Rey Mysterio (and yes, I know those two picks are about as far from each other as you can get).  But pretty much no matter who is in this match, team Braun is taking the titles.
Prediction: Braun
---
The Usos (Jey and Jimmy Uso) (c) vs. The New Day (Big E, Kofi Kingston, and/or Xavier Woods) vs. The Bludgeon Brothers (Harper and Rowan) - WWE SmackDown Tag Team Championship
Man, I am exhausted just writing about Wrestlemania, no idea how anyone could sit through seven hours of watching it.  I am pretty much only picking the Usos because I have already predicted a lot of title changes at this show. 
Prediction: Usos
---
Kurt Angle and Ronda Rousey vs. Triple H and Stephanie McMahon      
I know a lot of people aren't decided on whether they should like or hate Ronda Rousey.  I was mostly indifferent to her before coming to WWE, but I do love that she seems to have such a passion for the business.  Pretty much no way she is losing her first real match…though I guess it is possible that could have Triple H go over Angle, but most of the time, WWE likes doing feel good stories at Wrestlemania, so Angle and Rousey winning just makes the most sense.
Prediction: Angle and Rousey
---
Daniel Bryan and Shane McMahon vs. Kevin Owens and Sami Zayn - If Owens and Zayn win, they will be rehired to SmackDown.
This is kind of a strange match to have as Daniel Bryan's big return to Wrestlemania, but you have a lot of entertaining talent here.  I really think this match will lead to a future match between Shane and DB, so those damn heels Owens and Zayn will likely be winning this one. 
Prediction: Owens and Zayn
---
John Cena Vs Undertaker?
For weeks John Cena has been calling out the Undertaker, and we've gotten no response from The Dead Man.  I think it would be pretty absurd for them to be teasing this match all this time, and not actually have it happen.   At this point, I think we are 3 or 4 years too late for this match, but I still kind of want to see it.  Undertaker has already lost twice at Mania, so I would be shocked to see him lose again. 
Prediction: Undertaker